There's trouble ahead when Jenn has to leave
"Dear Abby" in the care of the world's clumsiest
nanny -- Jack!

By Jason Bonderoff and Roberta Caploe
---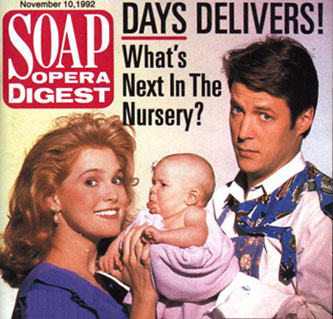 After all those Lamaze lessons -- and a nerve-wracking delivery in the woods -- Jack and Jennifer Deveraux have finally brought their bundle home. The RESCUE 911 antics may be over, but the real fun is just beginning.

Even if they weren't busy tripping over diaper pails and rubber duckies, the Deveraux would still be living in a mess. The old house they just moved in to (a present from Jenn's dad, Dr. Bill Horton) badly needs a face-lift. Add the couple's cash flow problems to the mix, and there's bound to be calamity.

With ratings at a low point, DAYS OF OUR LIVES is hoping that Jack and Jenn's return to the forefront will work magic. So during the next few weeks, mess plus money will suddenly add up to an even juicier "M" word -- mystery. "Jack and Jenn will find themselves embroiled in a mystery story with surprising revelations," says DAYS Headwriter Sheri Anderson. But don't expect things to get too maudlin. Anderson aims to give the couple strong emotional conflicts without sacrificing their love-and-war lightheartedness.

While DAYS won't reveal too much, we do know the Deveraux won't be hiring a nanny from hell, à la The Hand That Rocks the Cradle, and that baby Abigail won't be displaying any psychic powers or a fondness for wolf's head rings. But secret sources report that Julie (Jenn's first cousin) will tangle in this web of suspense in a big way. Part of the action hinge on Jack embarking on his most ambitious get-rich-quick scheme yet.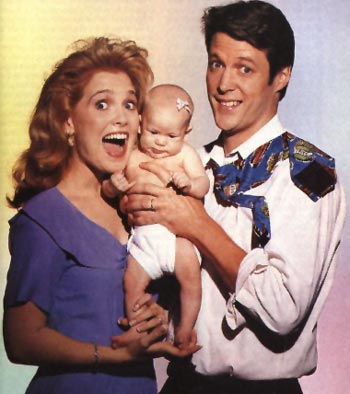 There'll be turmoil in the nursery, too. That's something Matthew Ashford (Jack) and Melissa Reeves (Jenn) can easily identify with -- both stars became first-time parents last June. Ashford and wife Christina named their daughter Grace' Reeves and husband Scoot Reeves (Ryan, Y&R) called their little girl Emily.

Despite their popularity, Ashford and Reeves have spent much of this year on the sidelines. Most of their script work has been comic shtick, like Jack's buffoonish bout with a "fatal" illness (it turned out to be just a clerical error, folks) or Jenn's quantum leap into snappy TV talk-hosting. When viewers complained about the duo's lackluster storylines, the show pointed to Reeves's real-life pregnancy, which supposedly made it impossible to create a high-tension, long-term story. Both actors find that excuse odd. According to Reeves, DAYS's plans for Jenn to get pregnant actually preceded her own. In fact, the show encouraged her to think mother-to-be. "That's why it was so surprising when Missy actually got pregnant," says Ashford, "and they started saying, `Well, Missy, if you weren't pregnant...."

"`....we'd have a really big story for you,'" Reeves continues. "I was practically told to get pregnant, and then they couldn't come up with a story, so they sort of blamed me." (Setsiders offer another reason for Jack and Jenn's fade-out: DAYS switched headwriters and faced the loser of several major stars. With so much upheaval, practically all storylines suffered.)

Now, though, DAYS intends to use the super couple to the max. What develops during the next few months is a real Mr. Mom scenario. Since Jenn can earn more money as a TV talk personality than Jack can as a newspaper reporter, she opts for a career while he finds himself drowning in bath toys and burping towels. He's trying to write feature stories at home and is ready to strangle his word processor. It's a real conflict for the 1990s. Like working moms everywhere, Jenn has to deal with guilt and separation anxiety. (What if she's not home when Abby crawls for the first time?) Meanwhile, for an insecure guy like Ace Deveraux, wearing an apron instead of a three-piece suit is bound to rattle his ego. "Jack goes through a number of stages trying to tend the nursery," says Anderson. "First, he's terrible at it, then too good, then bored with the whole routine. It's an important story to tell. So many women today are the chief breadwinners in the family. I know many situations where the woman earns a very high salary and there's no way the man can compete."

"What that writers are trying to bring up," explains Ashford, "is how difficult an [earning gap] can be on both of them. As much as we'd like to act like that's okay, there's a lot of age-old stereotyping in relationships." Ashford hopes the Mr. Mom set-up won't just dwindle into let's-play-nursery-nerd. "There are some very real things that you go through if you haven't had a child before," he says. "It's not all fun and games. People have to grow up and expand their lives. It's not always pretty."

Reeves hopes the writers don't sacrifice passion for punchlines. "That's the part of our relationship that's completely gone, and I think that's what people liked about us," she says. "The writers have picked up on this funny stuff and said, `Well, let's just make them the funny couple.' That's not what we want to do. Having a baby is a very emotional time, and it's very hard."

Reeves cites two aspects of new-mother stress that she feels shouldn't be overlooked: sleep deprivation and mood swings.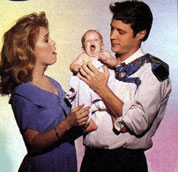 Those postpartum symptoms are classic, yet soap moms never suffer from them. "You're so tired, the baby is screaming, and you're thinking, "I;m never going to be a good mother,'" says Reeves. "There I am in tears, and poor Scott is trying to help me out. One day, soon after Emily was born, I was just staring at the refrigerator. I opened it up, looked inside and started bawling."

"Crying is just one part of it," adds Ashford. "It's the range of emotions, realizing that your life will never be the same and trying to make it be the same. It can be sort of cataclysmic. [With a baby] you can't just say, `Okay, I'm going out to the gym now, or I'm going to read a book.'" Chimes in Reeves, "At the same time, you have this baby that you love more than life."

"I hope they'll allow us to redefine what good parents are," says Ashford. Apparently, that's just what Anderson has in mind for future scripts. She believes Jack and Jenn are the perfect do to redefine parenthood in today's terms, because of their own dysfunctional childhoods. "These characters are both so rich emotionally," she says. "They've been through so much. We can draw on all that." As a child, Jenn was separated from her mother, Laura, who attempted suicide and then languished in a mental hospital. Jack was raised by a high-powered, often absentee adoptive father, Harper Deveraux. "[Jack and Jenn] both had such strange upbringings," says Anderson. "Jennifer doesn't have a mother around who can put that baby in her arms and teach her what to do. And Jack had such an unconventional upbringing. That's why they'll want to raise Abigail as conventionally as they can. But because of the times we live in, they can't. You know, we're getting back to family values. What are families? I think Jack, Jenn and Abby are going to be a [1990s] family."