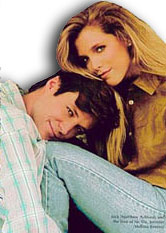 Theirs is one of the longest, most spectacularly drawn out courtships of all time. Jack Harcourt Deveraux and Jennifer Rose Horton were living proof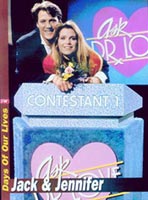 opposites attract. He was the rich, manipulative son [sic -- adopted-son] of a corrupt Congressman [sic -- Senator]. She was the sweet, innocent granddaughter of the much-loved Horton clan. They met when Jennifer was a cub reporter on The Spectator. Jack was her cold, callous and cynical editor [sic -- and owner].
Jennifer bewildered him because he trusted no one and wondered what "her angle" was. To his amazement, he discovered she was intelligent, stubborn, and highly capable of dealing with his rude, impatient manner. Jack fell for Jennifer before he knew it, and their romance kicked off to a feisty start.