H
e is a classically trained stage actor, which is what makes Matthew's turn as the sometimes bumbling, always entertaining Jack Deveraux in
Days
so refreshing. He likes to "colour outside the lines."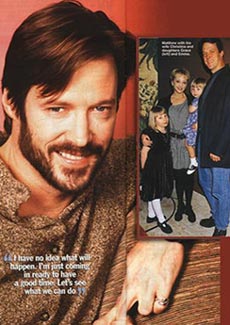 "Acting is supposed to be fun," he explains. "That's what I so enjoy about the theatre, for instance. Acting on stage is about taking chances. Maybe what you do works, maybe it doesn't.
"Ultimately, it's like watching kids at play. Nothing stops them. When it's really cooking on stage, it's like being a kid again. After a while, I found that [same feeling] with Jack."
Indeed, the character, along with his on-again, off-again love Jennifer — played by Melissa Reeves — became so popular that when left the role in 1993 after six years,
Days
fans picketed the LA studios of NBC, the US network which produces the show.
"I think that Jenn and Jack so appealed to the show's audience that the viewers couldn't understand one without the other," speculates Matthew, who returned to the role on US screens in February, initially for a handful of episodes.
But why did they capture the hearts of audiences around the world?
"Oddities aside, they are two people you might know," he suggests. "They are crazy about each other, but they can't show it.
"Jenn and Jack are so different, yet they have this connection. They have a different way of doing things and it seems they're working against each other. But for some reason, something pulls them together."
Matthew, who is married to actress/dancer Christina Saffran, believes
Days
fans view the couple as soul mates.
"In daytime, the idea of a soul mate is a constant thread," he muses. "Why do Jack and Jenn keep coming back together, when they're obviously like cat and dog?
"People see them as they view themselves in their own life. They might think the person they're with isn't their ideal, yet there they are. That's what's fun."
It seemed obvious that once Melissa Reeves signed on to reprise her role as Jennifer Horton earlier this year, Matthew couldn't be far behind.
"I'd been on-and-off in conversation with the powers that be, and the time was right," he says. "Frankly, it just looks like the stars were all aligned in the right place."
However, as much as Matthew felt
Days
is his acting, he wanted his alter ego to have a reason for returning to Salem.
It's important to go where there's a story, and from what the producers tell me the story is fair bubbling over," he teases.
It will be a at least three years before Australian fans get to see the other half of the Salem supercouple, Jennifer — and when we do, she will be without Jack. Why? Well, something has torn them apart, but not even Matthew can say exactly what that is yet.
"I don't know why, but Jack's in trouble with Jenn," he reveals. "She's really angry with him. They're not seeing eye to eye on something, but it will be a surprise to viewers
— and to me — just what that is."
At the time of going to press, no contract had been signed by Matthew to make his return to Salem a permanent move.
"The producers and I have talked about the future, but they're waiting to see how the story develops," he says. "But based no fan response, I think it could be a long-term role."
Matthew is sure the writers have some surprises up their sleeves for Jack.
"I have no idea what will happen," he admits. "I'm just coming in ready to have a good time. Let's see what we can do.
"But how many times has Stefano DiMera come back from the dead? Why not resurrect Jack like that? He can come back from the outer limits of Africa and shake off some dust."
For Jack and Jenn's legion of fans, let's hope he can also win his wife back!
---
Inside Soaps, 04/01
— Australia