Soap Opera Weekly
THE KEYS TO MATTHEW ASHFORD

GH's Tom Hardy is standing on a precipice as he wrestles with his unresolved relationship with his late father -- actor Matthew Ashford is thrilled that his character is getting a psychological twit to dd to the steamy love scenes with Kristina Wanger (Felicia) that have been garnering him so much attention.

"Tom went in to Steve's office to confront him at long last, but he was dead, gone," says Matthew. "It was like who had the last laugh? Who had the final say? The answer: Steve did.

"Steve wanted Tom to take over the hospital one day," he points out, "and I'm excited about having all these people from Alan Quartermaine to Monica, to Dr. Dorman, Kevin Collins and Tony Jones in the mix -- not to mention the nurses and my mother. There's room for a major battle here," he laughs.

Last Christmas, the father-son relationship between Tom & Steve took on real-life importance. "John Beradino (Steve) was supposed to tell the Christmas story to the kids, as he'd done for years and years," Matthew recalls. "But he suddenly got too sick to do it, so they called me the night before and said they needed me to do it."It was six pages long, so I said, 'Ooooooookkkkay.'

"I found out later that John had specifically asked that I do it because he said, 'He's my son. I think I'd ask him to do it.'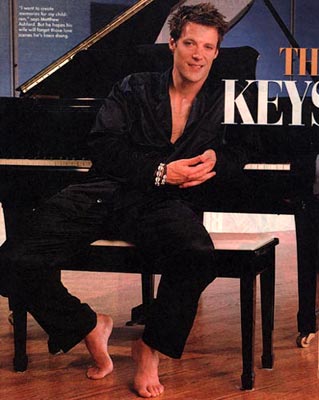 "John Beradino was always into the show and Very much its cheerleader," Matthew adds.

After a year of playing the part, Tom Hardy is still something of an enigma, Matthew confesses, but he enjoys the challenge of unearthing the gold.
"There's something about Felicia that sets him off, so that he's doing things he's never done before, taking chances and doing things in fron of other people that society says you shouldn't be doing," he acknowledges.
"Is this a dangerous kind of game that can get out of hand?" he considers. "I'm not sure. Some people like what's going on, but others say, "'It's a bit much.' I've heard a bit of everything.
"I enjoy working with Kristina Wagner (Felicia), and anything's fine as long as it's attached to a story and doesn't become gratuituous," he adds.

Matthew reveals that he's urged his real-life actress wife -- whose name also happens to be Christina ("It's good they have the same name. I can get away with murder," he jokes) - not to watch the show.


"I've talked to other people who've experienced this," he says. "What good is it going to do to watch? Christina did see me one day when she was getting her nails done. They turned on the TV and of course it was, 'Hey watch this...'

"I've watched Christina kiss guys on stage," he adds. "I understand that it's part of our job as actors. I suppose if she constantly had to rehearse that I'd start to be... well, that would be different."

Matthew grew up in Virginia in a family of eight children, says he and Christina are thinking about expanding their family (which includes 4-year-old daughter Grace).

But he admits he's not tempted to expand it to quite the size group that he was raised in.

"I think about a large family, but like ost people in America now, we make choices about what kind of life it would be with a whole buch of kids," he points out. "If I were a multimillionaire who could live anywhere I wanted, I think it would be great to have a bunch of kids. At this point, though, we're not looking towards a big family, just a slightly larger one."

Matthew hopes he can provide the pleasures his parents gave him and his siblings. "The 10 of us used to go camping on family vacations," he recalls. "Looking back, I'm sure it was very difficult to do, but those times were enjoyable for me. But I didn't have to fix the flat tire. And there was always food -- i just had to eat it.

"Now I realize how hard it was for my parents, but I see that's where we created so many memories," he adds. "It's work to created memories, but that's what I want to do for my children.


—ROBYN FLANS