| | |
| --- | --- |
| | |
Jennifer Horton was a runaway teen who felt neglected by her parents. She found happiness in Salem with her benevolent grandparents, Tom and Alice. It didn't take long for Jennifer to turn her life around, since she was a generous, kind-hearted girl. Initially an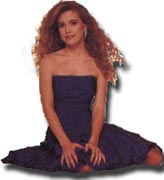 outsider in high school, Jenn became very popular when she started dating Glen Gallegher, a popular jock who belonged to the "in" crowd.

She was gradually drawn to another newcomer, Frankie, a brainy, artistic kid from the other side of the tracks who was adopted by the Brady family. Jennifer and Frankie went steady and kept busy helping people in need. One escapade involved busting a local prostitution ring. Their relationship survived several crises: She feared inheriting her mother's mental illness; he slept with an older woman, a counselor for the teen hotline. Jenn and Frankie decided to postpone sex until after marriage, but the relationship didn't last. They broke up after Frankie won a scholarship to Columbia University and moved to New York. A heart broken Jennifer had a lot of time on her hands.

An aspiring journalist/college student, Jennifer began an internship at the local newspaper, The Spectator. While writing a story on gangs, she encountered cocky, rough-around-the-edges Emilio Ramirez. After a rocky start, they dated occasionally. At the same time, Jennifer began to cross paths — and swords — with the paper's new publisher, Jack Deveraux. Her life would never be the same.
When Jack Deveraux arrived in Salem, he had a lot of problems — and wasn't even aware of half of them. He knew he had a form of cancer, Hodgkin's Disease. What he didn't know was that he had been adopted by blue-blood Harper Deveraux and was in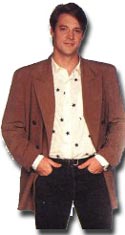 fact really Billy, the son of a lower-class family, the Johnsons. Steve Johnson learned that Jack was his brother at about the same time Jack's condition took a turn for the worse. Steve unselfishly dumped Kayla Brady so she would marry her old pal, Jack, who was in love with her.


No one counted on Jack going into remission and regaining his sex drive. When he did, Jack wanted to sleep with his wife, who didn't return his passion. When he realized she was cheating on him with Steve, he became enraged and raped her. That broke up the marriage. Steve and Jack battled it out on a rooftop. Deveraux tumbled off the side and Johnson ended up donating a kidney to save his brother's life, only Jack still didn't know they were related.

Callous and bitter, Jack was a devious conniver and a rat with political aspirations. To that end, he hired Melissa Anderson as his assistant. He decided to use her romantic feelings for his advantage since he was running against her father. Though a little slow on the uptake, Melissa finally caught on to his scheme. They planned to wed and actually got to the alter — where Melissa blasted him for taking advantage of her. Then, she stalked out.

After that Jack became a social hermit. He devoted himself to being the publisher of The Spectator and trying to forget two ugly truths: 1)the revelation that he was really a Johnson, and 2)his adoptive father was a psychotic serial killer.

As time went on, Jack sincerely regretted the smarmy sins of his past and reformed. But since any show of sentimentality embarrassed him, Jack had a tough time coping with his new family. Jennifer, however, was a force he couldn't ignore.

Jack showed up at the
church just before Jennifer
was to marry Emilio and
whisked the bride away
on a fire truck.
Jack was bemused by the blonde whirlwind who championed the cause of every underdog in town. He kept trying to decipher her motives. Why was she being so darn nice? For her part, Jennifer was positive that somewhere beneath Jack's aloof exterior lurked a tender heart. Through work, they drew closer, though each denied the obvious attraction.

Emilio wasn't shy about showing his feelings for Jennifer. Though flattered she couldn't forget Jack, who pretended not to care. Eventually, Jennifer became fed up with Deveraux's games and pursued him. He squirmed, gulped, stuttered, and avoided dealing with his true feelings. They shared a kiss — but he pushed her away afterward. On countless occasions, Jennifer begged Jack to acknowledge the bond between them. But he felt unworthy, and continued to reject her. Hurt one too many times, Jenn turned to dependable Emilio and accepted his marriage proposal.

Jack he had to stop the nuptials. On the wedding day, he rented a fire truck, kidnapped the bride from the church and whisked her away to a mountain retreat. She was furious, but hopeful that now they could be honest with one another. Wrong. He continued denying the obvious, and she was still engaged to Emilio.

Jack he had to stop the nuptials. On the wedding day, he rented a fire truck, kidnapped the bride from the church and whisked her away to a mountain retreat. She was furious, but hopeful that now they could be honest with one another. Wrong. He continued denying the obvious, and she was still engaged to Emilio.
What Jack and Jennifer (Matthew and Missy) have to say
We decided to let Jack and Jennifer speak for themselves. With tongues carefully in cheek, Matthew Ashford and Melissa Brennan respond as their characters might.

What did you first think of each other?
Jack: "I thought she was a pain in the butt. Actually, she didn't become a pain in the butt until later. She was already at the paper when I came to work there. Jennifer was the first person who didn't attack me. She was supportive and a breath of fresh air. Later on she got uppity. I always knew she had potential.
Jenn: "It wasn't love at first sight he had a bad rep. I already knew he had raped Kayla. My first impression was that I was scared of him. Through work, I got to know him and see his potential."

When it became more than a friendship, why didn't you date like normal People?
Jenn: "We're not the dating kind. But we've done a lot of things together. Failing off a cliff was pretty memorable. Then there was falling in the mud and falling in the tub. We fall a lot. We went to Atlantic City and I taught him how to play blackjack."

Jack: "I already knew how to play; I let her teach me."


How does Jenn compare to the other women you've known ?
Jack: "She's a virgin. It's the first relationship that's come out of something sincere. It was unplanned and pure in its essence. It's pretty volatile. Jennifer is kind of like Frankenstein."
Jenn: "Frankenstein?"
Jack: "I had this idea that I was creating the perfect reporter/woman, but she learned too well, too fast, and now she's throwing it back at me."

Can you compare Jack to other guys you have known?
Jenn: He's not a virgin. With the other guys, it was love at first sight and all the physical stuff. But Jack was my boss and I was not physically attracted to him in the beginning. I didn't think of him that way."

Are there little things that drive you crazy about each other?
Jack: "She remembers everything I say and throws it back in my face. She's got a big mouth."

Jenn: "He's a terrible dresser and he's cheap. But the main thing is that he won't open up to his feelings?"

Would you have married Emilio if Jack hadn't prevented it?
Jenn: "I think so, but I knew in my heart something would happen [to prevent it]."

Were you mad or relieved?
Jenn: "Both. Jack kidnapped me and he still didn't tell me why."

Jack: "I couldn't take that chance, I'm a chicken.

Why did you kidnap Jennifer?
Jack: "I'm not sure why.
Jenn: "He's being repressed again.

What has Jennifer taught you?
Jack: "We've both learned a lot from each other. Each day there's something new. I like her courage; she's a person of strong character. I taught her to push her self and open her eyes. She pushes me too."

Anything you'd like to add?
Jack: "My life with Jennifer is an intense rollercoaster ride."
What the writers have to say
If the mail at Soap Opera Digest is any indication, the decision of DAYS Head Writers, Anne Schoettle and Richard Allen to unite Jack and Jennifer will be well received. At the time Jack and Jennifer began interacting, Allen points out that he and Schoettle were contributors, not the final decision-makers, regarding stories Allen recalls, "The suggestion was, `Let's see Jack and Jennifer together. It will be fun and let's see what happens.'" The writers realized that they had to proceed "extremely carefully" with the story. After all, they were paring a sleazy guy in need of reform with an innocent virgin.

Along the way, Jack and Jennifer became known as a fun couple — a contrast to the sturm und drang experienced by DAYS's other romantic duos. Did the writers create the comedy, or did the actors do it? "I think with that couple it's fifty-fifty," observes Allen. "At the beginning Jack was devious and clever, but he was a little bumbling. That started turning into humorous things and we added humorous twists and Matt went with that and we had to adjust. We started finding humor and now it goes both ways."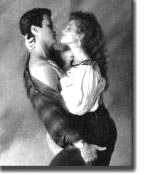 For a while, it was Jack/Jennifer/Emilio triangle and it wasn't always clear which man Jennifer would choose. Allen maintains the writers considered Emilio a serious suitor, "After Frankie left town, Emilio was there and he was very different from Frankie. Dating Frankie was like being a guest on DONAHUE. There was a time that Emilio and Jennifer were a couple, but there was a depth and contrast to Jack and Jennifer. Their emotional makeup put them at odds. That's different from external differences."

When Richard Allen and Anne Schoettle took over as head writers in January, they realized Jack and Jennifer were more than a "fun" couple. Though they did their share of frolicking , the relationship was taking a serious turn.

"When Jennifer was saying to Jack, "If you would just say you want me, then I won't marry Emilio," she was putting her heart on the line. We had to work on Jack's responses," Allen notes. He feels that their isolation on the cruise and the ensuing shipwreck were the catalysts for Jack to acknowledge his feelings.

"He was seeing he was able to protect her, and that they protected each other. It's not always Jack coming to Jennifer's rescue," Allen points out. "This is one couple where there's very little sexism. They're equals. Even in sexual scenes, she's assertive, he doesn't always make the first move. That comes from Anne and I. We work together. Anne is often the tough one and I'm writing the sappy dialogue."

Along the way, a number of viewers came impatient for things to happen, "Emotionally, we try to move them forward and see a progression," Allen explains. "The audience would have been disappointed if their coming together came about in a casual way. The fans should be happy [with the way it was written]," He promises. "Once they make love, though, their story isn't over."