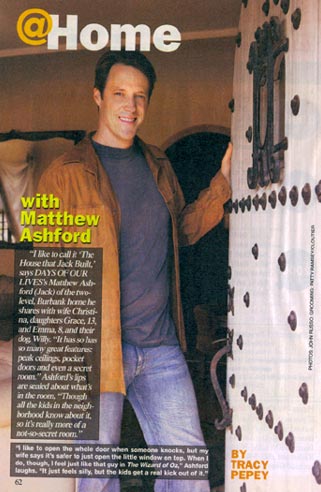 @Home

With Matthew Ashford


"I like to call it `The House that Jack Built,' says DAYS OF OUR LIVES's Matthew Ashford (Jack) of the two-level, Burbank home he shares with wife Christina, daughters Grace, 13, and Emma, 8, and their dog, Willy. "It has so many great features: peak ceilings, pocket doors and even a secret room." Ashford's lips are sealed about what's in the room, "Though all the kids in the neighborhood know about it, so it's really more of a not-so-secret room.



"I like to open the whole door when someone knocks, but my wife says it's safer to just open the little window on top. When I do, though, I feel just like that guy in The Wizard of Oz," Ashford laughs. "It just feels silly, but the kids get a real kick out of it."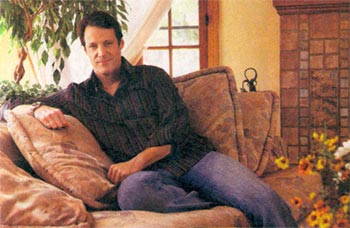 "This is a very comfortable couch that's functional, too. We always have family coming over for the holidays. I have seven brothers and sisters, and Christina has about that many. The couch must fold out. When everyone comes we have people sleeping every where — which is fun."

Christina does most of the decorating, but it is a battle of Mars and Venus all the way. She has maintained that this room is not very feminine, but I still think there are a few too many flower things.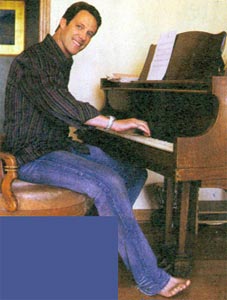 "I'd be lying if I said I played [piano]. I did a photo shoot once a long time ago in front of a piano and I've been paying for it ever since," he jokes. "My wife plays pretty well and my girls have been playing since they were 4 years old."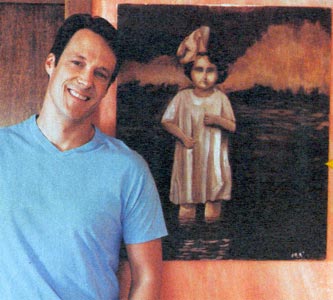 "I painted this portrait in the tenth or eleventh grade. We had to pick a photo to paint from and I chose this sepia-toned photo that I found out was a picture of my aunt.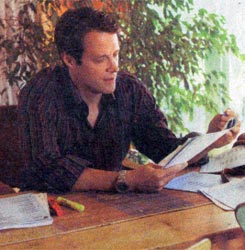 "This is our dining room. I do believe people love the feeling of live wood around them. This table is about 170 years old. Whether or not they realize it, I think it cools people out to be around nature. I'd like to have even more of it in the house."

"This is a big homework hangout. There is always something going on. It's right in the middle of everything and I'd rather break down my scripts and have my kids right there, too, if they can be."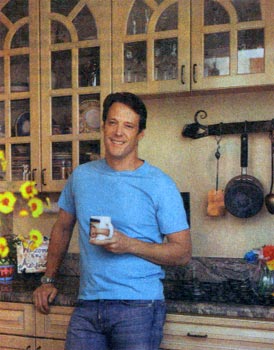 "We always found that whenever we had a gathering, no matter how small a place we lived in, everyone always ended up in the kitchen, so that's where we put most of our work. It was one of the smallest rooms in the house, so we expanded it by 5 feet, put in skylights and changed out some of the windows. Now we have to shoo people out of here."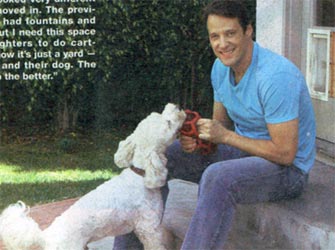 "This yard looked very different before we moved in. The previous owners had fountains and walkways, but I need this space for my daughters to do cartwheels. So now it's just a yard — for my kids and their dog. The more torn up the better."