JUNGLE LOVE
days of our lives jack and jennifer



by STEPHANIE SLOANE

When Jack became the second victim of Salem's serial killer, it looked like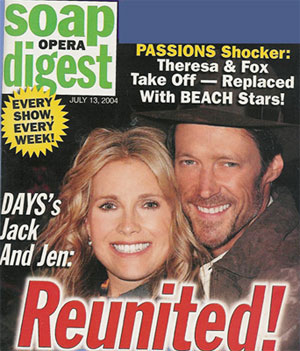 the end of DAYS's most enduring supercouples. But eight months after his presumed demise, Jack is alive, being held captive on an island and is determined to get back to his beloved. Turns out, he doesn't have to go very far. "One of the brilliant things that Jim [Reilly, head writer/consulting producer] has done with the people on the is, he has set the stage for characters to be torn apart and for relationships to go in different directions," says Co-Executive Producer Stephen Wyman."In the case of Jack and Jennifer, I don't think there is anybody out there who could possibly be rooting to see Jennifer with anybody else or Jack with anybody else. But Jack is a genuinely flawed character. He's flawed in the sense of priorities. He's compromised his love for Jennifer while running after every half-baked scheme in the world. So, the story of Jack and Jennifer is a story of patience and redemption and, in this particular case, this is part of the stage that Jack has to go through in order to be redeemed."


Last week ended with Jen crash-landing onto the island. This week begins with her pulling herself from the wreckage — and promptly falling off a cliff. While she hangs on for dear life, she calls out to Jack. "I'm not sure how she knows that they actually crashed on the island where Jack is, because it seemed like as soon as she took off, she crashed," laughs Melissa Reeves (Jennifer)." "But maybe they are that close and don't even realize it. But she's holding onto a weed, hanging off of this mountain, over this river, and she's just screaming."

Jack, who has been suffering from delirium, isn't sure if he's really hearing her voice, "He got his head cut somehow and I think he's got some jungle fever or something going on because he's starting to hallucinate," says Matthew Ashford (Jack). "Much like a lot of the story on the show right now, is he looking at what's really happening or is this a dream? He doesn't know. At first, he was just trying to get toward the plane because he thought, "This could help me get off the island." The he found a luggage tag and it had her name and he said, `Oh gosh, is she on that plane?' So, that's what's kind of pulling him, too. Then he hears her voice and she keeps calling. And then it becomes, quite literally, a cliff-hanger."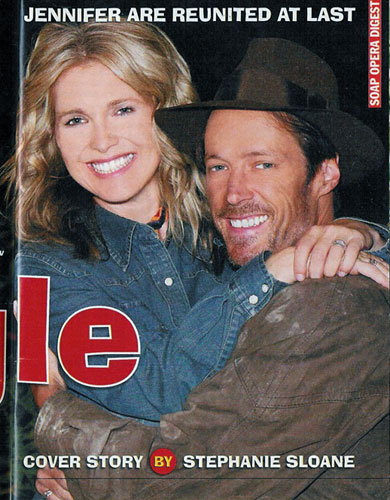 The reunion, at first is far from romantic. In fact,t it's fraught with danger. "We go on for days about how to get Jennifer out of this predicament," previews Reeves. "Jack and Jen seem to come together in the most tragic, perilous ways." And then an unexpected guest appears. "The pilot [Captain Davies] shows up — he's not really dead — so he tries to get Jack; it's very adventurous. Matt and I got to be Last Action Heroes. It's been fun." In the melée, Jen ends up falling again. "She hangs and then she falls again and happens to land on this ledge, so that's where they have heart-felt conversations, where she's sitting on the ledge and he's at the top looking down."

Although someone connected to Patrick has been gaslighting Jennifer into believing Jack is alive, she is still understandably stunned to see him. "Oh, definitely," offers Reeves. "I mean people are telling her, `He's not alive; you're crazy,' and she really believes in her heart that he is, but then there's that doubt. When she sees him, she says, `How can you even be here? I was there when you died.' There is one sad scene over this cliff where he's looking down at her and she's talking to him and not even understanding how he can even be there She's just shocked. Jack says, `Look, I didn't die. This is what happened: One minute, I was on the ground; next minute, I'm here.' He explains it very quickly." Adds Ashford: "Jennifer says, `We buried you, we harvested your organs. Who was that? What was that all about?' I'm trusting that there will be an answer eventually."

Jack asks his wife about her pregnancy. "He hasn't really seen her, but he's calling over the cliff about the baby," notes Ashford. "She's crashed on an island, fallen over a cliff and he wants to know how she and the baby are doing. There's so much going on right now that it's difficult to focus on one little moment."

Jennifer then inquires about the computer messages that she received from him. Explains Reeves, "Jennifer says, `You sent me these messages all over the computer,; and he says, `No, I didn't send you anything.' She says, `Well, you tried to call me on my phone.' And he says, `No, Jennifer.' This is, I guess what we're gonna try to figure out all summer." Then she tells hi about Patrick, continues Reeves. "She says, `You know, you'd probably like to have your friend Patrick here right now, 'cause this sort of situation would be right up his alley, as far as saving someone off a cliff.' And he says `Who's Patrick?" So, exactly where does Patrick fit in? "Patrick is an enormously intriguing young man and I will just tell you that Jennifer is not the only female character with whom he is playing scenes," teases Wyman. "I think our audience will be very interested and surprised at the way the relationships with other characters develop."

Finally, the ledge that Jennifer is on starts to give way, which prompts Jack to take action. He finds a tree that was hit by the plane and, using all his strength, pushes the trunk over. He climbs down one of the tree vines to get to Jennifer and pulls her up to safety. The duo finally embrace. "They're kissing in the pouring rain. I thought, `Oh, that's sweet,'" smiles Reeves. "It's romantic and fun."

And knowing the Deverauxes, they won't give up until they get to the bottom of the story. "They can definitely brainstorm together," nods Ashford. "They have to put two halves of the whole together and figure out what's been going on in Salem, as opposed to what's been going on on this island. There might be some more answers there."

In the end, Reeves says, the two are just happy to be back together, "Jack is her life," notes the actress "I think for her, it was like breathing with one lung. In her mind, she just probably wants to get on the plane with Jack and go hoe, have this baby and have their lives be normal and happy. But we know that's doesn't happen!" Could anything separate these two in the future? "No," she insists. "Death is the only thing. I really believe that. They've tried so many times to split them up and put other people in the middle, and the fans don't want that. They just want to see Jack and Jennifer going through different things within their life. I'm curious to see Jack and Jennifer's future."
| | |
| --- | --- |
| photos from | the article |
Charmed, They're Sure
This is the third time that Matt Ashford and Missy Reeves are working together on DAYS. How did their real-life "reunion" feel?

"Just great," enthuses Ashford. "We are having fun and are just glad to see each other. The response we're getting from the crew and the other people we're working with is positive. We have a couple of editors who won the Emmy this year, and they came up to us and they were very, very happy to see us and said it was a real pleasure editing our work." Echoes Reeves: "We're having so much fun. Matt and I have known each other for so long, we just go right back into our scenes so easily. It's so fun to have him back. He's not negative, he doesn't have an attitude, he just truly loves his job really works hard at it and he likes being there, which is more than I can say for a lot of people."

NBC gossip

DAYS OF OUR LIVES
FACES OF THE PAST: Matthew Ashford's (Jack) first day back at work came as a surprise to youngest daughter Emma. "Emma didn't know where I was going," he reports. "I said, `I gotta go,' and she said, `Where are you going?' because last time I said, `I gotta go,' I went to New York, and I was gone for four months [doing ONE LIFE TO LIFE]. I said, `I'm going back to DAYS.' She got really excited, and she gave me a hug. I think she really just wants to come back to play in the makeup room. It's a little — it's the one place you can find makeup and candy, so she'll be in hog heaven." Beside returning to Salem, Ashford had a mini-reunion at the funeral of good friend Richard Biggs (ex-Marcus). "I met up with Stephen [Nichols, ex-Steve], Mary Beth [Evans, ex-Kayla; AS THE WORLD TURNS's Sierra] and Michael Weiss [ex-Mike]. Michael not only worked at DAYS at the same time as Richard was there, but they went to USC together. They knew each other quite a long time. Lisa Howard [ex-April] was there, and Wally Kurth [ex-Justin; GENERAL HOSPITAL's Ned]. We are looking at each other, saying, You look good . . . Let's get together.' I'm sure that would make Richard happy, to know that he was causing people to reconnect."