Soap Opera Digest: Have you been aware of all the chatter from Jack fans, advocating your return to DAYS?
Matthew Ashford: Yes, I have. And it's been kind of wonderful. I've been watching from the sidelines, and I appreciate it because it shows that, I guess if you were on the stage, you've left the stage and walked into the wings, but the applause is following It's a wonderful feeling as an actor and performer to know that people not only recognize it but they'd like to see more.

Digest: In our July 13 issue, DAYS Executive Producer Ken Corday was asked about the possibility of bringing you back. He said, "Let's talk for a minute. Jack fell down an elevator shaft, was impaled and is dead, dead, dead.... That's not to say that he won't come back some day, but you have to watch it with the audience that they say don't say, `Oh, our trust is ruined, Ken. You keep killing people and they keep returning.'" What is your reaction to hearing that DAYS has opened the door a crack for you to possibly return one day?
Ashford: Before now, I never heard the impaled part [laughs]. All I ever heard was that Roman said, "Jack died a hero." So that's all I know. I didn't know any of the grisly details. But in the halls with the producers over at NBC, they made the mystery kind of in a clearer tone, clearer imagery, about how dead Jack is in the storyline right now. I've been doing this quite a long time and I realize they put a lot of focus into these characters coming back, and then there are other characters coming in. A Martinez [Eduardo] is there as well, I understand. Vincent Irizarry [Deimos]is also there. That's a lot of firepower. You have a lot of wonderful actors at DAYS. I think they're filled up by now. Of course,I appreciate being considered at all. Again, I'm really glad that the fans and the people keep asking about me because I think that means something to Ken, the producers and, hopefully, the folks at NBC.

Digest: Would you be open to a return?
Ashford: Yeah, I would be open. I've audition for a lot of different things and realized that I was given a lot of wonderful leeway with the things that I got to do as Jack. I'm also also open to coming back as someone else.

Digest: Has there been a part of you that wishes you were there to play alongside Stephen Nichols (Steve), Melissa Reeves (Jennifer), Judi Evans (Adrienne), Mary Beth Evans (Kayla) and other members of the cast?
Ashford: Absolutely. Mary Beth and I work together on THE BAY and she talks about how fun it is at DAYS. You go in and play with people who get it and who work in a certain way. Judi's a wonderful actor and Missy is ob obviously amazing. I think it's a good time for them.

Digest: Who are you in touch with from DAYS?
Ashford: Mostly, it's Mary Beth. Judi has worked on THE BAY and I see her from time to time. I've also talked with Patsy Pease [ex-Kimberly], who plays a very interesting character on the next season of THE BAY that hasn't been released yet. It was pretty cool to catch up with her because we also had the 50th anniversary of our alma mater, the North Caroline School of the Arts. It started the same years as DAYS. So I went back for that, to catch up with my old classmates and see a lot of people who came before and after I was there. I thin Patsy was working. She wasn't able to be there. I also talk occasionally to Charles Shaughnessy [ex-Shane], who is often working around the country performing.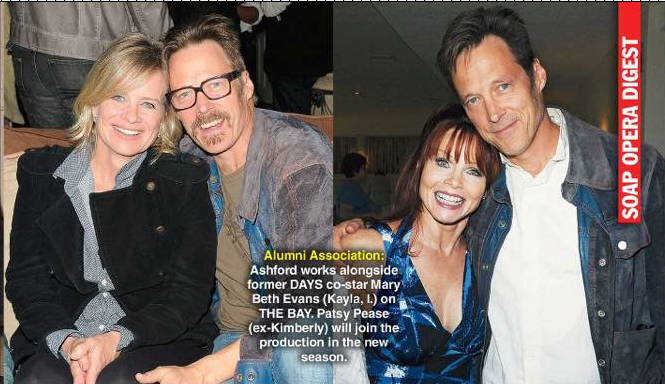 Digest: When you think of DAYS, what memories stand out for you?
Ashford: The Cruise of Deception was a big adventure. The whole arc of coming in and beginning with Stephen and Mary Beth, and then the ensuing arc with Missy -- those were great times and it went on for years. When I came back in 2011, that was a full year of a very clear storyline.It's very memorable, as well.

Digest: You mentioned Patsy Pease appearing on THE BAY. What can you say about your character, Steve, in the new season?
Ashford: We're taking some twists and turns. I'm working with some new people.The Garrett family is hit with a very large obstacle. My character is part of the Garrett family by marriage, but he's kind of on the outside looking in.

Digest: You have had some changes in your personal life. you now have a son, Henry, 2. You also have two adult daughters, Grace, 23, and Emma, 18. What differences have you noticed raising a boy?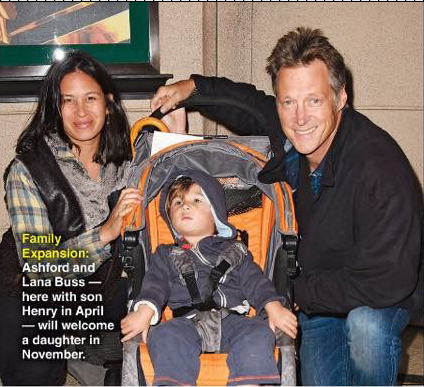 Ashford: Henry is nonstop action. He runs, moves, pushes, pulls, climbs. I was talking to Mary Beth about him and she laughed, because she raised two sons. She said, "Oh, yeah, they stay busy." I used to be able to sit with one of my daughters in my lap and read. But Henry is just busy. He's a bundle of job. I have four older brothers, one older sister and two younger sisters, but I never saw myself as the baby boy.

Digest: You and Lana Buss also have a daughter due in November. What are the differences starting a family at this stage in your life?
Ashford: Our daughter's birth is just around the corner, November 14 or so. As for the differences starting a family at this stage in my life, I'm older [laughs]. My energy is what it is, so I have to plan a little more. I'm also enjoying it because I realize these moments come and go so quickly. My daughters are 18 ad 23. So I'm really trying to live in the moment and enjoy the moment.

Digest: How did you and Lana meet?
Ashford: We were doing a play together, Antony and Cleopatra. We started out as just good friends. Lana's a good actress and smart and funny. Obviously, my marriage came to an end and it's been really rough, honestly, with the daughters. But hopefully we're all moving toward a happier future. Lana and I didn't expect to be having kids. But life just finds a way, as Jeff Goldblum said in Jurassic Park [laughs]. And here we are.

Digest: You tweeted about attending your dater Emma's cabaret performance in July. How is she doing?
Ashford: Emma is going to graduate this year from LACHSA, the Los Angeles County High School for the Arts. She wants to pursue singing and musicals, so she was doing a cabaret. It was an extra part of their classwork. It was wonderful.Emma has always had musicality to her. She's a beautiful young lady, and her mother has trained her well, so she has a lot of talet. Performing really brings Emma happiness, it makes me happy that she's doing it. It's a hard road to be an actor. But she's following her dreams, and as a parent I have to stand back and let her go for it. And she's worked very hard at it.

Digest: What would you want to say to your fans who have been so supportive?
Ashford: Again, I really, really appreciate their support and being there for me. They'll share memories that sometimes I don't remember. They'll bring up something that Jack or Jennifer did. There should be a THIS IS YOUR LIFE show for longtime actors who have worked on daytime so pas. The fans could come out and share their memories, which the actors may not remember, because the characters have led such busy and exciting lives. The fans have a wonderful; energy. When things get kind of quiet as an actor, it keeps me going.
by Robert Waldron