JACK PROPOSES TO JENNIFER!
Pretending to be gay is nothing compared to the stunt Jack pulls this week when he asks ex-wife Jennifer to marry him again.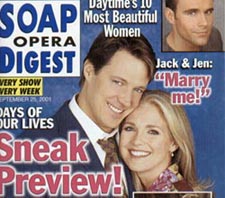 "He just can't wait," explains Matthew Ashford of his alter ego's impetuous proposal. "He gets the courage to make something happen."

And does he ever. On the pretense of celebrating Jennifer's birthday. Jack takes her to Tuscany. When they arrive, Maggie greets them, but there's no one else in the restaurant except their daughter, Abigail. Jennifer is led to a table decorated with a birthday cake and balloons, and the three have a family party. Then Abby is whisked off by the babysitter, leaving Jack and Jenn alone. "He pulls out several pictures that are supposed to remind Jennifer of romantic moments of the past," Ashford previews. "He's trying to get her into that mindset. And then he proposes.

Why the rush? After all, they've been living together for a few months, and Jennifer has rejected all of Jack's attempts at reconciliation. "Jennifer has been warming up," Ashford notes. "Things were getting better because there was more communication going on. She's admitted that living in the house together was a good idea and said that he's a good father and very good for Abigail. And they haven't had any real bad flare-ups ... in a week. But then it's just he's got to go for it. It's almost like you've got a present sitting on the table and you can only sit there looking at it for so long before you're gonna tear it open."

Not that Jennifer has a ring box to tear open. "Jack realizes that he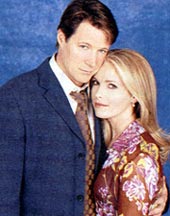 doesn't have a ring." Ashford chuckles. "It's not so much to say that if you don't have a ring, you're not ready to get married. Obviously, that's not his take. He's also saying, 'Will you remarry me, so let's not stand on ceremony here.' He's just trying to cut through stuff.

Ashford feels Jack has changed enough to make marriage work this time around. "He thinks if they could just get back together, it'll be all right," says the actor. "I think he'd be honest in saying, 'I can't predict the future, but look what I'm doing. I'm already different.' Frankly, Jennifer pursued Jack mercilessly for years and look what's he's doing now. He's kind of going way out on a limb."

But will she say yes? It wasn't planned, but sometimes unplanned things can work out," Ashford teases.