From the that spawned the "supercouple,"
DAYS OF OUR LIVES
proved once again that it is — by far — the master of this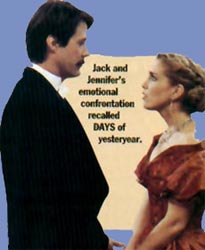 aspect of daytime genre in the moments leading up to the fateful reunion of one of its most beloved dynamic duos, Jack and Jennifer. Although others have stepped inot their shoes, it is the performances of Matthew Ashford and Melissa Reeves that made the audience love this quirky and unpredictable couple.
Days
capitalized upon the magical bond between the twosome and smartly utilized flashbacks, reminding the audience of the many memorable moments that these two have shared through the years.
As the perfect comedic setup before they laid eyes on each other, Jennifer's plane was held up in order for Alice to deliver a letter from Jack to her. Before she even opened it, Jennifer recalled the various events of their life together, such as working together at
The Spectator
, Jack's hilarious proposal dressed as Santa Claus and their wacky wedding at the Wild West Arena.
What a treat for fans to have a few minutes to relive the magic of this special couple and be filled with anticipation for the fireworks their emotional encounters are sure to bring in the future.