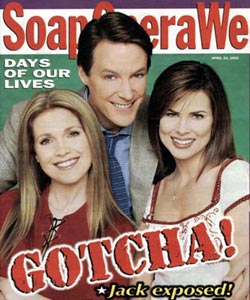 Soap Opera Weekly
the news


YEP, I'M (NOT) GAY!

Jack admits the truth
MOVE OVER, ROSIE, JACK DROPS HIS OWN bombshell this week on Days of Our Lives when he admits to the world that he is not gay.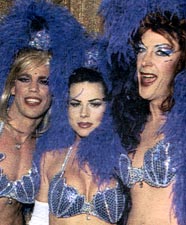 "Jack is beyond busted," declares Matthew Ashford (Jack). "Everybody has a reason to hate him, and they all move in on him. It's like something out of Night of the Living Dead.

After dodging mobster Chico and Big Chauncey, who want to kill him because he accidentally picked up their brief case filled with money, Jack ends up backstage in a hotel ballroom in Las Vegas where Harold's dad, Oliver Wentworth, is hosting a big show.

When Wentworth invites Jennifer and Brandon to stay for the festivities, they agree, setting the stage for what promises to be a fiasco. Meanwhile, Chico and Chauncey block all exists from the ballroom. Realizing there's no way out, Harold gets an idea: He, Jack and Greta will dress up as showgirls.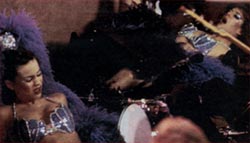 But they fall flat on their faces -- literally. Wentworth is furious when the three stumble into the orchestra pit, while Jennifer and Brandon are stunned at the sight of Jack in drag. As Chico and Chauncey train their guns on Jack, "Brandon, of all people, knocks over Chico and his bullet goes astray," previews Ashford. "The Jennifer gets into the act and saves Jack's life."

"Jennifer drops a sandbag on Chauncey's head," chuckles Melissa Reeves (Jennifer). "She knocks him out. Boom, boom, boom! It's over. In the face of trauma, Jack and Jennifer always rise to the occasion for each other."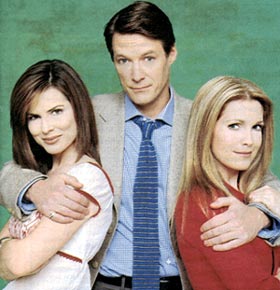 The two thugs are promptly arrested, but Jack's troubles are just beginning. Jennifer laces into Jack, telling him she knows his secret. Finally, Jack blurts out the truth, but unfortunately, his big revelation is blasted over the ballroom's loudspeaker.

"Everybody's there, and they all hear it," sighs Ashford. "Brandon, Harold, Wentworth.... Jennifer is disgusted. Greta is a mess. They all take potshoots at Jack."

The most crushing blows come from the two women in his life. "Jack and Jennifer get in a pretty heated argument, but it's out of hurt and pain," explains Reeves. "Jennifer realizes Jack is never going to change and that things may never work out between them. She can't believe he pretended to be something he's not, that he lied to and hurt so many people. Usually, Jack's lies just hurt Jennifer, Jennifer never wants to see him again."


Ditto Greta, who slaps Jack across the face. "Greta is shattered," relates Julianne Morris (Greta). "Her heart is broken. She spent months believing in Jack, trusting him, wanting him to be happy and doing everything she could to make him happy."

"Things are bad," groans Ashford. "Everybody's yelling at Jack, then they leave. He doesn't even have anybody to spin a story to. Jack's back to negative square one. This would be where Jack would sing his solo, if it were a musical. Maybe, Don't Cry for Me Argentina. Something sad and torchy.

Things get more dismal for poor Jack when he returns to Salem, where life is, fittingly, a drag.

SHOW GIRL FOR DAY(S)

OF ALL THE CAREER ASPIRATIONS Matthew Ashford has had, he never quite pictured himself as a Vegas showgirl -- until his Days of Our Lives alter ego, Jack, went undercover to escape thugs (airing this week).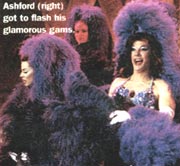 "It was kind of scary," cracks Ashford. "I was in full drag, full-on regalia." You can say that again: a bra top covered with clam shells, a sarong, fishnet stockings and a purple boa.

"The hard part for Ashford was donning his fishnet hosiery. "They felt very strange. Someone had to actually put them on for me," he admits. "But, hey, I guess it would have been more embarrassing if I had been really good at it."

Ashford, however, already knew how to walk in heels -- "you've got to be on your toes, literally" -- from his last dress-up stint on Days. "Vern and Jack were in drag years ago. They were on the lam hiding out in New York City trying to save Jennifer from Lawrence Alamain. I was more of a matron then," he muses. "At least this time, I'm a showgirl."