Soap Opera Weekly
HANGIN' WITH MATT & MISSY
It was almost a year ago that Days of our Lives launched its Salem Stalker storyline.
Back then, WEEKLY interviewed an apprehensive Matthew Ashford (Jack)
and Melissa Reeves (Jennifer) about the fate of their characters; two weeks later,
they learned that Jack would the killer's second "victim." This June, Ashford
returned to the show, delighting viewers and his leading lady. Ashford and Reeves
sat down for a happier chat this time around discussing their long separation on-screen
reunion and the loyal fans who struck them through it all.
WEEKLY: You must be thrilled that Jack and Jen are together again.

MATTHEW ASHFORD AND MELISSA REEVES: Yeah! (cheering in unison)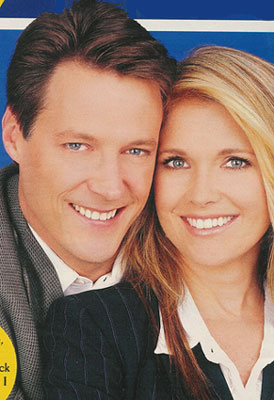 WEEKLY: You had to think your Days working relationship was over for good. Storywise, Jack was dead. His organs were donated!

REEVES: Without a doubt. There was no redeeming Jack. Every body part was gone.

ASHFORD: Used up like the buffalo.

REEVES: We buried him, saw him go in the ground. It's a mystery [what happened]. We still don't know and are all trying to figure it out.

ASHFORD: Because Abe and Roman sure aren't trying to figure it out. They're sitting by the pool drinking mai tais. They look like Crockett and Tubbes. They're in The Matrix.

WEEKLY: Missy, did you go through a mourning period after Matt left?

REEVES: It was sad. Matt is someone who truly loves his job, loves being here and gives all of us a laugh every day. I wasn't worried about what he would do next. He's a talented actor. But in a selfish way, I wanted him here. Also, Matt was the second one to leave. I knew that there was still going to be another eight or nine months of people getting killed off. I was missing Matt, but also thinking, Well if they got rid of him, I'm going to be next!

WEEKLY: Matt, fans were pretty upset about your departure.

ASHFORD: Even people at One Lie to Live (where he played Dr. Stephen Haver), who are closet Days watchers, would come up to me and say, "I watch Days of our Lives. I like what you're doing her, but I'm really sad about what's going on over there."

WEEKLY: Missy, did you watch Matt on One Life to Live?

REEVES: A bit. I could believe it when he was the serial killer. It was too strange. The, I heard he was going to be [written off] and I thought, Well, I'll never watch that show again!

WEEKLY: Matt, did you tune in to Days to watch Missy?

ASHFORD: When I was in New York doing One Life to Live, I'd work out at a gym during the day. I'd turn up the TV while I was on the treadmill to see what was going on [on Days]. It was a strange, otherworldly experience. Jack was dead, but I was a live. I'd yell at the TV set, "I'm here! I'm here!" It was like a bad dream.

WEEKLY: It must have been hard to see Missy go on without you.

ASHFORD: The worst moment happened when an actor on One Life to Live came up to me and said, "I'm going to audition for Days, next week." I said, "Cool." Then he said, "I'm going to audition to play Missy's love interest." All of a sudden I had this crunchy feeling like I was the old boyfriend and a friend was telling me that he was going to start dating my old girlfriend. I had this feeling, I can't be jealous, but I am!

REEVES: I'm the same way. I read [posts on the Internet] that say, "We hate Jennifer. They should put Jack with someone intelligent." Then they start naming people they think Jack should be with. I go, "No. He's mine. They can't have him."

WEEKLY: Then everything changed. There was a meeting on set and it was announced that all the stalker's "victims" were coming back.

REEVES: We knew that they were calling this big meeting for a few days. After the whole year, I was thinking they were going to get rid of the whole show. We were all getting fired. Then, the night before the meeting I decided to call Matt. I thought that maybe they were going to tell us that some people were coming back. There was no answer. When I couldn't get hold of Matt, I thought, What a stupid idea. That's not going to happen.

ASHFORD: We weren't home, and it probably helped save an uncomfortable moment.

WEEKLY: Tell me about the big announcement.

ASHFORD: I went over to (executive producer) Ken Corday's office. When I walked in, there were a bunch of dead people standing around drinking coffee. It was weird. Them, we were supposed to hold hands an "Kumbaya," and walk across the street to the Days studio. We stood in the green room. We were supposed to walk out [on set] one after the other. Frances Reid (Alice) said, "When they call use let's not go out. Just don't go. What are they going to do?!"

REEVES: Ken started naming everyone, one by one. When I talked to Matt, afterward, I said, "I can't believe you didn't tell me what happened. I hate you. I am going to kill you."

WEEKLY: What was Matt's first day back like?

ASHFORD: We didn't work together, but we definitely....

REEVES: Picked up right back where we left off.

ASHFORD: We had actually had dinner together shortly before that.

REEVES: Matt, Christina, and the girls came over and Scott barbecued. The kids were not supposed to swim. Fifteen minutes later we look over and they were all wet in the pool.

ASHFORD: In their clothes. They all happened to slip into the pool.

REEVES: The kids were having a ball. It was nice.

WEEKLY: Tell me about your first scene together.

REEVES: It was on the island, on the cliff. We jumped right back in where we left off, and it was hysterical. Only now Jennifer's pregnant and Jack has superhuman strength. They were on that vine, and he was pulling them both up.

ASHFORD: Ali (Sweeney, Sami) said that it reminded her of The Princess Bride, where one guy is pulling up all these people hanging on him. I kept saying, "How am I supposed to do this? I need help. Can she use her legs?"

WEEKLY: Are you enjoying the island hijinks?"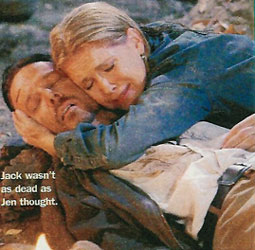 REEVES: I love it. We've been covered in dirt and blood and water. We've been doing stunts. We don't get to do that often. The worst thing is having that [fake pregnancy] belly on. It slides to different parts of my body. Sometimes it's up to my neck. Also, when I chose my wardrobe — completely forgetting that I'd be wearing it the entire summer — I thought, Well if Jennifer's going to see Jack again she should look cute. She should look her best. So [I picked out] cute brown wedgies and fitted jeans. Now I'm hanging from ledges and cliffs and I have to have these giant wedgies on. In hindsight, I would have opted for sneakers.

ASHFORD: I've never done much action/physical stuff. It's fun.

REEVES: Every day I'm liked, "Matt, look at this bruise."

ASHFORD: It's like playing in the dirt all summer.

WEEKLY: Are you more appreciative of working together now?

ASHFORD: Of course, as she looks right at me. I loved working on One Life to Live with some wonderful actors. Linda Dana (ex-Rae) and I got to do some great things together, but it was short. I wasn't able to do a whole lot with that character. Here, there's so much more possibility. You can do more with Jack and Jennifer. It's like going on the jungle gym set that you know you can get the best swing out of.

REEVES: I always appreciate working with Matt. Matt makes the job 10 times easier.

WEEKLY: During Days chats on SoapOperaWeekly.com, fans were begging for an interview with the two of you. They love Jack and Jennifer.

REEVES: Ahhhhhh. That's so nice. We don't get to see that a lot, because Matt and I are both so [computer-illiterate]. We haven't had our class with Ali in a long time. It's nice to know that you have so many people who care that you're here.

ASHFORD: That's why it's nice to go out and do appearances or get letters from people. Because you realize. Oh! They do enjoy it. They do still like this. As silly as it sounds, it's like when Sally Field won the Academy Award and said, "You like me. You really like me!" We forget sometimes, because we don't work with a live audience.

WEEKLY: Is there anything you'd like to say to that audience.

REEVES: Thank you for standing by our characters for so many years. It's been a long time.

ASHFORD: It's humbling how people can stick with you even though you're not delivering anything that's pleasing to them: dying and being killed off. But they still manage to hang on and are willing to come back after being battered about by the forces of nature. I came back because I have faith in this show, Ken, and [head writer] Jim Reilly. Missy and I still have stuff that we can do. There's still a story to tell. I'm glad that fans feel the same way.

BY JANET DI LAURO
thenews
Matthew Ashford may be splitting hairs, but he's not exactly thrilled with Jack's new look on Days of our Lives. "When I came back, I thought: Okay I won't shave," recounts Ashford, who was told to think Indiana Jones. "Of course, I had no idea how long this [Captive Island Storyline] was going to go on. Now a slight bit of growth has turned into a beard, and I've never had a beard in my life. It's summertime. It's hot." His wife and kids aren't too keen on the peachfuzz, either. "Plus, I don't know how to groom it or cut it. I was starting to look like Grizzly Adams." Days' hair department started trimming it, though, so Ashford can face it a little better. "Now I know how George Michael feels with perfect [one-day growth]. He has to maintain that every day."