Digest:
How is this wedding different?
Dena Higley:
It's unique because it's Jack and Jennifer, but what's unique in the world of Jack and Jennifer is that is so serious.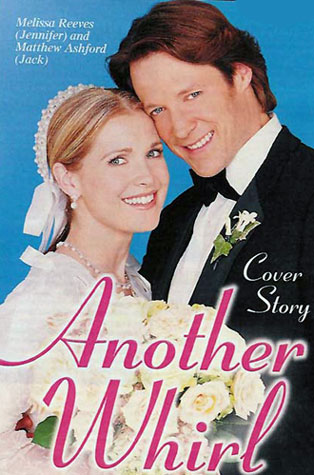 They're older and they're more mature — especially Jack — and he takes this so soberly. During the ceremony, Jennifer talks about the passage from the Bible that says, "Love keeps no records of wrongs," and Jack says, "Oh, my gosh, I need a woman who would not keep a record of my wrongs." He acknowledges his past flaws, yet they've been able to move past it.
Melissa Reeves:
They're older, wiser and absolutely know they want to be married forever. There are no blinders to reality of life. They've been through so much together and have more wisdom.


Matthew Ashford:
One of the biggest things for them is that there's a little person in the picture: Abigail. Weddings are generally about two people coming together, and the way they've structured the wedding and the vows, Abigail is right there. This is something she really wanted to happen, so she plays a big part in the ceremony. Lucas also steps into a place of prominence by being the best man he says, "You don't really know me, so thanks for thinking of me." Jack says something about losing his best man — his brother, Steve — and Jennifer almost lost Lucas, so they thought it would be a good fit. It's a way of remembering that they've had tragedies, but still celebrating today.
Digest:
Was it always in the cards for these two to wind up together?
Higley:
I think it was in the cards to marry them. I'm not so sure if anyone had long term plans beyond them getting married. When I took over, I immediately thought, "Okay, but then what? If this is a couple we want to invest in, then we have to think past the wedding. What makes them watchable? What would we want to see them do?" That's when we came up with the idea for the talk show.
Digest:
How does it play into their big day?
Ashford:
Well, [this event is] being broadcast live on
IN THE HOUSE
. As Jack, I'm not sure about it, other than the fact the wedding is basically paid for. It's a work expense, we get the free video and it's a write-off, so that's a good thing. We have this guy and this camera crew running around, talking, like [
whispering
], "Now they're going to get married," and this guy couldn't be less romantic. It's all a big show.
Reeves:
They were just caught up in the talk show, but now they're like, "Why did we let them talk us into that? Let's hope it helps the ratings. It's for the good of the show." They keep trying to justify it all the way through.
Digest:
Are they in a better place to make it work this time?
Ashford:
Well, we could say yes, they're older and wiser, but older and wiser than who — or what? People still make mistakes right and left. It's not like I see some imminent failure, but you can be a couple and be deeply in love and still have tremendous things that you fight about.
Digest:
Jack and Jennifer have been at the top of
Digest
's Internet polls. How do you feel about the fan support after all these years?
Ashford:
It's encouraging. I feel like we have a lot of story to tell and a lot of things to say. That response makes me think the audience feels the same way and wants to see this couple face things and go through highs and the lows of life together.
Reeves:
I love our fans. They really got together and the support is incredible. It seems like all of them jump on at one time. We are never on that [Internet] list. I thought, "That's okay — we've been around awhile. People are probably tired of looking at us." And they I was like, "We're on the list!" We're so thrilled.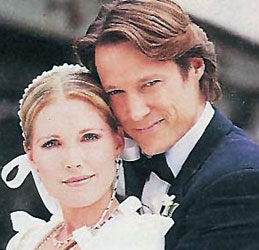 Digest:
Will their love last this time around?
Reeves:
Part of me wants them to live happily ever after, but if they live happily ever after, they probably won't get a story! I like that right now they're floating on this cloud of forever and ever, and then, of course, I want something just awful to happen!
Higley:
I can't imagine anyone want to break them up. I certainly wouldn't. They've come through too much. I think
DAYS
understand this is a franchise in and of itself. They're like Bo and Hope. If you take a couple so far, break them up so many times and then bring them together, it smells of manipulation. It takes a little bit more ingenuity to keep them fresh and interesting together.
Ashford:
Our last lines are, "We're finally married. We're finally happy," and we're blithely going off again. I'm curious to see what's going to come next. We don't want the characters take for granted because they're together now, and in terms of writing that's a challenge. Any time characters get married, there's a honeymoon period, and then, "Now what?"