SCENE ONE: JACK IS SITTING BY KAYLA'S BEDSIDE


HARPER ENTERS THE ROOM.
HARPER: Has she said anything?

JACK: No.

HARPER: What are you going to do?

JACK: I don't know. I keep thinking she should be in a hospital. She's not getting any better.

HARPER: Jorgens has been here very day and all the tests have come back negative. And I've got to agree with him. There's nothing she can get in a hospital that she can't get here. Now what about Johnson? Are you still thinking of calling him?

KAYLA: Jack....Jack

JACK: Kayla? Kayla honey how are you feeling? Ah....you were asking for Steve earlier. Do you want to see him?
KAYLA IS TOO WEAK TO TALK. SHE SHAKES HER HEAD.
JACK: Cause if you do....

KAYLA: No, I don't want to see him. I don't want him to know about this.

HARPER: Then he won't. Nothing will happen if you don't want it.
---
SCENE TWO: JACK IS ASLEEP AT KAYLA'S BEDSIDE. HARPER ENTERS CARRYING A CUP OF TEA.
HARPER: Jack?

JACK: What?

HARPER: You go get some rest. I'll stay with Kayla.

JACK: No. No. No. I'm alright.

HARPER: Jack it won't do Kayla any good if you get sick again. She'll be alright.

JACK: You'll call me if she wakes up?

HARPER: Of course.
JACK LEAVES AFTER A CONCERNED LOOK FROM THE DOOR.
---
SCENE THREE: JACK IS AT KAYLA'S BEDSIDE OFFERING HER SOME TEA.
KAYLA: Jack I can't.

JACK: Kayla come on please. Just a little bit.

KAYLA: My throat's so dry and tight. I can't swallow.

JACK: Okay we'll try a little bit later alright.
JACK PUTS THE CUP TO HIS MOUTH JUST AS HARPER ENTERS.
HARPER: Jack! What are you doing? Kayla drank tea out of that cup and we don't know that what she has isn't contagious.

JACK: All the tests have been negative. You'd think they'd be able to tell....

HARPER: Yes you're right. I guess I over-reacted but let's stay on the side of caution alright.
HARPER DROPS THE TEA AND SPILLS, ON PURPOSE NOT WANTING JACK TO DRINK THE POISONED TEA
HARPER: Oh I'm sorry. I'll have a fresh pot brewed.

JACK: That's alright. I didn't want some anyway. It's just something to do.

HARPER: You haven't got any rest yet have you?

JACK: No, I'm fine.

HARPER: Why don't you go ahead? I can stay with Kayla.

JACK: No, no, I'm fine.

HARPER: You have to get some rest.

JACK: I'm fine. The chair here is very comfortable, very comfortable.

HARPER: I don't want to have to worry about your health too. Get some sleep.

JACK: I will.
JACK SITS BY KAYLA
---
SCENE FOUR: JACK AND HARPER ARE SITTING IN THE LIVING ROOM AS ANJELICA ENTERS IN A ROBE
ANJELICA: Good morning.

HARPER: I'm surprised you're up. I thought you'd be feeling the effects of jet lag.

ANJELICA: Oh I never suffer from jet lag. Good morning to you. (She kisses Jack.) How's Kayla? Is she better?

JACK: No, that's why I decided to call Neil Curtis this morning.

HARPER: Why would you do that? Jorgens is handling the case. Dick Jorgen's is doing an excellent job. He's our family doctor.

JACK: I know that dad. I'm sure Dick Jorgens is very good but I think it's time for a second opinion.

HARPER: I agree but why bother Neil. I'll get in touch with an excellent specialist in Washington. I'm sure they'll fly right out to take a look at Kayla.

JACK: A specialist?

HARPER: Yes trust me. He's the best.

ANJELICA: Sounds like a good idea to me sweetheart.

JACK: I don't care what he does. I just can't stand sitting by and watching Kayla suffer like this.

HARPER: Let's not bother Neil alright.

JACK: Alright. I'll wait for your specialist. I just wish someone could tell me what's wrong with my wife.

ANJELICA: I'd like to tell you about my trip. Sorry you didn't get to go.
HARPER HAS A FLASHBACK TO A SCENE WHERE KAYLA PICKS UP HIS BRIEFCASE INSTEAD OF JACK'S AND SPILLS THE CONTENTS. HE THINKS SHE'S TAKEN JACK'S ADOPTION PAPERS
ANJELICA: And when Adrienne was in the spotlight she didn't handle herself every well.

JACK: Well I guess it's just as well Dad didn't go. He's usually so bored by those kind of things, aren't you dad? Dad....?

HARPER: Oh yes, they can be very tedious.
---
SCENE ONE: MELISSA FINDS THE ADOPTION PAPERS THAT HAS FALLEN BEHIND THE DESK IN THE STUDY.
---
SCENE TWO: JACK WALKS INTO THE ROOM FOLLOWED BY STEVE.
STEVE: Jack, can't you just give me half a minute with Kayla? Now why is that too much to ask, eh?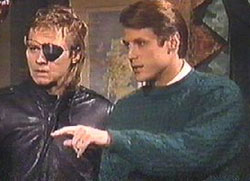 JACK: Because she doesn't want to see you and I don't want her disturbed. Doctor I'm glad you're here because Kayla is only getting worse.

DR. JORGENS: Relax Jack and I'll take a look at her.

JACK: Good, you know that my dad's calling in another doctor.

DR. JORGENS: Another doctor?

JACK: Yes I know that you're good but even I want to know what's going on with Kayla.

HARPER: Jack you've got to be calm.

JACK: You called that specialist in Washington right?

HARPER: I'm waiting to hear back.

DR. JORGENS: Well why don't I take a look while we're waiting.

JACK: Okay let's go. Maybe you can suggest someone to give a second opinion.
JACK LEAVES WITH THE DOCTOR.
---
SCENE THREE: JACK IS SITTING BY KAYLA'S BEDSIDE DRESSED IN A GRAY SUIT.
JACK: Kayla? Kayla, honey, wake up. Hey you're burning up. Wake up Kayla, wake up. (Harper enters the room.) Dad, dad, dad?

HARPER: What's wrong?

JACK: She's burning up. She won't even wake up. I gotta get her to the hospital.

HARPER: No. (Harper grabs the phone from Jack.)Wait a second.

JACK: Wait for what? I don't care what Dr. Jorgens says. Kayla is going to the hospital.

HARPER: I think you're absolutely right. I just as worried about her as you are.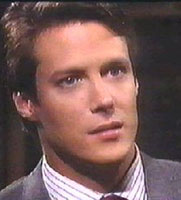 JACK: Then why are you doing this?

HARPER: Dr. Jorgens has a private hospital. Kayla can go there. She won't be bothered by the press. We can protect her.

JACK: Is it near?

HARPER: It's not very far. Look I will go and make the arrangements. Meanwhile I'd like you to prepare for the fundraiser. You only have a few hours.

JACK: The fundraiser? I'm not going to any fundraiser. I'm staying right here with Kayla.

HARPER: Jack, this is crucial to your career.

JACK: Kayla is more important than any campaign, any career.

HARPER: Oh yes I'm sorry. Of course you're right. Look you can do both. We can go to the fundraiser together and right after we can take Kayla to the hospital. I'll make sure Dr. Jorgens stays with her while we're away.
JACK SHAKES HIS HEAD.
HARPER: It'll only be for a short while. We're expecting a lot of press. Now if you're not there, they're bound to ask a lot of questions. Making Kayla's illness common knowledge now isn't going to her or you any good.

JACK: (Very reluctantly). I'll be there....

HARPER: Good. I'll call Dr. Jorgens from my office. (He leaves the room.)
---
SCENE FOUR: MELISSA AND ANJELICA ARE TALKING IN THE DEVERAUX LIVING ROOM WHEN JACK WALKS IN LOOKING UPSET.
JACK: Anjelica, I've been thinking. We have to call this whole thing off. We just have to cancel and reschedule for another time. It's not the first time that a major event has been postponed because of a family illness.

ANJELICA: Of course not darling but your father and I......

JACK: I know, I know all about it. Dad told me all about and I don't care. I'm worried about Kayla and not about the fundraiser. I don't know how dad talked me into this in the first place.

ANJELICA: Look sweetheart, I want you to listen to me. I know Kayla is important to you. She's important to all of us but if you cancel this party now the public are going to think it's you that's ill. To ill to attend your own fundraiser and if the press gets a hold of this.

JACK: I know, I know.... I told you, I told you, I don't care about the press right now. I'm only concerned about Kayla. She needs me and I'm too concerned about her to worry about anything else so it doesn't matter anyway does it?

ANJELICA: I do understand and I don't want to argue with you. I'll just bring to your attention just one small point. Dr. Jorgens is probably on his way over right now and when he gets here it's out of your hands. It's up to him so I don't see what difference a few hours is going to make and it could on the other hand it could make a career. (To Melissa) Melissa if any of the press asks you about Kayla, please downplay her condition.

MELISSA: What will I say.

ANJELICA: She's in bed with the flu. We don't want anything to take the attention away from Jack. (She leaves the room.)
---
SCENE ONE: JACK IS DICTATING A SPEECH TO MELISSA.
JACK: Ah, what is it?

MELISSA: You want to thank the people....

JACK: Right, right. First of all I would like to thank all the people that helped.... Sory I just can't concentrate.

MELISSA: I know you're really worried about Kayla. The people will be here in a minute.

JACK: I know. I know they are.

MELISSA: Right. How about I try to take your mind of your speech for a minute. What's the latest on Kayla?

JACK: Well, Dr. Jorgens is coming over again to take another look at her and I don't know what he's going to be able to do for her that he hasn't already done.
HARPER WALKS IN.
HARPER: What's that you're saying?

JACK: Hi dad.

HARPER: You know son, it's one thing to be concerned about Kayla but to give up hope, I won't have you talking like that.

JACK: It's the truth isn't it?

HARPER: No. I feel sure that Dr. Jorgens will be able to help her.

JACK: Why? He hasn't been able to so far.

HARPER: Have you forgotten how well Kayla looked when you returned from your honeymoon?

JACK: No I haven't forgotten that and I also haven't forgotten that she got sick as soon as she got back.

HARPER: I can't pretend to understand the medical side of these things anymore than you can. All I know is she had relapse but with Dick putting Kayla into his own private hospital he'll be able to monitor her condition around the clock. Other than that I don't know what more we can do, do you?

JACK: What about that specialist? Remember you were going to call him.

HARPER: I'll check with Dick tonight. That is what you want isn't it? To put Kayla in the hospital.

JACK: Yes.

ANJELICA: The guests will be arriving soon. Is everything all right?

JACK: As a matter of fact, no.

ANJELICA: What's wrong?

JACK: The speech. I can't remember a single word of it.

HARPER: Why don't you go into the study, get yourself together, compose yourself and.... we'll call you when the guests arrive.

JACK: Dad. All the time in the world is not going to help me with this speech. All I can think about is Kayla. I know you don't want to hear this but I still think we should cancel the whole thing. We should postpone.

HARPER: We've been all through this son.

JACK: (Getting angry) I know that and I want to be with my wife. I think that's more important. We should put it off till another time.

HARPER: Son, I know I've taught you better than that. There is no such thing as postponement a of a fund raiser. The money you lose tonight, the money you let slip through your fingers will be gone forever. Now some of these people will contribute to your campaign later on but they would contribute anyway.

JACK: You know it doesn't matter to me. Nothing else matters to me.

HARPER: You know you don't mean that. You're concerned for your wife, I understand that but you have to think about your future, your's and Kayla's.

ANJELICA: Your father's right Jack.

HARPER: This meeting tonight could be the difference between you winning the assembly seat or not.

JACK: I don't give a damn about the assembly seat.

HARPER: Alright, ignore what Anjelica and I have to say. Let's cut to the bottom line. You show up tonight not caring about anything and you may as well cancel and cancel your whole political career at the same time.

ANJELICA: Harper.

HARPER: I mean it. If he's going to tell people to go away as soon as they arrive he has to know the consequences and you should also know that those people are the same people I rely on for my future as well as yours. Let's not misuse their trust. Let's get on the phone and....

JACK: No dad, hold it.... you're right, you're right. I'm just being selfish but I'm thinking about Kayla. I'll snap together.

HARPER: You're sure about that.

JACK: Yep. You know I wouldn't do anything to jeopardize either of our careers.

HARPER: I'm glad to hear it.

JACK: You mean after all the training you've given me all these years how could I stand you up now? (doorbell rings) Oh, there's my cue ....Saunders? Good evening come in....
---
SCENE TWO: JACK GREETS ALL THE GUESTS TO THE FUNDRAISER AS MELISSA WATCHES HARPER, KNOWING THAT IT IS ALL AN ACT, AND HE REALLY IS NOT JACK'S FATHER.
---
SCENE THREE: THE FUNDRAISER. HARPER IS UP FRONT TALKING WHILE JACK SITS AND WATCHES AND MELISSA STARES AT JACK.
HARPER: A friend of mine recently asked what it was like to have a son follow in my footsteps. Of course I gave him the usual platitudes, I'm proud that he's going to take over and that kind of thing and I hope he knows what he's let himself in for. But when I seriously considered this question I had to admit that having Jack enter politics is the fulfillment of a very wonderful and personal dream. (Jack smiles.) A man begins his life with the hope that it will live on, that the battles he chooses to fight will be worthy and not forgotten. What better way to be assured one's legacy will continue than to have your own son take the baton from your very hands. Ladies and gentlemen I give you the next assemblyman from Salem, my son Jack Deveraux.
APPLAUSE FROM ALL THE CROWD. JACK WALKS UP TO BEGIN SPEAKING.
JACK: Thank you, Thank you everyone. Ladies and gentlemen I want to thank you for coming and I'd like to begin with an apology that my wife isn't here with us tonight. Unfortunately she's laid up upstairs with the flu but she asked me to let you all know that she intends to very visible as soon as this campaign gets into full swing. And having said that I'd also like to ensure you that I intend to be highly visible....

HARPER: (Aside to Anjelica) Dr. Jorgens isn't here. He should be up taking care of Kayla until this party is over.

JACK: (Continuing) you can't get people what they want unless you know exactly what it is they want....You heard my father speaking earlier about the....
---
SCENE FOUR: MEANWHILE, STEVE IS BREAKING INTO THE HOUSE WHILE JACK IS HEARD SPEAKING DOWNSTAIRS. STEVE KIDNAPS KAYLA. HARPER SEES HIM TAKING HER. STEVE THREATENS TO EXPOSE KAYLA'S ILLNESS TO THE PRESS IF HARPER STOPS HIM.
---
SCENE ONE: HARPER IS OUTSIDE THE FRONT DOOR OF THE DEVERAUX MANSION TELLING JORGENS THAT HE HAS TO GET KAYLA OUT OF UNIVERSITY HOSPITAL AND INTO HIS PRIVATE ONE. JORGENS LEAVES JUST AS JACK OPENS THE DOOR.
JACK: Dad, what's going on here?

HARPER: I just saw Mrs. Jenkins. She wanted to give another check and I thought I'd see her to the car....

JACK: Oh yes.

HARPER: Let's go and raise some more dough for the next assemblyman Jack Deveraux.

JACK: Assemblyman Jack Deveraux. I like the sound of that.
THEY WALK IN THE ROOM WITH HARPER'S ARM AROUND JACK.
---
SCENE TWO: HARPER IS ON THE PHONE TO JORGENS AT THE HOSPITAL. THE ROOM IS FULL OF PEOPLE THERE FOR THE FUNDRAISER. JACK APPROACHES HARPER
HARPER: Alright just get out of there. I'll take care of her from here. (He hangs up.)

JACK: (In panic) Kayla's not in her room. I mean she's not even in the house. I've looked everywhere.

HARPER: Jack....

MELISSA: Jack she's got to be somewhere.

ANJELICA: Jack, you must be mistaken.

HARPER: He's not mistaken and if everyone will calm down I'll tell you what's going on.

JACK: You know where she is?

HARPER: Jack relax.

JACK: I want to know where Kayla is!

HARPER: I will if you just calm down. I don't want you to be upset. While you were at the fundraiser, Dr. Jorgens came to see Kayla and he decided to check Kayla into University Hospital.

JACK: And he didn't tell me!

HARPER: There was no point in interrupting the....

JACK: What do you mean, no point? She's my wife! I'm going to see her right now and I know you're going to try and stop me....

HARPER: I'm not going to try and stop you. I'll go with you.