---
SCENE ONE: KAYLA AND JACK WALK UP TO FRANKIE AND SHAWN AT THE NURSE'S STATION.
KAYLA: Max is out of surgery and he's alright.

SHAWN: Oh thank the merciful heavens!

FRANKIE: Ah, what about the....(He points to his eye.)

KAYLA: We don't know about his eye yet. We're not going to know for a while.

SHAWN: Listen Jack. We really appreciate you coming by like this.

JACK: I came as soon as I heard.

SHAWN: Frankie and I, we think good of it, eh?

FRANKIE: Yeh we sure do. Kayla, Jack, this is a friend of mine, Paula, she's my physics professor and we also work together at the hotline. This is my sister Kayla and her husband Jack Deveraux.

PAULA: Hi.

JACK: Hi!

PAULA: How do you do?

JACK: Look it's going to be a while before Max wakes up. Can I take everyone out for a bite to eat?

PAULA: Thanks for the invitation but I better get back to school. I have classes to teach this morning.

KAYLA: Well I'm sorry you can't make it but I think food's a good idea. How about you pop?

SHAWN: Well, it sounds good to me. What about you Frankie?

FRANKIE: Look I really don't want to leave the hospital. I want to be here when they bring Max back.

SHAWN: Well how about we go down to the cafeteria? That's close by.

FRANKIE: Well that sounds fine but why don't you guys go ahead cause I really have to talk to Paula for a bit.

SHAWN: Fine.

JACK: (To Paula) Bye.
---
SCENE TWO: MELISSA AND ALICE ARE TALKING IN THE DOCTOR'S LOUNGE AS JACK COMES IN TO GET A CUP OF COFFEE.
ALICE: What did you mean when you asked me what I would do if I had a secret about someone that could destroy them?

MELISSA: Granma....I....(She notices Jack.)

JACK: Hi!

MELISSA: Hi!

JACK: Mrs. Horton!

ALICE: Hello Jack! (She notices the looks between Jack and Melissa) (To Melissa) Darling I'll be in your grandfather's office when you're ready to leave.
ALICE LEAVES.
JACK: Your grandmother must be pretty upset.

MELISSA: Yes I guess she is.

JACK: That's understandable with everything that is going on.

MELISSA: Yeh!

JACK: Melissa, is there something else?

MELISSA: I just had a decision to make, that's all. But I made it!

JACK: Look I....about what I said the other day that I can't help....I know that things are really messed up right now....

MELISSA: Jack please! Look all you have to know is that I care and I always will and I would never do anything to hurt you no matter what Jack. (She leaves.)
---
SCENE THREE: KAYLA HAS BEEN IN VISITING MAX WITH STEVE. AS SHE OPENS THE DOOR TO LEAVE, JACK IS WAITING.
KAYLA: Jack! I know I shouldn't have come here because Steve was here but I just wanted to see Max.

JACK: That's alright. It's like I told you before. I trust Steve about as far as I could throw him but you....I trust you to the ends of the earth!
---
[Air date 1-15-88]
SCENE ONE: JACK IS READING THE NEWSPAPER AT THE KITCHEN COUNTER IN THE LOFT. KAYLA COMES DOWNSTAIRS.
KAYLA: Good morning!

JACK: Oh, good morning. Want some coffee?

KAYLA: No thanks. Look another article about Melissa. I just can't believe this is happening.

JACK: (Sigh) Yep. You look a little pale you know. Are you alright?

KAYLA: I'm fine, just a little tired.

JACK: Maybe we could give the hospital a call and see how Max is doing?

KAYLA: No I think it's still too early to do that.

JACK: Well give it about half an hour and then we can call.
THERE IS A KNOCK ON THE DOOR.
KAYLA: I wonder who that is. It's not even 8:30 yet.

JACK: There's only one way to find out. (He goes to the door.)
ANJELICA AND HARPER ARE STANDING AT THE DOOR.
ANJELICA: Good morning! How are you sweetheart!

JACK: Anjelica, dad, I'm fine. Come in!

ANJELICA: I'd love to. Good morning Kayla.

HARPER: Kayla how are you my dear? Are you taking care of yourself?

KAYLA: Yes I'm fine thank you.

HARPER: Jack, she looks tired to me.

JACK: Well we've been up all night waiting to see how Max was. He's going to be okay.

KAYLA: I'm going to get myself some coffee, excuse me.

ANJELICA: Well I've never been here before. I've been told living in a loft is supposed to be chic.

JACK: Anjelica! Come on, you two didn't cut the campaign short just to check out my living conditions.

HARPER: No as a matter of fact we took the day off to come and be with you for Melissa's pre-trial hearing.

JACK: Dad what do you think is going to happen?

HARPER: Don't look so worried son. You've nothing to worry about, nor does Kayla.

JACK: It's not me, it's Melissa. I just can't picture Melissa trying to kill Kayla or anyone else for that matter.

HARPER: Then you didn't know she was in love with you either!

JACK: Batting a thousand on that one! But still Melissa is....

HARPER: I know, I know.....it's hard to believe son. But well....that's the way those things go, to think about a friend, somebody close like that, a friend, could possibly be a cold blooded murderer. Let's face it. She is in the hands of the best criminal justice system in the world. If the judge doesn't see sufficient evidence to connect her with the crime he won't remand her to trial. It's as simple as that.

JACK: You're right!

HARPER: All anyone wants is the truth. That's what we're after.
---
SCENE TWO: JACK, KAYLA AND HARPER ENTER THE COURTHOUSE SURROUNDED BY REPORTERS.
REPORTER 1: Jack, do you think Melissa Anderson is attractive?

JACK: Excuse us please. Let us through please. Just let us through.

REPORTER 2: Senator Deveraux. Do you think your son's involvement in a crime of passion will affect your campaign.

HARPER: My son is not involved in a crime of passion. Jack and Kayla are victims, no more!

REPORTER 2: Mrs. Deveraux, how does it feel to have another woman in love with your husband?

JACK: Excuse me please. That's enough, enough questions. Thank you very much.
MELISSA ENTERS AND REPORTERS FIRE QUESTIONS AT HER.
REPORTERS: Melissa what do you have to say about Jack Deveraux now and his wife? How do you feel about his wife? Do you still love him? How did you know to use Atrophine? When did you realize you were still in love with him?
JACK AND MELISSA EXCHANGE LOOKS.
JACK: Excuse us please, we have no statements.
THEY ALL ENTER THE COURT ROOM FOLLOWED BY STEVE. KAYLA AND STEVE EXCHANGE GLANCES.
JACK: Who are you looking at?
KAYLA: No one. I was just looking around.
---
SCENE THREE: THE PRELIMINARY HEARING BEGINS. VARIOUS PEOPLE GIVE EVIDENCE INCLUDING ABE WHO TELLS THE COURT ABOUT THE LOVE LETTERS. JACK FEELS UNCOMFORTABLE. HARPER OBSERVES FROM THE BACK OF THE ROOM. ALL THE EVIDENCE CONCENTRATES ON MELISSA'S LOVE FOR JACK.
---
SCENE FOUR: JACK TAKES THE STAND.
JACK: She kept getting sicker and sicker and nobody seemed to know why.

DA: Well we know why now don't we? Somebody was giving her Atrophine.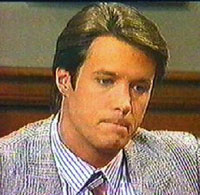 JACK: Yes.

DA: What was your relationship to Miss Anderson?

JACK: She was my personal administrative assistant.

DA: And that's all?

JACK: No. She was my friend!

DA: And you trusted her?

JACK: Completely!

DA: It would appear she was the only one who had both motive and opportunity to kill your wife.

JACK: (Nervous) Yes....yes it does appear that way.

DA: One more question. I understand that you were unaware of Miss Anderson's feelings towards you until she was arrested but has there been any conversation between you before or since that has led to you to believe that she was in fact guilty?

JACK: Yes there has!

DA: Would you tell the court about it please?

JACK: Melissa came to me the other day....

DA: After she was out on bail?

JACK: ....after she was out on bail and she asked me to be a character witness for the defense.

DA: And what did you do?

JACK: Well I refused....I said I couldn't do it.

DA: And how did she react?

JACK: She was furious. She said....she said if I really cared for her why didn't I have compassion for her?

DA: So much compassion that you might lie for her perhaps.

JACK: No....

MELISSA: (Interjecting) NO, I NEVER SAID THAT. I NEVER MEANT THAT! I NEVER ASKED YOU TO LIE FOR ME JACK!

JACK: I never said that!

JUDGE: You're out of order Miss Anderson.

MELISSA: I'm sorry.

JUDGE: Cross examine.

GABRIELLE: Mr. Deveraux. You testified that you were not aware that Melissa Anderson was in love with you. Is that correct?

JACK: Yes, that is correct.

GABRIELLE: And yet the two of you spent a lot of time together. How could you possibly be unaware of her feelings?

JACK: There is no way I can answer that except to say I was rather insensitive about the whole thing.

GABRIELLE: Oh, on the contrary. I think you're a very sensitive person and perceptive as well. Is it possible Mr. Deveraux that you didn't know of Melissa's feelings for you because she didn't want you to know, because she went to very great lengths not to let you know?

JACK: Yes it is possible!

GABRIELLE: Oh it's not only possible Mr. Deveraux, it's fact! Melissa Anderson knew that you were a happily married man and loved your wife and she also knew if she revealed her feelings to you it would only drive a wedge between you and completely destroy the relationship that you both valued. So she never revealed how she felt and a sensitive person like yourself never realized it.
MELISSA HAS TEARS IN HER EYES AS SHE LOOKS AT JACK.
JACK: That certainly makes sense doesn't it?

GABRIELLE: That's why she never sent the letters isn't it?

JACK: It could be!

GABRIELLE: Mr. Deveraux isn't it a fact that Melissa Anderson supported your relationship with your wife?

JACK: It certainly seemed that way at the time.

GABRIELLE: You're running for the Assembly aren't you Mr. Deveraux?

JACK: Yes I am!

GABRIELLE: And did you ask Melissa Anderson to accompany you to the state capital in the event that you were elected to act as your administrative assistant?

JACK: Yes!

GABRIELLE: And what was her answer?

JACK: She turned me down! She said that she had family and friends here in Salem and she was rebuilding her life after an unhappy romance here and she wanted to stay.
MELISSA IS CRYING.
GABRIELLE: Now does that sound like a love-sick half-crazed killer or an honest independent woman who is trying to do the very best she can for herself and for others? Mr. Deveraux what was your observation of the relationship between your wife, Kayla Deveraux and Melissa Anderson?

JACK: They were friends.

GABRIELLE: Casual friends or was it a close warm mutually supportive relationship?

JACK: They were good friends....

GABRIELLE: Yes.....

JACK: They cared a lot about each other.

GABRIELLE: Yes they did, didn't they? I have no more questions your Honor.
HARPER AND ANJELICA ARE SITTING AT THE BACK OF THE COURT ROOM.
ANJELICA: (To Harper.) Well she did a good job.

HARPER: We'll see.
THE HEARING IS RECESSED AND THE JUDGE SAYS HE WILL GIVE HIS DECISION ABOUT A TRIAL AFTER THE RECESS.
---
SCENE FIVE: DURING THE BREAK HARPER GIVES A PRESS INTERVIEW ABOUT MELISSA'S OBSESSION WITH JACK. KAYLA AND JACK OVERHEAR.
JACK: Honey, are you alright?KAYLA: Yeh, I'm fine. I'm just remembering what it was like to be so sick and maybe die. I can't believe that Melissa would do that to me deliberately.
STEVE IS LISTENING IN THE BACKGROUND.
JACK: I can't really believe it myself.

KAYLA: You still think she's guilty don't you?

REPORTER: (Interrupting) Hey Jack, how about a picture of you with your folks?

JACK: Ah right....(To Kayla) Are you going to be okay?

KAYLA: Yes, I'm fine. Go right ahead.

JACK: Okay....come on!
JACK LEAVES WITH THE REPORTER.
---
SCENE SIX: STEVE AND KAYLA TALK ABOUT HOW MUCH THEY WANT TO HOLD EACH OTHER. HE TELLS HER IT WILL NOT BE LONG. THEY SECRETLY HOLD HANDS BUT CANBY THE REPORTER GETS A PICTURE OF THEM.
---
SCENE SEVEN: JACK WITH KAYLA BY HIS SIDE IS ASKED QUESTIONS BY A REPORTER.
REPORTER: Jack, have you anything to say?

JACK: Yes. I'd like to publicly say that I love my wife very much (he kisses her hand) and I intend to show that to her for the rest of my life. (He kisses her on the lips.)
JACK STANDS HOLDING KAYLA AS THE PRESS TAKES PHOTOGRAPHS.
---
SCENE EIGHT: THE HEARING RESUMES AND THE JUDGE DECIDES THAT THERE IS ENOUGH EVIDENCE FOR MELISSA TO STAND TRIAL.
JACK: Oh no! Oh no!
---
[Air date 1-18-88]
SCENE ONE: BILL TELLS JENNIFER THAT HE HAS DECIDED TO DIVORCE HER MOTHER LAURA AND SHE GETS VERY UPSET.
---
SCENE TWO: SHE TELLS HER GRANDFATHER TOM AND HE CONSOLES HER WITH POEM.
---
SCENE THREE: JUST AS BILL IS ABOUT TO TELL JANICE (SHE IS ALSO WASTHE FOSTER CHILD OF MAGGIE) THE WOMAN HE LOVES, HE GETS WORD THAT LAURA HAS HAD A SLIGHT IMPROVEMENT AND HE RUNS OFF TO SEE HER.
---
[Air date 1-19-88]
SCENE ONE: JENNIFER DECIDES THAT SHE WANTS TO SEE FRANKIE AGAIN AND GOES TO SEE HIM.
---
SCENE TWO: JACK IS TALKING TO TWO ELDERLY PATIENTS AT THE NURSES STATION.
JACK: What do you mean you won't be out in time to vote? The elections not till the end of the week.
KAYLA SLIPS BY AND ENTERS MAX'S ROOM.
---
SCENE THREE: STEVE IS THERE AND THEY KISS A NUMBER OF TIMES. THEY ARE HAVING AN INTIMATE DISCUSSION AS JACK OPENS THE DOOR. HE SEES THEM AND IS SUSPICIOUS. HE SHUTS THE DOOR, TAKES A DEEP BREATH AND RE-ENTERS.
STEVE: Hey Dude, we were just talking about you. I mean you're going to win this thing. You're a shoe-in aren't you?

KAYLA: Jack don't start anything alright?

JACK: (Smiling broadly) Oh I'm not going to start anything, nothing at all. Actually I was just looking for Steve. I need to ask you a favor.

STEVE: You want a favor from me?

JACK: That's right. I need your help.
---
SCENE FOUR: BILL CALLS CAROLINE WHILE FRANKIE AND JENNIFER ARE AT THE FISH MARKET AND TELLS HER THAT THEY ARE READY TO REMOVE MAX'S BANDAGES.
---
SCENE FIVE: JACK, KAYLA AND STEVE LEAVE MAX'S ROOM AND GO TO THE NURSE'S STATION.
STEVE: So what's this favor you want to ask me?

JACK: It's about the election. As you know it's just a few days away and according to this morning's polls I'm in real trouble.

STEVE: Trouble! I thought you were way out in front, last I heard.

JACK: One thing the polls have made crystal clear is that I'm really losing support on the riverfront district. As a matter of fact this morning it dwindled to just about nothing.

STEVE: What are you talking about, after all you did for those people, the low income housing project....

JACK: Call it human nature Steve but people aren't nearly as interested in what a man does as what they think he's doing behind closed doors and if they've heard rumors that the man they plan to vote for can't even hold on to his own wife then it makes them lose confidence that he can hold onto his campaign promises as well. The point being that if I can't carry the riverfront district, I lose the election and unless you've forgotten that's the one district that you promised to deliver.

STEVE: Well no I haven't forgotten man, but a lot has happened since then.

JACK: Yes it has. A lot has happened. Anyway there's a rally down at the pier later today and I was wondering if you could come down and make a little speech on my behalf.

STEVE: Make a speech man! I don't make speeches.

JACK: On come on.

STEVE: You want me to make a speech?

JACK: Yes I do.

STEVE: What kind of speech?
MARCUS WALKS UP AND TELLS THEM THAT THEY ARE REMOVING MAX'S BANDAGES THIS AFTERNOON.
STEVE: Jack, listen man. I'm sorry. I can't go anywhere until I'm sure Maxwell is alright.

JACK: No, no, that's no problem. I understand completely. Actually the rally is not until 7 pm. Could you make it by then?

STEVE: Well that depends on this dude. How long does that examination take?

MARCUS: Well not long. We'll know where we stand once the bandages are off. Look I've got to run but I'll see you (To Kayla) about three o'clock.

KAYLA: Yes, thanks Marcus.

MARCUS: Bye.

KAYLA: Bye.

STEVE: Thanks dude.

JACK: So what's it going to be? Can you help me out?

STEVE: (Pause) I'll be there!

JACK: Good! Thanks! (To Kayla) Look I've got to run. I'll be back in just a little bit, okay?

KAYLA: Where are you going?

JACK: I just have to make a few arrangements. I'll be back in time for Max's examination, okay. I'll see you later. (He kisses her cheek.) (To Steve) And thank you very much.

STEVE: Yeh.
JACK LEAVES IN A HURRY.
KAYLA: I wonder what that's all about.

STEVE: I don't know.
---
SCENE SIX: CAROLINE, SHAWN, FRANKIE AND JENNIFER ALL ARRIVE TO SEE MAX. JENNIFER DECIDES TO WAIT OUTSIDE UNTIL THE FAMILY SEE HIM FIRST. JENNIFER TELLS BILL THAT SHE HOPES THAT SHE AND FRANKIE GET BACK TOGETHER.

CAROLINE AND SHAWN GO IN AND STEVE AND KAYLA ARE ALREADY THERE. EVERYONE IS AROUND THE BED. MAX'S EYE IS BANDAGED AND HE IS HOLDING A TOY BEAR. MARCUS AND ANOTHER DOCTOR COME IN AND TELL MAX THEY ARE GOING TO TAKE OFF HIS BANDAGES. THEY REMOVE THEM AND MAX SAYS HE CAN SEE COME COLORS WHICH PLEASES EVERYONE. JACK WALKS IN HOLDING A LARGE TOY GREEN TOAD, AN ALLIGATOR AND A PENGUIN.
JACK: Hi Max!

MAX: Is that Jack?

CAROLINE: Yes sweetheart. My goodness he has a bunch of presents for you!

JACK: That's right. Here will you take this for me?
JACK HANDS THE ALLIGATOR AND PENGUIN TO KAYLA AND WALKS OVER TO THE BED.
JACK: Got a little friend and I want him to come visit you, alright. He's green and he wears a big waistcoat and he's got a big mouth that keeps getting him into trouble. Can you tell me who he is. What's his name?

MAX: Mr. Toad!

JACK: Mr. Toad, that's right! Here I bet your mom and dad know more about him than I do? You know they come from a band of old story tellers.
JACK PUTS THE TOAD IN MAX'S ARMS AND THE SMALL BROWN BEAR FALLS ON THE FLOOR. SUDDENLY A GROUP OF REPORTERS COME IN THE ROOM ARMED WITH MICROPHONES AND CAMERAS.
REPORTER: Mr. Deveraux, I hope we're not too late.

JACK: Oh no, not at all, not at all.

STEVE: Wait a minute, what the hell is this man? What do you think this is? This is a sick boy's room. This is not some kind of campaign rally. What's the matter with you? Now go on get out of here, get that camera out of here.

JACK: No, no hold it Steve, hold it.

STEVE: What's the matter with you Jack?

JACK: Don't you think we should ask Max what he wants? Max, I thought maybe you'd like to have your picture in the newspaper and maybe be on the TV news tonight. What do you think? Would you like that?

MAX: I'm going to be on TV?

JACK: If you'd like!

MAX: YEAH!

JACK: Alright, YEAH! Okay, Mr. and Mrs. Brady, Frankie, stay right there. Press, why don't you move right around over here alright. Kayla, honey, why don't you get next to me? Come here honey. Great. Everybody move in close.

REPORTER: Mr. Deveraux can you tell us why....

JACK: Oh no, hold it fella. If you have any questions just direct them to this little guy right here. You know my little brother-in-law's recovery is more important than any election right now. Of course if do have any political questions you can save them for 7 pm tonight down on the pier, right Steve? (He laughs) Anyway what do you say Max? You feel better now?
AFTER EVERYONE LEAVES CANBY ARRIVES AT THE HOSPITAL LOOKING FOR JACK. HE WANTS TO GIVE HIM AN ENVELOPE.
---
SCENE SEVEN: THE CAMPAIGN RALLY IS UNDERWAY ON THE PIER. JACK AND KAYLA ARE THERE. A NUMBER OF VOTERS ARE WONDERING WHAT SOME RICH KID CAN DO FOR THEM. THE ORGANIZER CALLS ON STEVE TO TELL THE FOLKS WHY THEY SHOULD VOTE FOR JACK. STEVE WALKS UP NEXT TO JACK AND KAYLA AND BEGINS TO SPEAK.
STEVE: Forget what that dude told you. I'm not going to tell you who to vote for, that's your business?

JACK: What the he....

KAYLA: Just a minute Jack.

STEVE: I'm going to tell you who I'm going to vote for and that's Jack Deveraux.
STEVE GOES ON TO TELL THE PEOPLE THAT JACK HAS LIVED UP TO ALL HIS PROMISES AND THAT HE WILL STAND BY THE RIVERFRONT.
JACK: (To Kayla) I tell you one thing. The man's got a way with words.
WHILE STEVE IS SPEAKING CANBY APPROACHES JACK.
CANBY: Mr. Deveraux, can I have a word with you, it's important?

JACK: Certainly. I've always got time for the press.

CANBY: Well I've got something I want to give to you, something that I think you'll find very interesting.
THE CROWD GETS NOISY AND STEVE TRIES TO QUIETEN THEM DOWN.
CANBY: Before I show you this I want you to understand the spirit in which I'm giving it to you. (Jack is distracted.) Mr. Deveraux?

JACK: Oh I'm sorry. I wasn't listening to you. What did you say?

CANBY: Maybe we should go someplace else?

JACK: What, you're asking me to leave my own rally?

CANBY: I'm just saying that you don't want any distractions.

JACK: If you want to show me something then just give it to me, alright?

CANBY: Alright! I'll show it to you right now!
HE BEGINS TO OPEN THE ENVELOPE AS KAYLA CALLS JACK OVER TO SPEAK.
JACK: I gotta go....I'd like to thank Mr. Johnson very much for speaking for me....

CANBY: (To himself) Sure go ahead and smile now. It won't be for long.

JACK: I'm going to answer any kind of question, any problem you have, I want you to see me personally. That's the important thing. Come seeing the Assemblyman for the state is not that big....
KAYLA AND STEVE EXCHANGE LOVING GLANCES AS JACK SPEAKS.