---
SCENE ONE: KAYLA IS TALKING TO MONTY IN THE COMMUNITY CENTER WHEN JACK ARRIVES. AS HE IS TALKING STEVE COMES IN.
JACK: (Holding a flyer.) I don't believe this Kayla. You're going to be teaching young impressionable in the neighborhood, homemaking skills and vocational guidance?

KAYLA: Yes I am.

JACK: Ha, ha. I think we have a little typo here. I think it should say home breaking in skills and wha.... are you going to teach adultery to them? Is that in the curriculum?
STEVE PULLS JACK AROUND TO FACE HIM AND PUNCHES HIM IN THE JAW. JACK FALLS TO THE GROUND.
---
SCENE TWO: STEVE PULLS HIM UP AGAIN.
STEVE: You listen to me. If I ever find you messing with Kayla again, I'm going to mess you up so bad you won't even recognize yourself, you hear me?

JACK: I hear you loud and clear. Why don't you keep going and I'll add it to the charges I'm going to bring up against you.

STEVE: Oh, you gonna bring charges against me, eh?

JACK: That's right. I figure assault, threatening me with serious bodily harm....

STEVE: That's good. You were listening then weren't you?

JACK: Yes and we have witnesses right here that can prove the whole thing.

KAYLA: Who me? Sorry Jack, I didn't see a thing.

JACK: Funny that doesn't surprise me. No, not you, this gentleman right here. One of the riverfront's finest. (The right side of his jaw is bruised and his lip is bleeding.)

MONTY: You mean me?

JACK: Yes sir, I'm saw you saw the whole thing.

MONTY: I certainly did. I saw it all. Everything I can see without my glasses. You know I lost them a while back. Can't see a thing without them you know. Blind as a mole. Now if you'll forgive me I need a drink of water. All this excitement has left me parched.
STEVE AND KAYLA GLOAT IN THE CORNER.
JACK: (Laughing cynically.) I guess I walked right into that one didn't I? Where'd you dig up that old guy Steve? Oh I know. He's probably one of the people you're spending the taxpayers' money on.
STEVE: That's right he is.
JACK WALKS OUT LAUGHING AND THEN AS THE DOOR SHUTS HIS FACE TURNS TO ANGER.
---
SCENE THREE: MEANWHILE SHANE AND GABRIELLE HAVE NARROWED DOWN THE SEARCH FOR THE RIVERFRONT KNIFER TO NICK AND JACK. THEY QUESTION NICK BUT CAN FIND NO EVIDENCE.
---
SCENE FOUR: JACK IS STANDING OUTSIDE THE COMMUNITY CENTER, HOLDING A HANDKERCHIEF ON HIS MOUTH TO STOP THE BLEEDING. MELISSA WALKS UP.
MELISSA: Jack, what's wrong?

JACK: Er....

MELISSA: Let me see. Jack who did this to you?

JACK: Who do you think? Our friend, Steve Johnson, the object of your loyalty and respect. He sucker punched me inside the Community Center.

MELISSA: What? Why would he do that?

JACK: I don't know. Because he's not capable of anything else. He's a low life street punk. What kind of a Community Center is it when a person can't go in and voice their opinions without fear of being attacked?

MELISSA: I'll get some antiseptic. Wait here.
MELISSA COMES OUT WITH SOME GAUZE AND ANTISEPTIC. SHE WIPES HIS FACE GENTLY.
JACK: Ouch, ow, ouch.

MELISSA: Jack I hate seeing you hurt like this.

JACK: Oh I'm so glad you're here. (He kisses her.) Melissa. (Kiss) Melissa I couldn't get through this without you, you know that. It's bad enough being the butt of all their jokes with the Steve and Kayla affair but the fact is, he's punching me out in public.

MELISSA: Jack I'm sorry. I find that hard to believe.

JACK: Are you calling me a liar?

MELISSA: No.

JACK: You're going to have to make a decision who you believe, Steve or me. I never lied to you how I feel about Steve and Kayla. I don't know how I'm supposed to feel anymore after all of this has happened. You're still loyal to them though. I don't understand that.

MELISSA: Jack, Kayla is my friend and I don't have anything against Steve.

JACK: That's alright. I just wish I had that kind of loyalty. Sometimes it'd be nice to have somebody on your side.

MELISSA: I am on your side. I always have been. But I know how I can prove it to you.

JACK: Oh no, no, no. Wait a minute, wait a minute. I don't want you to do anything that is uncomfortable to you. We made a deal remember.... Look I don't want you to worry about me. I'm fine on my own.

MELISSA: Jack, you're not on your own. Not now. I'm going back to the Community Center. I'll keep an eye on Steve and Kayla for you.
JACK GIVES MELISSA A HUG.
---
SCENE ONE: AT THE DEVERAUX MANSION, SHANE AND GABRIELLE ARRIVE TO QUESTION JACK ABOUT THE RIVERFRONT KNIFER KILLINGS.
SHANE: Senator Deveraux I'm here to see Jack on official business.

GABRIELLE: Is he home?

HARPER: I don't think I want to answer that until I find out what this is all about.

JACK: That's alright Dad. Maybe I can help the captain with something.

SHANE: We have a witness Jack. Someone who can testify you consort with prostitutes.

HARPER: Alright Donovan, that's enough. You can take this up with our lawyers in the morning.

GABRIELLE: We were willing to discuss this with your son informally Senator. You're only making things worse for him in the long run.

HARPER: You look like an intelligent young woman Miss Pascal. You should know by now that neither my son nor I will talk to you without an attorney present. This is the door please.

SHANE: (To Jack) Don't think this is the end of the matter Deveraux!
SHANE AND GABRIELLE LEAVE.
HARPER: No this is not the end of it not by a long shot. Consorting with prostitutes! Indeed they have one hell of a nerve if they think they can....

JACK: Dad, wait a minute. Dad, before we get into anything else there's something you need to know.... What they said about the prostitutes, it's true.

HARPER: It's true? You've actually....

JACK: Yes. What did you think? Did you think that after all that time with Kayla I was going to actually continue to act like a monk? I'm not proud of it but yes, I've been with prostitutes. More than once.

HARPER: I see. Is there anything else you want to tell me son?

JACK: Like what? Now do you think I'm going to tell you I'm the Riverfront Knifer?

HARPER: Of course not. Don't be ridiculous.

JACK: Well I hope I don't embarrass you or the family or create any problems for your campaign.

HARPER: Don't worry I'll take care of it. We'll get through it.
---
SCENE TWO: AT BLONDIE'S. MELISSA IS JUST LEAVING WHEN JACK WALKS IN. SHE SEES HIM BUT WALKS STRAIGHT PAST.
JACK: Melissa? What's wrong? You're walking by me and not going to say anything? What's wrong?

MELISSA: It's nothing. I just need to get home. I'm tired.

JACK: Something is bothering you. Tell me what's wrong. (She turns away.) Melissa what is wrong?

MELISSA: I just heard something that's all.

JACK: Something about me.

MELISSA: Yes. There's an old man that hangs out at the Community Center and I overheard him telling Steve and Kayla that he's seen you.... frequenting prostitutes on the riverfront.

JACK: That is a lie!.... Tha.... that's not what happened.

MELISSA: It's true?

JACK: I.... I.... Yes.... It's your fault!

MELISSA: My fault? How do you figure that Jack?

JACK: Melissa, being with you is driving me crazy.

MELISSA: What are you talking about?

JACK: You don't know what it's like. You're so beautiful. To be this close to you and not be able to have you it's....

MELISSA: Jack I love you. You could have me.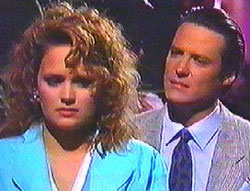 JACK: No, no. I can't. After all this garbage with Kayla, I've been so filled up with so much anger. I didn't want to dump that on you. As much as I'm drawn to you I didn't think that I had any right to compromise you in that way, to compromise the future of our relationship. But one night.... after being so close to you.... so close I could smell the perfume on your hair.... I couldn't take it anymore. Once before I gave in to my passions and that destroyed Kayla and me. I could never do that again. So I went to a prostitute....

MELISSA: Oh Jack!

JACK: Look I.... Melissa I went to her but I didn't do anything. I mean I gave her the money but I couldn't. Because I could only think of you, only you. Melissa please understand. Please forgive me.
MELISSA WALKS AWAY FROM JACK AND HE FOLLOWS.
JACK: Melissa. Melissa you know what it's like. The torture. To be so close to somebody. To want them more than anything and to know that you can't have them.

MELISSA: Yes I know I know how that feels Jack but I don't go around looking substitutes.

JACK: I know, I.... I made a mistake. I almost make a mistake. I mean for me to think for a moment that a common hooker could take my mind off you for a moment....

MELISSA: Oh Jack please I don't want to hear about it.

JACK: Melissa, please. I'm the one who should be begging you. Don't walk out on me. If you do I can't take it.

MELISSA: Jack don't you think this has been hard on me too? You have your career and your father's campaign to keep you busy. I have nothing, except waiting for the few stolen moments you can give me.

JACK: I know that. Melissa, please. I'm going to try and make more time for us in the future. I mean right now I'm supposed to meet with my dad but I'll cancel that. We'll just be together. Just you and me. We'll go back to your house and it'll be just the two of us.

MELISSA: No I have to think.

JACK: Look Melissa. I care more about you than any woman ever. Let's just forget about everyone and everything else around us and just be together. Just the two of us. Look you said something yesterday about a.... something that you had to show me, that you could only show me at your home. Let's go there right now, right now, let's....

MELISSA: No Jack. Now is not the time. Not until I know it's right. I just don't know anymore.
MELISSA WALKS OUT OF BLONDIE'S.
---
SCENE ONE: AT BLONDIE'S. ANJELICA AND HARPER WALK IN.
HARPER: I thought you said Jack would be meeting us here.

ANJELICA: He is. Uh, here he is. Hello darling.

JACK: Hi. (He kisses Anjelica.)

HARPER: Hello Jack. I'm so glad you can make it.

JACK: Oh I'm glad I can too. It's got to be quick though. I've got a very busy schedule.

HARPER: I understand. The life of a busy politician never stops. This is not exactly a social lunch for us either. We're meeting some big wigs from Washington.

JACK: Oh! Will there be any future candidates for the cabinet?

HARPER: No, no. Actually they're in town to inspect the Community Center.

JACK: Really?

HARPER: Yes. It seems they're running that place on a pretty tight budget and the money men in Washington want an inspection before they'll allot any more funds.

JACK: That's very interesting. Maybe I can stay around a little bit. I've got a few things I'd like to say about the future of the Community Center.

HARPER: I thought you'd find that interesting.

DAVE: Good afternoon Senator. Will you and your lovely wife be joining us for lunch?

HARPER: We'll need a table for five. We'll be joined by two more.
JACK WALKS AWAY FROM THE OTHERS.
JACK: I do.
---
SCENE TWO: JACK IS HELPING ANJELICA TO BE SEATED WHEN HE NOTICES MELISSA HAVING LUNCH WITH MICKEY AND MAGGIE. SHE LOOKS ACROSS AT HIM. JACK IS STARING AT MELISSA.
ANJELICA: So tell me darling. Why is it you have all the time in the world for the Washington boys and none at all for your little wife?

HARPER: Anjelica would you please give it a rest. I don't know what's got into you lately but I must tell you that it's getting on my nerves.

ANJELICA: Ooooh, and we wouldn't want anything to get on those nerves of your's would we?

HARPER: Anjelica, I know I haven't been spending much time at home lately but you knew going into this what being a Presidential candidate's wife would entail.

ANJELICA: That's not what I'm unhappy about and you know it.

HARPER: Dear, I don't have time for that nonsense anymore.

ANJELICA: Nonsense. So that's what we're to call it.

HARPER: I warn you. I want you to be a congenial hostess when our guests arrive.

ANJELICA: They're here.

JACK: Hi.

HARPER: Hello Senator. This is my wife Anjelica, my son Jack who happens also to be a state Assemblyman. Anjelica, Jack this is Mr. Donald and Mr. Hawkins from Washington. Can I get you something?

DONALD: No we had something to eat on the airplane.

ANJELICA: It's nice to meet you both. How do you like our fair city?

DONALD: Well as a matter of fact Salem happens to be one of my favorite towns. My wife and I visit here as often as we can. She likes to get out of Washington now and then, you know.

ANJELICA: I can't say that I blame her.

HARPER: Well I'm glad you arrived in time to meet my son. Jack is very familiar with the Community Center project. In fact he's much better versed in the happenings down there than I am.

JACK: Actually gentlemen the Community Center's a pet project of mine. I'd be happy to help you out, answer any questions I can.

DONALD: Well thank you Jack but we're not really too concerned about that. We understand that the center is in good hands with Steve Johnson at the helm.

HAWKINS: I didn't hear a sound in Washington but I understand he expressed an excellent case on why Salem needs a Community Center. Yeah this is really just a follow up inspection, nothing more than a formality. The scoop in Washington is that your Community Center is going great guns.

HARPER: That's the difference between rumor and fact gentlemen but now that you're here you can judge the situation for yourselves.

DONALD: Well just what are you referring to Senator?

HARPER: Well the increase in violence down there for one thing.

ANJELICA: Gentlemen, are you aware of the number of gang fights that have occurred since the center opened? And the most recent one resulted in a fatality.

HAWKINS: Ah yes we are, we are aware of that. But we've been told that is an isolated incident.

JACK: That's a matter of opinion gentlemen. Actually the center is at the heart of some very important issues in this town. How about I take the whole day off and I'll just show you both around down there?

DONALD: Well we couldn't ask you to do that Jack. We've already made arrangements with Steve Johnson to meet him there. I'm sure he and his staff will show us around.

JACK: No I insist. I'd be most happy to show you around.

HAWKINS: Well actually I think it would be very helpful to have you along. Thank you Jack.

JACK: It would be my pleasure!

HARPER: Gentlemen I know you're on a tight schedule but would you be able to join us for dinner later this evening say around seven o'clock? We could meet right back here at Blondie's.

DONALD: By all means, thank you Senator.

HARPER: How about you Jack?

JACK: I'd love to. Shall we?
JACK SHOWS THE WASHINGTON BIG WIGS THE WAY OUT AND RETURNS TO TALK TO HARPER AND ANJELICA.
JACK: Alright my schedule's all clear. I'll be escorting the gentlemen to the Community Center.

HARPER: Good luck.

JACK: Thank you Dad but I don't think I'll be needing it.
JACK LOOKS ACROSS AT MELISSA WHO IS STARING AT HIM. HE WALKS PAST HER AND LEAVES.
---
SCENE THREE: STEVE, KAYLA, EMILIO, APRIL AND MONTY ARE AT THE COMMUNITY CENTER WAITING FOR THE INSPECTION. THE BIG WIGS OPEN THE DOOR AND COME IN FOLLOWED BY JACK.
KAYLA: Jack!

JACK: Good afternoon folks!

STEVE: What are you doing here Jack?

JACK: As the Assemblyman for this district, I'm acting as a host to these fine gentlemen. Steve Johnson, Kayla Deveraux, Mr. Hawkins, Mr. Donald. They're here to inspect the Community Center.

STEVE: We know why they're here Jack.

KAYLA: It's very nice to meet you.

DONALD: Thank you very much. It's a pleasure to meet you. Is it Mrs . . Deveraux?

KAYLA: You can call me Kayla! (Gives Jack a smug look.) And this is April, one of our volunteers here at the center.

APRIL: Nice to meet you.

HAWKINS: Hi, hi April.
STEVE BEGINS TO INTRODUCE EMILIO AND OTHER PEOPLE THERE AND JACK INTERRUPTS.
JACK: Enough of the introductions. Let's get down to business. Perhaps I could start showing you around....

STEVE: Give us a break here Jack. You don't know you're way around. You haven't been involved in the center since it opened.

JACK: As you both know, Steve and I have been running the center since it opened. I'd be happy to give you a tour and explain the activities we have planned.

HAWKINS: Terrific. That's why we came. Let's get started.
KAYLA BEGINS TO DESCRIBE WHAT'S GOING ON AND SAYS THE BOXING RING IS A WAY FOR PEOPLE TO WORK OFF THEIR FRUSTRATIONS.

THE TWO AGREE SO JACK DISTRACTS THEM.
JACK: Speaking of gangs. Isn't this the window the police that had to shoot out when they were forced to gun down that gang member that was holding hostages?

MONTY: That gang member was my son and if you don't mind gentlemen, I'd like to say a few words about this Community Center.
MONTY GOES ON TO TELL THEM HOW RAOUL WAS A TROUBLE MAKER AND THAT HE COULDN'T HELP HIM BUT THAT THE COMMUNITY CENTER HAS GIVEN HIM HOPE FOR EMILIO AND APRIL. THEY KNOW HAVE A SENSE OF RESPONSIBILITY AND PRIDE. JACK IS FUMING IN THE CORNER WHILE STEVE AND KAYLA ARE GLOATING. THE WASHINGTON GUYS AGREE TO GIVE THEM MORE FUNDS UNTIL JACK BEGINS TO TALK.
JACK: Gentlemen I think there is one thing that I think we are overlooking here.

STEVE: I don't think anybody asked you Jack.

HAWKINS: What is that Jack?

JACK: Drugs. Drugs are a major problem down in this neighborhood and it's the cities feelings that this center is partly to blame. Drugs are a serious problem and I don't think we should ignore it. Do you gentlemen?

DONALD: No of course not Jack. Absolutely not. Thank you for bringing it to our attention.

JACK: That's no problem. I'm just doing my job.

KAYLA: You know it's a well known fact that there has been a drug problem in this neighborhood for a long time. But it was all here before we opened this Emergency Center. I assure you.

DONALD: Well Kayla I realize that but I have to admit that I am concerned with the close proximity of the Emergency Center. Now do you think that any of the drugs you use in there could be getting out on the streets through the Community Center?

KAYLA: Absolutely not. We are very careful with the drugs we keep there.

JACK: Well perhaps we could take a look at your inventory list or what do you call it, control substance register?

HAWKINS: Good idea. Do you have it Kayla?

KAYLA: Well I would be happy to show it to you but it seems at the moment we've misplaced our inventory slip.

JACK: That's interesting. Kind of indicates how much care your people are taking with....

STEVE: I've had just about enough out of you Jack.

JACK: Who exactly has access to the drugs in the Community Center? I mean do the volunteers have access?

APRIL: Well don't look at me. I'm not the only volunteer that works here.

JACK: How about the people who hang out? Emilio for instance.

DONALD: Your father mentioned you were in trouble with the law son?

EMILIO: Yeah, yeah. But it wasn't for drugs. I got caught vandalizing man. I was slicin' some dude's tires. I don't do drugs.

STEVE: Look I can vouch for Emilio. He's been in a little bit of trouble in the past but he's cleaned his act up. He's gone back to school. He's a good kid.

JACK: Enough about Emilio. The point is gentlemen, there are gang members and street people hanging out around in this Community Center. With those kind of people congregating here there are bound to be problems.

STEVE: What the hell do you think this is anyway, some kind of country club? Of course those kind of people hang out here. Those are the kinds of people this place can help the most.

JACK: Those are the people that are selling drugs on the streets. I hate to say this but this is a perfect setup. They come in, box a few rounds, steal the drugs when your backs are turned and then head back to the streets to make a killing. The gangs are getting rich while they play you for suckers.

STEVE: SHUT UP!

DONALD: No I suspect Jack's right. Somebody's got those drugs. Maybe you know something Johnson. What about these gang members? Do you have much contact with them?

STEVE: Well like I told you that they come in and out of here all the time but nobody gets in that Emergency Center without being noticed, let alone gettin' into a drug cabinet.

JACK: Not even you.

STEVE: Me? I work here dude. I'm in there all the time. What are you talking about?

JACK: Can you be so sure that Emilio and his buddies aren't stealing the drugs?

STEVE: Well I'm just as sure about it as you are. You know they're not.

DONALD: Well somebody's pushing those drugs around here. You wouldn't be operating on the side would you Johnson?

KAYLA: Now wait a minute.

STEVE: What? Are you serious? (Beat) You are aren't you? Oh that's great. That's just great. I should have seen it coming. Okay if that's what you want to believe that's fine. (To Donald) While you're at it you can take your precious money and put it where the sun don't shine.

KAYLA: Steve.

STEVE: (To Jack) And you know what you can do.
STEVE THUMPS JACK AS HE WALKS OUT THE DOOR.
---
SCENE ONE: MELISSA'S APARTMENT. JACK HAS JUST ARRIVED.
JACK: Melissa how are alright?

MELISSA: I'm fine, thank you. How are you?

JACK: Melissa, look. Answer me. Are we fighting or what?

MELISSA: No we're not fighting.

JACK: Well we're not speaking either. You wouldn't even look at me at Blondie's. Look I hate fighting like this. I don't like it at all. I feel very bad.

MELISSA: That's it! All I ever hear about is you, Jack! How're you're feeling, what you're doing. All we ever talk about is your needs. Your goals, your ambitions. What about me? Don't I count? In case you haven't noticed Jack, I'm a person too. And if we're going to have a real relationship, things had better change.

JACK: Are you threatening me?

MELISSA: No Jack, I'm telling you the truth. A relationship is a matter of give and take. Not me doing all the giving and you doing all the taking, like it has been. That's not the kind of relationship I want. And I won't put up with it any longer. I have needs and feelings just like you do Jack. Either we start having an equal two way relationship or we call it quits.

JACK: Look um Melissa.... um.... you're right. Yes I have been.... I've been totally self involved, you're right. I've been so wrapped up in my own world, I couldn't even see yours. But believe me, even if my actions look differently, I do love you. Look Melissa I will do anything. I'll change, anything, my attitude, my behavior, I'll do anything you want. I will

MELISSA: Do you really think you can Jack?

JACK: Yes I can. You're the most incredible woman.... the most incredible woman.... no woman has ever loved me like you have. I couldn't stand to lose you, you know that. Now please, please don't tell me that you're going to give up on me. Don't give up on me.

MELISSA: No I won't give up on you. I love you Jack. (She holds him.) I always will.

JACK: I love you too. You're the most wonderful, nicest, kindest thing that's ever happened to me. You know that? And I never meant to hurt you.

MELISSA: I know that. I forgive you.

JACK: (Looking at watch) Oh, oh no. I'm sorry Melissa. I have to go. I'm sorry.

MELISSA: Why Jack? What's wrong Jack?

JACK: I have a meeting with these political hot shots. I know I said that I would make more time for you and be more considerate but I will in the future but I made this commitment that I can't get out of. Look it's a very important.... I can't let down my dad....

MELISSA: I understand, I understand, go ahead.

JACK: Oh Melissa. I'm so glad that this happened. I really am and I promise you I'm going to turn over a new leaf. I really am. I'm going to give you a new improved Jack Deveraux, more considerate, more kind, more loving than ever before.

MELISSA: Sounds nice.

JACK: It is. I tell you what. We're going to spend more and more time together even if it means cutting down on the Deveraux campaign activities. Things are going to change. I can really feel it. I can. It's for the better. (Kiss.)

MELISSA: I love you Jack.
JACK NODS AND LEAVES.
---
SCENE TWO: JO IS IN HOSPITAL AND IS READY TO BE DISCHARGED. STEVE AND KAYLA ARE WITH HERE.
KAYLA: I'm not sure you're going to be discharged today.

JO: Oh that's alright. I've got all my family around me, well some (Jack walks in) some of them.

STEVE: What do you want Jack? As you can see Jack, this is a family affair and doesn't include you.

JACK: I think that's up to your mother. Mrs. Johnson?

JO: It's alright. What can I do for you Jack?

JACK: Well Anjelica told me that you were getting out of the hospital today and I wanted to come by and wish you good health and good luck.
JACK HANDS JO A BUNCH OF FLOWERS.
JO: Oh, ooooh, they're so beautiful. Thank you very much. I appreciate it.

STEVE: Well I don't. You know I don't appreciate this man. Listen what's the matter with you? You thick or something? Does a tree have to fall on you? You're not welcome here.

JO: Steve. He is welcome here. I'm his friend and I think he could use one right now.

JACK: Thank you, I think I can.

JO: Um, I'd like to have a word with Jack alone, if you two don't mind please.

KAYLA: You sure about that Jo?

JO: I'm absolutely sure. It's alright.

STEVE: We'll be just outside.

JO: Son, thank you.
STEVE AND KAYLA LEAVE.

Jack/Jo chat;
2:40 Min; 3.2 Meg.
JACK: First of all I'd like to excuse myself for not coming sooner. I've been very wrapped up in my dad's political campaign.
JO: Oh, please, I know, I know how busy you are.
JACK: Well that's no excuse. The point is you came to see me everyday when I was in the hospital and then I.... well.... that's not the truth of it at all. The truth of the matter is that after everything that's happened I.... I didn't know if I would be welcomed here.
JO: Everything that's happened about Kayla. Look Jack I have to tell you, I have to admit I don't understand what's going on with.... I don't understand it at all. But I am your friend and I care about you.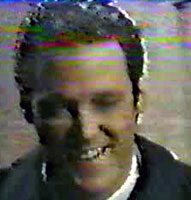 JACK: (Smiling) You have the oddest effect on me. This is very strange.
JO: (Smiling) I do. How so?
JACK: I never understand.... you're important, your opinion is so important to me. And sometime when you feel better I would like to sit down with you and explain to you what happened about Kayla.
JO: I'd like to hear that.
JACK: I know how you feel right now and I would just like to have the chance to explain and maybe I could get you to.... get you to respect me again.
JO: Oooh.
JACK: I would like to try.
JO: Oh that would be good. That would be very good Jack.
JACK: Anyway in the meantime I would.... I would like to show you some appreciation.
JO: Oh like what?.... .I mean.
JACK: Well it's raining buckets and bull frogs out there today like we say at the Deveraux ranch and I have a limousine and I would like to take you home in style.
JO: A limos.... oh no.... you've done quite enough. I don't think so.
JACK: I know how awkward it is right now between your son and myself but it's something I'd really like to do. How about it?
JO: Well it would be nice.
JACK: I'd be a lot of fun. Please, let me do this for you.
JO: Alright. Thank you.
JACK IS THRILLED THAT JO AGREED TO HIS REQUEST TO TAKE HER HOME IN HIS LIMO.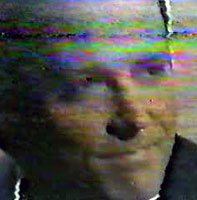 ---
SCENE THREE: OUTSIDE JO'S ROOM.
STEVE: Thanks for coming by. Let's not do it again real soon eh?

JACK: Well I'm not going yet. Not quite yet. I've got to talk to my chauffeur and then come back and get your mother.

STEVE: You're takin' momma.... my mother doesn't want to go anywhere with you man.

JACK: That's not true. I'm taking her home.
JACK LEAVES AND STEVE AND KAYLA GO IN TO TALK TO JO. SHE SAYS THAT SHE THINKS IT IS TIME JACK KNEW THE TRUTH ABOUT HIS PARENTAGE AND THAT THEN SHE COULD HELP HIM.
---
SCENE FOUR: OUTSIDE JO'S ROOM.
HARPER: Jack.

JACK: Dad, what are you doing here?

HARPER: What do you think, campaigning.

JACK: In this weather?

HARPER: I'm visiting the kids in the Burn Unit. Building up my already sterling image. What about you, what are you doing here?

JACK: Well Neil Curtis is releasing Jo Johnson today and I came by. I thought I'd give her a ride home.

HARPER: Fancy treatment for a servant. Someone else's servant at that. Jack what on earth possessed you?

JACK: Well.... you're not the only one who can improve his image by being nice to the little people.

HARPER: I think there is more to it than that. You really seem to like the woman.

JACK: Well why not. She's the kind of person that makes you feel like you've known her your whole life. And in spite of the way things have been going between her son and myself, she always goes out of her way to be nice to me.

HARPER: You were a guest in the house where she worked. She was paid to be nice to you.

JACK: She wasn't paid to come and see me everyday in the hospital. I don't know. I'm just trying to repay kindness with kindness. There's no harm in that.

HARPER: Maybe you're right son. No harm in it at all. You know I look at you and I can't believe how fortunate I am sometimes.

JACK: Oh come on Dad.

HARPER: Oh no you're a Deveraux through and through and a politician with a heart. That's a combination that's unbeatable. I'm so proud of you Jack. In fact you've set such a good example that I think maybe I'll pay Mrs. Johnson a visit myself and thank her for all her past kindnesses to you.

JACK: There you go. I think she'll really appreciate that. Thanks Dad.
JACK LEAVES AND HARPER WATCHES.
---
SCENE FIVE: INSIDE JO'S ROOM SHE IS LOOKING AT A PICTURE OF BILLY AS A BABY. HARPER COMES IN.
HARPER: How convenient for both of us to find you alone.

JO: What do you want?

HARPER: Oh just a little conversation that's all. You and I need to talk Mrs. Johnson.
HARPER PROCEEDS TO WARN JO ABOUT REVEALING ANYTHING TO JACK.
---
SCENE SIX: LATER JO IS READY TO LEAVE. STEVE AND KAYLA ARE NOT HAPPY AND DO NOT TRUST JACK'S MOTIVES'S; HOWEVER, IT IS CLEAR THAT JACK IS ACTUALLY SINCERE, AND IS DOING THIS BECAUSE HE TRUELY CARES FOR JO.

JACK COMES IN PUSHING A WHEELCHAIR. JACK'S CHAUFFEUR IS STAND AT THE READY.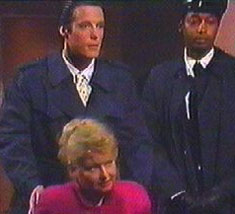 JACK: Mrs. Johnson. Oh good you're ready.

STEVE: You ever hear of knocking Jack.

JO: Yes I'm ready. Thank you

JACK: I'll take that if you don't mind. (Indicates Jo's bag that Steve is holding.)

STEVE: You tell your driver to take it easy.

JACK: I'm sure I'll manage. Bye Steve. Bye Kayla.
JACK WHEELS JO OUT OF THE ROOM LEAVING STEVE GREATLY DISTURBED.