---
SCENE ONE: LATER AT WINGS. JACK AND ANJELICA ARE HAVING DINNER.
ANJELICA: (Reading the newspaper) Well it looks like the Community Center is in a great deal of trouble.

JACK: I'd say that's a gross understatement.

ANJELICA: Any bets on whether or not it's going to shut down completely?

JACK: Oh no, it's a sure bet. I got a telegram this morning from the big boys in Washington who control the purse strings.

ANJELICA: They're withdrawing the funding.

JACK: Immediately.

ANJELICA: What did they say?

JACK: They said I was right. They said thank you for shedding the light on the whole situation. I mean what can I say. The climate today is one of fiscal control, fiscal restraint. People don't want to filter their tax dollars away any more so it's up to Assemblymen like me to point out ways like in the so called Community Center.

ANJELICA: Very good. You end up smelling like a rose.

JACK: You noticed?

ANJELICA: And Patch and Kayla are on the unemployment line.

JACK: It was their own doing. It was a risky venture going in. What can I say.

ANJELICA: What's next?

JACK: Well it's only the beginning of the end for the dynamic duo. Maybe they'll see that they are not so great together after all. Goodbye.
---
SCENE TWO: MEANWHILE JENNIFER IS STILL TRYING TO GET FRANKIE TO MAKE LOVE TO HER BUT HE STILL THINKS SHE IS NOT READY AND IS TOO YOUNG. HE CONTINUES HIS FRIENDSHIP WITH PAULA CARSON WHICH UPSETS JENNIFER.
---
SCENE THREE: AT BLONDIE'S. JACK, ANJELICA AND HARPER ARE HAVING DINNER.
HARPER: Thank you Dave, this is superb. (Sips champagne.)

ANJELICA: Take it easy darling. Slow down.

HARPER: Nonsense this is a celebration. My son is a winner just like his old man. Congratulations Jack.

JACK: Really dad it's nothing. I just set my goals and went for them, that's all.

HARPER: But you did it, you did it. You closed down the Community Center. I'm proud of you son. I have no doubt you could achieve anything you set out to do. You're a Deveraux. That means you're a champion.

JACK: Well what's important is the community.

HARPER: Absolutely right. People with questionable morals like Kayla and her Mr. Johnson shouldn't be allowed to run a Federally funded center.

JACK: You know there is no telling what they were going to do with that money. That is tax payers money.

ANJELICA: Jack get real. You'll have us start to believe in our own press!

JACK: Anjelica. I'm very serious about being an Assemblyman. I car about my constituents.

ANJELICA: Oh yes I know that darling and I'm behind you all the way but we're all family here. we can all be honest here. The only reason you went after that Community Center is because you wanted to destroy Steve and Kayla.
MELISSA ARRIVES WITH MICKEY AND MAGGIE. THEY ARE SEATED AT A TABLE OPPOSITE JACK. MICKEY TELLS MELISSA THAT THE ATTEMPTED MURDER CHARGES AGAINST HER HAVE BEEN DROPPED.
MELISSA: Oh that's great. I can't wait to tell Jack. This changes everything. Excuse me. Jack excuse me but could I speak to you for a minute?

ANJELICA: Melissa. This is hardly the time or the place.

HARPER: Jack I would not advise it.

MELISSA: It won't take long. I'm sorry for interrupting your dinner but it's very important.

JACK: Melissa of course. Dad, Anjelica excuse us for a minute.
JACK AND MELISSA WALK AWAY TO TALK.
JACK: Look I think my folks are right. I don't think this is a very smart move right now.

MELISSA: Jack it doesn't matter anymore. It's all over.

JACK: What do you mean it's all over?

MELISSA: We don't have to sneak around anymore. I've been cleared of the attempted murder charges. It's official.

JACK: Melissa that's great. (Hug.)

MELISSA: Now we can be together. We don't have to worry about what anyone thinks.

JACK: Not quite yet.

MELISSA: What do you mean?

JACK: We have to remember that I'm a married man still. And in view of my position and my dad's campaign we have to be careful about my public image. So we have to be careful for just a little bit longer.

MELISSA: Yes I see your point. But that's okay. We're closer than we were and at least now I can come back to work for you. I don't think how anyone could have a problem with that. What do you say? Want me back?

JACK: What do you think? Come on.
JACK AND MELISSA RETURN TO HARPER'S TABLE.
JACK: Dave?

HARPER: Jack would you please think what you are doing.

JACK: I know exactly what I'm doing. Dad, Anjelica, Melissa's coming back to work for me.

HARPER: Have you gone out of your mind Jack. There is no way Melissa can work for you again.

ANJELICA: Darling I think you should listen to your father. Melissa I'm sure you understand and I don't think this is the place to have this discussion....

JACK: Wait a minute, wait a minute. We have nothing to worry about. All the charges against Melissa have been dropped.

HARPER: Oh I see. Well Melissa that does change things. Well of course I knew all along you couldn't be capable of any such a thing.

MELISSA: Well I appreciate the confidence Senator Deveraux.

HARPER: Tell me, have the police re-opened the case? Do you know if they have any other suspects?

MELISSA: As far as I know they're not looking for anyone. I mean obviously I was set up but they just didn't have enough things to go on. That's the baffling thing about the case.

HARPER: Well you want Melissa back as your administrative assistant Jack. Are you sure?

JACK: I'm sure.

HARPER: Well I think that's fine. If that's what you want son it's okay with me. Welcome to Deveraux country!

JACK: Oh!

ANJELICA: Oh! Harper please, that's dreadful. I apologize.

HARPER: Oh I was thinking of using it for my campaign slogan. What do you think Jack?

JACK: I think it's pretty pretentious dad, even for you!
EVERYONE LAUGHS.
JACK: Look I hate to break this up but I really have to get back to work. I have a meeting.

HARPER: That's alright son. Melissa, seriously. Welcome aboard.

MELISSA: Thank you Senator.

JACK: Melissa, will you see me out?

MELISSA: Of course. Goodnight Anjelica, Senator.
JACK AND MELISSA WALK TO THE FOYER AND KISS.
JACK: I can't wait believe it. Things are finally coming my way. Everything.

MELISSA: Funny, I feel the same way.

JACK: Community Center's closing down, I've got you back and I've finally got a way to get back at Steve Johnson.

MELISSA: How are you going to do that Jack?

JACK: Well I don't want to go into too many details but suffice to say I'm looking up an old friend of Steve's who's going to help me get back at him.

MELISSA: Who would help you get back at Steve?

JACK: Oh someone from his past. I've got people looking for him right now. Wait a minute.... I remember.... there's something that I've been.... you wanted to show me something for a long time now. Now what is it? I just remembered.

MELISSA: Um.... never mind Jack. It wasn't important.

JACK: Are you sure?

MELISSA: Yes I'm sure.

JACK: Right. See you tomorrow morning.

MELISSA: Right. (Kiss.)
---
SCENE ONE: THE NEXT DAY THERE IS AN EXPLOSION AT THE EMERGENCY CENTER AND KAYLA IS BADLY INJURED. STEVE HAS BEEN CONSTANTLY AT HER BEDSIDE BUT HAS LEFT FOR A REST. JACK ARRIVES AT THE DOOR TO HER ROOM DRESSED IN SCRUBS AND SURGICAL GLOVES. THERE IS A POLICEMAN GUARDING THE DOOR.
JACK: Excuse me. I want to see Kayla.

GUARD: I'm sorry but the only people allowed in that room except authorized personnel and immediate family.

JACK: Well I'm her husband. Jack Deveraux. Go ahead. Search me.

GUARD: It's okay for you to go on in.

JACK: Good guess.
JACK SEES KAYLA IN AN OXYGEN TENT WITH HER EARS BANDAGED. SHE'S UNCONSCIOUS. JACK SEEMS SINCERELY UPSET AND WORRIED ABOUT KAYLA.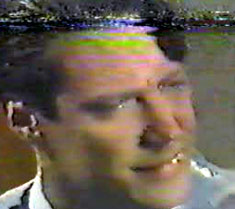 JACK: What were you doing in that basement Kayla? If you were relying on Steve to be your big protector, where the hell was he? I'm sorry that this happened, I really am. But I told you, if you'd listened to me (Beat). You know there were times when I wished you were dead. When I saw you with him I wished you had gone. Now I'm sorry I even thought that. You're so beautiful (Beat) even now. Kayla why couldn't you love me? I would never let this happen to you. I guess I'm supposed to be happy now. I was right. I won.... I won.... (He puts his face in his hands on the edge of the bed.)

HARPER COMES IN.
HARPER: Jack.

JACK: Uh?

HARPER: What in the hell do you think you're doing here?

JACK: What do you think? I'm seeing my wife.

HARPER: You know sometimes I wonder about you. This is the last place in the world you should be.

JACK: How did you know that I was here?

HARPER: I know my own son. It was easy to figure out. Now we've got to get you out of here.

JACK: Why? Nobody knows that I'm here.

HARPER: Don't be too sure. Do you have an alibi for last night? The police are after you.

JACK: The police?

HARPER: Yes.

JACK: What for?

HARPER: They're very anxious to question you about the explosion last night. Now you had nothing to do with did you?

JACK: Of course I didn't.

HARPER: Oh I knew you couldn't have done it. But can you prove you weren't anywhere near the explosion?

JACK: Uh.... no I can't. And I bet you that 95% of the people that they ask couldn't prove where they were either so why do I have to. Last time I checked, you were innocent until proven guilty.

HARPER: That's true. Unless you're already under suspicion for being a serial killer.

JACK: Wait a minute. What's that supposed to mean?

HARPER: Lieutenant Carver came to our house this morning looking for you. He told me that they think that the explosion at Kayla's was the work of the Riverfront Knifer.

JACK: They think that I did it?

HARPER: They seemed awfully in a hurry to catch you, find you.

JACK: Dad I don't have an alibi.

HARPER: Don't worry, don't worry. Anjelica and I have given you one. That's why I had to get a hold of you so urgently so our stories could all be straightened out.

JACK: Oh, well tell me what's my story.

HARPER: You got to the police and when they ask you say you were in the bosom of your family all night.

JACK: Sure, anything you say (Jack seems confused and possibly worried, could he be the Knifer, or is he perplexed because Harper is acting oddly).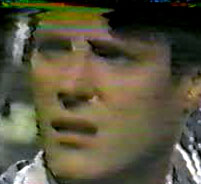 ---
SCENE TWO: MIKE TALKS TO MELISSA ABOUT HER WORKING FOR JACK. HE THINKS IT IS A BAD IDEA. AS THEY ARE TALKING IN THE DOCTOR'S LOUNGE JACK COMES IN.
JACK: Excuse me. Am I interrupting something?

MIKE: No.

MELISSA: Hi. We were just talking about some boring medical stuff.

JACK: Well a nurse told me you'd be in here so I just thought I'd drop by.

MIKE: I gotta go. I'll see you later. Bye.

MELISSA: Bye.

JACK: Bye. (Mike leaves.) You were talking about me weren't you?

MELISSA: Not really.

JACK: Come on your whole family's talking about me. They're trying to warn you to stay away from the evil Jack Deveraux. You don't have to deny that. I expect it.

MELISSA: They just don't know you that's all. I'm sure a lot of families would like to know more about the people their loved ones are involved with.

JACK: Melissa! Come on don't try and be diplomatic with me. That's my job. I know it's all up to me. I have to talk to your family face to face and stop all this talking behind my back.

MELISSA: I'd rather leave my parents out of this.

JACK: Melissa that's how we got in this mess in the first place. Now I think I should talk to them. I know how to talk to people, how to share my point of view. I'm a politician.

MELISSA: Maybe that's the problem Jack. Maybe they think you're so smooth they can't trust you.

JACK: You trust me don't you?

MELISSA: Of course I do. I love you but they don't.
MICKEY AND MAGGIE COME IN.
MAGGIE: Oh.

MICKEY: Oh well we'll be going.

JACK: No wait a minute please. I need to talk to both of you. I think there's something that we need to clear up.

MICKEY: If it's about you and Melissa being together, I'm already clear on that.

MELISSA: Dad!

JACK: No Melissa, that's alright. You don't mince words sir and neither do I. I would like to say for the record. I did not rape my wife. Now people are going to believe whatever they want. No court of law can change or stop that. Ultimately Kayla and I will have to answer to ourselves. What we won and what we lost. All I know is that I loved her, perhaps too much, but I loved her and that's the truth. I'm telling you this because I care about Melissa's feelings so I care about your's as well. You may not believe me but listen. Listen to what I'm saying and remember above all, I will never hurt Melissa. I'll talk to you later.
JACK LEAVES.
MELISSA: Now do you see why I love him so much?
---
SCENE THREE: JACK ARRIVES HOME.
JACK: Dad everything's been taken care of.

HARPER: Good. I'm glad to see you. For a minute I thought it was Anjelica coming home.

JACK: Dad, are you trying to hide from her?

HARPER: No it's nothing like that.

JACK: Oh you know there's something very strange going on between the two of you.

HARPER: Nothing out of the ordinary.

JACK: Oh that's true if it's ordinary for Anjelica to want a baby when you don't.

HARPER: Now what makes you say that?

JACK: She told me so. Why are you so against?

HARPER: A baby at my age! Don't be ridiculous. I can't be tied down like that. Besides I already served my time with you.

JACK: She told me that she wants one more than anything.

HARPER: Ah, I don't know where she got such an idea. Where do you think it came from?

JACK: It's not so odd. She's a Baby Boomer. It's all the rage these days.

HARPER: Well I'm no Baby Boomer and I don't want any babies booming around here.

JACK: Come on dad. You want to tell me you don't want another charmer like me? No, don't answer that.

HARPER: Jack you've been a handful since day one. You're all the son I'll ever need.
---
SCENE FOUR: BACK AT THE HOSPITAL, MIKE HAS DIAGNOSED KAYLA AS BEING DEAF FROM THE BLAST. HE THINKS THAT WITH AN OPERATION AND TREATMENT SHE MIGHT REGAIN HER HEARING.
---
SCENE FIVE: JACK AND ANJELICA ARE HAVING DINNER AT BLONDIE'S.
ANJELICA: I am awfully glad you could join me for dinner tonight. With your father out of town it gets kinda lonely.

JACK: I'm just sorry I can't spend more time with you and you know that you are anything but boring.

ANJELICA: You are too kind.

JACK: So tell me. How goes the baby making with dad?

ANJELICA: You are too crude.

JACK: No I'm not. I'm just being practical. Okay what do you call it?

ANJELICA: Well (Beat) I see what you mean.

JACK: So?

ANJELICA: It's not going well. Your father and I do not see eye to eye. He does not think that a child would add to our marriage. He thinks that it would be an encumbrance to his career.

JACK: Well a baby would complicate things.

ANJELICA: I suppose it would. And after all I knew who I was marrying when I married your father so I suppose I shouldn't complain.

JACK: Come on, you're not complaining and my ears are always ready to hear anything you've got to say. (Beat) Look if you'll excuse me, I see someone I need to speak with. I'll be right back.
JACK WALKS OVER TO A MAN AT THE BAR.
JACK: Detective Steele?

STEELE: Yes. Mr. Deveraux.

JACK: Thanks for waiting. They said at the agency you wanted to locate a missing person. I specialize in that area of private investigation.

JACK: Exactly what I'm looking for. I'm trying to locate a young man named Billy Johnson.

STEELE: What can you tell me about him?

JACK: Not much. Look I know that twenty five years ago he was dropped into an orphanage in Los Angeles. I can't tell you anything else. If I had a baby picture of him would that help?

STEELE: Yes it would help a lot. Anything else you can learn would speed up the process.

JACK: That's what I want to do. Speed up the process. I've got to get face to face with this Billy Johnson.
JACK IS GETTING EXCITED ABOUT FINDING BILLY AND THUS DESTROYING JACK, NOT KNOWING THAT THE WILL BE THE ONE DESTROYED BY THE NEWS.
---
SCENE SIX: A SHORT TIME LATER.
JACK: Here comes Johnson's sister. Would you excuse me for just a minute? Adrienne.

ADRIENNE: Oh Jack hi.

JACK: Thank you so much for coming.

ADRIENNE: Well of course when I got your message at the hospital I came as quickly as I could.

JACK: So you have Billy's picture?

ADRIENNE: No I don't have it any more.

JACK: What happened? You had it in your hand when Steve interrupted us.

ADRIENNE: I know. I dropped my purse and he saw the picture.

JACK: What did he do?

ADRIENNE: Well he told me not to look for Billy anymore and he took it back. In fact he said he was going to give it to my mother.

JACK: Look I'm sorry that it upset him so much but when we find Billy I guarantee you he will to be so happy he'll forgive us both.

ADRIENNE: I think so too. I remember how happy I was when I found Steve.

JACK: Still if we had that picture it would make things go so much quicker.

ADRIENNE: Jack I'm sorry about that but I can't go back and get it. Steve will wring my neck. I did find out the name of the orphanage.

JACK: Oh really? That would be a great help. What is it?

ADRIENNE: Well it's in Los Angeles. I don't know if it's still there. Hartman Orphanage.

JACK: Terrific! This is just the beginning. But it's a beginning. Now let's agree. Until we find Billy let's not tell anyone that we're searching for him, right?

ADRIENNE: Oh no, no. I agree completely. I can't wait to see the look on Steve's face when I introduce him to Billy.

JACK: Neither can I. It's going to be one great big wonderful surprise.

ADRIENNE: I think so too. Listen I gotta go. If you need anything else from me you call me I'm right there.

JACK: Fine, bye, bye.

ADRIENNE: Take care. Bye.
ADRIENNE LEAVES AND JACK RETURNS TO TALK TO STEELE.
JACK: Bingo, she didn't have the picture but we've got the name of the orphanage. Hartman Orphanage in Los Angeles.
STEELE: A picture of the child would help a great deal. Is there any possibility of getting one?
JACK: I'll try. I don't know how but I'll get it. (Aside) Funny how I'm getting more and more interested in meeting Mr Billy Johnson.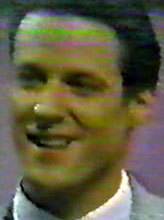 ---
SCENE SEVEN: JACK IS OUTSIDE JO'S APARTMENT HOLDING A BUG BUNCH OF FLOWERS. HE KNOCKS AND JO OPENS THE DOOR.
JACK: For you!

JO: Jack!

JACK: Oh they're beautiful. What a wonderful surprise. Come in here.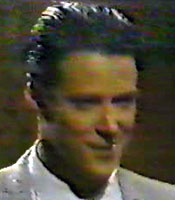 JACK: I wanted to see how you were doing. I'm sorry I didn't come by sooner.

JO: Oh I'm doing just fine thank you. I know you have so much to do you don't have to worry about me.

JACK: Oh come on now. If a man can't take time out to see how his friends are doing then he's in deep trouble and I do care about you. You know that.

JO: Yes I know that.

JACK: Now look these flowers need a little drink of water. Maybe you can find a vase or something for them.

JO: I've got the perfect thing in the bedroom. Now you wait right here, wait right here. I'll be right back.

JACK: Alright.
JO LEAVES THE ROOM AND JACK BEGINS TO SEARCH HER DRAWERS JUST AS STEVE COMES IN THE DOOR HOLDING A SMALL BUNCH OF FLOWERS.
STEVE: What in the hell are you doing here Jack? (Beat) I asked you a question Jack. What are you doin' here?

JACK: Just came by to visit my friend Jo. No harm in that.

STEVE: Uh, huh!

JACK: What other reason could I possibly have?

JO: Here we go. (Beat) Steve, I didn't expect you back so soon.

STEVE: Well I just hurried back so I could get these here before they died. Besides I was looking forward to spending a little more time with you, alone!

JACK: Well far be it for me to come between a mother and her son. I'll just be going.

JO: The flowers are beautiful. Thank you very much.
STEVE GESTURES FOR JACK TO LEAVE.
JACK: You know Jo I'll come back at another time when it's more convenient for you. And I want you to get better, alright? Promise me?

JO: Yes, yes. Thank you.

JACK: Bye, bye.