---
SCENE ONE: STEVE IS LEAVING THE LOFT AND JACK HIDES UNTIL HE HAS GONE. HE KNOCKS BUT GETS NO ANSWER. THE DOOR OPENS AND KAYLA REACHES OUT TO GET THE NEWSPAPER. SHE IS SHOCKED TO SEE JACK.
JACK: You are home. Why didn't you answer the door when I knocked?
KAYLA LOOKS AT JACK BUT CANNOT HEAR HIM.
JACK: So enough of the silent treatment alright? Kayla what the heck's going on? I promise I won't cause trouble. Kayla can you hear me?
STEVE JUMPS HIM FROM BEHIND, AND GRABS JACK BY THE COLLAR.
STEVE: What are you doin'?

JACK: BACK OFF, BACK OFF.

STEVE: Did you touch her?

JACK: I'm not doing anything.

STEVE: Did you touch her, did you, uh? You better get out of here before I wipe that little smile off your face permanently.

JACK: I'm not going anywhere until you tell me what happened to her. Why does she act like she can't hear me?

STEVE: You go upstairs Kayla, go.
KAYLA LEAVES.
JACK: Alright. What's the story?

STEVE: I don't think it's any of your damn business and I told you never to come round here again, didn't I?

JACK: Kayla's hurt and I'm concerned about her.

STEVE: Oh you're real concerned aren't you? I really believe that.

JACK: LET'S JUST STOP THE ARGUING FOR JUST ONE MINUTE. Tell me what's wrong with Kayla.

STEVE: She lost her hearing and she can't talk. How do you like that? Are you happy?

JACK: She what?

STEVE: That's right. She lost her hearing and she can't talk and you know why? They say it has got something to do with some emotional stress that she's been under.

JACK: NO!

STEVE: Now you can thank yourself for part of that can't you?

JACK: NO!

STEVE: Yes you can.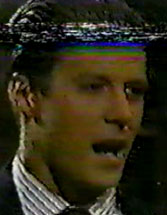 JACK: NO!

STEVE: What do you mean, no? You took the funds away from the Community Center didn't you? Was that helping her out? What you did right in this room here a few months back, do you remember that? Are you satisfied now?

JACK: Look I don't care what you think about me but I want you to go up there and tell her I never meant to hurt her. I cared about her and I still do.

STEVE: I think you better go.

JACK: Steve I want you to....

STEVE: You go! YOU GO!
JACK WALKS OUT ABRUPTLY.
---
SCENE TWO: A SHORT WHILE LATER JACK COMES BACK TO THE LOFT.
STEVE: Jack what are you doing back here?

JACK: I've got something for Kayla.

STEVE: I don't think we want anything from you.

JACK: I think that she does. Kayla.
STEVE TAKES IT FROM KAYLA AND RIPS IT OPEN.
STEVE: What is this? Some sort of get well card. (Reading) "Funding for the Community Center is being reviewed on Assemblyman Deveraux's recommendation." Restored! (Beat) Is this real man?

JACK: Yes it's real.

STEVE: Oh is it?
THE PHONE RINGS.
JACK: You should get that. It should be Washington confirming the telex to you.
STEVE GOES TO ANSWER THE PHONE AND KAYLA SMILES AT JACK AND TURNS AWAY. JACK SPEAKS TO HER BUT SHE CANNOT HEAR HIM.
JACK: Kayla I still love you.
JACK SLOWLY SHUTS THE DOOR.
JACK: And I always will.
---
SCENE THREE: MELISSA IS SITTING AT A TABLE AT SHENANIGAN'S AND JACK WALKS IN.
MELISSA: You did it?

JACK: No we did it.

MELISSA: Jack I'm so glad you went over there. It really took a lot to do. So does this mean you're giving up your vendetta against Steve?

JACK: Look I may as well tell you that nothing has changed between Steve and me. Although there are some things in the works that could shake things up considerably.

MELISSA: What is it this time?

JACK: Well it seems that Steve has a long lost brother named Billy. I'm in the process of finding brother Billy.

MELISSA: Jack, why dig up someone from the past?

JACK: Because Steve doesn't want me to find him. I'll know why when I do.

MELISSA: Look I really wish you would reconsider Jack.

JACK: Oh what are you so worried about?

MELISSA: Nothing. (Beat) It just doesn't seem necessary.

JACK: Melissa, I don't do things that are unnecessary. Look I've got a couple of phone calls to make. I'll see you later okay.

MELISSA: Okay, bye.
---
SCENE FOUR: MELISSA GOES OVER TO THE LOFT TO SEE STEVE AND SHE TELLS HIM THAT JACK IS LOOKING FOR SOMEONE FROM HIS PAST, SOMEONE NAMED BILLY. SHE SAYS THAT SHE DOES NOT WANT THE FIGHT BETWEEN HIM AND JACK TO GET WORSE AND THAT IS WHY SHE IS TELLING HIM. HOWEVER, SHE DOES NOT TELL STEVE THAT SHE KNOWS JACK IS BILLY.
---
[Air date 6-14-88 (Flag Day)]
SCENE ONE: THE DAY BEGINS WITH ADRIENNE TELLING JUSTIN THAT TODAY IS BILLY'S BIRTHDAY. AT THE DEVERAUX MANSION JACK COMES DOWNSTAIRS.
JACK: Ta da....ta da....(No one is there) Dad, Anjelica! Where is everybody? That's strange. Well (BEAT) I guess at my age birthday's shouldn't be such a big thing. I mean after all, it is just another day.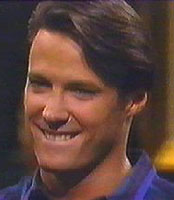 ANJELICA: TA DA!

JACK: Oh you!

ANJELICA: Happy Birthday!

HARPER: Happy birthday son!

ANJELICA: Oh did you see that little face....Jacky were you afraid we forgot your birthday?

JACK: Well, you know, being as how we have all this excitement and big election year and everything I just thought that my birthday would be quiet this year.

HARPER: Not on your life. I don't care if this is Flag Day. No campaigning. This is your day for hoopla and fanfare. Nothing in this world means as much to me as the day you were born into the Deveraux family.

JACK: You shouldn't have.

ANJELICA: Oh you say that every year.

JACK: Well I never mean it.

HARPER: Come on birthday boy. Have a seat. Get down to business. Here spoils for the victor.

JACK: Oh dad I don't feel like a victor. I kind of feel like I'm just another year older.

HARPER: I think getting through this last year qualifies you as a victor.

JACK: Maybe you're right dad, maybe you're right. Oh would you look at this. This is beautiful. Whoa! Anjelica must have gotten this. This is great.
JACK HOLDS UP A PALE LEMON SWEATER WITH A BLACK BAND ON A "V" NECK. THE MAID OFFERS ANJELICA SOME FOOD AND SHE RECOILS.
JACK: What's this....oh this looks dad sized to me. Oh great. That's definitely your taste.
JACK PULLS OUT A SUPERB LEATHER BRIEFCASE.
JACK: You know one of the things I love the most about birthdays, aside from the presents I mean. It's these little boxes with no wrapping paper. Where do you get these things? I could never figure this out. Wait a minute....oh dad that is beautiful.
JACK HOLDS UP A GOLD WATCH ON A CHAIN.
HARPER: There's an inscription.

JACK: I bet there is. (Reading) To my son the Assemblyman. You never cease to make me proud. Love Dad. (He hugs Harper) Thank you dad, I'll treasure it always.

ANJELICA: Now they don't make one of those clever little boxes large enough for what I'm giving you. So I hope you'll forgive me. Your gift is not wrapped.

JACK: You didn't have to Anjelica.

ANJELICA: Oh you say that every year.

JACK: I always mean it.
THEY WALK OUT ON THE BALCONY AND SHE COVERS HIS EYES WITH HER HAND.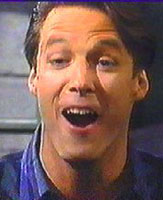 ANJELICA: Now I know you already have one of these but you know how fabulous you look in forest green.

JACK: You got me a forest. You got me a (Beat) car! (Thrilled) You got me a Jaguar, a Jag!

ANJELICA: Indeed. It's a 1989 Jack. You know this particular model was not supposed to come off the assembly line for another couple of months but your dear father convinced the manufacturer to release a prototype early. You are definitely, without a question, the only kid on your block to have one.

JACK: Look as usual your extravagant, both of you. But don't you think this time you've gone a tad overboard?

HARPER: Nonsense. Nonsense. Maybe you should re-read the inscription on that watch. Nothing is too good for my son. You know I remember back when you were born. It was raining for days. I mean torrential downpours. They were even claiming it was like the second coming of the flood. But the day you were born the sun finally burst through and shone brighter than ever before. Both the sons that came out that day shone with a special brightness. It was then and there that I knew that you were going to live up to your distinctive Deveraux heritage and you have.
MELISSA ARRIVES.
JACK: Thank you dad. I can't tell you how much that means to me.

MELISSA: Happy Birthday Jack!

JACK: Melissa! Hi! (Hug)

MELISSA: I hope I'm not intruding.

ANJELICA: Ah you're not. As a matter of fact I have an appointment I'm about to rush off to.

HARPER: Yes I have about a hundred phone calls to make if you'll excuse me.

ANJELICA: Well I promise that we are going to celebrate in grand style later on. Do you know that I've ordered lobsters from Maine. Oh I only ordered three.

JACK: (To Melissa) You can share mine.

MELISSA: Thank you.

ANJELICA: We'll see.
HARPER AND ANJELICA LEAVE AND JACK KISSES MELISSA.
JACK: Well I just wanted you to know that I'm glad you came. Now how would you like to see the suit that I got for my birthday?

MELISSA: Maybe later.

JACK: Later.

MELISSA: First I want you to have this.

JACK: What is this?

MELISSA: This is my birthday present to you. I've been meaning to give it to you for a long time and now it's your birthday it's only fitting that you see it. Go ahead open it.

JACK: Well it certainly isn't a blender. It's a (Beat) picture of you and me (Beat) together.

MELISSA: I got it from The Chronicle.

JACK: That's funny. I've never seen it before.

MELISSA: Well that's because it was never run. I came across it when I was doing some research at the newspaper and I asked them if I could have it.

JACK: Well, isn't that sweet? Thank you. (Kiss)
DOORBELL RINGS.
SAUNDERS: (Clearing his throat) Mrs. Josephine Johnson to see you Master Deveraux.

JACK: Mrs. Johnson. How do you do? It's good to see you.

JO: Oh I hope I'm not interrupting anything.

JACK: Oh no, no, no, no. What brings you by?

JO: Well I have something for you. You see I happen to know that today is your birthday.

JACK: Now how on earth did you know that?

JO: I remember seeing it circled on the Senator's desk calendar when I used to work here.

JACK: Wait a minute. You worked here months ago. How could you remember something like that? That's very sweet of you. You know that.

JO: It's not much really. Go ahead and open it.

JACK: Wrapping paper. How quaint? It's....

JO: Slippers.

JACK: Slippers!

JO: See.

JACK: You made these?
JACK HOLDS A PAIR OF HAND KNITTED SOCKS WITH WIDE RED WHITE AND BLUE STRIPES. JACK SEEMS SINCERERLY MOVED BY HER GIFT.
JO: Yes. Well it's not that much. I just made them to mark the day.

JACK: Red, White and Blue. Flag Day. You know something. No one has ever made anything for me before. They're very beautiful.

JO: Oh.

JACK: I think these are the most thoughtful gifts I've received today. I really do.
MELISSA IS HURT.
JACK: You know what Jo. I'm going to wear these with pride. I promise you. I will, thank you. I will.

JO: Well I guess I better be going.

JACK: Oh well if you have to. Thank you for coming by. Thank you for the gift.

JO: Yes. Yes.

MELISSA: Wait Mrs. Johnson. I'll walk you out. Do you happen to know where Steve is today?

JO: Well, actually he's out of town for a couple of days, why?

MELISSA: Nothing, I just wanted to talk to him that's all.

JO: Oh well if I talk to him I'll let him know you were after him, okay?

MELISSA: Okay, thank you. Bye.

JO: Bye.

JACK: What were you talking to Mrs Johnson about?

MELISSA: Well I asked Steve to do something for me and I just wanted to know if she knew if he'd done it.

JACK: What favor could Steve do for you? Compose new harmonica concerto?

MELISSA: No, it was nothing like that.

JACK: What then?

MELISSA: Something that could prove very beneficial to a lot of people if Steve decides to do it.
---
SCENE TWO: A SHORT TIME LATER ADRIENNE ARRIVES TO SEE JACK.
JACK: (Opening the door) I....um....Adrienne! Hi! Don't tell me, don't tell me. You brought me baked goods.

ADRIENNE: Why would I bring you baked goods Jack?

JACK: Oh just a joke, just kidding. Come on in, come on in.

ADRIENNE: Thanks. I won't stay long. Wow what a great place. I just came to get an update on the search for Billy. Has there been any progress?

JACK: Well as a matter of fact our private detective should have some information very soon.

ADRIENNE: Great. I can't wait to meet him.

JACK: Neither can I.

ADRIENNE: You know I didn't realize how important finding Billy was to me. It would have been really good if we could have found him today though.

JACK: Why? What's so special about today?

ADRIENNE: Well today's.... (Beat) No you'd think I was silly.

JACK: Oh come on. I want you....don't worry about a thing alright. You should just go home and dust off the Johnson family photo album.

ADRIENNE: Have I come at a bad time?

JACK: No, no, I didn't mean that at all. I mean actually today's my....

ADRIENNE: I should go. Look I really want to thank you for all your help and everything. If you hear anything about Billy just give me a call at the Kiriakis estate. I'm staying there now. I've moved back in.

JACK: I know the number. You know the detective is on his way to Los Angeles right now to check out the orphanage records for Billy. We'll know his identity before he does.
---
SCENE THREE: MEANWHILE STEVE HAS GONE TO LOS ANGELES TO THE ORPHANAGE IN ORDER TO ALTER THE RECORDS AND SEND JACK ON A FALSE TRAIL. JACK'S PI GETS THERE JUST AFTER STEVE HAS LEFT.
---
SCENE FOUR: AT THE DEVERAUX MANSION, THE NIGHT OF JACK'S BIRTHDAY. JACK IS WEARING A TUX.
JACK: Dad, Anjelica....(Doorbell rings) Saunders?....Hello Melissa.

MELISSA: Hello.

JACK: Thank you for agreeing to celebrate my birthday with me on such short notice.

MELISSA: Sure, you know I like to be with you whenever I can. What happened to Anjelica's lobsters?

JACK: Fogged in in Bangor. I imagine they're spending a quiet evening on the runway together, clicking their claws and counting their blessings.

MELISSA: Oh that's too bad.

JACK: Well I've got a wonderful evening planned for us. The Zodiac Room. Picture this....wonderful food, big dance floor, jazz. Melissa you seem a little preoccupied. What are you thinking about?

MELISSA: Well I was just wondering if you're still looking for that guy from Steve's past? Billy, I think his name was.

JACK: Oh I most certainly am. The idea of finding that guy makes the prospect of being another year older extremely palatable. As a matter of fact I just got off the phone with the detective whose trying to find him and it's only a matter of time.

MELISSA: Jack I wish you would call the search off before it's too late. Just let bygones be bygones.

JACK: No way! Why are you so concerned about this anyway?

MELISSA: Well it's been my experience that the past is best left in the past.

JACK: Well there'll be no skeletons rattling out of any closets tonight because it's my birthday and that means I get the pleasure of spending it with you. And as the birthday boy I get to make the rules. So here's number one. No more talk about Steve Johnson.
---
SCENE ONE: THE NEXT DAY ADRIENNE ARRIVES TO SEE JACK.
ADRIENNE: Jack, hi.

JACK: Adrienne, please come in.

ADRIENNE: Thank you. Sorry to disturb you at home but I had to know if you'd found my brother Billy yet?

JACK: Well, we're close.

ADRIENNE: Well that's great.

JACK: Well not quite. Not yet.

ADRIENNE: What do you mean? You said you were close.

JACK: We are, we are but we just ran into some problems in Los Angeles.

ADRIENNE: What kind of problems?

JACK: Well it seems that the detective that we hired is having a little trouble getting access to the documents at the orphanage.

ADRIENNE: Jack what are you going to do? You've got to do something. You can't let this be the end of it.

JACK: Look, look. I promised your mother that I would help find her son. I will keep that promise. I am just as determined to find Billy Johnson as you are believe me.
HARPER COMES DOWNSTAIRS AND OVERHEARS JACK'S LAST COMMENT.
---
SCENE TWO: MEANWHILE JO AND KAYLA HAVE HEARD FROM STEVE. HE IS STAYING IN LOS ANGELES IN AN ATTEMPT TO HEAD OFF JACK'S DETECTIVE.
---
SCENE THREE: STILL AT THE DEVERAUX MANSION.
HARPER: You're looking for someone Jack? Do you mind telling me what this is all about?

JACK: Well it's nothing really. I'm just doing a little favor for Jo Johnson.

HARPER: Jo Johnson again.

JACK: Yes you see she would be very happy if she could find her long lost son. I'm trying to help her find her son Billy Johnson.

HARPER: Well that's very noble of you son. I'm sure she appreciates your efforts.

ADRIENNE: Oh she will when we find him. She doesn't know yet though. Jack thank you so much. I couldn't have gotten this close if it weren't for you.

HARPER: Oh and how far have you gone in your investigation son?

JACK: Well we have a detective in Los Angeles and actually everything was going great until the orphanage got stubborn about releasing the documents. Now we're trying to find a way to get those documents. Oh wait a minute. Dad! You can help us out.

HARPER: What Jack....what are you talking about?

JACK: Come on. With all your connections in California, You could speed things up, cut through all that red tape. Come on, what about it?

ADRIENNE: Could you please Senator? It would mean so much if I could find my brother Billy. If I could I'd be the happiest woman in the world.

HARPER: Well I'll just see what I could do. Your husband's family was very helpful to me in the last election Mrs. Kiriakis. I'll just see if I can return the favor.

ADRIENNE: Thank you so much Senator and Jack I can't thank you enough. I gotta go but I'll let myself out.

JACK: Okay. Bye.
ADRIENNE LEAVES.
HARPER: Okay Jack let's have the truth.

JACK: Dad, whatever do you mean?

HARPER: Come on, you know exactly what I mean. Whatever is this sudden kindness you're showing to finding Jo Johnson's son? What the hell is going on here? (Beat, getting upset) You heard me son. I want to know what has prompted this sudden benevolence you're showing the entire Johnson clan?

JACK: Come on dad. You know it's not all benevolence.

HARPER: I thought not.

JACK: Look I know that this long lost brother of Steve's is somebody that he'd like to keep lost. He's probably some real loser, an embarrassment to the whole family. I'm sure he will be to Steve.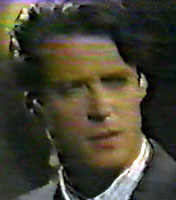 HARPER: And what if he isn't Jack? I mean supposing he's the one member of the family who's managed to make something of himself?

JACK: (Jack is a little confused by his father's reaction) Dad, I don't know. I'm making this up as I go along. Come on, trust me.

HARPER: Do you really think this is such a good idea? No one can blame you for your feelings against Steve Johnson, of course not. But an old vendetta at this stage of your political career might be very dangerous.

JACK: Dad, what are you getting at?

HARPER: Look you live in a spotlight son. Don't you understand. You have to be very careful. Any action you take can ruin your whole political career.
THE PHONE RINGS.
JACK: Okay. Wait a minute dad. Don't worry. I'll handle everything. I'll get that in the other room, alright and I have some things to do after that. I'll be going out, if you'll excuse me. See ya later.
---
SCENE FOUR: AT THE LOFT, KAYLA OPENS THE DOOR AND WALKS BACK INSIDE. JACK WALKS IN BUT SHE IS STILL DEAF AND CANNOT HEAR HIM. HE TOUCHES HER SHOULDER AND SHE JUMPS.
JACK: Ah, you asked me to show up here. (Beat) Steve's not here is he?
KALYA WALKS PAST JACK AND HE TALKS TO HER BACK.
JACK: Kayla look, I was trying to tell you the other day (Beat) Kayla I never wanted to see you like this. I mean the sound of your voice....
KAYLA TURNS AROUND AND HANDS HIM A PIECE OF PAPER.
JACK: What's this?
KAYLA'S VOICE READS THE LETTER. JACK'S SEEMS TO BE AFFECTED BY WHAT SHE HAS WRITTEN. HIS FACE IS FILLED WITH EMOTION. JACK SEEMS TO BE STRUGGLING OVER HIS CONSCIOUS AND GUILT.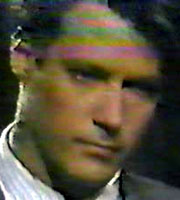 KAYLA:
Jack can you remember when we first met? I do. (Beat) You were kind Jack and so gentle and caring. You could be that way again. The proof is that you put our differences aside and got the Community Center re-opened. I need a favor and because I know that somewhere inside you is that same gentle and caring man I first met, I'll know you'll do this for me.
JACK: You want me to do a favor for you?
KAYLA: ....I know you're looking for someone from Steve's past, someone you think has the power or ability to hurt Steve. Jack if you go on with this search, you'll only be hurting yourself. So I'm asking you to stop. Please Jack, just let it go.
JACK: Kayla....Kayla I'm sorry, I can't help you. I don't know what you're talking about. I can't. I'm sorry.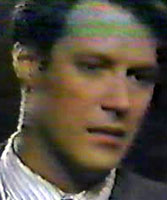 KAYLA SNATCHES THE LETTER BACK FROM JACK.
JACK: I'm sorry.
JACK SLOWLY SHUTS THE DOOR AND STANDS THERE WITH A LOOK OF SORROW FOR HURTING KAYLA.