---
SCENE ONE: ADRIENNE GOES TO STEVE AND TELLS HIM THAT SHE KNOWS WHO JACK IS. HE HOLDS HER AND THEY DECIDE NOT TO TELL HIM BECAUSE IT WILL DESTROY HIS LIFE.
---
SCENE TWO: LATER JACK ARRIVES AT SHENANIGAN'S TO MEET ADRIENNE.
JACK: Adrienne hi. Look maybe we can pick up our conversation where we left off. Thanks....

ADRIENNE: Jack?

JACK: Yes.

ADRIENNE: I've been thinking and I've changed my mind.

JACK: What are you saying?

ADRIENNE: I don't want to find Billy anymore.

JACK: Wait a minute. Adrienne, what made you change your mind?

ADRIENNE: I had a conversation with my mother and it seems you miss understood her. She doesn't want to find Billy. In fact the whole idea is upsetting her and I think we should just drop it.

JACK: Ah, well sure of course. I mean I don't want to upset your mother.

ADRIENNE: Thank you. And thanks for all your help. Hiring a private detective and all.

JACK: Now wait a minute, wait a minute. That's no problem at all. You just forget about the whole thing and it's over. You want to stop the search, it's stopped.

ADRIENNE: Thanks. I knew you'd understand. I gotta go. Thank you again and I'll see you, okay.
ADRIENNE LEAVES AND JACK REMOVES HIS BABY PICTURE FROM HIS POCKET.
JACK: Alright Adrienne. Maybe you can give up but I'm not going to stop until I find out the story about this Billy Johnson. Even if I have to do it alone.
DESPITE WHAT EVERYONE TELLS HIM, JACK IS DETERMINED TO FIND BILLY, NOT REALIZING WHAT THAT *REALLY MEANS TO HIM.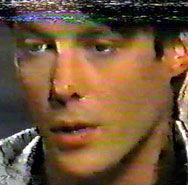 ---
SCENE THREE: STEVE DECIDES THAT HE WILL DESTROY THE ADOPTION PAPERS THAT MELISSA HAS AND THAT WAY JACK WILL NEVER FIND OUT. HE GOES TO MELISSA'S AND BREAKS IN.
---
SCENE FOUR: MEANWHILE AT SHENANIGAN'S JACK IS STILL LOOKING AT THE PICTURE WHEN MELISSA COMES TO SEE HIM.
MELISSA: Hi Jack!

JACK: Melissa. Hi. Look I'm right here just like I promised to be. No more waiting eh?

MELISSA: Well I'm glad that you're here. I really needed to see you tonight.

JACK: And I always need to see you, you know that.

MELISSA: Specially tonight.

JACK: Alright.

MELISSA: I have something I have to show you back at my place.

JACK: Well it can wait until after dinner can't it?

MELISSA: No I don't think I can wait any longer Jack. I have to show it to you right away.

JACK: We can't wait till after dinner?

MELISSA: We can eat later. I don't have an appetite right now.

JACK: Melissa, hold on a minute here. It sounds like you're going to blow up or something. What's wrong?

MELISSA: Nothing.

JACK: Nothing? You wanted me for dinner and then you say we can't eat. You want to go home and then say we have to leave immediately and you saying that's nothing!

MELISSA: It is something Jack. I can't get into it here.

JACK: Why do I get the feeling that it's got something to do with me.

MELISSA: Look I'll explain everything to you later but I have to show you something and it has to be right away. And this time nothing is going to stop me.

JACK: Alright then we'll go back to your place if this is so important.

MELISSA: You won't believe how important it is.

JACK: Alright, let me get the check and I'll be right back for you.
---
SCENE ONE: MELISSA'S APARTMENT. STEVE HAS FOUND THE ADOPTION PAPERS AND IS READING THEM WITH A FLASHLIGHT.

JUST THEN, JACK AND MELISSA ARRIVE AT THE FRONT DOOR.
MELISSA: I'm glad you decided to come back with me Jack.

JACK: Well it certainly must be important if we had to skip dinner.

MELISSA: You'll understand as soon as I show you.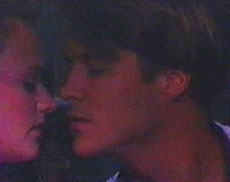 JACK: Good. (Kiss)
AS JACK WALKS IN STEVE THROWS THE PAPERS IN THE FIREPLACE.

Before Steve can burn them, Jack finds the adoption papers;
5:20 min; 5.4 Meg
JACK: Steve?

MELISSA: THE PAPERS! NO!

STEVE: You stay away from there! NO!
JACK GRABS STEVE AND PUSHES HIM ASIDE.
JACK: GET OUT OF HERE!

MELISSA: Steve!
JACK GRABS THE PAPERS FROM THE FIRE.
JACK: No, no. Stop. (He fans the papers to put out the flames.)

STEVE: NOOOO.
STEVE LUNGES AT JACK AND JACK PUNCHES HIM AND KNOCKS HIM BACKWARDS.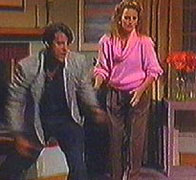 MELISSA: Steve!

JACK: Now, you stay there!

STEVE: DON'T OPEN THAT!

JACK: Now let's see what's so important that it's worth destroying.

STEVE: NO! DON'T OPEN IT! NOOO!
JACK LOOKS DOWN AT THE ADOPTION PAPERS AND FREEZES.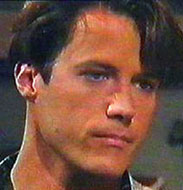 STEVE: Jack. Now listen to me man.
JACK: (Shocked and stunned but calm) This! What is this? (Beat) Melissa, this is it isn't it? This is that thing you've been wanting to show me isn't it? (Voice breaking) Why haven't you?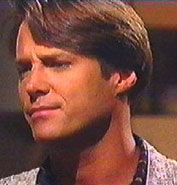 MELISSA: Jack I wanted to show you those papers a long time ago. I even tried.

JACK: (Almost crying) Why didn't you?

MELISSA: Because I was afraid. I was afraid of what it might do to you. Jack I hate seeing you so hurt. I didn't know what to do so I waited. Too long.

JACK: No, no you didn't wait. You waited because this is a lie. This is a fake, a forgery. It's very simple. It's a ludicrous hoax that....(with a weak smile but crying) that....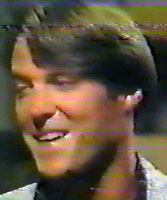 AS JACK RAMBLES ON, OBVIOUSLY HE IS TRYING TO CONVINCE HIMSELF IT IS NOT TRUE EVEN THOUGH HE KNOWS IT IS, STEVE, RUNS HIS HANDS THROUGH HIS HAIR, HURTING FOR JACK. MELISSA SAYS NOTHING, IT IS OBVIOUS HER HEART IS BREAKING FOR HIM.
JACK: (CONT.) I don't know where you got this but, um, what this....or what he's doing here but I know this is a lie. This...
STEVE: Jack it's not a lie. This is the truth. This is reality. You've got to face reality right now.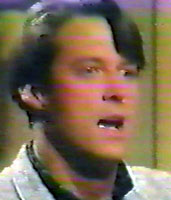 JACK: NO, NO, NO! No this is not reality.
STEVE: Yes it is.
JACK: This is a lie. This is a lie that you made up to get at me! A sick lie. I know that you're trying to destroy me but it's not going to work. And you know why. Because I'm not going to buy into it.
STEVE: Oh come on.
JACK: Melissa, I want to thank you for finally having the courage to show this to me today. You've really made my day.
STEVE: Jack no.
JACK RUNS TO THE DOOR HOLDING THE PAPERS. MELISSA BREAKS DOWN, SOBBING. JUST THEN JACK NEARLY RUNS INTO KAYLA AS KAYLA COMES IN.
JACK: Oh no! Not you too.
---
SCENE TWO: AT THE DEVERAUX MANSION, JACK COMES IN THE DOOR, CRYING AND SHOUTING FOR HARPER AND ANJELCIA.

Jack confronts Harper about being adopted;
4:20 min; 9.8 Meg
JACK: (Voce breaking) Dad, dad, Anjelica. here is everybody? WHERE THE HELL IS EVERYBODY? (Crying) I'm not Billy Johnson. I'm Jack Deveraux. I'm Jack Deveraux. My father's Harper Deveraux. Senator Harper Deveraux. This is my life right here. Hey these old slides. These old slides of my dad. My life.
JACK: (Cont., crying, he flicks through the slides on the screen.) Right here.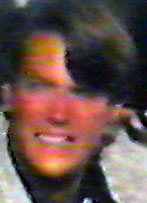 JUST THEN HARPER WALKS INTO THE ROOM.
HARPER: Jack? What are you doing here in the dark? Oh reliving old times eh?
JACK: (Tears) I thought I'd look at some slides and have some laughs, you know.
HARPER: Yeah, I like to look at them myself from time to time. I guess it's kinda silly, these old slides.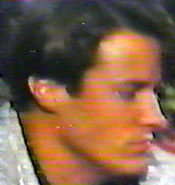 JACK IS IS STILL CRYING, CLINCHES HIS JAW, AT THE HYPOCRISY OF WHAT HARPER IS SAYING.
HARPER:(CONT.) But I've got to tell you something Jack, there never was a happier family or a happier time in my life than watching you grow up. Ever tell you how proud I am to be your father.
HARPER PUTS HIS ARM AROUND JACK AND HE FLINCHES.
JACK: (Tears) Yes, yes, lots of times. Yeah.
HARPER: Well it's the truth son. I've watched you grow from an infant, to a boy with dreams, to a young man capable of making those dreams a reality....
JACK: (Jack jumps up, and distances himself from Harper) NO! NO! Stop it! I don't want to hear that. I don't want to here that right now. I need the truth and I need for you to tell me.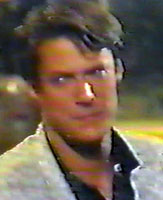 HARPER: Jack? I'll tell you anything you need to know. What is it?
JACK: Are you really my father? (Beat) Tell me, are you really my father?
HARPER: (Harper has a terrified look) Jack what's gotten into you. That's an odd question for you to be asking. Ha, ha, don't be ridiculous.
JACK: Dad, Senator. I assure you that the last thing I want is to be ridiculous. (He removes the adoption papers from his pocket.) Here look at that. Look at it. Go ahead, read it. (Beat) You go ahead. Tell me the truth.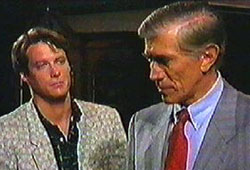 HARPER: Fakes obviously. Where did you get these?
JACK: I got.... Melissa..... I don't know where but we walked in on Steve Johnson and he was....he was trying to burn them.
HARPER: Now don't let your emotions cloud your thinking Jack. I mean it's very clear what's happening here.
JACK: It is? Tell me, what's happening here dad?
HARPER: This is Steve Johnson's way of trying to get to you. To even the score for you causing all that trouble between he and Kayla.
JACK: That's what I thought at first too.
HARPER: What do you mean, at first?
JACK: I'm not so sure anymore.
HARPER: Jack I can't believe that you're going to give any credence to this nonsense.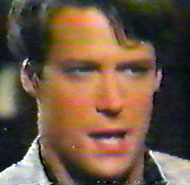 JACK: Do you deny it?

HARPER: Of course I deny it. You've got to learn to ignore this kind of character assassination if you're going to have a life in politics.

JACK: This may....may not....may not be true. But you're can be damn sure I'm not going to stop until I find out it.

JACK WALKS OUT THE DOOR.
OUTSIDE, HE PAUSES ON THE PORCH. HE BEGINS TO CRY AS HE REALIZES THE TRUTH.
---
SCENE THREE: AT JO'S APARTMENT. STEVE AND KAYLA HAVE ARRIVED. A VERY DISTRESSED JACK KNOCKS ON THE DOOR.

Jack confronts Jo about being adopted ;
4:40 min; 10.3 Meg
JO: Jack. I was expecting you. Come in.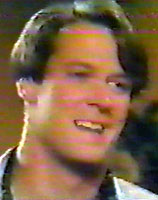 JACK: (Jack chuckles and smiles, trying to pass it off as a joke, though it is obvious he knows it is true) Um, I'm sorry to bother you Mrs. Johnson but....it's so ridiculous, it's so ludicrous I had to come and I had to tell you about it in person. You see, obviously you know about this feud between your son and myself. Well now he has done something that is so low, that is so disgusting that I couldn't believe it. Now you're not going to believe this. You're going to be just as shocked as I am and you should demand an apology from him. You really should because he is trying to make it seem like I am not a Deveraux. He's trying to make it seem like I am his brother (Beat) of all things. And I'm your son. (Beat) Well, I mean isn't that the most ridiculous thing you've ever heard?

JO: (Beat) It's true.

JACK: What did you say?

JO: I'm your mother.
STEVE AND KAYLA COME OUT OF THE KITCHEN. SEEING THEM, ADDED TO JO'S CONFIRMATION IS TOO MUCH FOR JACK.
JACK: (Running his hands through his hair) Ooooh nooo. Oh no. This isn't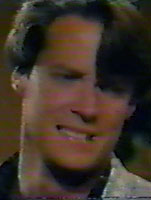 happening! They're trying to hurt me and you're helping them. You.... thought.... you were my friend. I thought you cared about me (Crying).

JO: Oh I do care about you. I'm your mother and I love you very very much.
JACK SOBS.
JO: It's true. I am your mother.

JACK: NO! NO! This is a sick lie. There is no way I'd be related (Beat) to your family. I'm a Deveraux!

JO: No Jack. I wish I never had to say this but it's true. You're a Johnson. At least you were born a Johnson.
JO SHOWS JACK A PICTURE OF HIM AS A BABY SITTING ON HER KNEE.
JO: You're Billy. You're Billy Johnson.

JACK: This old photo of me. It doesn't prove anything. Come on, you're holding me. So what? For all I know you were a maid working in my family's house or maybe someone that we visited. Why are you doing this to me? Why do you want to help them hurt me? I'm never going to believe this. I'm never going to believe this.
JO OPENS A JEWELRY BOX AND HANDS JACK A RING. JACK LOOKS CONFUSED, SINCE IT IS A PERFECT MATCH TO HIS MOTHER'S RING THAT HE GAVE KAYLA.
JACK: Where did you get that? Where did you get this? This ring belongs to my mother.

JO: Yes. It belongs to your mother. Here. Here's the rest of the set. It's all of your mother's jewelry. I am your mother Jack. You're Billy. You're my Billy.
JACK LOOKS OVER TOWARDS STEVE, WHO IS WATCHING, CRYING. JACK FALSHES A HATEFUL LOOK.
JACK: Don't you ever call me that again. DON'T YOU EVER CALL ME THAT AGAIN! I WOULD RATHER BE DEAD THAN BE BILLY JOHNSON!
JACK THROWS THE RING ON THE FLOOR. HE WALKS TOWARDS THE DOOR.
JO: Oh!

STEVE: Jack.

JACK: Let me get out of here.
---
SCENE FOUR: LATER JACK WALKS DOWN THE STEPS OF THE PIER AND SITS DOWN AND CRIES AS HE LOOKS AT THE PICTURE.

THINKS ABOUT ABOUT THE ARGUMENT HE HAD WITH STEVE IN THE HOSPITAL OVER THE KIDNEY DONATION.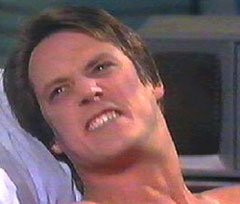 STEVE: Oh you'd be surprised buddy. YOU'D BE SURPRISED!
JACK: (Laughing) RIGHT. I KNOW WHAT YOU CARE ABOUT IS PLAYING GOD WITH PEOPLE'S LIVES. CONTROLLING PEOPLE'S LIVES.
STEVE: WHY DON'T YOU JUST FORGET ABOUT WHY I'M DOING IT AND TAKE IT?
JACK: IF YOU WERE THE LAST PERSON ON EARTH I WOULDN'T TAKE IT!
STEVE: I'm not going to beg you man.
JACK: See that door?
STEVE: Jack, come on....
JACK: USE IT!
MIKE: Right Steve.
STEVE: Jack, forget about your pride here dude. Take the kidney man. You have your whole lifetime ahead of you TO HATE ME.
MIKE: Steve, you're upsetting my patient. Get out.
STEVE: I'M NOT GETTING OUT!
JACK COMES OUT OF THE MEMORY, JUST AS STEVE WALKS UP TO HIM.

Jack and Steve on the pier;
3 min; 7 Meg
STEVE: So, one thing you gotta know man. She loved us. (Beat) That's why she gave us away. She just thought she was doing what was right because she loved us.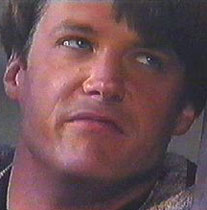 JACK: You gave me Kayla, you gave me a kidney, you gave me my life back even though you knew I hated you. And all the time you were carrying around this picture of me. No matter how much I hated you, you were always so (Beat) so good. (Crying) And now I know why.
STEVE: (Crying) It was because I never stopped loving you. I've always loved my little brother. I always loved Billy. And we went to the orphanage and you were so scared. You were so scared that I made you a promise that I would stay with you, that I would take care of you. But then they took you away from me and I couldn't keep the promise. But I thought that one day we could meet again and that we could be close again. That was my dream anyway.
JACK: Dream? What the hell do you know about dreams? You know something. It doesn't make any difference who I am, Billy, Jack. I'll always hate you. I always will!
---
SCENE FIVE: AT MELISSA'S APARTMENT. JACK IS AT THE DOOR.
MELISSA: Jack.

JACK: Maybe. Maybe not. I don't know who I am anymore. Funny thing is I don't have any place to go now Melissa. I was wondering if I could go here.

MELISSA: Of course. Come in. I'm happy you came back here Jack. You know I'll always be here for you. I was afraid you'd be angry with me.

JACK: (Laughing sarcastically) Oh, angry? I'll never be angry with you Melissa.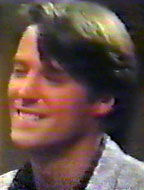 JACK: (Cont.) I'm a Deveraux and we Deverauxes are used to this kind of character assassination. I am a Deveraux. I am Jack Deveraux and nothing can change that.