---
SCENE ONE: THE NEXT MORNING AT THE DEVERAUX MANSION, JACK COMES IN TO SEE HARPER AND ANJELICA WAITING.
HARPER: Well I'm a bit concerned that he didn't come home last night.

ANJELICA: Well here he is, safe and sound. You can cancel your call to the Kremlin.

HARPER: Jack I'm glad you're home. I was worried about you son.

JACK: That's a joke isn't it? I can't be your son.

HARPER: Of course I'm your father Jack. You know that.

JACK: Do I?

HARPER: Look I've always been your father. If anyone is filling your head with ideas to the contrary....

JACK: Gosh dad, why would anybody do something like that?

HARPER: I have no idea. Maybe to try and hurt you. There are some very cruel people out there Jack. People who wouldn't think twice about fabricating ludicrous rumors at the expense of others. It's all a lie of course.

JACK: Of course. Of course. It's funny though how defensive these ludicrous rumors seem to have made you.

HARPER: Well how do you expect me to react? You come in here spouting accusations, making outrageous statements after being god knows where all night.

JACK: Save it Senator. Save it for your constituents. Remember I'm a little more astute than your average audience. I can spot the Deveraux press persona as soon as you snap it on.

HARPER: I assure you Jack that my feelings for you have always been sincere. I should think you'd know that by now, that you'd believe me when I tell....

JACK: God don't! You're not going to keep trying to deny this are you? I've seen with my own eyes who I really am.

HARPER: If you're referring to those pitiful forgeries of adoption papers, I've already told you that they're fakes.

JACK: Fakes! So I suppose that the photograph of Jo Johnson holding that baby who bears more than a passing resemblance to me is a fake. Little trick photography perhaps. What about Jo Johnson's jewelry? The necklace and the earrings which are a perfect match for my mother's ring. Fakes? I don't think so. And tell me did Steve give me his kidney because he hates my guts? Now there's a very interesting paradox for you and an amazing coincidence. How we were such a perfect medical match. Maybe the medical records were faked as well.

HARPER: I have no idea why Steve Johnson did what he did. I'm only glad that he did it. As low as my tolerance is for that man, he did save your life. Now as for Mrs. Johnson....

JACK: No don't! I can't take anymore of your lies. That's all my life has been. Don't you see that? One lie after another piled on and on ad infinitum. That's just a little snatch of I picked up from one of the many prep schools I got for my Deveraux name. So many benefits from my Deveraux heritage. My great Deveraux stature. Fine and noble Deveraux breeding. Not to mention fine oft touted Deveraux blood causing through my veins. It's all.... When all that I really am, Senator Deveraux, is your ex-maid's son. Something truly to be proud of.

ANJELICA: Harper is this true? Have you been keeping this from me all these years?

HARPER: Anjelica leave us alone. This is strictly between my son and me. Your presence is not required here.

ANJELICA: Why don't I leave you alone?

HARPER: Do that. Now Jack....

JACK: Jack? Jack? Who's Jack? Let's drop the pretense here for a minute shall we? Why don't we try on that other name for size? Go ahead, call me Billy! I WANT TO HEAR YOU SAY IT! Or would you prefer William? Or Willy? Or Bill? William Earl Johnson. Oh I like it!

HARPER: Son....

JACK: Don't, don't call me that. After all these years of mendacity, I want the truth. I think that's the least I deserve. Mendacity. Now there's a word that I bet William, Billy, Bill, Johnson never would have used.

HARPER: Son....

JACK: I told you not to call me your son.

HARPER: But you are my son. I've always thought of you that way and I always will. Now when your mother....

JACK: Jo?

HARPER: Camille, the woman who raised you, the only mother you've ever known. Well when we discovered that Camille was unable to conceive we were devastated. We both wanted a child so desperately. We had so much love to give not to mention everything else we had to offer so we adopted you.

JACK: From Jo?

HARPER: From the orphanage. I had no idea Mrs Johnson was your natural mother. From the moment Camille and I saw you we loved you so much. We couldn't have loved you anymore if you'd been our own flesh and blood. I understand that you feel hurt by all this. It's almost inevitable. That's why I never wanted you to know the whole truth. I never wanted you to have to go through this kind of pain.

JACK: Maybe if you'd told the truth it would have saved a lot of people pain.

HARPER: Maybe. Maybe you're right. Maybe I made a mistake. God knows I'm not the perfect Senator I'd have the world believe. You have every right to be furious with me just as long as you realize that I love you and you love me. The bond we share is just as strong as that between any father and son, natural or otherwise. And you know it's not going to end because of this. The feelings we have go too deep for us to just toss them aside like this. You do believe that my love is genuine don't you?

JACK: I don't know what to believe anymore.
---
SCENE TWO: LATER ON THE PIER, ADRIENNE FINDS JACK BROODING ALONE.

Adrienne tries to comfort Jack;
1:25 min; 3.2 Meg
ADRIENNE: Jack, Jack.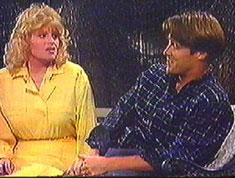 JACK: I guess you heard the news?
SHE NODS.
JACK: I guess we better drop the search for your missing brother eh?

ADRIENNE: Jack, I'm sorry I ever got you involved in all that.

JACK: Don't. Don't try and take the blame on it. I'm at much at fault as anybody. I wanted to find Billy as a way to get revenge on your brother. (Laugh) What a beautiful plan that turned out to be?

ADRIENNE: You really hate Steve, don't you? Jack why don't you try to make up with him. For the two of you to just forget what happened in the past, bury the past.

JACK: I really.... I really don't see that happening.
---
SCENE THREE: A BIT LATER MELISSA FINDS JACK ON THE PIER.
MELISSA: Jack I was looking all over for you. I was worried about you.

JACK: There's no need to worry about me. I'm fine. I'm on top of the world.

MELISSA: Jack I'm sorry if I hurt you. The last thing I wanted to do was hurt you. I know you're angry. It's only natural that you would be. I only hope that one day you'll find it in your heart to forgive me. To at least listen to my side. Dammit Jack, don't you even care about me enough to look at me?

JACK: I don't even know how I feel about you anymore. I remember how I used to feel. I trusted you more than anybody in the world. And you have destroyed that trust.

MELISSA: Jack I did it for you. I did it because I love you.

Jack and Melissa, he wondered why no one him enough to tell him the truth;
2 min; 4.5 Meg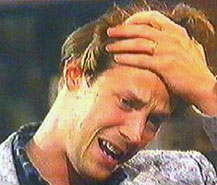 JACK: Don't! EVERYBODY, EVERYBODY SAYS THAT TO ME! Everybody. My father, my wife, my mother. Oh we love you Jackie, we do, but gee sorry, sorry we had to lie to you for your entire life. (Crying) I don't even know who I am anymore. My whole life's nothing but deceit, a pretense. But it's okay because everybody who lied to me did it because they loved me. I did.... Melissa, tell me something. Why didn't anybody love me enough to tell me the truth?
---
SCENE FOUR: LATER AT THE DEVERAUX MANSION, STEVE IS ARGUING WITH HARPER WHEN JACK ARRIVES HOME.
JACK: Oh no. I don't believe this! What are you doing here?

HARPER: Don't worry Jack I was just about to throw this piece of trash back out into the street where he belongs.

JACK: Thank you Da.... thank you Harper. I think I can fight my own battles. Thank you. I know how to handle Mr Johnson.
HARPER LEAVES.

Despite Jack saying he never will accept him, Steve tells Jack he is not giving up on him;
4min; 9.2 Meg
JACK: So. You have something you want to say to me?
STEVE: Yeah. I um, I thought there'd been enough bad blood between us and you know we've been pretty good at figuring out how to hurt each other. I just thought maybe we could put all that behind us and try to figure out maybe how to help each other. You know, start from scratch.
JACK: Hmm. And why would I want to do that?
STEVE: Cause we're brothers. Does that mean anything to you?
JACK: Well I think it means that I will probably be getting one more birthday card next year. That's June 14th if you want to mark it on your calendar. Think you just missed it. But you already know that don't you?
STEVE: What's the matter with you man? How did you end up like this, huh?
JACK: Like this? I don't know. How'd you end up like that? Maybe I like the way I am. Now if you have nothing else to say to me I'd appreciate your leaving.
STEVE: You know it's just like you to turn jerk on me when I'm trying to come here to try and fix things isn't it?
JACK: (Angry) JUST LIKE ME!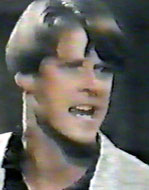 STEVE: YEAH!
JACK: JUST LIKE ME!
STEVE: Just like.... that's right.
JACK: Look you're the one whose really following true to form here you know that. Why do you think you always have the power to always fix things? Here you go again, one more time trying to play god. And I'm screwing up your little fantasy because I won't dance around like a little puppet when you want to pull on my strings. (Snubs his nose at Steve.)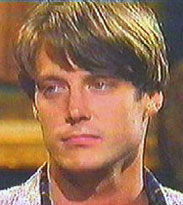 STEVE: Jack just listen to me man because this is important and you got to understand where I'm coming from here man. All my life I loved you and I worried about you and I didn't know where you were. I didn't know whether you were dead or alive man. And then you get adopted. They take you away from me and you end up here and you turn into a selfish little spoiled brat. That's what you are. (Thumps Jack on the back.) That's what you are. You're selfish Jack. But (BEAT) you're still, you're still my brother see and I'm ready to.... I can just put all that aside and I can forget everything. I'm here man. I just want to start again.

JACK: Get out of my house!

STEVE: Oh man. You want me to get out of your house, I'll get out of your house. But I'm not about to get out of your life. And sooner or later you're going to have to face the fact that you are Billy Johnson dude and all your Deveraux money and your connections and all this crap here is not going to change that!
STEVE GRABS JACK AND HOLDS HIM TIGHT AS JACK STRUGGLES TO GET FREE.
STEVE: (Taking Jack's face in his hands.) You're still my brother!
STEVE WALKS OUT. JACK SEEMS TO NOT KNOW WHAT TO THINK, OR HOW TO FEEL.

STEVE STOPS AT THE DOOR AND STOPS CRYING.
STEVE: Oh god you're still my baby brother!
---
SCENE FIVE: THE SHOW ENDS WITH A MUSICAL MONTAGE OF MELISSA IN HER APARTMENT HOLDING A PICTURE OF HER AND JACK.

THEN JACK, ALONE, PICKS UP A FRAMED PHOTOGRAPH OF HIM AND HARPER. HE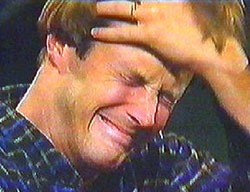 THROWS IT TO THE FLOOR AND TREADS ON IT TO BREAK THE GLASS. HE STANDS ALONE CRYING AS RANDY NEWMAN'S VERSION OF "I THINK IT'S GOING TO RAIN TODAY" PLAYS IN THE BACKGROUND.
And I think it's going to rain today.
Scarecrows dressed in the latest styles
With frozen smiles to chase love away.
Human kindness is overflowing
And I think it's going to rain today.
Human kindness is overflowing
---
SCENE ONE: FOURTH OF JULY. THE DAY AFTER JACK FINDS OUT HE IS ADOPTED, HARPER CALL A PRESS CONFERENCE AT THE PIER ABOUT FAMILY UNITY. JACK HAS BEEN UP ALL NIGHT AND IS STILL IN THE SAME CLOTHES.
ANJELICA: You really think you can fool all of people all of time, don't you Harper.

HARPER: Anjelica, please.

JACK: What the hell is all of this?

HARPER: Jack. I'm so glad you could make it. Come over here for a minute, come over here. (Beat) I've called a press conference to show we're one family, indivisible.

JACK: Laying it on a little thick don't you think?

HARPER: Don't worry about that. I'm just as happy as can be that you decided to come here and join me today.

JACK: It's your press conference. I don't know why I need to be here.

HARPER: Well with all the rumors flying around about us I want to make sure we show everybody that they are totally unfounded.

JACK: Rumors, huh? What kind of rumors?

HARPER: When you're a public figure running for office you live life in a fish bowl. Sometimes when you're the subject of rumors you don't even know that you are the subject of them. One thing I've found out in my long career is that you nip those rumors in the bud before they become self fulfilling prophecies.

JACK: Oh! Like what?
---
SCENE TWO: A SHORT TIME LATER.
JACK: I don't think my participation in this press conference would be such a good idea.

HARPER: Why not? No matter what anybody thinks, you are my son and that's all that matters. This press conference has to be held. We have to put an end to these rumors once and for all.

JACK: Why do we have to deny it in public?

HARPER: Jack, believe me when I say, reporters have been calling the house every day. Pretty soon it's going to be all over the newspapers. We have to publicly and formally deny every one of these malicious accusations.

JACK: Well I wish you luck, I really do but I don't think I'm going to be able to get up the old Deveraux spirit.

HARPER: Oh come on Jack, you've got to snap out of it. Do you think that piece of paper changes the way I feel about you? I've loved you ever since the moment I adopted you, from the moment I saw you. You're my son legally and emotionally. As far as I'm concerned you are my flesh and blood.

JACK: I know what you're saying, I do. You've been very good to me and I'll never forget it.

HARPER: Jack, there's too much love between us for us to just throw it away like that, for nothing. After what you said, are you willing to do that? Look, I took you and I loved you when you were abandoned by your mother. Are you going to abandon me now?

JACK: I will always be grateful to you. I will.

HARPER: Jack, you were raised a Deveraux. You will always be a Deveraux in spite of what some dumb piece of paper says.

JACK: Being a Deveraux is all I've ever known.

HARPER: Then will you stick by me son? Will you stand by my side at the press conference?

JACK: (With bitterness) Oh sure, why not? Count me in!

HARPER: Oh good, I can't tell you how much this means to me.

ANJELICA: I couldn't help but overhear Jack. Well I think it's very big of you considering everything that's happened.

JACK: I felt an obligation to the campaign.

HARPER: Years of love and loyalty can't and shouldn't be wiped away by one big single surprise. I mean even if you aren't my biological son, I still feel like you are my son in every sense of the word.
---
SCENE THREE: LATER AT THE PRESS CONFERENCE, JACK HAS CHANGED INTO A SUIT AND IS WATCHING HARPER GO THROUGH HIS PRACTICE QUESTIONS WITH HIS ADVISOR.
REPORTER: Is it true that your son is adopted?

HARPER: What's the best way to answer that?

ADVISOR: Okay, we think the best approach is straightforward. Now I think it would be good if you just said no and then if you can just change the subject.
JACK LOOKS ON WITH ANGER.
HARPER: Alright. How's this? I've heard those vicious rumors and I'd like to lay them to rest once and for all therefore I must say they are groundless and not based on fact. Then I'll go into how I'm sponsoring legislation on the floor of the Senate to make it easier for people who can't have children on their own to adopt.

ADVISOR: Nice touch Senator.

HARPER: Good.

ANJELICA: (To Jack) How are you doing?

JACK: Oh I don't feel so hot about going on television and lying about this. That's how I feel.

ANJELICA: Jack, sometimes we have to do things we don't want to do. But remember you're just bending the truth a little bit. You're not under oath, you're just on television.

JACK: Do you think people should tell the truth only when they're under oath?

ANJELICA: Who are you hurting if you tell a little fib? No one. And if you don't do what you have to do you're hurting yourself and your father.

JACK: What's the difference?

ANJELICA: Sweetheart, I know this is difficult for you but you've got to make the best of it.

JACK: I appreciate what you're trying to do here, Anjelica, I really do. But you don't understand what I'm going through here. I just found out I'm not the person I thought I was. My entire life has been a lie.

ANJELICA: I think maybe I understand how you're feeling a little more than you think! Don't forget, I was lied to too.

JACK: It's not the same thing. The people that I thought were my family are not. Instead, I'm related to my worst enemy.

ANJELICA: The only thing that is changed is your attitude. Jack, your father and I still love you as much as ever.

JACK: I appreciate that. I really do. But things have changed. It's not the same. I'm not his son. I'm not his true heir. His true heir is that little baby whose inside you. That's his true heir. It's going to be the child that he always wanted that I never could be.

ANJELICA: Jack. This baby is never going to replace you and don't you forget it. Look, politics is the art of compromise. You have got to go on that press conference or you'll ruin your father's bid for the Presidency. Unless in fact you feel so bitter for him, that's what you want to do.

JACK: You know something, no matter what he's done to me, no matter how much he's lied to me, I could never hate him. He may not be perfect but he's the only father I've ever known.
---
SCENE FOUR: LATER AT THE PRESS CONFERENCE JACK IS BEING INTERVIEWED.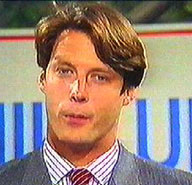 REPORTER: Assemblyman Deveraux, is there any truth to the rumor that you may not be the natural son of Senator Deveraux?

JACK: (To camera) Oh I'm glad you asked me that. It gives me the opportunity to clear the air on this subject once and for all. My father, Harper Deveraux, has raised me from birth and taught me everything I know. He's the only father I've known.

REPORTER: Are you saying you weren't adopted?

JACK: Let me put it to you this way. If I'm not a Deveraux, then I don't know who I am.
STEVE AND KAYLA ARE WATCHING ON TELEVISION AND GET UPSET ABOUT JACK'S STATEMENTS.
JACK: I'd like to wish everyone a very happy July 4th and as the Deveraux son I'd like you to pay attention to Anjelica Deveraux and the new addition to our family. I'm sure the baby will be a bouncing baby boy and I can't tell you how happy we are about it. We will be one big happy family.
THE REPORTERS TAKE A SERIES OF PICS OF JACK AND HARPER AS ANJELICA LOOKS ON. THE REPORTERS LEAVE AND JACK'S FACE RETURNS TO ONE OF PAIN.
HARPER: Well son I think the press conference was a big success. Thanks to you.

JACK: I did my best.

HARPER: You were brilliant. What are you talking about? Listen, after the fireworks, why don't we go to Blondie's and celebrate with a real old fashioned family dinner?

JACK: Perhaps some other time!

HARPER: Are you sure?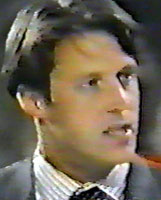 JACK: Look, I got the press off your back and that's what you wanted but every time I had to refer to you as my father (Beat) I couldn't stand it when you called me your son.

HARPER: Why?

JACK: You know why!

HARPER: But it isn't a lie. It's the truth. I raised you and I love you just as much now as when I first saw you. To me you're my son and nothing can change that.

JACK: No matter what you say, it's changed.

HARPER: Take it easy Jack, don't be so hard on yourself.
---
SCENE FIVE: LATER A VERY DISTRESSED JACK IS IN THE ALLEY BEHIND SHENANIGAN'S, THE AREA WHERE THE PROSTITUTES HAVE BEEN MURDERED. STEVE SEES HIM.
STEVE: Hey, hey, what are you doin' around here?

JACK: Hi, how you doin'?
JACK IS ABOUT TO WALK AWAY
STEVE: Hey!

JACK: I'm just out taking a walk that's all.

STEVE: Are you alright?

JACK: Sure, just out walkin' the streets.

STEVE: I saw the press conference on TV man. It must have been hard for you to lie like that?

JACK: Why can't you just leave me alone?

STEVE: I'm just trying to make conversation.

JACK: Why don't you try and make it somewhere else?
JACK WALKS AWAY.