---
SCENE ONE: A COUPLE OF DAY'S LATER AT MELISSA'S APARTMENT. JACK ARRIVES.
JACK: Hi. Can I come in?

MELISSA: Yes of course. It's been a while since I heard from you. I was worried about you Jack, especially after you ran out on me last week.

JACK: A lot's happened since last week.

MELISSA: I was afraid I'd lost you forever. I didn't know if you could find it in your heart to forgive me.

JACK: Melissa. You're the last person that needs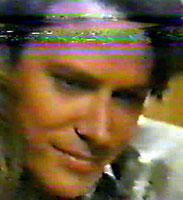 to be forgiven. (Hug) Melissa, I'm so lost now. I need you so much.

MELISSA: Jack, I made a terrible mistake keeping the adoption papers a secret from you.

JACK: You were trying to protect me.

MELISSA: I know but it was wrong. That secret held you and a lot of people from getting on with their lives. But now it's out and we can deal with it as best as we can.

JACK: How do you propose that we deal with it?


MELISSA: By forgetting about the past and all the past mistakes. It's time to let go Jack. It's time to move on.

JACK: Look I'm sorry. I can't just forget about everything that's happened and just move on. There are too many things that still need to be dealt with.

MELISSA: Not Steve and Kayla?

JACK: They happen to be on the list, yes.

MELISSA: Oh Jack come on, let it go. I can't believe you're still holding a grudge against them. Please don't tell me you're still planning to block your divorce from Kayla. (Beat) Jack you have got to give up this vendetta against Steve and Kayla. Don't you see what it's doing to you?

JACK: I'm sorry but that's just the way things are right now.

MELISSA: It may be the way things are but it's not the way they have to be. Jack the sooner you realize that the people you feel so much anger towards are the people who love you the most, that's when you will be able to put all this behind you and start rebuilding your life.

JACK: Look Jo and Steve....

MELISSA: ....only wanted what was best for you. Just like I do. Jack don't you see, you're not destroying Steve and Kayla by hanging on to your anger. You're destroying yourself and by doing that you are ruining every chance we have of sharing a life together. Would you do us both a favor and think about what I've said?

JACK: Melissa, it would be wonderful if I could just move on with my life.

MELISSA: And I think you should just hold onto that thought. And I also think in the meantime while you're figuring all this out, it would be best if we didn't see each other. It's too painful for me Jack.
MELISSA WALKS AWAY FROM HIM LEAVING HIM DEJECTED AND ALONE, ANDN CONTEMPLATING WHAT SHE SAID.
---
SCENE TWO: LATER AT THE LOFT, JACK ARRIVES.
STEVE: Jack.

JACK: Hello Steve.

STEVE: What do you want?

JACK: I want to see Kayla.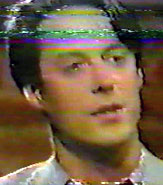 STEVE: She's lying down.
JACK: Well, could I please speak to her?
STEVE: No, no. Why don't you just speak to me? I don't think I want you speaking to Kayla.
JACK: You sure know how to try a person's nerves, you know that?
STEVE: Would you just state your business and leave, alright?
JACK: I think I better just leave. But I'll be back so do be kind enough to tell her that I'm coming and to expect me.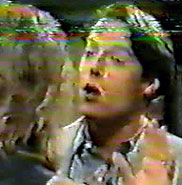 STEVE: You listen to me. (Grabs Jack) Don't you even start these games.

JACK: Now, now....

STEVE: Don't you even start.

JACK: Don't.... don't get in an uproar. Don't rupture anything. You never know when I might need another organ. Besides, I'm going to need you here to, to translate.

STEVE: More of your garbage? No thanks, I won't translate that.

JACK: No, no, no. No garbage, no garbage. Actually I think you'll be getting something that.... something that you've had coming for quite some time. Bye for now.

STEVE: Better not be!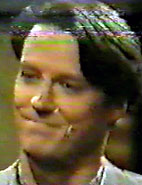 IS JACK SERIOUS, OR IS IT MORE OF JACK'S GAMES TO HURT STEVE AND KAYLA; THEN HE LEAVES.
---
SCENE THREE: A SHORT TIME LATER, JACK RETURNS WITH A LAWYER.
STEVE: Well Jack, if I knew you were bringing a friend I would have baked a cake.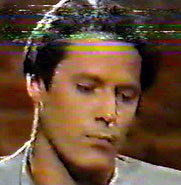 JACK: You can bake it later. You'll probably feel like celebrating later anyway. Tom Reuben, my attorney. Steve Johnson, my wife Kayla.

TOM REUBEN: Mr. Johnson.

STEVE: Yeah. So what's going down here man?

JACK: What's going down.... is.... Kayla and our marriage. Down the tubes that is. So if you don't mind I'd like to skip through all the discussion and get this over quickly as possible. Tom why don't you Kayla the papers and where we'd like her to sign?

STEVE SIGNS FOR KAYLA AND EXPLAINS.
JACK: What's she saying?

STEVE: She wants to know what's going on here.

JACK: Er.... you tell her that her husband has instructed his lawyer (Beat) to give his wife an uncontested divorce in all due haste.

STEVE: This is for real?

JACK: Yes.

STEVE: (Signing to Kayla) Jack has decided to give you the divorce.

TOM REUBEN: If you'll just sign these papers, Mrs. Deveraux?

STEVE: Come here baby, come here. Sign these. Where does she sign?

TOM REUBEN: Here and here and....
JACK STANDS ASIDE IN PAIN AS THEY SIGN THE PAPERS.




STEVE: Jack, er....

JACK: (Jack is trying to choke back his tears) Please....er.... I'd like for you to tell Kayla that although this may be a very happy time for her it's a very (Beat) painful moment for me. And no matter what she might have felt at the time we were married, I for one.... felt that it would.... felt that it would be for a whole lifetime.


STEVE SHAKES HIS HEAD AT JACK.
JACK: Oh come on, what's the matter? Stuck for a few words? Just.... I'll tell you what to do.... just.... point at me and make the sign for.... patsy. She'll pick it up.

STEVE: Jack, Jack. Come on man. Don't spoil it like this, okay? You're doin' the right thing here. I appreciate it.

JACK: I'm doing for (Voice breaking) her. (Beat) Tom are you ready?

TOM REUBEN: All set.

JACK: So the divorce is finalizing. It will be ready in a just a couple of days. It's all over.... Miss Brady. Goodbye.
JACK WALKS OUT QUICKLY.
---
SCENE FOUR: LATER AT MELISSA'S APARTMENT.
JACK: Hi, I'm back.

MELISSA: Jack, I was serious before. I think it's best if we don't see each other until you work out your situation with Kayla.

JACK: I know.

MELISSA: Well why are you back so soon? Did you make any decision?

JACK: Decided, executed and in the works. The divorce is over. In a couple of days, I'll be plain old Jack Deveraux, bachelor at large.

MELISSA: Are you kidding? So fast? Is it true?

JACK: Ah.... no.... yes.... and yes.

MELISSA: Jack, this is fantastic. I can't believe all our obstacles are finally gone and we can be together, after all this time. (Hug) You do love me don't you?

JACK: Yes. Yes I love you.

MELISSA: Well I think this calls for a celebration. We can go to that place we went for your birthday, the Zodiac Room.

JACK: Yes, ah, but I'd like to take a rain check. I've been through so much today and lately.... I don't think I'd be very good company. You understand?

MELISSA: Yes of course I understand. You can stay here if you want.

JACK: Actually I think for now, I'd just like to.... I'd like to be alone. Okay?
JACK KISSES MELISSA'S CHEEK.
JACK: I'll see you soon.

MELISSA: I'll be waiting for you. (Beat) Jack, I'm proud of you and I'm really glad that everything's going to work out for everyone.

JACK: Goodnight.
MELISSA CLOSES THE DOOR AND JACK STOPS TO REALIZE THAT SHE DOES NOT UNDERSTAND THAT HIS WHOLE LIFE HAS BEEN DESTROYED IN A WEEK AND WILL NEVER BE THE SAME AGAIN.
---
SCENE FIVE: LATER THAT NIGHT ON THE PIER, STEVE IS SITTING ON THE STEPS ALONE, PLAYING HIS HARMONICA. JACK WANDERS DOWN.
JACK: Well I'm surprised to see you out here. I thought you'd be out celebrating with my almost ex-wife.

STEVE: She needed a little time alone tonight.
JACK SITS DOWN BESIDE STEVE.
JACK: I guess none of us Johnson Boys was meant to have her.

STEVE: No. I was meant to have her man. I'm going to marry Kayla.

JACK: If you say so.

STEVE: I do. We're going to be married and Kayla is going to be happy. I'm going to make all our dreams come true.
JACK AND STEVE SIT SIDE BY SIDE ON THE STEP. THEY GLANCE AT EACH OTHER AND THEN STARE AHEAD INTO SPACE.