---
SCENE ONE: KAYLA IS IN THE HOSPITAL GETTING TREATMENT FOR HER HEARING PROBLEM. JACK IS THERE TALKING TO A DOCTOR.
JACK: Dr. Etienne, I want to thank you again for coming out here to Salem on such short notice.

DR. ETIENNE: Well I wouldn't do it for anyone else. But for Jack Deveraux, I think I'd do just about anything.

JACK: I appreciate that. I really do but there's one more thing I'd like to ask you. Let's not tell anyone about what you're doing here and who asked you to come.
MELISSA OVERHEARS JACK'S COMMENTS.
DR. ETIENNE: I have got a few details to discuss with Dr. Horton before the operation. So Jack if you'll excuse me?

JACK: Well certainly doctor. Thank you very much.

DR. ETIENNE: Oh don't mention it. I'm glad I could be of help.

JACK: Me too.

MELISSA: I heard what you did.

JACK: Look the only reason I did it is because I felt sorry for Kayla.

MELISSA: I think it was a very sweet and wonderful thing to do.

JACK: You do?

MELISSA: Yes Jack. I want to see Kayla recover, just as much as anyone and if this doctor can help her, I think that's terrific.

JACK: Well that's exactly it. If anyone can help her, Dr. Etienne can.

MELISSA: That's great Jack.

JACK: Well....it certainly doesn't sound great. What's wrong, what's bothering you?

MELISSA: There's more to this than you're admitting Jack.

JACK: Uh....just because I want to help someone, doesn't mean I have an ulterior motive.

MELISSA: You didn't just call that doctor to be nice. (Beat) You did it because you're still in love with Kayla.

JACK: No....that's not tru....look I just want to help the girl recover. Don't you believe me?

MELISSA: You can try and convince me all you want Jack. But I can tell that you're not over her. Deep down you still care about Kayla very much.

JACK: That's not true, that's not true. I am just trying to get on with my life, just like you suggested. Haven't you noticed?

MELISSA: No Jack I haven't. Look I know it's not easy to get over someone you love. It's a slow and painful process. I've been there. (Beat) No I think it will be quite a while before you get over Kayla. And who knows? Maybe you never will. I want you to know Jack, that if you ever do, I'm waiting for you because I love you. (Beat) Very much.

JACK: Melissa?

MELISSA: It would be a nice start if you could take off that wedding ring.
MELISSA WALKS OUT.
---
SCENE TWO: A BIT LATER JACK WALKS OUT TO THE NURSE'S STATION TO SEE ANJELICA. STEVE OVERHEARS THEIR CONVERSATION.
JACK: Anjelica?

ANJELICA: Hi sweetheart.

JACK: What are you doing here?

ANJELICA: I came to see Neil. Guess who I bumped into? Dr. Etienne.

JACK: Er, yes, yes. (Sniff) Well actually I brought him out here. I asked him to operate on Kayla.

ANJELICA: Oh that's awfully sweet of you. Isn't that a bid odd though? Doing favors for your soon to be ex-wife. I suppose if anybody can help her, he can.

JACK: Well, that's why I asked him to come.

ANJELICA: So lot's a luck! I've got to go to an appointment. (Kiss) I love you. I'll see you later okay?

JACK: I'll see you Anjelica.
JACK TURNS AROUND TO SEE STEVE WATCHING HIM.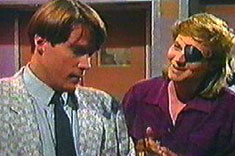 STEVE: Jack, dude? I can't figure you out man. I mean one day you do somethin' so rotten and the next day you're doing somethin' like this, so nice for somebody. I don't care why you did it. I.... (Crying) I just appreciate it.
JACK: Look, this is really no big deal, believe me. Um, look I have to go.


---
SCENE THREE: A FEW MINUTES LATER.
JO: Jack, could I talk to you for a minute? Could we go in the lounge. I think it'll be more private.
JACK AND JO GO INTO THE LOUNGE.
JO: Listen, I want to thank you for calling that fancy doctor for Kayla.

JACK: Like I said before, it's no big deal. Forget about it.

JO: I know why you did it. You may keep a lot of secrets from the world but I'm your mother and I know you still love Kayla very much. (Beat) Jack you used to always be so open with me. We had such wonderful talks. Why can't it be like that again?

JACK: Because it can't! Because things have changed. Because I've found out my whole life is a lie. And you're not just my friend anymore. You're my mother. My mother who lived vicariously through me and my family. Content to bow and scrape in the background. Content to just be a friend instead of claiming me as your own.

JO: Look I know that you are very angry with me and I understand that, I accept that, I deserve that. Look I went through this once before with Steve you know. Oh he was so angry.... well angry.... angry really isn't the word but he has learned to forgive me and he loves me as his mother. I want to be a mother to you Jack. Please let me at least try.

JACK: You know there was always something about you that drew me to you. But it's not the love between a mother and a son. Steve.... now Steve, he needs a mother. I don't know, maybe.... maybe he remembered you. I remember one mother and that's the only mother I've ever known.
---
SCENE ONE: THE NEXT DAY JACK CALLS A PRESS CONFERENCE.
JACK: I tell you we're doing everything we can to keep the rent down in Salem.

REPORTER: What about the zoning changes we need to keep building?

JACK: Well we've been in daily contact with the zoning board and they know you have my full support when it comes to revitalizing the city and creating more jobs.

REPORTER: Sounds great counselor.

JACK: So if we have no more questions I think we should adjourn before our poor waitress here asks us to bus our own tables. Thank you, thank our waitress.
THE REPORTERS LEAVE AND ANJELICA COMES IN.
ANJELICA: Jack, Jack?

JACK: Well Anjelica, what are you doing here?

ANJELICA: I'm looking for you. We need to talk.

JACK: Well I'd love to talk but I have.... another fundraiser. You know how it is.

ANJELICA: I know how it is but this is important. It can wait.

JACK: Tell me, what's wrong?

ANJELICA: I've been worried about you. You are immersing yourself in your work. You're cutting everything else out in your life.

JACK: That's all this is about. I can tell you, that there's not much to cut my life out of anymore. I'm glad I've got my job to tell you the truth. At least nobody's trying to take that away from me now.

ANJELICA: Jack, don't do this to yourself. It's only going to hurt you. You could have it all if you want. Whatever Harper did, he did to other people. He loved you more than anything in the world.

JACK: I hate to tell you this, but knowing that doesn't it make it any easier to deal with.

ANJELICA: Jack, you should concentrate on making your life better not more miserable.

JACK: That's funny. It seems you were the first one to show your misery and hate.

ANJELICA: When?

JACK: When you went on national television and told the world that the baby you're carrying isn't Harper's. Come on Anjelica, you knew what you were doing.

ANJELICA: Jack I'm doing everything in my power to get my life in order. I am trying to get that dreadful past behind me. From the bottom of my heart I believe you should do the same.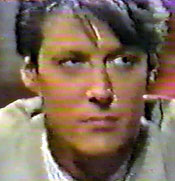 ---
SCENE TWO: JACK IS WAITING AT SHENANIGAN'S FOR MELISSA.
JACK: Melissa, Melissa. I'm so glad you're here. Thank you for meeting me. I can't tell you how much this means to me. I really can't

MELISSA: Jack, I really don't think this is a good idea.

JACK: Of course, it's a good idea. We're going to get together, we're going to talk about our problems and just really work things out.

MELISSA: I'm not the one who has problems. You are. You're still in love with your ex-wife.

JACK: Melissa, I'm sorry.

MELISSA: Don't be Jack. I'm not blaming you. I know what it's like to not be able to stop loving someone. I've been trying to stop loving you ever since the first moment I fell in love with you. But I can't.

JACK: I'm glad you still feel that way.

MELISSA: I've been thinking a lot about our relationship. How it was all based on my feelings for you. Now I have to know Jack. How do you feel about me? Do I ever matter to you at all?

JACK: Of course you do. Don't be ridiculous.

MELISSA: I might as well be. I think you've done a pretty good job of making me look ridiculous for quite a while.

JACK: If you feel that way, I'm sorry. I hoped you'd understand what I've been going through and forgive me.

MELISSA: You say you're sorry Jack. That isn't enough.

JACK: Well what can I do? Tell me, what can I do?

MELISSA: You're the most important person in the world to me and I don't even know if you think I'm pretty. Do you? Do you find me attractive?

JACK: Of course I do.

MELISSA: Why do I have to ask to get it out of you? That's my whole point. I always have to drag every little thing out of you. When you love somebody, the compliments should come easily. You shouldn't have to be reminded.

JACK: You want compliments? I'll compliment you, I will, I will.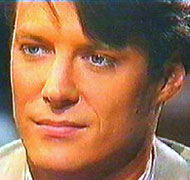 MELISSA: No Jack, no, I don't. You're missing my point. I shouldn't have to be the one to initiate things all the time. In case you haven't heard, love is supposed to be a two way street.

JACK: You know maybe I have taken your beauty for granted. I'm sure I have and I apologize. I'm sorry.

MELISSA: Well I suppose I should take that as a compliment. But Jack, do you want me as bad as I want you? And don't lie to me this time. Don't tell me what you think I want to hear. Do you Jack, do you want me?

JACK: Melissa, I'm not going to lie to you. My whole life has been a lie. It's such a mess, I mean it just boggles the mind. I'm going to start the future off with the truth. I'm going to be honest with you. Yes. I did use you in the past. Using people is something I learned from Harper and I can't say it was all bad or all wrong. I mean some people wanted to be used.

MELISSA: Well not me!

JACK: I know that now. I know that and I'm sorry that it ever happened. Please accept my apology.

MELISSA: I do. What about Kayla?

JACK: I loved Kayla. I loved her. And when she....when I found out there was nothing between us, I lost everything. I don't deal well with rejection Melissa. I don't deal well with being on the outside looking in and being fooled by everybody, being fooled by yourself.

MELISSA: Do you think I'm a fool?

JACK: No, no and that is the whole point. I don't feel that way about you. It's changed. You've got to believe that I have changed. I mean the old Jack felt that way, felt those things. Not me. Not the new Billy Jack. He feels differently.

MELISSA: How do I know I can believe you?

JACK: Do you want to know if I want you? The answer's yes. I want you very much. I think we'd be a great couple if you'd just give me the chance.

MELISSA: Do you really mean that Jack?

JACK: I mean it Melissa. (Takes her hand) I really mean it. (Gets up to leave.)

MELISSA: Where are you going?

JACK: I think I need to give you time and space to think about things.
HE BEGINS TO WALK AWAY THEN TURNS BACK AND GRABS MELISSA AND KISSES HER PASSIONATELY IN FRONT OF THE WHOLE RESTAURANT.
JACK: Think about it.
---
SCENE THREE: A SHORT TIME LATER, JACK IS SITTING IN THE PARK FEEDING THE PIGEONS. MELISSA WALKS UP.
MELISSA: Jack?

JACK: Melissa, I didn't think I'd be seeing you so soon after we talked.

MELISSA: I've been thinking about what you said.

JACK: Really? You....ah....did you make a decision?

MELISSA: I'm starting to believe what you said about wanting to try and make our relationship work.

JACK: Really? What....what did I say to make you change your mind?

MELISSA: Nothing. I know that you didn't lie to me with that kiss.

JACK: It's true. I want us to be together Melissa, in spite of what I tried to say. I hope you do too.

MELISSA: I do Jack. I can't stay away from you any longer.
JACK AND MELISSA EMBRACE AND KISS.
JACK: You know something. You really are beautiful. I want to make you happy. I promise you. I really am.
MELISSA: Jack please no promises. Just take it a day at a time. I think we should be together and the rest will follow.
JACK: Right, right, just be together....be together. (Kiss)
---
SCENE ONE: AT THE DEVERAUX MANSION. JACK AND MELISSA ARE WORKING.
MELISSA: Jack where's your agenda for the meeting at City Hall?

JACK: I don't know, I'm sure it's around here someplace. Look why don't you tell me a little bit about that shower. Was Kayla really surprised?

MELISSA: Very. She didn't know a thing about it until she walked in the room.

JACK: I don't know what you girls do at those showers. I've always been curious.

MELISSA: Well we talk, eat, get rowdy. Same things you guys do at bachelor parties I guess.

JACK: Well tell me some details. I mean what happens?....What did you....

MELISSA: It was very nice Jack and I'm surprised you're so interested. I would have thought you'd just as soon ignore the whole thing.

JACK: Well I just think it's odd that they would have a wedding at the Brady Fish Market. I can't imagine anything more romantic than exchanging your wedding vows with a bunch of dead fish to bear witness.

MELISSA: No Jack, that's just a cover. They're not really getting married at the fish market.

JACK: They're not. Well where are they getting married? Tell me more about it?

MELISSA: Their wedding is going to be very special. One of a kind actually. Steve has something very special planned for Kayla.

JACK: Surprise? Oh I love surprises. Tell me where it's going to be.

MELISSA: Well Steve has decided that he wanted something different so he's arranged to have....

JACK: Yes that really does sound wonderful. That was Steve's idea?

MELISSA: Yeah. I don't know where he got it. Sure is romantic isn't it?

JACK: Yes. I'm sure it will make Kayla very happy. I'm glad. For both of them.

MELISSA: Do you really mean that Jack?

JACK: Of course I mean it. I want them both to be happy, together.

MELISSA: Well I'm glad you've had a change of heart. I hope this means you're putting the past behind you. Moving on with your future, our future, together. (Hug)

JACK: You know I think we've worked enough today. It's time to take a break.

MELISSA: Jack we still have a lot of work to do. We haven't planned your appearance schedule for next week.

JACK: I know, I know, I know. I have a million phone calls to return and you need to take some time off. So I think we should put an end to the work.

MELISSA: You won't get an argument from me.

JACK: Good, good. I want you to go home, take a shower, spruce up and come back in here and we are going to have ourselves a lovely little date tonight.

MELISSA: Okay, I'll see you. Maybe we can see a movie or something?

JACK: Well maybe we can.

MELISSA: Well I'll see you later then. Bye.

JACK: See you later, bye.
JACK SEES MELISSA OUT AND THEN GOES BACK INSIDE AND TRIES TO REMOVE HIS WEDDING RING AND CANNOT.
JACK: See, you can't get married. Kayla you can't get married.
---
SCENE TWO: A SHORT TIME LATER JO COMES TO SEE JACK.
JO: Hello Jack.

JACK: Mrs. Johnson. Well come in.

JO: Thank you.

JACK: What could I do for you?

JO: Oh I was just worried about you. I mean with the wedding and everything tomorrow, I wanted to come by and see if you were alright.

JACK: That's very thoughtful but as you can see I have everything well in hand. I decided to wake up, face the inevitable. Who knows? Maybe I'll even wish them well.

JO: Wh.... I thought you'd be a little more upset than this.

JACK: Oh no, no, no. Not me. No. No I've decided to just get on with my own life, focus on myself and forget about Steve and Kayla.

JO: Come on Jack, what are you up to? (Beat) Come on Jack. Now I know you're up to something. What is it?

JACK: I have no idea what you're talking about.

JO: Come on. Look I know this is all very painful for you. Okay. Alright look maybe I'm wrong. Maybe you're not trying to do anything to spoil their wedding but let me tell you something. Steve and Kayla love each other very much and there is nothing you or anybody else can do to change that. Now if you're trying to do something to hurt your family, don't, because you'll only end up hurting yourself. Now is that what you want?

JACK: (Laughing) At this point it doesn't make any difference what my family feels about it. I've got nothing to lose one way or the other.

JO: You know I remember when you were very little. You and Steve, oh were you close then. Sometimes you'd be crying to the top of your lungs and Steve would come in a room and your face would just light up. You two were inseparable and I wish you could remember that.

JACK: (Sadly) Well I don't.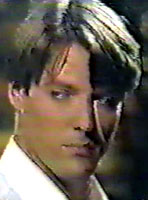 JO: I know you don't but for the sake of the past and for your brother, don't do anything to hurt his wedding. (Beat) Jack you listen to me. Now don't do something you might regret.

JACK: Okay I won't. In fact I'll keep a lookout for Steve and Kayla. I'll make sure that nothing spoils this wedding for them.

JO: I'd like to believe that. I know that you don't like Steve very much but I can't believe you'd purposely do something to harm your own brother.



JACK: Oh I don't know about that. Remember people do some pretty strange things in the name of brotherly love. But no I won't do anything because I know how much this means to.... Kayla.... and to.... you.

JO: Thank you. You know something. You're going to meet a really wonderful girl, you wait and see. Maybe Melissa. She's a very lovely young lady you know.

JACK: She is. But she isn't Kayla, is she?
---
SCENE THREE: LATER IN THE EVENING, MELISSA ARRIVES FOR THEIR DATE.
MELISSA: Hi.

JACK: Hi. Oh, er, Melissa. I'll go get my coat. I'll be right out.

MELISSA: Jack wait, wait. Before we go anywhere I've been thinking and I owe you an apology.

JACK: You owe me an apology? For what?

MELISSA: Well I was pretty insensitive earlier. It was obvious that you were doing your best to act like Kayla's wedding was no big deal. But I know tomorrow's going to be a very tough day for you. Listen Jack if you think that it would help, I'd be happy to skip the wedding and spend the day with you.

JACK: Melissa, I appreciate the thought, I really do. But all your friends are going to be there and you should too. And, Steve and Kayla want you there too and we can't let down the bride and the groom now, can we? I'll just stay here. I'll be fine. Don't you worry about me.

MELISSA: You are so terrific, you know that. (Hug) I love you Jack.

JACK: And I love you.
JACK HUGS HER AS HIS EYES FILL WITH TEARS.
---
SCENE FOUR: AFTER THE DATE, JACK IS ON THE BALCONY, CRYING JACK IS ALONE LOOKING AT THE PICTURES CANBY TOOK OF STEVE AND KAYLA'S AFFAIR. HE COMES INSIDE.
JACK: (Crying) Damn! (Beat) Kayla, damn you!
HE WALKS BACK IN THE ROOM AND RIPS UP THE PICTURES.