---
[Air date 8-18-88]
SCENE ONE: JACK IS SITTING IN THE DEVERAUX LIVING ROOM AS ANJELICA COMES DOWNSTAIRS. JACK IS LOST IN THOUGHT AND IS NOT PAYING ATTENTING.
ANJELICA: I'm so tired of being tired. Eight full hours of sleep and all I want to do is to crawl back into bed and get two more. But time and contracts wait for no pregnant woman. Jack? (Beat) There I go again, talking to the walls. Jackie yoo hoo! Are you with me?

JACK: Yes, yes, yes Anjelica. Did you say something?

ANJELICA: Yes. I said I'm going into labor and Barbara Walters is waiting for you in the kitchen to interview you for her next special.

JACK: Yes, I'll be right in.

ANJELICA: Jack! Your hair's on fire!

JACK: Right, right.... I'll take care of it.

ANJELICA: Jack, what is it? What is so engrossing in that newspaper?

JACK: This.
THE HEADLINE READS: "IS SON OF MURDER SUSPECT HARPER DEVERAUX FIT TO HOLD PUBLIC OFFICE?"
ANJELICA: "Is son of murder suspect Harper Deveraux fit to hold public office?" (Beat) Well I think it's a tad wordy but then The Salem Chronicle has never won any awards for journalism.

JACK: I don't care how it says it. I care what it says. How am I going to fight this?

ANJELICA: Well sweetheart, certainly not by letting it affect you this way. I think it's quite simple. You just have to beat this rag to the punch.
---
SCENE TWO: JO IS READING THE SAME HEADLINE AS SHE STANDS AT THE DOOR OF THE LOFT.
STEVE: Hey Mama. What's the matter?

JO: Have you seen today's paper?

KAYLA: I haven't had a chance. I've been getting Benjy ready for school.

JO: Steve we've got to do something to help Billy with this.

KAYLA: (Reading) "Do the people of Salem wish to have their concerns voiced by a man who shares his gene pool with the likes of Harper Deveraux. What is to prevent Assemblyman Deveraux following in his father's footsteps? Who can predict the moment when this mild mannered politician snaps and becomes Son of Knifer playing in a theater near you." (Beat) Well it's obviously not the most professionally written article.

JO: They're just trying to make Billy out to be potentially insane.

STEVE: It's Jack mama. He doesn't want to be Billy, remember?

JO: Jack, Billy, that's not the point. The point is, he's my son and I can't stand by and listen to this slander.

STEVE: Well what are we gonna do? It's already been printed. Everybody's read it. Even if we wanted to something about it, we couldn't.

JO: We? Even if we wanted to do something? I do want to do something. Now you may have given up on your brother Steven Earl but I still can't ignore the fact that he's very much a part of this family.

STEVE: Well he's doing a pretty good job of ignoring that isn't he?

JO: He's coming around. He is. He just needs some time to get used to the idea. But we've got to give him all the moral support that we can.

STEVE: Why? So he can just spit it back in our faces again? That's what he does every time we try to help him. When are you going to wake up Jo? Jack doesn't think we're good enough for him.

JO: Kayla, what do you think? Do you think Jack will turn around and accept his real family?

STEVE: Mama, will you leave Kayla out of this? Jack's hurt her enough already. Now look I know that you want to have all your children huddled around you.

JO: Oh yes....

STEVE: But that's not going to happen and the sooner you realize that the better off you'll be.

JO: Steve, he is your brother. Doesn't that mean anything to you anymore?

STEVE: My brother! My brother! Damn it I've done everything I can think of to try to help him. He doesn't care. He doesn't give a damn about any of us. He's just a rich spoilt brat and we can't trust him.

JO: Oh Steve come on.

STEVE: Don't Steve me about this. Take off those rose colored glasses and see him for what he really is.

JO: What he really is, he's my son. If you're not going to go over there with me to back him up when he needs us the most then I'm just going to go by myself.

STEVE: Oh come on now....mama? Come on, don't do that to yourself! Mama!
JO WALKS OUT.
---
SCENE THREE: BACK AT THE DEVERAUX MANSION.
ANJELICA: Jack I think it's time you play your trump card.

JACK: Really? Exactly what trump card is that?

ANJELICA: The truth about your heritage. I think you should make a public announcement confirming the rumors about you.

JACK: You must be kidding.

ANJELICA: No I'm not. If you don't distance yourself from Harper completely, stories like this are going to go on haunting you until they destroy you.

JACK: I can handle all the stories Anjelica, believe me.

ANJELICA: Jack, you can handle the stories but I don't think your political career can handle them. Think about it. The rank and file voters are a very fickle lot. They are going to jump on the first scandal they get wind of and turn on you. But, if they find out you're one of them, that you're really just another.... blue collar, off the rack, well.... it's Mr. Smith Goes to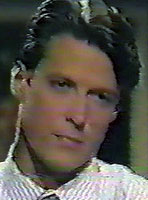 Washington all over again.
JACK: Mr. Smith I can deal with. Mr. Johnson I'm not so sure of.
ANJELICA: I think you should just plainly state that Harper lied to you and that you only recently found out about your biological parents.
JACK: Anjelica, do you really think that my letting the public know that I'm the son of a cleaning lady and her wife beating husband is going to help me regain my popularity?
ANJELICA: Jack, I think we should play down the wife beating part. But absolutely. I think you can turn this unfortunate bit of reality into an advantage. I think you can milk it for everything it's worth.
JACK: Does it have to be the Johnsons?
ANJELICA: Oh sweetheart I can empathize with the way you feel but Jack, every once in a while fate doles out these cruel twists. And we have to learn how to role with the punches. (Laughing) Listen to me, I sound like Knute Rockne.
JACK: Well that makes me the Gipper.
ANJELICA: No baby, it makes you a winner. You will always be a winner in my eyes Jack and believe me, if I thought there was any other way I wouldn't ask you to do this. But I don't see any other alternative.
JACK: Can you think of any way to keep my connection with the Johnsons to a minimum?
ANJELICA: Absolutely. An occasional smile for the press and you don't even have to be in the same room with them. I promise I will never make you send them a birthday card. Sweetheart, it's the only way unless you're willing to give up your political career altogether. I don't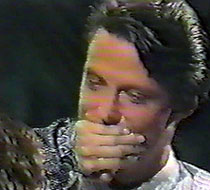 think you want to do that, do you?
JACK: No.
ANJELICA: You know what you have to do.
JACK: Yes, I suppose I do. (Beat) Well, hush my mouth and call me Billy!
ANJELICA: (Putting her hand over his mouth.) Billy.
JACK: Just don't expect me to like it when you do.


---
SCENE FOUR: JO IS WAITING OUTSIDE THE DEVERAUX FRONT DOOR. SHE KNOCKS.
JACK: Yes, yes.

JO: Hello Jack.

JACK: Mrs. Johnson? Oh, oh what can I do for you?

JO: Oh nothing. I just thought that maybe we could have a little talk?

JACK: Well I don't think so. Now if you wouldn't mind, I have a lot of things that I....

ANJELICA: Jack, can I speak to you for a minute please? Mrs. Johnson, you wouldn't mind waiting outside just for a little while, would you? I'll be right back.
ANJELICA SHUTS THE DOOR IN JO'S FACE.
ANJELICA: Jack, of course she can have a little chat with you. Honey you need that woman.

JACK: No I don't.

ANJELICA: Alright, alright. You don't need her. Your political image does. Think about your dock worker constituents. Why, why, Josephine Johnson is probably a pin-up girl to them.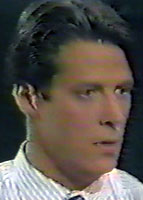 JACK: Anjelica, I am not crazy about this idea.

ANJELICA: Oh please Jack. She embodies everything your voters live for. You need that vote.

JACK: (He is not happy but resigned to the fact that going public is the only way to salvage his political career) Alright, fine. I need her. I'll use her.

ANJELICA: Good boy. I'm going to leave you to chat with your mommy now. I have a little work to do anyway.

JACK: (Jack looks almost terrified, and begs hers) Anjelica.... don't, don't
ANJELICA OPENS THE DOOR AGAIN TO JO.
ANJELICA: Josephine, have a nice day!
ANJELICA LEAVES.
JACK: Well.... er.... please come in. Please.

JO: Thank you.

JACK: Look I'm sorry about before that I was so abrupt at the door. It's just that I get so busy that I forget my manners sometimes.

JO: Oh that's alright. I understand. If you're busy I can come back at another time.

JACK: No, no. Oh no. Please, this is a perfect time. I'm glad you're here because well, to tell you the truth, I've finally realized that you're right.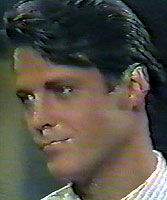 JO: I'm right? About what?
JACK: (He lays on the charm trying making her believe he is sincere, all the while using her.) About us. About the family. I think that it's finally time that we got off to a really good start together and really make a new beginning for us and I think the best way to do that is to tell the world that you're really my mother.
JO: Oooh.
JO IS THRILLED BELIEVING JACK IS FINALLY ACCEPTING HER.
---
SCENE FIVE: A SHORT TIME LATER, JACK HAS CALLED A PRESS CONFERENCE AT HIS HOME.
JACK: Ladies and gentlemen. If you please. If I could have your attention. I've prepared a little short speech.
THE REPORTERS ALL LOOK AT ONE ANOTHER AND GRUMBLE.
JACK: No, really, really, it is short. Ah, I'd like to start with that and then continue with the questions, if you don't mind. Already? (Winks at Jo).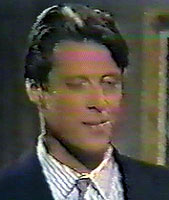 JO GIGGLES WITH EXCITMENT.
JACK: (Cont., playing the smooth, slick politician to the hilt) Oh it's no secret to anybody that the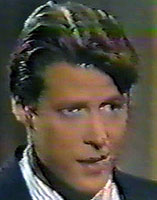 Deveraux name has been through the ringer the past couple of months. Now I suppose you all are expecting me to try to defend the family name. Well I'm not going to do that. And not for the reasons you're all thinking but because certain information has been revealed to me recently that renders me impossible to defend the Deveraux name as my own. (Beat) The truth of the matter is, I am not Jack Deveraux.

REPORTERS: What?

JACK: I am not Jack Deveraux, son of ex-Senator Harper Deveraux. (Jack really lays it on thick, milking it for all its worth) I am in fact.... William Earl Johnson who springs from far more simple but beautiful origins that I'd ever been led to believe. I would like for you to meet my simple but beautiful origins. Jo, this way. Ladies and gentlemen, may I present to you, my mother, my real mother, Mrs. Josephine Johnson.
STEVE AND KAYLA ARE WATCHING THIS ON TV AT THE LOFT.
STEVE: What's that jerk up to now?
JACK HAS HIS ARMS AROUND JO, AND JOY IS OVERJOYED BELIEVING JACK FINALLY HAS ACCEPTED HER.
JACK: This woman had the courage, all those years ago, to make the supreme sacrifice to give up both of her sons that they might find a better life for themselves. Hard times had fallen upon the family and they were forced to put their boys up for adoption so that their small children might no longer have to go to bed nights, crying from hunger.
STEVE: We never went to bed hungry. What's he talking about? Are you listening to this?

REPORTER: Assemblyman Deveraux....

JACK: No, that's Assemblyman Johnson.

REPORTER: Yeah right. How do you feel to find out that you weren't really born to the proverbial manor?

JACK: Relieved actually. You know all the time I was growing up with the Deverauxes I always had a certain sense that I didn't belong. Now don't get me wrong. I'm very appreciative of everything they've done but somehow....well I was never really comfortable living amidst all this wealth. I mean I guess I know why I felt that way now. I.... I.... I'm just kind of an unassuming guy actually. (Loosening his tie) I mean you give me a frosty draught beer over a glass of champagne anytime.

REPORTER: Does that mean your natural father is the late Duke Johnson?

JACK: Earl (Duke) Johnson. Yes.

REPORTER: The same Duke Johnson who beat his wife and was shot to death by his own daughter after he raped her?

JACK: Well that's all the more reason why I'm so proud of my mother. She's overcome such tremendous odds in her life. I'd be pleased if I inherited half....half of her ability to triumph in the face of tyranny. You know I think that's a very desirable trait for any politician to possess.
STEVE TURNS OFF THE TV.
STEVE: Did you see my mama there? Standing there and eating up every word while that jerk is just trying to fix his latest political mess.
KAYLA: She looked kinda happy.
STEVE: Oh yes, happy as a fat goose the day before Christmas baby. How's she gonna when he's done with her, he's all finished and he gotten what he wants from her and he kicks her out of his life again. I'm not going to let this happen. I'm going over there.
KAYLA: You can't go over there. They're in the middle of a press conference.
STEVE: Live TV baby. Are you coming?
STEVE AND KAYLA LEAVE.
---
SCENE SIX: MEANWHILE ANJELICA HAS GONE TO SEE VICTOR. HE KNOWS THAT SHE IS CARRYING JUSTIN'S CHILD AND HE TRIES TO GET HER TO MARRY HIM.
---
SCENE SEVEN: BACK AT THE PRESS CONFERENCE.
REPORTER: What do be call you know, William?

JACK: Oh Billy Jack will be just fine.
STEVE DRAGS JO AWAY FROM JACK AND TELLS HER JACK IS USING HER. SHE TELLS STEVE TO KEEP IT DOWN AND ALTHOUGH JACK MAY NOT BE PERFECT SHE IS GOING TO STAND BY HIS SIDE NO MATTER WHAT.THE REPORTERS BEGIN ASKING STEVE AND KAYLA QUESTIONS.
REPORTER: Mrs. Johnson, did you have any idea that you were brother hopping when you first....
STEVE GRABS THE REPORTER AND TELLS HIM TO LAY OFF.
REPORTER: Were you aware that Jack was your brother when you saved his life by giving him your kidney?
JACK AND STEVE STARE AT EACH OTHER. JACK APPEARS CONCERNED THAT STEVE MIGHT SAY SOMETHING WHICH WILL HURT HIS CAMPAING.
REPORTER: (To Steve) Come on, give a statement.
STEVE WALKS OVER AND STANDS FACE TO FACE WITH JACK THEN TURNS AROUND TO FACE THE PRESS.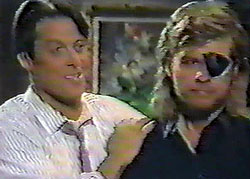 STEVE: Yeah, I knew he was my brother when I gave him my kidney. But you should have seen the way he reacted when he found out who he was.


JACK: Ah, well, actually what my brother is about to tell you is how overjoyed I was to be finally reunited with the family. I only wish we could've gotten together sooner. You know what I mean. There's so much time to make up for, right?

STEVE REMOVES JACK'S ARM FROM AROUND HIS SHOULDERS.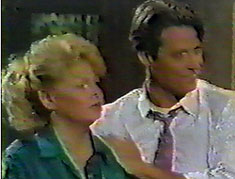 STEVE: Don't you get chummy with me just for these cameras here Billy Boy. It's not going to work. I'm not going to let you use my mother like this.

JACK: Oh no, no, no, no, big brother, now. Our mother. (He goes over to Jo and puts her arm around her shoulders, and flashes a smarmy grim) You have to learn to share now, remember?

STEVE: I can see right through your act. I know what you're doin' here. You don't give a damn about Jo Johnson or any of the rest of us. All you care about is yourself and your precious little career.

JACK: What is this? Sibling rivalry here!
STEVE GRABS JACK AND HOLDS HIS FACE TIGHT.
STEVE: Now you listen to big brother, Billy boy! Cause I'm only going to say this once. Stay away from my mother! Stay away from my sister! And you stay the hell away from me! We're not just some tokens you can flip around in your little political game here.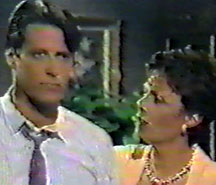 ANJELICA: I can't believe what I'm hearing. Or for that matter, what I'm seeing. (Beat) How can you do this to your brother, the only one true natural brother you have in the world, with all he's been through? You can actually stand here and so cold-heartedly flat out reject his trying to reach out to you and your family. The family that abandoned him so many years ago. Come over here sweetheart. (Beat) Ladies and gentlemen, I know this man. In fact I practically raised him. He is a.... swet and generous human being, incapable of intentionally doing anybody harm or of having a selfish motive. And I can't tell you how much it hurts me to not only see him manhandled but also to watch his.... sincere efforts to reach out to his biological family, rejected.

JO: We are not rejecting him!

STEVE: Come on mama, you're not going to by her crap now too are you, huh?

ANJELICA: I assure you Mr. Johnson that I am speaking from my heart.

STEVE: How can you speak from some place you don't know nothing about?

ANJELICA: Why don't you get out of our house?

STEVE: Oh I will. Come on Kayla. (Beat) Mama?

JO: I'm going to stay.... I'm going to stay with Billy.
STEVE WALKS OUT IN DISGUST WHILE ANJELICA TURNS AROUND WITH A SLIGHT SMIRK ON HER FACE. ONE OF THE TV REPORTS CONCLUDES HIS BROAD CAST. JACK LOOKS AT HER AND FEELS A BIT UPSET AT WHAT THEY HAD TO DO.




---
SCENE TWO: THE PRESS CONFERENCE IS OVER AND JACK IS SHOWING THE REPORTERS TO THE DOOR.
JACK: So remember, that's Johnson. J - 0 - H....

REPORTER: Right.

JACK: N - S - O - N.

REPORTER: You got it Billy. Mrs. Johnson.

JACK: Jack, Billy Jack.

JO: Goodbye. Goodbye, what a wonderful day. You know I feel sort of like a celebrity or something.

JACK: You'll get used to it.

JO: Oh this has been so wonderful son, I hate to see it end. Hey, you know what, why don't you come over to my apartment and I'll fix us a nice lunch and we can sit and talk and get to know each other.

JACK: No, I can't. I can't. I.... er.... I mean.... I have a lot of things to do today. I have a very busy schedule.

ANJELICA: That's right Mrs. Johnson. You're not needed here any longer. You can toddle off on your merry way.

JO: A little jealous are we, Mrs. Deveraux?

ANJELICA: Not likely Mrs. Johnson. Actually I feel a certain kinship with you. Here. (Hands Jo a single rose.)

JO: No thank you.

ANJELICA: Take it.

JO: No thank you.

ANJELICA: We have a son in common Mrs Johnson. Although you know I'm still mystified about how you could keep the secret for so long. If it had of been me I would been screaming from the rooftops.

JO: Billy and I are finally together again and everything is going to work out just like it should.
JO WALKS OFF AND MOTIONS TO JACK.

Jack and Jo;
35 Min; 1.3 Meg
JO: Son, son. Listen I know how very busy you are. I'll just be on my way and we'll get together another time, alright.
JACK: (Half smile as if part of him actually enjoys this) Maybe. Maybe.
JO: Thanks for today. You know we are really going to be a family again.
JACK FLASHES A SMILE, IS HE STILL ACTING OR DOES A PART OF HIM ACTUALLY LIKE THE IDEAL.

JO GIVES JACK A BIG HUG AND HE PUTS HIS ARM AROUND HER. JACK'S EXPRESSION IS A MIX OF EMOTION, PART OF HIM SEEMS TO ENJOY THE HUG, AND EVEN THOUGHTS OF JO BEING HIS MOTHER. JACK EVER SO SLIGHTLY CARESSES HER HAIR.

MEANWHILE ANJELICA WATCHES ON, SHE LOOKS UNHAPPY AND JEALOUS ABOUT THE AFFECTION BETWEEN MOTHER AND SON. JACK LOOKS OVER JO'S SHOULDER AT ANJELICA, WHO FLASHES HIM A LOOK. JACK SEEMS CONFUSED BETWEEN WANTING TO PLEASE ANJELICA AND BE WITH JO.
JO: I love you son.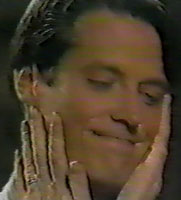 HOWEVER, ANJELICA APPEARS TO WIN OUT AND IT IS OBVIOUS THAT JACK IS GOING TO TURN ON JO.
---
SCENE TWO: STEVE AND KAYLA ARE HAVING LUNCH AT SHENANIGAN'S AFTER THE PRESS CONFERENCE. JO COMES IN AND SAYS THAT JACK WAS TOO BUSY TO HAVE LUNCH WITH HER. AS SHE IS TALKING JACK AND ANJELICA WALK IN.
ANJELICA: Sweetheart, just ignore them. They're not even there.

STEVE: (To Jo) Yeah real important. Guess he had to reschedule his puppy kicking session so he could take the red witch to lunch.

JO: He said he was too busy to have lunch today.

STEVE: Well forget about it mama.

KAYLA: That's right. You can just have a nice wonderful lunch here with us.

JO: Of course, of course I can.
CUT TO ANJELICA AND JACK.
ANJELICA: Sweetheart, if they're making you uncomfortable we can go some place else. There are plenty of other low rent restaurants in this town where people could spot you just being a reg'lar guy.
Jack watches the Johnsons;
35 Min; 1.3 Meg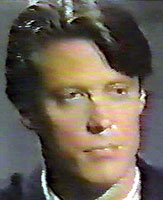 JACK: (Staring at the Johnsons, almost wistfully as if part of him longs to be apart of them.) No, no, no, Anjelica. It doesn't matter. They don't bother me. It doesn't bother me to find myself in the same room with the rest of the.... Johnson clan. They don't interest me in anyway whatsoever.

ANJELICA TURNS AROUND TO SEE STEVE STARING BACK AT JACK. AGAIN SHE SEEMS TO SENSE JACK'S CONFLICTING EMOTIONS FOR THE JOHNSONS, AND AGAIN SEEMS SOMEWHAT JEALOUS.

JACK: They don't interest me in the least.
ALTHOUGH HE SAYS THIS, HIS EXPRESSIONS INDICATES THAT THEY *DO* INTEREST HIM.