---
[Air date 9-20-88]
SCENE ONE: JACK GOES TO VISIT HARPER IN JAIL. HARPER COMES OUT COVERING THE LEFT SIDE OF HIS FACE WITH HIS HAND.
JACK: Dad, what's wrong?

HARPER: Oh nothing. It's just a little eye strain. I've got a lot of time to read lately. Maybe too much time, eh?

JACK: Let me take a look.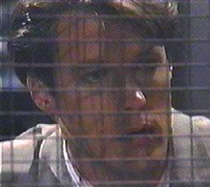 HARPER: Oh it's nothing really. No problem.

JACK: Well if there's nothing wrong, if there's no problem, you can let me look. Just.... just take your hand away and.... let me.... Dad.
HARPER TURNS AROUND AND SHOWS JACK HIS FACE. HIS LEFT EYE IS BRUISED AND HE LOOKS LIKE HE HAS BEEN BEATEN.
JACK: Oh my gosh. Who did this to you? What happened?
---
SCENE TWO: HARPER TURNS AWAY. JACK IS HORRIFIED TO SEE THAT HARPER HAS BEEN ABUSED WHILE IN PRINSON.
JACK: Don't.... don't turn away from me.

HARPER: Forget it Jack. Pretend you ever saw it.

JACK: I can't. I can't. You tell me what happened. Tell me who's responsible for this.

HARPER: It doesn't matter who's responsible. There's nothing you can do anyway.

JACK: I'm an assemblyman. Of course I can do something.

HARPER: And I was a United States senator for crying out loud. Don't you understand. That's why this happened. I was part of the system Jack and now I'm a living symbol of it, I'm here, right here, in the flesh, easy pickings. Who wouldn't want to take a piece out of one of the high and mighty who put them here in the first place. Wouldn't you?

JACK: I'm not going to let this happen to you. I'm not going to let you die in prison.

HARPER: I deserve to be punished.

JACK: What are you talking about? You didn't do.... you're sick.... you're sick. You didn't know what you were doing. You're not responsible.

HARPER: Jack, forget it. Leave it alone.

JACK: I can't. Look you may not be my father but you're the only father that I've ever known. I'm not gonna.... after everything that we've shared I'm not going to put all this aside because it's not convenient, because it's not the wisest political choice. I'm not going to sit back and just.... I'm going to get you out of here. That's what I'm going to do. I'm going to pull every string, do whatever I have to do. I'm not going to sit there and watch while you just get suffered and stomped on in this hellhole. I swear it.
HARPER LOOKS PLEASED.
---
SCENE THREE: MEANWHILE DIANA COLVILLE HAS BEEN RUNNING THE SPECTATOR WITH THE HELP OF HER MOTHER. SHE INHERITED IT AND A LARGE INHERITANCE FROM HER FATHER. THE PAPER IS NOT MAKING MONEY AND DIANA'S MOTHER THINKS IT WOULD BE A GOOD IDEA TO SELL THE PAPER. DIANA FINDS OUT ABOUT HER MOTHER'S PLAN AND TELLS HER THAT SHE WANTS HER OUT OF THE PAPER AND TO LEAVE TOWN.
---
SCENE FOUR: STEVE AND KAYLA ARE UP ON THE ROOF OF THE LOFT BEGINNING TO MAKE LOVE WHEN JACK WALKS IN.
JACK: Uh, the door was unlocked downstairs so I figured you had to be up....

STEVE: Hey man, what are you doin'? You just walk right into our house. What's the matter with you?

JACK: Kayla, Kayla, I need your help.

KAYLA: Oh, why do you need my help?

JACK: I just came from the prison. I was seeing my father.

STEVE: Oh really? So how's he doing in those scratchy prison clothes Jack?

JACK: They're killing him, Kayla. They've beaten him.The other inmates have beaten him badly and he's not going to be able to take much more of it.

STEVE: Oooh. That sounds like justice to me.

JACK: The man is sick! Do you understand that?

KAYLA: Jack.

JACK: Now look I understand if you hate him. I understand if you hate me too. But it doesn't make it right. What happened in Harper's life is.... is just as much of a tragedy in his life as any of the lives that he destroyed.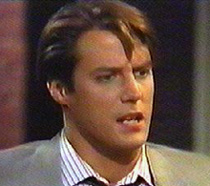 STEVE: Oh come on Jack. Give us a break.

JACK: He was a good man! He was a good man and he doesn't deserve to die in prison. Not like this he doesn't. He deserves psychiatric treatment somewhere else. He needs.... he needs your help.

KAYLA: I don't understand what you want from me Jack.

JACK: I want a statement. I want to get another hearing going. I want to get him transferred to another.... another.... a minimum security prison.

STEVE: Oh you mean a country club.

JACK: I mean a place where it's safe enough for him to get the treatment that he needs and deserves.

STEVE: I think he got what he deserves, didn't he? Jack, wake up here.

JACK: Kayla if you testify for him. if you testify as one of the people that he victimized, I know it's going to make all the difference in the world. If you could just.... Kayla please. You can't turn your back on him like this. We need him, we need to help him. Please.
---
SCENE FIVE: BACK AT THE PRISON, IT WAS ALL A SCAM, HARPER HAS NOT BEEN ASSAULTED, HE PUT ON THE ACT TO GET JACK'S SYMPAHTY, HARPER IS WIPING HIS FACE, REMOVING THE MAKE-UP HE USE TO SIMULATE THE BRUISING AND CUTS.
---
SCENE SIX: AT THE LOFT.
JACK: Kayla, please. Please testify on his behalf.

KAYLA: I'm sorry, I can't Jack. If your father has problems in prison that's for the authorities to solve. As far as I'm concerned he's exactly where he belongs, in prison.

JACK: I can't believe this is coming from you. What happened to the girl that I married, to the Kayla that I married.... the loving, the caring--

STEVE: (Furious by bringing up the marriage) Alright, alright. You just crossed the line here buddy. Now we've had about enough garbage for a whole lifetime from you. If you want to go help that murderer, you go right ahead. We don't care. We don't want to hear about it. Now I want you to get out of here and never show your face here again. You hear me? You understand that?

JACK: Yes I understand.

STEVE: Good.

JACK: I guess this is.... er.... some of that family sticking together no matter what that you were telling me about. The forgiveness. (Beat) Look I made a big mistake coming up here. Don't worry. It won't happen again.
JACK LEAVES.
---
SCENE SEVEN: KAYLA HAS SECOND THOUGHTS BUT STEVE SAYS THAT IT IS OUT OF THEIR HANDS. SHE IS STILL UNSURE. HE SAYS THAT FAMILY LOYALTY IS A STRONG THING EVEN IN THE WRONG PLACE. STEVE SAYS HE CAN NEVER FORGET JACK IS HIS BROTHER AND IT HURTS.
---
SCENE EIGHT: MEANWHILE, DIANA HAS IT OUT FINALLY WITH HER MOTHER AND FIRES HER. SHE INSISTS THAT SHE LEAVE FOREVER. DIANA SAYS THAT SHE IS NOT SELLING THE SPECTATOR NOW OR EVER.
---
SCENE NINE: JACK GOES TO VISIT JO.
JO: Jack, oh what a nice surprise. Can I get you something.

JACK: No, no thank you.

JO: Um.... Mrs. Deveraux and Dr. Curtis are upstairs with Noelle. I'll go and get them.

JACK: No. I want to speak to you.

JO: Me?

JACK: Yes, I'd like you to do a favor for me.

JO: Oh son, I'd do anything in the world for you. You just name it.

JACK: I want you to talk to Steve and Kayla for me.

JO: What about?

JACK: About Harper. He needs to be moved to another facility, right away. But he needs Steve and Kayla's help. He needs to have a statement of support for that.

JO: Oh they won't.

JACK: They will if you talk to them.

JO: No you're wrong. Honesty there's not a think I could say to Steve or Kayla that would make any difference in this. Honestly. They're not going to help Harper and you can't blame them.

JACK: I can blame them.

JO: Son.

JACK: What about you? Don't you think you owe Harper Deveraux something? I mean after all this is the man that raised the son you left behind. You could help him now. We both could help him now. Look I am not talking about a pardon. I'm not talking about letting him off the hook. I'm talking about moving him to another facility where the prisoner's won't kill him. Because that's what's going to happen if we leave him there. Do you understand that? You leave him there and it's like a death sentence. Or do you want him to die? Do you all just want him to die?

JO: No, no. Of course not.

JACK: Then help me!

JO: I can't. Oh god I can't.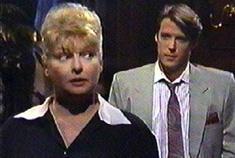 JACK: You have to. Now look, you want me to admit that I'm a Johnson, that I'm your son. I can't do that until I make my peace with the Deverauxes. And as long as the Deveraux that raised me is in danger of being murdered, I have to help him. I have to pay him back. I have to free myself. Do you understand? Please.

JO: Son I love you so much....

JACK: Don't.... don't comfort me. Help me.

JO: Jack there is nothing I can do. You are asking me the impossible.

JACK: You talk a real good game you know that.... a real good game. But underneath all that talk about love and support, about blood thicker than water, you don't really care do you?

JO: Oh that's not true.

JACK: You never have cared. I ask for one favor. In my entire life I ask for one and you refuse. Well you actually taught me a very good lesson today Mrs. Johnson. Thank you. Thanks a lot.
---
SCENE TEN: STEVE TELLS KAYLA THAT HE THINKS JACK MUST BE HURTING OVER THIS BECAUSE HE DOES NOT KNOW WHO HE IS ANYMORE.
---
SCENE ELEVEN: JACK IS STILL AT NEIL'S LOOKING AT THE WATCH THAT HARPER GAVE HIM FOR HIS BIRTHDAY.

ANJELICA COMES DOWN TO SEE HIM.
ANJELICA: Jack, here you are darling. I heard you were here.

JACK: Yes, I was talking to Jo Johnson.

ANJELICA: Oh.

JACK: 'Cause I wanted to talk to you too as soon as I heard you were upstairs.

ANJELICA: Well Neil and I were up talking to Noel. Jack?

JACK: Huh?

ANJELICA: Jack, what's the matter? What's wrong?

JACK: This morning I went to visit Harper in jail.

ANJELICA: Jack, I thought you gave up those visits. Didn't Harper himself tell you to stop coming?

JACK: They beat him Anjelica.

ANJELICA: Who beat him? What are you talking about?

JACK: His face was all bruised. The prisoners beat him. They're trying to kill him and they're going kill him, I know it and he knows it too. You should see how helpless he looks right now.

ANJELICA: Helpless? Harper? Never, trust me.

JACK: You weren't there Anjelica. You didn't see him.

ANJELICA: I'm sorry Jack, you're right. I wasn't there. I didn't see him and don't misunderstand me. It's not that I don't care about what you're saying. Certainly when you share your life with someone as long as I shared my life with Harper, you don't give up all feeling overnight. But he did bring this on himself and there's nothing you can do to help him. There's nothing anyone can do.

JACK: I can't except that.

ANJELICA: You have to. And you have got to stop going to that prison.

JACK: No.

ANJELICA: Jack, overtime you come back from there, you are destroyed. You can't go on hurting yourself like this. It's going to make you sick. Your father doesn't want that for you.

JACK: I'm not going to just turn my back and let him take it.

ANJELICA: Jack, he has a debt to pay to society.

JACK: You stop it! You stop it right there. He is not just a common criminal. He's a sick man. He's a sick man who needs help. He needs to be in a place where he can serve his time and get well. He at least deserves a chance to get well.

ANJELICA: Jack, he killed five women. He admitted that in court, not to mention countless attacks on other women. If you were not so blinded by indebtedness you would agree with the authorities. If Harper hadn't adopted you--

JACK: Yes he did it alright. That's it, he adopted me. He adopted me and he raised me and maybe that is why I'm so blind. Maybe that's why I can only see the man that he has been instead of the man that everybody else seems to be able to see. I'm sorry that's just the way that I feel.

ANJELICA: I understand.

JACK: Do you? (Beat) You understand loyalty, Anjelica. Family loyalty. I went to see the Johnsons. Steve and Kayla. I even went to Jo Johnson. That didn't do any good. It doesn't matter. I don't need Steve or Kayla or Jo. I don't need your help either. I'm going to help Harper all on my own.
---
SCENE TWELVE: AT THE PRISON, HARPER IS BROUGHT A TRAY OF FOOD BY A FELLOW PRISONER. HIDDEN UNDER THE PLATE IS A PASSPORT THAT HARPER HAD SMUGGLED IN.
---
SCENE THIRTEEN: MEANWHILE JACK IS STILL CONSIDERING HOW TO HELP HARPER. HE IS LOOKING AT THE WATCH HARPER GAVE HIM AS HE PACES THE LIVING ROOM.
JACK: I'm going to help you get out of there Harper.... Dad. I'm going to do whatever it takes.