---
SCENE ONE: NICK CORELLI, EVE'S PIMP, HAS BEEN HURT IN A CAR ACCIDENT THAT WAS CAUSED BY A PRANK IN WHICH SHE WAS INVOLVED. EVERYONE THINKS HE IS DEAD BUT STEVE AND KAYLA HAVE HIM HIDDEN OUT IN STEVE'S OLD APARTMENT. HE IS HORRIBLY SCARRED. STEVE DECIDES TO BRING HIM SOME CHRISTMAS CHEER AND ARRIVES WITH A TREE. AS HE IS TRYING TO GET IT INSIDE, JACK TURNS UP AND IS SUSPICIOUS OF STEVE.

Jack snoops, Steve catches him;
1 Min; 1 Meg
JACK: You can't do it. Can I help you out with that?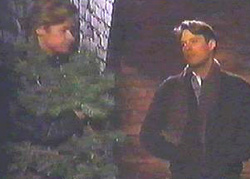 STEVE: One of my favorite people. Hello there.
JACK: I have to say I'm very proud of you. Finally got a job.
STEVE: Yeah.
JACK: Traveling Christmas tree salesman. I must say I always thought you'd rise to the top. Tell me, do you drag these trees around with you wherever you go?
STEVE: I got things to do now Jack.
JACK: Sure, sure, draggin' trees around town. You know I wish my life was half as busy as yours.
STEVE: Bye.
JACK: So what's going on in your room, Steve? What were you doing with a tree in your room? No, no, don't worry, you don't have to tell me. I'll just.... I'll find out for myself. (Beat) So tell me, you must miss the old place, is that it? Is that why you're dragging your furry friend around all your old haunts?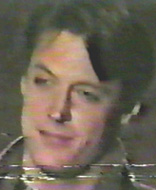 STEVE: You wanna know about the tree?

JACK: I'd love to know about the tree.

STEVE: I'll tell you about the tree. Now listen closely cause this is somethin' that's foreign to you. Every year we have a little fund raiser, a little party at Shenanigans. It's for the kiddies who don't have much of a Christmas. Okay?

JACK: Huh, uh.

STEVE: Now here's the hard part, listen. Everybody donates what they can.

JACK: Huh, uh.

STEVE: Now this tree I'm taking to Shenanigans as my donation. Maybe you could think about putting in some of the dirty Deveraux dollars, uh? Put 'em to good use for a change.

JACK: Still doesn't explain why you took the tree into your place and then back out....

STEVE: Look I don't have to explain anything to you. It's none of your damn business now is it?

JACK: You can't blame me for being curious. It's not everyday you see a man dragging a tree all over town with him.

STEVE: You know what your problem is? You ain't got nothin' to do. I mean there's not much of a market for crooked politicians these days. You got nothin' better to do but spy on me.

JACK: You don't have to be much of a spy to see that you're doing something you don't want me to know about.

STEVE: Hey, I don't want you to know my name.

JACK: Oooh my, we're getting a little ruffled aren't we? (Beat) What's the matter, did Kayla throw you out? (Beat) That's it isn't it? America's sweethearts had a big blowout and she kicked you out of the house. Is that it?

STEVE: Boy, you're sharp as mustard, you know that? Now I know where all the brains in the family went, baby brother.

JACK: Don't call me that.

STEVE: What? Billy Jack, Happy Jack, Deveraux, Johnson, Baby-Boy Johnson, Billy Earl Johnson?

JACK: Don't....

STEVE: Huh? What?

JACK: She finally woke up. That is.... that's what happened. It's about time isn't it?

STEVE: They're waiting for me at Shenanigan's.
STEVE STRUGGLES OFF WITH THE TREE. JACK THINKS ABOUT BREAKING INTO STEVE'S ROOM BUT CHANGES HIS MIND. HE FOLLOWS STEVE TO SHENANIGAN'S SO STEVE ATTEMPTS TO COVER HIS TRACKS BY PRETENDING THAT THE TREE IS FOR THE KIDS. JACK JUST RAISES HIS EYEBROWS AND SMILES.
---
[Air date 12-20-88]
SCENE ONE: JENNIFER ARRIVES AT SHENANIGAN'S AND SHOWS EMILIO AN ARTICLE SHE HAS WRITTEN ABOUT HIM. SHE TELLS HIM THAT THE DANCE CLASS HE TEACHES IS GOOD FOR THE KIDS BUT HE DECIDES TO CANCEL IT. HOWEVER, WHEN HE GETS THERE, JENNIFER CHALLENGES HIM AND HE GIVES THE CLASS.
---
SCENE TWO: MEANWHILE JACK IS WALKING PAST STEVE'S ROOM WHEN HE HEARS A NOISE AND KNOCKS ON THE DOOR.
JACK: Hello. There's got to be someone in there.
THERE IS NO ANSWER SO HE BREAKS IN USING A CREDIT CARD.
JACK: Aaaah.... hello. Excuse me I.... er.... couldn't help overhearing.... hello. There's somebody in here isn't there?
NICK WHACKS JACK ON THE BACK OF THE HEAD WITH A VASE AND KNOCKS HIM OUT.
---
SCENE THREE: STEVE ARRIVES JUST AFTER AND FINDS JACK UNCONSCIOUS ON THE FLOOR.
STEVE: What's the door doin' open? Oh man. Jackson. You son of a.... What's goin' on here? (To Nick) Hey, you all right? What you doin' man? Come here. Sit down here and you tell me what happened?
NICK POINTS TO JACK.
STEVE: He.... he what? Oh don't worry about him. I'll take care of him. Looks like you already took care of him, didn't you?
NICK SIGNALS TO STEVE THAT HE FEELS UNSAFE IN THE ROOM.
STEVE: You are safe here man. He didn't come here after you. He's after me. Look, I'll get him out of here before he comes to. I'll get him out of here and you stay put. We've got to have a little talk, you and me. Oh Jackson.
---
SCENE FOUR: STEVE DRAGS JACK OUTSIDE AND SITS WITH HIM PLAYING THE HARMONICA UNTIL JACK COMES TO.
JACK: Aaaaah.... I.... aaaaah.

STEVE: Come on, wake up.

JACK: Oooh!

STEVE: What's the matter Jackson? You have too much eggnog last night?

JACK: I....What happened?.... Somebody hit me.

STEVE: Oh, why would somebody want to do that to lovable you?

JACK: Aye.... Steve?.... What are you.... What am I doing here?

STEVE: What do you mean?

JACK: I wasn't here. I was inside. I was walkin' down the stairs and.... I don't remember what happened after that.

STEVE: Maybe you fell down and hit your head, huh?

JACK: I didn't fall and hit.... I was hit in the head. (Beat) You hit me in the head.

STEVE: Me?

JACK: Yes you! May.... maybe you could tell me why?

STEVE: Well last time I checked, breaking and entering was against the law. Or did the law change? You didn't get elected did you?

JACK: Oh I should get out of here. You think you're Mr. Law-and-Order....
STEVE GRABS JACK.
STEVE: Mr. Law-and-Order, you shut up and listen to me. Now I've said this so many times but it's the holidays, so I'm going to say it one more time.

JACK: Just let go of me.

STEVE: One more time you look in my eye baby brother and you read me. I want you to stay away from here. You stay out of my business, you stay out of my family's business, do you hear me?

JACK: Or what? Or what?

STEVE: Like you said, I'm not Mr. Law-and-Order. I'll give you more than a little bump on the head. Now get out of here while I still got my Christmas spirit.

JACK: Alright, I'll get out of here, Mr. Patch, Mr. Law-and-Order.

STEVE: Oh, Billy Jack!
---
SCENE FIVE: EMILIO BEGINS TO START THE CLASS AND USES JENNIFER AS A PARTNER TO SHOW THE OTHER CLASS MEMBER WHAT TO DO.
---
[Air date Christmas 88]
SCENE ONE: THE NEXT DAY JACK ARRIVES AT THE CURTIS HOUSE TO SEE ANJELICA BUT JO IS THERE INSTEAD.
JACK: Anjelica, Anjelica. I'm sorry I was looking for Anjelica. I'll look for her somewhere else.

JO: Jack.

JACK: I'm sorry, I'm very busy. I've got to get Anjelica and Neil over to that Christmas party at the hospital.

JO: Jack, please. Could I have a minute of your time? Just a minute.

JACK: Alright, time's short but what is it?

J0 gives Jack a special Christmas gift ;
1:45 Min; 4 Meg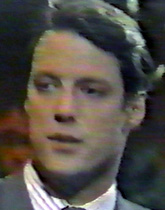 JO: This won't take long, I promise.... I have a present for you. A Christmas present! (Beat) You probably don't even want it.

JACK: That's right, I don't.

JO: Jack, I'm not giving you this present because you need it. I'm giving it to you because it's Christmas. It's time for understanding and love and forgiveness. Please take it, please? Here come on.
SHE PUTS IT IN HIS HAND
JACK: Look, Christmas may be all those things to you. I'm very happy for you. But for me it's just another party.

JO: Oh, I don't believe that. No. I don't want to believe that.
JO LEAVES THE ROOM AND JACK BEGINS TO OPEN THE PRESENT.
JACK: Oh, whatever you want.
HE PULLS OFF THE PAPER , JACK LOOKS, FROWNING, HE SEEMS SURPRISED BY WHAT IT IS.

WE THEN SEE THAT IT IS A BLACK AND WHITE PICTURE OF HIM AS AN INFANT ON JO'S KNEE.

HE TURNS IT OVER AND READS.
JACK: "To my son. I loved you then. I love you now. Merry Christmas.... Mama."
JACK SEEMS OVER COME WITH EMOTIONS.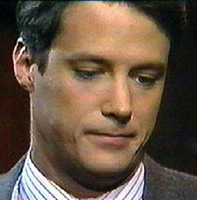 ---
SCENE TWO: THE CHRISTMAS PARTY IS UNDERWAY AT THE HOSPITAL AND JACK WALKS IN AND SEES JO. HE IS HOLDING A PRESENT WHICH HE LOOKS AT AFTER SEEING HER.

Jack plays hospital Santa & secretly gives Jo a gift;
3:15 Min; 7.2 Meg

HE WATCHES HER ABOUT TO GIVE HER THE PRESENT WHEN A DOCTOR COMES UP AND HANDS JACK A BIG RED BAG CONTAINING A SANTA SUIT.
DOCTOR: Here, I've got an emergency. Don't let down the kids.

JACK: Well, what should I do with it?

DOCTOR: Put it on.

JACK: You want me to play Santa?

DOCTOR: That's the general idea.

JACK: Now wait a minute....

DOCTOR: You'll be great.
JACK LOOKS ACROSS AT JO.
JACK: Okay Santa. It's Showtime!
---
SCENE THREE: JACK IS ADJUSTING HIS BEARD WHILE THE KIDS CHANT: WE WANT SANTA, WE WANT SANTA.
JACK: Oh, bah humbug. Okay here we go.
JACK WALKS OUT TO THE KIDS.
JACK: Hey did I hear someone calling for Santa? HO, HO, HO. Hey there. Somebody tell me who's been a good boy or who's been a bad boy. No, no, no. Don't come forward too quick. You little whipper snappers. HO, HO, HO. Help me get in there. What are you all doin'? Merry Christmas. Wait, here's something here for little Elizabeth. Here's Elizabeth right here. Here you go sweetheart. Well we got something here for.... what's this great big green one.... this says Kimberly. Kimberly Bradwell. Kimberly.
---
SCENE FOUR: JACK CONTINUES IT GIVE OUT GIFTS WHEN JENNIFER RETURNS TO THE PARTY AND APOLOGIZES TO ALICE FOR RUNNING OUT AND SULKING BECAUSE FRANKIE CANNOT BE THERE. MIKE COMES IN WITH APRIL AND SAYS HE HAS INVITED THEM TO THE HORTON CHRISTMAS. THEN MICKEY STARTS TO TALK ABOUT PAST CHRISTMASES.
MICKEY: Did Mike ever tell you about the time he ate a whole.... hey wait a minute, you're here!

MAGGIE: Well who's Santa?

JACK: Oh have you been a good little girl this year? Don't answer that. (Beat) Merry Christmas all.

ANJELICA: You know I'd know that voice anywhere. Excuse me Santa dear, could I have word with you, a minute?

JACK: I don't know. Santa's kinda busy right now if you know what I mean. (Beat) Look if you tell anybody I'm doing this Anjelica, my little elves are going to nibble your toes off.

ANJELICA: Well wonders never cease.

JACK: HO, HO, HO.
JACK LOOKS ACROSS AND SEES JO FIDDLING WITH THE TREE.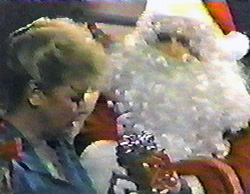 HE REMOVES THE PRESENT HE HAS FOR HER FROM SANTA'S BAG.

JACK: (Not revealing that he is actually Jack.) Oh, Mrs. Johnson. Santa wants to give you a very special gift for a very special lady. Merry Christmas.

JO: No, no, there must be some mistake.

JACK: Oh no, no, no. No mistake at all. Here, Merry Christmas, Merry Christmas.
JACK RUNS OFF.
JACK: MERRY CHRISTMAS, MERRY CHRISTMAS, I GOTTA GO. MERRY CHRISTMAS.

MAGGIE: Bye, Santa.

JO: Who would give me something like this? "To Jo Johnson. A very special Christmas to a very special lady." Oh who would send me anything like this.

IT IS A BROCH.

JO: (Cont.) Oh it's beautiful, it's beautiful. Oh.
JACK REAPPEARS STILL IN HIS SANTA SUIT AND WATCHES JO FROM ACROSS THE ROOM AND SAYS TO HIMSELF.
JACK: Merry Christmas Mrs.... (Sighing, emotionally) Merry Christmas, Mama.
JACK WALKS OFF.

JO CONTINUES ADMIRE HER BROCH, AND LAUGHS.