---
SCENE ONE: DIANA, VERN AND RUSTY, AN EX-CAMPAIGNER FOR JACK, ARE SITTING IN SHENANIGAN'S DISCUSSING AN ARTICLE ON JACK AND HIS DIRTY POLITICS. JACK WALKS IN AND OVERHEARS THEM, IT SEEMS TO UPSET HIM.

RUSTY GIVES DIANA A FILE CONTAINING SECRET INFORMATION ABOUT JACK. AS THEY GET UP TO LEAVE, JACK INTERRUPTS.
JACK: Hello all. Rusty, how are you doing? How's the wife and kids?

RUSTY: Great. Okay. Well I gotta get going. Take care. Bye.

JACK: You try to help the guy but what can you do? The man's a natural born loser.

DIANA: Excuse us Jack.

JACK: So tell me. So tell me, how is the newspaper doing?

DIANA: Oh it's doing just fine.

JACK: Oh, I noticed the advertising was dropping off. I guess that means the circulation is dropping off too.

DIANA: The state of my paper is none of your business Jack.

JACK: Oh.

DIANA: My paper is my business.

VERN: Listen I have to get back to the office. I'll see you later.

JACK: I'm sorry. I was just extending my sympathy. You know that dropping circulation is the kiss of death.

DIANA: It's a seasonal problem. Save your sympathy.

JACK: It's funny. I thought that summertime was the low season for newspapers.

DIANA: I didn't know that you had such an intimate acquaintance with the newspaper business.

JACK: There's a lot you don't know about me.

DIANA: Oh spare me. I don't want to know anymore.

JACK: That's too bad, that's too bad. Because personally I find you fascinating. I mean I really do. I think it must be fascinating to own a newspaper. Have all that power, all that control right there at your

fingertips. Have the ability to.... make.... or break. But of course you know that. (Beat) Don't you?
JACK LEAVES.
---
SCENE TWO: LATER ON THE PIER JACK BUMPS INTO RUSTY.
JACK: Cold Rusty?.... Or are you scared?
RUSTY RUNS AWAY.
JACK: Scared I think!
---
SCENE THREE: LATER JACK OVERHEARS DIANA TALKING TO ROMAN ABOUT HIM.
---
[Air date 1-3-89]
SCENE ONE: A COUPLE OF DAYS LATER, JO OVERHEARS ANJELICA AND NEIL DISCUSSING JACK. IT APPEARS THAT ANJELICA HAS BEEN HAVING TROUBLE REACHING HIM AND HAS NOT HEARD FROM HIM SINCE NEW YEARS EVE.
---
SCENE TWO: A SHORT TIME LATER JO IS WALKING ALONG THE PIER WHEN SHE SEES JACK DRESSED IN OLD JEANS AND A COAT AND WEARING RAYBANDS.

Jack and Jo on the pier;
2:15 Min; 5.1 Meg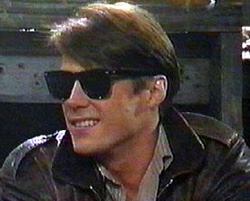 JO: Excuse me, sir.

JACK: Mmm.

JO: Jack!

JACK: Jack, yes, that's the name. Don't wear it out. What can I do for you?

JO: What are you doing?

JACK: Ah.... how about undercover for the Salem PD. What does it look like?

JO: I don't know but your stepmother and I have been worried sick about you.

JACK: Mmm. Aren't I the luckiest guy to have two doting mothers at one time. What did I do to deserve this?

JO: Acting like this is not going to make me love you any less son.

JACK: You just don't stop do you? I mean what does it take to make you stop? Do I have to go out and hack people up with an axe? Or are you always going to love your Billy Boy aren't you?

JO: What's happened now?

JACK: You'll find out soon enough.

JO: Have you gone and got yourself in another jam?

JACK: No. No, no, no. It's not just me this time. Believe it or not there are people out there who'd like to get me. And if they get their way, my name is going to be splashed across every newspaper in town with a bunch of lousy rumors.

JO: What are they saying about you?

JACK: Oh you'll have to read The Spectator tomorrow morning to find out.

JO: Jack, wait a minute, wait a minute. Are you going to let those people do this to you?

JACK: Well I don't know what else I can do.

JO: Well.... you could run away and hide somewhere.

JACK: If you're going to give me that song and dance about being a Johnson and Johnsons don't run away, remember one thing, I'm not a Johnson by default. I was raised a Deveraux.

JO: Okay. So you're a Deveraux. At least that's something you care about.

JACK: True. That's very true and in true Deveraux fashion and form, I think I'll just slime away into the sunset and try to get away from all this.

JO: Will you stop feeling sorry for yourself? If you don't want those people writing those things like that about you, make them write something different.

JACK: And how do I do that?

JO: Start being different. Stop acting the way you have been acting Jack.

JACK: You know you may have something there.

JO: What? You agree.... you think I'm right?

JACK: Yeah, yeah. I think you just made me think of something.

JO: What are you thinking?

JACK: I think you just gave me a very good idea. Thank you very much for the pep talk.
---
SCENE ONE: DIANA AND VERN HAVE BEEN DISCUSSING HOW TO SAVE THE PAPER WHEN VERN HEARS FROM A VENTURE CAPITALIST. HE CONVINCES DIANA TO SEE HIM. THE MAN SAYS THEY ARE NOT INTERESTED IN ANY EDITORIAL CONTROL BUT THEY THINK THAT WITH AN INVESTMENT OF MONEY THE SPECTATOR WOULD MAKE MONEY. THEY WANT TO BUY 51% WHICH DIANA OBJECTS TO AT FIRST BUT THEN REALIZES THAT THIS IS THE ONLY WAY TO SAVE THE PAPER.
---
SCENE TWO: A SHORT TIME LATER JACK GOES TO SEE DIANA AT ROMAN'S HOUSE. SHE AND VERN ARE STILL THERE DISCUSSING HOW THEY ARE GOING TO KEEP THE PAPER AFLOAT BY USING THE ARTICLE ON JACK. VERN LEAVES JUST BEFORE JACK ARRIVES.
JACK: Diana.

DIANA: What are you doing here?

JACK: Well the folks at your office said that you'd be working out of your home today.

DIANA: Well if you need to see you can always make an appointment with my secretary, alright?

JACK: Oh come on, we don't need secretaries. Besides there's something important I need to talk to you about.

DIANA: I'm sure it's nothing I haven't heard already.

JACK: We need to talk about this article you're planning to print about me.

DIANA: Wait a minute, how did you know....

JACK: No, no, no, it's not important how I found out but the fact remains that if you print anything that is a lie, I will be forced to sue the skirt off you.

ROMAN: Jack, what's going on here?

JACK: Roman. I'm just giving Diana a chance to back out of this thing while she still has time.

DIANA: Get out!

ROMAN: I'd do what she says.

JACK: I'll see you in court.
---
SCENE THREE: DIANA DECIDES THAT THE ONLY WAY TO SAVE THE PAPER IS TO TAKE ON THE INVESTOR, MR. MORGAN. SHE HAS HAD HER LAWYER LOOK AT THE AGREEMENT AND HE SAYS IT IS VERY FAIR WITH MONEY BUT THE 51% IS STILL WORRYING HER. HE ONCE AGAIN ASSURES HER THAT THEY WANT NO EDITORIAL CONTROL. SHE RELUCTANTLY AGREES AND SIGNS THE PAPERS, SELLING 51% OF THE SPECTATOR. THE INVESTOR LEAVES AND MAKES A PHONE CALL.
MORGAN: It's Morgan. She fell for it. It looks like we're in business.
---
SCENE FOUR: A SHORT TIME LATER MORGAN IS WAITING IN SHENANIGAN'S FOR HIS BOSS.
MORGAN: Well it's all just as you requested. Miss Colville has signed the contract and you know own 51% of The Spectator. Why you're interested in a loser newspaper like that is beyond me.
MORGAN HANDS THE CONTRACT TO HIS BOSS AND THE CAMERA PANS SLOWLY UP TO REVEAL JACK.
JACK: I have my reasons.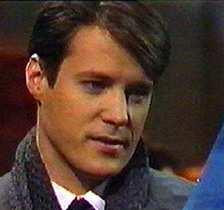 ---
[Air date 1-9-89]
SCENE ONE: DIANA WALKS INTO THE THE MAIN OFFICE OF THE SPECTATOR WHERE VERN IS WORKING.
VERN: Diana, you got minute?

DIANA: Vern, do you know about the fire down on Second and Carolwood?

VERN: Yeah, I got I've got someone on it already.

DIANA: Okay, when he calls let me know.

VERN: Yeah, well listen, you've got company.

DIANA: Oh.

VERN: And it's your new partner.

DIANA: Oh good. I've been wanting to meet him.

VERN: Well he's not too happy about corruption exposé we're planning.

DIANA: Is that right?

VERN: Diana....

DIANA: Editorial control of this newspaper is mine.

VERN: Yeah, well I don't think he feels that way.

DIANA: Then he's about to get a lesson in the First Amendment.

VERN: Diana, listen to me please.

DIANA: Later, later, later. Please.
DIANA WALKS INTO HER OFFICE WHERE SOMEONE IS SITTING IN HER CHAIR READING A NEWSPAPER.

Jack surprises Diana as her new partner;
55 Secs; 1.2 Meg
DIANA: Look, let's just get something straight right from the beginning, alright? You and your conglomerate have absolutely no say over what goes or does not go into my newspaper and I don't care who you are.

THE CHAIR SPINS AROUND TO REVEAL JACK SITTING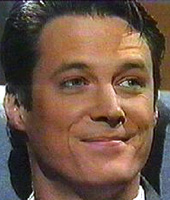 THERE.

JACK: Well maybe you should.

DIANA: What?

JACK PUTS HIS FEET UP ON THE DESK.

JACK: Howdy partner!
DIANA IS SILENT.
JACK: Really, that's no way to welcome your new partner.

DIANA: You're part of this conglomerate?

JACK: No, no, no, no. I'm not part of the conglomerate. I am the conglomerate and as of now I own 51% of this newspaper.

DIANA: What? If I had known that you were one to....

JACK: If you'd known that I was the one who bought this whole thing you never would have sold it away. That's why I had to go through a third party. Obviously I know you're not a stupid woman Diana.

DIANA: Oh thanks a lot.

JACK: But you're not exactly wise in the ways of business either.

DIANA: Maybe. But I do know enough to know that you can get out of any contract if you change your mind soon enough and I have just changed mine.

JACK: Whoa, whoa, whoa. Hold the phone, hold the phone. The grace period is long over so save the call to your lawyer and maybe save yourself a little money at the same time. You know if you'd been thinking about expenses all along you may have kept your paper out of trouble.

DIANA: I signed that contract under false pretenses. I am not legally bound.

JACK: Oh look at the date. Today's date is January ninth. The bills were due January first. You signed the contract January Second. You made payroll and expenses on Friday January Sixth, thanks to me.

DIANA: So?

JACK: So. You cashed the check. You spent the money. Now as flimsy as this may look, thanks to you, it is now iron clad. Thanks to you it's unbreakable now.

DIANA: That still doesn't give you editorial control Jack. It was guaranteed to me.

JACK: Look Diana, the only thing that's guaranteed in this world is change. Change and death. The only thing that's absolute is money. Which I have and you don't. Now I may have thought of this whole thing as an investment when I got started but I've had a little change of heart. I mean who can blame me for wanting to look after my money.... which is exactly what I am going to do. Starting with.... a review of the editorial process.

Jack/Diana, continued;
1 Min; 1.6 Meg

DIANA: Oh, you are never going to get away with this Jack. The contract specifically says....

JACK: I had Vern make a little mock up of the front page and with the.... with the political exposé, is that what you're calling it?

DIANA: And what about it?

JACK: Well nothing really. I like it, I like it a lot, I really do but there is one....one little thing that I'd like to change. I mean, if it's alright with you.

DIANA: What would that be?

JACK: Oh it's not much. Just.... er. Well this right here.
JACK SLOWLY RIPS THE MOCK UP FRONT PAGE IN TWO.
JACK: Now that's better, don't you think?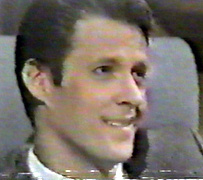 ---
SCENE TWO: MEANWHILE THE POLICE ARE INVESTIGATING THE "DEATH" OF NICK CORELLI AND EVE IS THE CHIEF SUSPECT. SHE IS QUESTIONED AND DENIES HAVING ANYTHING TO DO WITH IT.
---
SCENE THREE: THE SPECTATOR.
DIANA: Get out of my office!

JACK: This is our office now and I....

DIANA: Not while I'm the publisher of this paper. Now get the hell out of here.

JACK: Okay, sorry, sorry. I forgot. Artistic temperaments. And you need time. You need time to work and rewrite that front page. So I'm going to give it to you. Well I'll catch you on the flip side....partner.
JACK WALKS OUT OF THE OFFICE.
DIANA: Dammit!
ON THE OTHER SIDE OF THE DOOR, JACK STOPS AND PUTS ON HIS SUNGLASSES.
JACK: Whoa!
---
SCENE FOUR: LATER AT THE CHEATIN' HEART, JACK IS SITTING AT THE BAR WEARING JEANS AND A DENIM JACKET AND STILL WEARING THE SUNGLASSES.

Drunk, Jacks starts a bar brawl;
40 Sec; 1 Meg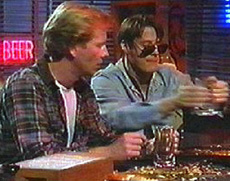 JACK: Oh bud. Filler up man. I'm celebrating. I need a full glass.

BARMAN: Where do you get off calling me bud man? You don't even know me.

JACK: Oh I know you enough to be able to ask for another beer. Come on, filler up. I'm starvin'. I'm starvin'.

GUY AT BAR: You heard the man. Fill it up.

JACK: Oh what the hell you talkin' about? You been beggin' off me all night. What the hell do you want from me anyway, huh? You're a bum, you know that, you're nothin' but a bum.

GUY AT BAR: I want nothin' from you, I want nothin' from you.

JACK: Well how about this? You want that? I got something for you.
JACK THROWS A MUG OF BEER ALL OVER THE GUY AND BEGINS TO LAUGH. THEN HE PUNCHES THE GUY IN THE FACE AND KEEPS LAUGHING.
JACK: How about that? Whoa! Fourth of July!
THE BARMAN JUMPS OVER THE BAR AND TRIES TO BREAK THEM UP BUT THE FIGHT CONTINUES WHILE THE SONG I WANT THAT OLD TIME ROCK AND ROLL PLAYS. JACK IS THROWN OUT OF THE BAR.
JACK: You can't do that to me. You can't throw me out of here.