---
SCENE ONE: SOMEHOW NICK, HAS RESCUED EVE, AND THEY HOLD OUT IN THE ABANDON HOUSE. HE TELLS HER THAT WHEN SHE IS STRONGER HE WILL TAKE HER HOME.
---
SCENE TWO: DIANA IS LOOKING THROUGH SOME FILES. SHE BECOMES NERVOUS AND STOPS WHEN SHE HEARS JACK'S VOICE FROM THE HALLWAY. IT SOUNDS LIKE DIANA'S SECRETARY IS PREVENTING JACK FROM ENTERING DIANA'S OFFICE.
JACK: [Much of what he says is difficult to hear] Carol, (indistinct mutterings).... No, don't get me anything. I just want Vern. Jus.... Jus.... Come on! Just stop it, stop it. Thanks....
DIANA PUTS THE FILES AWAY AND WALKS AWAY FROM FROM THE FILE CABINET, JUST AS JACK BARGES IN. DIANA NERVOUSLY TRIES TO HIDE WHAT SHE HAD BEEN DOING.
DIANA: Jack, whatever you do, don't bother knocking.

JACK: Well, we're being rather formal aren't we? We're not keeping any little secrets are we?

DIANA: No, but a little civility wouldn't hurt would it?

JACK: Alright, let's cut right to the chase. I just got a phone call from a friend. A very high ranking friend in the Department of Defense.

DIANA: So? What's that got to do with me?

JACK: Apparently it has a lot to do with you. He said you've been doing everything in your power to get a hold of some very classified information. Now why would you want to do that? (Beat) Well?

DIANA: Well, what?

JACK: Why are you collecting information.... classified information.... from the Department of Defense?

DIANA: I'm working on a story.

JACK: Oh, really! What's the story about?

DIANA: Um, I can't discuss it yet.

JACK: Hmmm. Okay I'll bite. Why not?

DIANA: I don't have enough facts.

JACK: You don't have enough facts. Well, maybe I could help you.

DIANA: Journalism isn't a team sport Jack. It's everyman for himself until the paper hits the newsstand.

JACK: And what is that supposed to mean?

DIANA: It means that I am not discussing it with you.

JACK: Has it ever occurred to you that I have sources? I have my own connections at DOD. If you're on to something I can help you with your sources.

DIANA: Well, thank you and I appreciate the offer but I don't think I'm going to need your help. Now if you'll excuse me, I have a lot of work to do.

JACK: Diana, don't make me do something I don't want to do. (Beat) Throw my weight around.

DIANA: Jack you may have controlling interest in this newspaper but you don't have controlling interest in me. Now I can investigate any story I please and that's exactly what I intend to do.
JACK CLAPS LIKE A SEAL AND MAKES SEAL NOISES.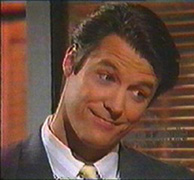 JACK: Bravo, bravissimo. Except when you raise your voice it just doesn't get to me. You see you have to remember that I'm a politician raised by politicians and I know when something is smells fishy.

DIANA: Alright. Now what can I do to convince you that I'm not hiding anything from you?

JACK: Show me what you got? (Beat) You can't do that can you? That's alright, one of these days you'll realize you can't hide things from me because I always find out. (Smirks) And I'll find out about this too.


---
SCENE THREE: JO ASKS STEVE AND KAYLA ABOUT ORGANIZING A DINNER FOR JACK. SHE THINKS THAT NOW ANJELICA HAS HER OWN BABY, THAT JACK IS FEELING ALONE. AFTER MUCH CONVINCING THEY AGREE TO COME TO HER DINNER.
---
SCENE FOUR: JACK FINDS ROMAN IN DIANA'S OFFICE. JACK FEIGNS CONCERN FOR DIANA, BUT IS TRYING TO GET ROMAN TO BECOME SUSPECIOUS OF DIANA. ROMAN DOES NOT BUYING HIS SMARMY ACT.
JACK: Roman. Look I'm glad I ran into you. There's something I wanted to talk to you about in private. If that's okay?

ROMAN: Oh.

JACK: It's about Diana.

ROMAN: Well, No, offence here Jack but I really don't want to talk about Diana with you.

JACK: Oh but I'm concerned about her. I was wondering if she was acting as strange at home as she is here.

ROMAN: Quiet down Jack. I said I don't want to talk about Diana.

JACK: She's involved in this mysterious story that's involving government documents of all things. I tried to talk to her about it and she bit my head off.

ROMAN: Is that a fact?

JACK: That's right. I thought that now with the wedding coming up she'd be all wrapped up in that she wouldn't jump into a major project like this. I even thought she was going to take time off until after the honeymoon. I wanted to suggest it but you know how she is.

ROMAN: This may come as a shock to you but you see I don't make a habit of talking behind people's backs, especially ones I plan to marry.

JACK: Well, that's right, you're her fiancé. That's why I thought you'd be interested. If I were you I be concerned.

ROMAN: But you're not, are you Jack.

JACK: You're right, I'm not. Well, I just thought I'd help out. Have a good day.
JACKS WALKS OUT QUITE SATISFIED THAT HE HAD LEFT ROMAN SUSPICIOUS.
---
SCENE FIVE: A SHORT TIME LATER JACK ARRIVES AT JO'S APARTMENT. JO IS THRILLED JACK DROPPED BY.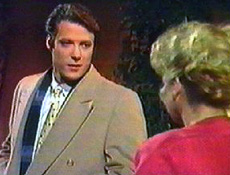 JO: Thanks for coming by.

JACK: I can only stay for a minute.

JO: I appreciate your taking the time. Let me take your coat.

JACK: Oh, let me keep it on if you don't mind.

JO: Oh sure. I just wanted to tell you how much I appreciate you wanting to help me get a new apartment.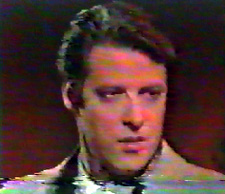 JACK: Oh, you mean you've reconsidered. That's what this is all about.

JO: No. Not exactly but I have a counter offer. I'd like you to have dinner with me tonight.

JACK: Wh.... you mean here?

JO: Yes. I'll cook.... I know it's not what you're used to but it'll be good and it'll give us a chance to have a nice conversation.

JACK: Mrs. Johnson, look I'm sorry but I've got a lot of things I've really mean to....

JO: Oh, you know. I forgot, I forgot to tell you. Steve and Kayla will be here.

JACK: (Hearing Kayla's name Jack suddenly becomes interested) They will?

JO: Yes. You'll come, please?

JACK: Well, sure, of course. Count me in.

JO: Oh that's terrific because I've got a brand new recipe that I'm going to try out. Oh where's my cookbook?
JACK FLASHES A SATISFIED SMIRK. JO, IS OVERJOYED THAT JACK AGREED TO ATTEND.
---
SCENE SIX: LATER THAT EVENING, JACK SNEAKS INTO DIANA'S OFFICE AND SEARCHES HER DESK.
JACK: What have you got here?
THE PHONE RINGS AND JACK ANSWERS IT.
JACK: Hello, Spectator. We're watching you!

KAYLA: Jack?

JACK: Yes, this is Jack. Who's this?

KAYLA: This is Kayla. Why are you answering Diana's line?

JACK: Well, Kayla, I own this place. When nobody else is here, I answer the phones too.

KAYLA: Well, do you know where she is?

JACK: Well, um, actually I'm not sure. Can I take a message?

KAYLA: Yes, I suppose. You can just tell her I called to tell her how my mother's doing and that she's alright.

JACK: She already got that message. Roman was here earlier and as a matter of fact they are probably down at the hospital right now, seeing your mom. Um.... Kayla.... I'm really glad that your mom's feeling better.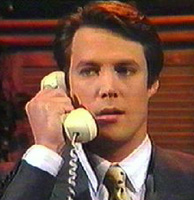 KAYLA: Thank you.

JACK: When we get together tonight we can talk more about it....

KAYLA: I'm not going to be there, Jack.

JACK: (Jack is upset) I thought that we were going to get together and have dinner tonight.

KAYLA: I have to work. I have to go. I'll talk to you later.

JACK: Kayla, wait a minute. Kayla I thought that we....
KAYLA HANGS UP IN HIS EAR.
JACK: Oh, shoot....
HE PICKS UP THE PHONE AGAIN AND DIALS JO'S NUMBER.
JO: Hello.

JACK: Ah.... Mrs. Johnson. This is Jack.

JO: Hi Jack.

JACK: Look, something came up. I've got to work tonight and.... er.... I'm not going to be able to make it. I'm going to cancel out. I'm sorry to inconvenience you like this.

JO: Oh, Jack. I planned....

JACK: Look, I'm sorry but I have to go right now. Bye.

JO: Bye....
AT JO'S PLACE JO TELLS STEVE THAT JACK WILL NOT BE COMING.
STEVE: What happened?

JO: He had to cancel. Business I guess. (Beat) Well, hey, it looks like it's going to be you and me tonight, eh?

STEVE: No, it won't.

JO: Where are you going?

STEVE: Set three places on the table.

JO: Wait a minute, wait a minute. Steve?

STEVE: Listen to me. Jack is coming to dinner tonight. You can count on that.
STEVE STORMS OUT.
---
SCENE SEVEN: JACK IS IN HIS OFFICE WHEN STEVE BURTS IN.

Steve forces Jack to attend Jo's dinner;
2:25 Min; 5.4 Meg
STEVE: Why'd you do it huh? Why did you cop out on dinner with Jo?

JACK: Something came up Steve.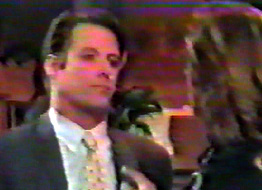 STEVE: What came up? WHAT?
JACK: Look it's none of your business Steve when....
STEVE: It's my business when you treat my mother like that. Now I'm sick and tired of watching you play her like a yo yo. One minute you give her hope and make her think everything is going to be alright between you two and the next minute you just drop her flat. Now I'm getting....
JACK: I gotta go, I gotta go.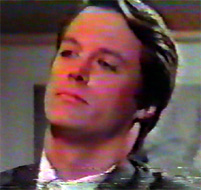 STEVE GRABS JACK.
STEVE: No, don't tell me you gotta go. I'm talking to you. And you listen to me. I want to know how you do it man? I want to know how you think you can play people like that? You pretend that you're their best friend when you want something out of them but when you're finished you just leave them out in the cold. Now why is that eh? Why do you have to be like that? Did you ever take a good look at yourself? You ever think that maybe that's why you don't have any friends and family, eh?

JACK: I gotta go (Jack looks as if is affected by Steve's words).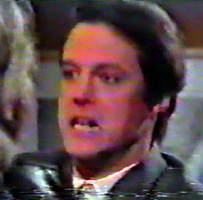 STEVE: No, you're not goin' anywhere. You listen to me. What is it Jack? Is it all the fancy schools or all the money you have, the expensive clothes, the limos, your father, eh? I feel bad for you about it, about your stepfather. I really do. But that give you the right to treat Jo the way you do. Now I don't give a damn what you do with the rest of your life but you're going to keep your promise tonight. You're going to go have dinner with your mother.
JACK: WHY? YOU TELL ME, WHY, IF I'M SUCH A HORRIBLE AWFUL PERSON, WHY DO YOU WANT ME TO BE THERE IN THE FIRST PLACE, EH?
STEVE: BECAUSE I'M YOUR BROTHER!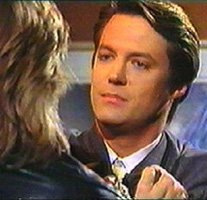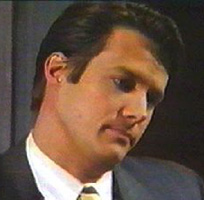 JACK: (Startled by this) Huh?
STEVE: Jo...is your mother. She's the only person who still gives a damn about you. She's the only who's holding on man. And you're going to stand there and tell me that you're going to give up the only love you've got?
JACK: (More affected than he lets on) Oooh! I'll go. Please let's not make a.... (walks away, closing his briefcase) big deal out of this, alright. It truly doesn't make a difference to me one way or the other.
---
SCENE EIGHT: JACK AND STEVE ARE SITTING AT JO'S SMALL TABLE AS SHE CLEARS UP THE PLATES.

Jack, Steve have a family dinner;
3:20 Min; 7.6 Meg

JACK AND STEVE ARE COMFORTABLE, JO IS TOO THRILLED HAVING HER SONS TOGETHER TO NOTICE. THOUGH DESPITE IT ALL, IT IS OBVIOUS THAT JACK DOES ENJOY BEING THERE.
STEVE: Oooh, mama, that was tasty. Kayla doesn't know what she missed.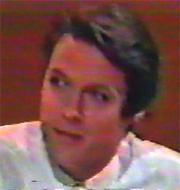 JO: Well, thank you son. Did you like it, Jack?

JACK: Huh?

JO: I remember when I use to work.... I remember that one of your favorite recipes was standing rib roast so just took a chance.

JACK: Well, it's fine, it's really fine, fine.

JO: Thank you for taking the time to come over. I realize how busy you are.
STEVE MAKES A FACE.
JACK: Ah, it really.... it was nothing. Ah, I'm glad it was able to work out. The meeting wasn't a.... wasn't a big business meeting after all (coughs). (Beat) May I.... may I get up now?
THEY WALK TO THE COUCH.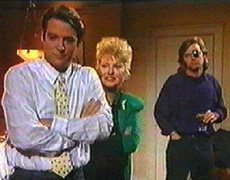 JO: Absolutely. As a matter of fact, come over here. We'll have coffee in the sitting room.

JACK: Oh, way over here eh?

JO: Yes.

JACK: Look, I tell you, I wish you'd reconsider about this place. It's a lot tinier than I even remembered.

JO: I guess I'm kinda used to it.

JACK: Well, to each his own.

JO: Sit down, sit down. Sit please.

STEVE: I'm sittin'.
SHE JOINS THEM ON THE SMALL COUCH, SITTING BETWEEN THEM.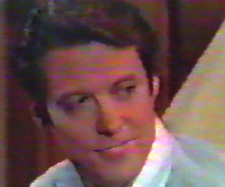 JO: I know that this place isn't what you're used to and I'm sure that that apartment you were going to put me in was much bigger but this is home. It's home and home is where your family is and where love is. Don't you agree?

JACK: Well, sure if you want this to be your home then that's fine. It's just fine (Uncomfortable, but it seems more because he actually likes being there than because he does not).

JO: That's exactly.... I want you to consider this your home too because.... oh I don't mean to live.... but I mean to come by and visit (Looks from Jack to Steve). (Beat) Steven, Adrienne and me, we're your family. We care about you.

STEVE: Let me get that coffee alright?

JO: No, don't you dare. Don't you move a muscle. I'll do it.

STEVE: No, you don't have to do it. You've done enough. You cooked that dinner there so just relax.

JO: You just sit right there, it's my job.

STEVE: What do you mean your job? You got No, job here. This is your home. Look at you, you're all dressed up. You don't look like a cook. What's the matter with you? Don't she look great Jackson?
JACK HAS A SLIGHT SMILE ON HIS FACE. DESPITE IT ALL THERE ARE TRACES IN HIS EXPRESSION THAT HE IS LOOKING AT HER WITH LOVE.
STEVE: (Continued) Huh? And look at that pin? Isn't that pretty? Where'd you get that? I've never seen that before.

JO: Well, this is the first time I've had a chance to wear it actually.

STEVE: Hmmm. Where'd you get it?
JACK SEEMS MOVED THAT SHE CHERISHES IT SO MUCH. THOUGH ALSO EMBARRASSED BY HER AFFECTION FOR IT.
JO: I'm not quite sure. I went to the children's party at Christmas at the hospital and Santa Claus gave it to me. It's very special.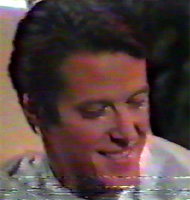 JACK CANNOT TAKE IT ANY LONGER, HE SEEMS OVERCOME WITH CONFLICTING FEELINGS. JACK RUSHES TO THE DOOR AND GETS HIS COAT. JO FOLLOWS.
JACK: Ah.... excuse me. I have to get back to the paper. I have a lot of work to do tonight, if you'll excuse me? I've really got to go.

JO: I'll walk you out.

JACK: I've really got to go.

JO: Jack, Jack.... Jack.... ah wait a minute. I want to thank you. I want to thank you for coming by.
STEVE HAS FOLLOWED THEM TO THE DOOR. JO KISSES HIM ON THE CHEEK.

JACK SEEMS CONFUSED BY HIS FEELINGS, AND DESPITE HIS EMOTIONAL ARMOR LIKES HER AFFECTION, HE NEEDS TO GET AWAY.
JACK: (Softly, his voice catching; nodding ) Sure....
SMILING, SHE CLOSES THE DOOR, BUT JACK STOPS OUTSIDE IN FRONT OF IT, PUTTING ON HIS JACKET.
JACK: (Overcome with emotion, near tears) Oh, goodnight, Mama.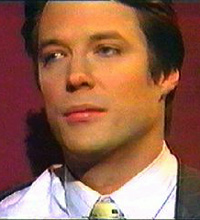 ---
SCENE ONE: ANJELICA [NEW ACTRESS PLAYING THE ROLE FOR A SHORT TIME BEFORE A PERMANENT RECAST] AND HER NEW BABY SON, ALEXANDER, ARE COMING HOME FROM HOSPITAL. JACK HAS COME TO VISIT. ADRIENNE OPENS THE DOOR. JACK IS EXCITED.
ADRIENNE: Jack.

JACK: Adrienne, Sis! (He kisses her cheek, runs around the living room looking for Baby Alexander) Where is he? Where is that little guy? Hey, come here.... where is.... boy I'm early aren't I?

ADRIENNE: Yeah.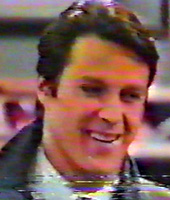 JACK: Well, I guess I couldn't wait. I mean this is my first chance to see my bouncing baby brother.

ADRIENNE: Baby brother?

JACK: Oh, yeah. And you can bet I'm going to spoil him too and when Anjelica makes me the godfather, no excuse but to take him out to every ball game there is, buy him anything he wants....

ADRIENNE: You're excited about the baby aren't you?

JACK: Oh, yeah. Alexander is exactly what I need in my life right now.

ADRIENNE: What do you mean?

JACK: Well, I finally get a chance to be a brother to somebody.

ADRIENNE: Jack, you have a brother, Steve.

JACK: Um.... look Steve isn't exactly the ideal.... brother, you know.

ADRIENNE: He could be.

JACK: Look, the ideal brother is somebody who will accept you just the way you are and I know that Steve can't do that. Now Alexander.... Alexander is going to accept me just as I am. He's going to be good for me and I'm going to be good for him. He's exactly what I need in my life right now.

JO: Jack.

JACK: Mrs. Johnson, I didn't know you were here.

JO: Would it have made a difference?

JACK: If you're talking about Alexander, I meant what I said.

JO: Adrienne's right you know. You do have a brother.

JACK: You mean Steve.

JO: That's exactly who I mean. You know you two were so close when you were little.

JACK: Huh, uh. Alexander and I are going to stay close. Nothing's going to separate us. I'll see to that.

ANJELICA: Jack, what a nice surprise.

JACK: What do you mean surprise? I've been waiting for you.

ANJELICA: I bet this is who you've really been waiting to see.

JACK: Oh, you bet you're right. Hey, hey, I'm your big brother. Hi. He's beautiful Anjelica.

ANJELICA: I think so.

JACK: Ooooh.

ANJELICA: Mrs. Johnson, is everything ready for us?

JO: Yes, everything's all ready.

ANJELICA: Good.

NEIL: Hello, Adrienne.

JO: Oh, no, no, doctor, let me take this for you.

NEIL: Thank you, Jo.

ADRIENNE: (To Justin) Hi. Anjelica may I see him?

ANJELICA: Sure.
JACK WATCHES AS ANJELICA SHOWS ADRIENNE THE BABY.
ANJELICA: Well, I bet I know who wants to hold him first?
JACK GETS A BIG GRIN ON HIS FACE.
ANJELICA: Justin.

JUSTIN: Me?

ANJELICA: Yes, of course you. You did help deliver him didn't you?

JUSTIN: Yes, I sure did. Hello there, little Alexander.

JACK'S FACE DROPS AS SHE HANDS THE BABY OVER TO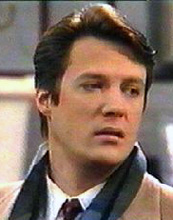 JUSTIN. JO NOTICES HIS PAIN.

ANJELICA: I wasn't going to ask you this till later but I don't see any reason to put it off. Justin would you do me the honor of being Alexander's godfather?
JACK TURNS AWAY WITH TEARS IN HIS EYES. HE STANDS THERE AS ANJELICA INSISTS THAT SHE WANTS JUSTIN TO BE THE GODFATHER. EVERYONE ELSE IN THE ROOM NOTICES JACK'S PAIN.
JACK: Hey, Justin congratulations. You're going to make a great godfather.

JUSTIN: Thank you.

JACK: You really are.
ANJELICA DECIDES TO TAKE THE BABY UP TO THE NURSERY AND NEIL GOES WITH HER. ADRIENNE LEAVES AND JACK IS LEFT ALONE WITH JO WATCHING HIM. ANJELICA IS ABOUT TO LEAVE THE NURSERY AND REST BUT NEIL WANTS TO DISCUSS SOMETHING WITH HER.
NEIL: It's about your choice for godfather for Alexander.

ANJELICA: What about it?

NEIL: Well, in the first place I was kind of surprised that you made the choice without talking to me first.

ANJELICA: Are you upset because I chose Justin as Alexander's godfather?

NEIL: No, but I think Jack might be.

ANJELICA: Jack.... oh no. I didn't mean to slight Jack.

NEIL: Well, from the look on his face I think he was counting on it.

ANJELICA: I'll talk to him.

NEIL: Good.

ANJELICA: I'm sure I can make him understand. Neil thanks for mentioning it to me.
---
SCENE TWO: JACK IS DOWNSTAIRS POURING HIMSELF A CUP OF COFFEE.
JO: Jack....

ANJELICA: Mrs. Johnson.

JO: Mrs. Curtis.

ANJELICA: Would you please bring us some tea?

JO: Regular or herbal?

ANJELICA: Jack, which would you prefer?

JACK: Ah.... either.

ANJELICA: Well I'm sick of herbal tea so why don't you brew us a nice big strong pot of English Breakfast?

JO: Fine. Ja....

ANJELICA: And while you're at it why don't you make us a few finger sandwiches too?

JO: Of course.
JO LEAVES.
ANJELICA: I'm glad you're still here.

JACK: Actually I was just leaving.

ANJELICA: Jack please don't.

JACK: You don't have....

ANJELICA: I want to talk to you.

JACK: You don't have to make any kind of explanation to me.

ANJELICA: Maybe not but I'd like to give you one. (Beat) I'm sorry. I never meant to hurt you.

JACK: Anjelica, I know you didn't mean....

ANJELICA: And I'm even sorrier that I didn't ask you now that I know how much it meant to you. But I had my reasons.

JACK: Anjelica this is not necessary. Really it's not.

ANJELICA: Oh, Sweetheart, look I know you're feeling hurt and left out but I want you to think of Alexander as your brother. I mean that.

JACK: Oh, wait a minute. Anjelica you've got a whole new life going on here. You've got Neil and now you've got little Alexander. I really don't fit into any of this.

ANJELICA: But you can. I want you to fit into it. We both do.

JACK: Are you sure about that?

ANJELICA: Yes.... yes. (Hug) How could you not be part of my life? When I think of all those ice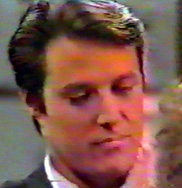 cream parties you made me throw for you when you were growing up. My hands still get sticky just thinking about it. And all the Christmases and the times I would drive up to your private boarding school for no other reason than to sneak you out so I could take you shopping with me. Jack, we've always been close and we'll always be close nothing will ever change that.

JACK: Anjelica you know how much you mean to me. That little guy up there, he means a lot to me now too. But we are really kidding ourselves if we think that things are the same, that things haven't changed.

ANJELICA: They haven't changed that much.

JACK: Oh, well.... er.... if you don't mind I'd like to go up and take a peak at him.

ANJELICA: Sure.... yes.

JACK: I'll tell you one thing, if you're half as good to him as.... you've been to me, he's going to be one lucky little guy.
ANJELICA LEAVES.
---
SCENE THREE: JACK GOES UP TO SEE ALEXANDER. HE KNEELS BY THE CRIB HOLDING A TEDDY BEAR.

Jack talks to Baby Alexander, Jo tells him to accept his real family;
3.15 min; 4.5 meg.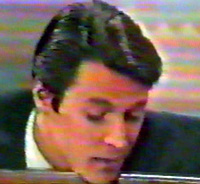 JACK: Hey there, hey. Hi. Alexander. I want to introduce myself. My name is Jack and we're now going to be seeing a lot more of each other. We're going to be close. We're going to be as close as two brothers can be.
JACK GETS UP WITH TEARS IN HIS EYES AND BACKS AWAY FROM THE CRIB AS JO WATCHES FROM THE DOOR.
JACK: You something, even if we're not blood relations, we're going to be family. And if you ever have a problem I want you to come to me and talk to me. Because we're going to talk. Are we ever going to talk? Just like real brothers. Cause we're going to be a real family, you and me.

JO: Jack, you're fooling yourself. I hope you know that.

JACK: Mrs. Johnson.

JO: We didn't get a chance to finish our talk earlier.

JACK: Well I really don't have time to chat. I have to go.

JO: I meant what I said. You're kidding yourself if you think that this baby is going to make up for your real family.

JACK: It's really none of your business.

JO: Oh, yes, it is much my business. I'm your mother and I've made it my business. Jack I know how you're feeling right now.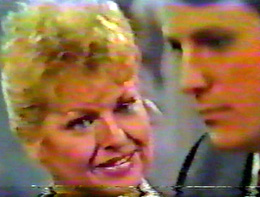 JACK: You don't have the slightest idea how I'm feeling.

JO: Yes. Yes I do. You're feeling very left out and lonely and you're very angry at me. I know that.

JACK: Mrs. Johnson, I'm not angry with you.

JO: And I know.... I know.... that you hate calling me Mrs. Johnson. I know that it's just a habit. So why don't you stop it? Why don't you.... why don't.... why don't you just call me mama, please?
JACK WALKS AWAY FROM HER.
JO: Alright but it doesn't change things. You miss your family so much that you are willing to reach out for some family.... a baby that doesn't even belong to you.

JACK: You stop it. You stop it right now. If I want my stepmother's baby to be my family, it's totally up to me.

JO: When are you going to admit the fact that you already have a brother?

JACK: Yeah.... a brother who challenges me and tests me every time I try to open up to him.

JO: Can you blame him?

JACK: When this baby grows up he's not going to challenge me or test me. He will accept me for who I am.

JO: I accept you for who you are. But you've got to stop this fantasy about this baby being a part of you. This baby is a part of another family. You are a part of us. The Johnsons are the only real family that you are ever going to have. You and Steve are brothers and you're going to have to accept that and learn what that means. Now you think about it.
JO WALKS OUT.
---
SCENE FOUR: JACK HAS COME DOWN STAIRS, HE IS LEFT HOLDING A SMALL WHITE TEDDY BEAR, JO WATCHES ON, SAD FOR HER SON, THAT HE IS HURTING AND THAT HE STILL CANNOT OR WILL NOT ACCEPT THE JOHNSONS AS HIS FAMILY. THOUGH, IS JACK THINKING OVER WHAT JO SAID. KENNY LOGGINS' "THE MORE WE TRY" STARTS PLAYING, FIRST A GUITAR SOLO.

"Some lessons are forever;
Never need to change...."