---
[Air date April 1989]
SCENE ONE: THE NEXT DAY JENNIFER IS WALKING IN THE ALLEY WHEN JACK APPROACHES HER.
JACK: Jennifer!

JENNIFER: Jack, you nearly scared me half to death.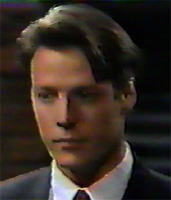 JACK: I'm going to do more than scare you if you don't have that housing assignment for me.

JENNIFER: What?

JACK: The assignment I gave you yesterday, you remember?

JENNIFER: Yeah I'm sorry. I haven't even started it yet.

JACK: Uh, uh. Uh! Try again.

JENNIFER: Jack I was at the prison all day today.

JACK: Oh come on. I could make up something better than that.

JENNIFER: Look Jack, Sally is miserable. Her baby is with some strangers who are keeping her for the money and I can't think about anything else.It's not like I haven't tried.

JACK: Try harder.

JENNIFER: Look I know that you went out of your way to hire me back alright but I can't change how I feel. And I don't know what to do.

JACK: I do. Forget it. Forget the whole thing. Forget the housing story and pretend it never happened and.... um.... take another assignment. I have another assignment for you and it starts tonight. I want you to cover the revival that's going on down at the pier.

JENNIFER: I can't. I'm sorry. I can't even think about....

JACK: Don't say, don't think, just do. And tomorrow at twelve noon have the story on my desk or it's bye bye Jennifer. And don't try to come back to me crawling and begging because I won't take you back this time, you understand that?

JENNIFER: Yes.

JACK: Good, good. I'm glad we understand each other. Now you get your priorities straight and....

JENNIFER: Look Jack, I am not giving up on Sally. Alright you will get your article but my first priority is Sally and her baby. I do not give up on anyone or anything that I care about and there is nothing you can do or say to change that.
JENNIFER STORMS AWAY.
JACK: Yeah. I kinda noticed.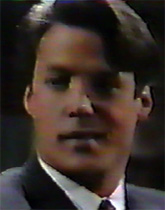 JACK IS IMPRESSED WITH JENNIFER'S SPUNK, AND HOW SHE FIGHTS FOR THE UNDERDOG.
---
SCENE TWO: JENNIFER GOES DOWN TO THE PIER WHERE THEY ARE SETTING UP THE REVIVAL TENT. JENNIFER BEGINS HER RESEARCH WITH FAITH THE DAUGHTER OF THE GUY IN CHARGE, REVEREND SAUL TAYLOR. SHE ENCOURAGES FAITH TO WEAR SOME MAKEUP BUT HER FATHER GETS UPSET WITH JENNIFER AND WANTS HER TO LEAVE.
---
SCENE THREE: JACK ARRIVES JUST AS ALL THIS IS HAPPENING. JACK HAS A SMUG EXPRESSION, HE SEEMS TO KNOW THAT THE REVEREND TAYLOR IS GIVING JENNIFER A BAD TIME, AND IT IS UP TO HIMSELF TO HELP HER.
JACK: Reverend. Is there a problem here?

REV. TAYLOR: And who might I ask are you?

JACK: Jack Deveraux, Sir. Owner and publisher of The Salem Spectator. "25 cents at your local newsstand."

REV. TAYLOR: Ah, a member of the press. Why didn't you say so my friend? What can I do for you?

JACK: Well, actually, I was hoping to do a cover story on your ministry.

REV. TAYLOR: Excellent. The more who know of our good work the more souls that are brought to the fountain. My daughter and I are at your complete disposal Mr. Deveraux.

JACK: Then you don't mind being interviewed by a reporter then?

REV. TAYLOR: Not at all. Any questions you like.

JACK: Well, actually I was going to have one of my staff reporters....

REV. TAYLOR: Well, I'd be very pleased to give your representative as much time as he needs.

JACK: Well, I'd like to introduce you to one of my reporters, Jennifer Horton. She's the reporter I was talking about.

REV. TAYLOR: You?

JENNIFER: I'm fully qualified, Reverend.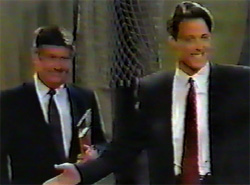 REV. TAYLOR: I'm sure you are. My dear young lady. I hope you'll forgive me. The pressure of setting up in a new town is my cross to bear although that doesn't excuse my somewhat hostile behavior. I just hope we can put all that behind us and begin again.

JACK: Well, there, all friends!

JENNIFER: You know, Reverend, I would like to interview you sometime soon. I mean at your convenience.

REV. TAYLOR: Anytime, after Friday evening.

JENNIFER: Well, I'll be at the revival so maybe we can talk afterwards. Great and it was really nice meeting to met you Faith.

JACK: We better be going. Let's run along. God bless you both.

JENNIFER: Bye.
JACK AND JENNIFER LEAVE THE TENT.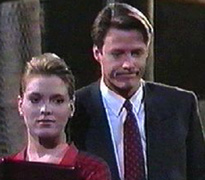 JENNIFER: Oh I suppose you're waiting for me to thank you for helping me out with him, huh?

JACK: Only if the spirit moves you sister.

JENNIFER LAUGHS.

JACK: (Cont.) Hallelujah to you.

JACK WALKS AWAY. JENNIFERS WATCHES HIM. SHE SEEMS TO LIKE JACK, MAYBE MORE.
---
SCENE FOUR: LATER THAT DAY, JACK WALKS INTO THE STAFF LOUNGE AT THE HOSPITAL AND FINDS JENNIFER THERE.

Jack and Jennifer banter.
1:55 Min; 3.5 Meg
JACK: (Imitating Gomer Pyle) Surprise, surprise, surprise. It's Jennifer.

JENNIFER: You following me around Jack?

JACK: No. I'm here for a board meeting.

JENNIFER: Oh good for you. And I'm here checking the volunteer list.

JACK: Did I ask?

JENNIFER: No but you were going to. Oh and then you were going to ask me about the revival article but I can't get it to you until after Friday so don't bug me alright.

JACK: "Thank you Jack."

JENNIFER: Excuse me?

JACK: "Thank you, Jack. For giving me that first assignment and having the compassion to give me another second chance which I probably didn't deserve in the first place. And.... for showing up at the tent and saving my second assignment. I am waiting for a thank you on that one."

JENNIFER: Thank you.

JACK: Well, so much for great expectations. Friday?

JENNIFER: Friday.

JACK: Hmmm. Well, since there's no typewriters around here maybe I can give you a lift back to the newspaper.

JENNIFER: Actually I wasn't headed to the paper Jack.

JACK: No more crusading for Sally and the baby?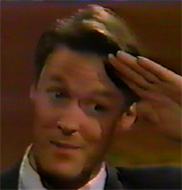 JENNIFER: Yes. I told you before that Sally and the baby were....

JACK: Oh, oh, oh, okay, I understand. I'm sorry. "Truth, Justice and the American way." "Don't give up the ship."

JENNIFER: Look I know that there is some way to get Hannah away from those foster parents.

JACK: You are dreaming you know that. You are talking about bureaucracy beyond your wildest dreams. You are just going to be wasting your time banging your head against a brick wall.

JENNIFER: Look, Sally and her baby are not an assignment anymore right?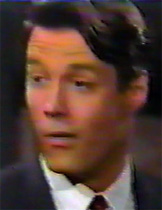 JACK: Well, yes that's one thing we do agree on.

JENNIFER: Great. Okay then we're not talking about work which means I don't have to stand around and listen to this bull after hours.

JACK: (Jack is surprised and seems to like Jennifer giving it back to him) Whoa!

JENNIFER: Look Jack, if I want to be depressed, I'll read your biography.

JACK: No, no, no. Wait for the movie.... (Jennifer's leaves) Better yet rent the video.
JACK PICKS UP THE PHONE.
JACK: Hello, I want to talk to Dan Le Gant. (Beat) Danny, Danny, hi this is Jack. I need a little bit of that legal voodoo that you do so well.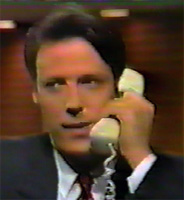 Remember I was talking to you about that little baby, the ward of the state, yeah, her name is Hannah Wales, yeah right, mother named Sally. I want you to tell me how I can have her assigned to me as a foster child.
---
SCENE ONE: LATER JACK IS BACK IN HIS OFFICE WHEN HE GETS A VISITOR, DOYLE ARCHER
JACK: Archer, you said your name was.

DOYLE: Doyle Archer. My boss said he spoke to you already.

JACK: Yes, yes, he mentioned something about some real estate he's planning on developing.

DOYLE: Yes that's right. What he was hoping is perhaps you could write an article about him in the paper. Ah, here's a portfolio about him.

JACK: Thank you. Have a seat. Yes, yes, this is very interesting. Your boss has some big plans for Salem.

DOYLE: You got a problem with that?

JACK: Who me? No, no. But there are some people in this town who are not as broad-minded as I am.

DOYLE: We've run across slow growth movement before but it's taken a lot more than that to stop a man like my boss.

JACK: We'll see. Anyway thank you for bringing this to me. I'll be in touch.

DOYLE: Goodbye.

JACK: Goodbye.
---
SCENE TWO: ARCHER LEAVES JACKS OFFICE AND RUNS INTO CAL. THEY RECOGNIZE EACH OTHER. AFTER A TALK ABOUT OLD TIMES, CAL GOES IN TO SEE JACK.
JACK: Enter. Oh, Lieutenant. Come on in.

CAL: Listen this won't take long now.

JACK: Have a seat.

CAL: Yeah thank you.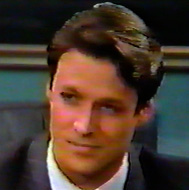 JACK: Thank me for what?
CAL: Well, I know that you're the one that put up my bail. What I don't know is why. I mean Jack, you barely know me. I just don't see why you'd put up my bail.
JACK: I may know you better than you think.
CAL: That's not much of an answer. I guess that's about as much as I'm going to get from you right now, eh? Okay, look, I'm going to pay you back.
JACK: Don't worry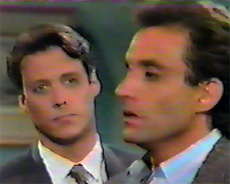 about that. Please don't worry. I'm not worrying about it. Besides I know that Diana would have bailed you out if she'd been in town. You know that she's in Hawaii with Roman don't you?

CAL: Yeah, I knew that.

JACK: (Jack's expression almost seems as if he feels bad and sympathizes for what Cal is experiencing) And that was where you two got together.

CAL: Yeah, it was but once she gets there, she's going to remember. She's going to remember what we had. She won't be able to deny it any longer.
---
SCENE THREE: A SHORT TIME LATER ANJELICA COMES BY TO SEE JACK, SHE IS UPSET.
ANJELICA: Jack I have to talk to you.

JACK: Anjelica.

ANJELICA: Ah, well, it's finally happening. Victor is moving in on me and he's doing everything he can to get my baby.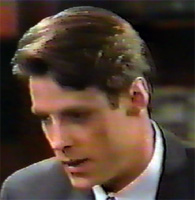 JACK: Sit down. Sit down. Please sit down and tell me what has Victor done.
ANJELICA: Victor, it seems, has been financing Neil's gambling habits and now he's calling in every single one of his markers so he's going to get every single dime that Neil has so I now have to go to him for support.
JACK: No that is a ridiculous plan in the first place because you know that I would give you anything that you and Alexander need.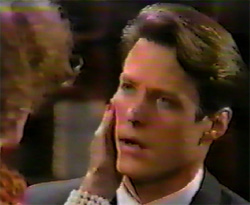 ANJELICA: Oh Jack thank you but I would never put you in that position because that's what I did to Neil and look what's happened. No, Victor is never going to do that to you.
SHE BRUSHES HIS CHEEK WITH HER HAND.
JACK: Look I can handle Victor.

ANJELICA: I know you can and I appreciate the offer but this is my problem and I got myself into it and I will get myself out of it.

JACK: How do you plan to do that?

ANJELICA: I only know one way I can. It's very risky and I may lose everything but I don't have any other choice right now.
---
[Air date April 1989]
SCENE ONE: THE REVIVAL MEETING IS UNDERWAY ON THE PIER WITH STEVE AND KAYLA SHARING THE LIMELIGHT WITH A FUNDRAISER FOR THE COMMUNITY CENTER. EVERYONE IS ARRIVING INCLUDING JENNIFER WHO IS THERE TO DO HER STORY FOR JACK AND THE SPECTATOR.

THE REVEREND ASKS STEVE AND KAYLA ON STAGE TO THANK THEM FOR THEIR HELP. AS THEY ARE ON STAGE ONE OF THE TIMBER SUPPORTS FOR THE TENT BREAKS AND THE WHOLE THING COLLAPSES ON TOP OF THE CROWD. JENNIFER IS PINNED UNDER A BEAM.
---
[Air date April 1989]
SCENE ONE: JACK IS VISITING ANJELICA AND ALEXANDER.
ANJELICA: Hi, Jack.

JACK: Anjelica, I thought you were going to be in the nursery.

ANJELICA: Oh no, no, no. Well?

JJACK: How's the little fellow doing?

ANJELICA: Well, take a look.

JACK: Hey pal. How are you doing?

ANJELICA: Look whose come to see you baby.

JACK: Actually Anjelica, I came to see you.

ANJELICA: Oh.

JACK: After our talk the other day you left me a little worried.

ANJELICA: Oh, Jack I'm sorry. I didn't mean to do that.

JACK: Oh really. Something up then?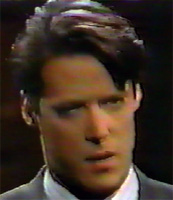 ANJELICA: Well, not exactly. Not yet anyway, but it will be.

JACK: Huh, uh. Got some things in the works?

ANJELICA: Maybe I don't want to jinx it but who knows. If things go the way I want them to, you're never going to have to worry about me again.

JACK: Well, I don't worry about you. I just want you to be happy.

ANJELICA: Thank you sweetheart.

JACK: No thanks necessary. You deserve it. Both of you do.

ANJELICA: Yes we do. We both deserve it and I think he deserves a little lunch right now.

Jack finds out Jennifer has been injured;
25 sec; 1 Meg

JACK: Can I use the phone?

ANJELICA: Oh Jack, don't ask.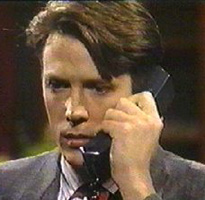 JACK: Good. I'm keeping an eye on a particular story which at this time is only about.... eight hours overdue. (Talking on the phone.) Vern Scofield please. (Beat) Vern, hi. Has Junior Miss gotten back from the revival me.... what (Jack's voice changes)? Wait a minute. When did that happen? (He seems very concerned about what Vern has told him) Okay, don't worry, I'll be right down there. Okay. I'll be right there.

ANJELICA: Jack?

JACK: (Very upset) There's been an accident down at the pier.

ANJELICA: Jack what?

JACK: (Frantic) One of my reporters is down there.
JACK RUNS OUT TO GO TO THE PIER.
---
SCENE TWO: ON THE PIER, JENNIFER IS UNCONSCIOUS AND TRAPPED. STEVE IS TRYING TO GET HER OUT WHEN JACK ARRIVES.

Jack shows his concern for Jennifer.
50 sec; 2 Meg
JACK: Press, press, coming through.

COP: No one's allowed inside.

JACK: Look, I'm looking for one of my reporters. Jennifer Horton.

COP: I don't care who you're looking for no one's allowed in.
JACK LEAPS PAST THE MAN AND INTO THE COLLAPSED TENT.
JACK: Press, press. (Frantically call for her) JENNIFER, JENNIFER!.... JENNIFER!

STEVE: We need some help over here.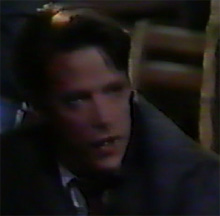 JACK: Jennifer. We got to get this thing off her. Come on let's move it.
JACK FRANTICALLY TRIES TO LIFT THE BEAM OFF JENNIFER WHILE STEVE STOPS TO STARE AT HIM. ALICE IS IN THE BACKGROUND FRANTIC. KAYLA IS ALSO BY HER.
JACK: (To Steve) What the hell are you looking at? Let's move it.

STEVE: (To Jack) Let's do it. Come on. One, two, threeeeee. All the way up!

ALICE: (In the background) O Heaven, let her be alright!
THEY HAVE LIFTED THE BEAM FROM HER. HOWEVER, SHE IS NOT MOVING.
STEVE: (To himself) We got it, Billy.

ALICE: Frantic) Oh.... Tom....

JACK: Oh (from the strain for moving the heavy beam and fear for Jennifer's safety), where the hell's the ambulance?

ALICE: Oh, here they are right now.

STEVE: (To Kayla, he is out of breath too) Kayla, get the --
BEFORE HE FINISHES SHE RUNS OFF TO GET HELP.
STEVE: (Cont.) ....the paramedics.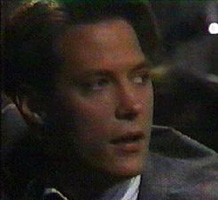 JACK: Jennifer, hang in there Jennifer. Hang in there.
STEVE CONTINUES TO STARE AT JACK AS HE SHOWS HOW MUCH HE CARES ABOUT JENNIFER.
---
SCENE THREE: JENNIFER IS TAKEN TO HOSPITAL AND IS STILL UNCONSCIOUS. JACK WAITS OUTSIDE HER ROOM AS ALICE, TOM AND MICKEY LISTEN TO MIKE'S DIAGNOSIS.

MIKE SAYS THERE IS AN INJURY BUT THEY WILL HAVE TO WAIT FOR MORE TESTS.
---
SCENE FOUR: ANJELICA CREATES A VIDEO MESSAGE FOR JUSTIN, IN IT SHE REVEALS THAT HE IS ALEXANDER'S FATHER. ADRIENNE WATCHES THE VIDEO WITH HIM.
---
SCENE FIVE: JACK CONTINUES TO WAIT OUTSIDE WHILE THE FAMILY IS BY JENNIFER'S BEDSIDE. MIKE COMES OUT AND JACK ASKS HIM ABOUT HER.

Mike tells Jack to leave Jennifer alone.
55 sec; 2 Meg
JACK: Excuse me, Mike.

MIKE: What do you want?

JACK: Well, I'd like to see how Jennifer's doing?

MIKE: Well, we don't know yet.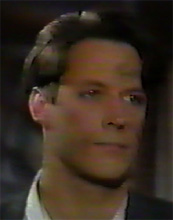 JACK: Wait a minute, wait a minute. Come on, tell me. Is it serious or what?

MIKE: Since when are you so concerned about what's happened to my sister?

JACK: Well, I think it's only natural. She's my employee and a good reporter and I'm.... concerned. Actually, I'd like to see her.

MIKE: Well, you can't. Family only and that's doctor's orders.

JACK: (Jack is hurt by his remarks) Whatever you say.

MIKE: Leave her alone Jack. It's best thing for her.
---
SCENE SIX: JACK IS WORRIED AND GOES BACK TO WATCHING THROUGH THE DOOR. A BIT LATER MIKE COMES BACK WITH GOOD NEWS. IT IS ONLY A SEVERE CONCUSSION AND SHE SHO ULD BE OUT OF IT SOON. JACK OVERHEARS AND IS HAPPY.

MIKE ORDERS EVERYONE HOME TO GET SOME REST. JACK WAITS UNTIL THEY HAVE LEFT AND GOES IN TO SEE JENNIFER.

Jack visits Jennfer; he obvious cares for her.
1:10 min; 2.7 Meg

JACK STOPS AT THE DOOR, SEEING HOW VULNERABLE SHE LOOKS, AND IS AFFECTED.
---
SCENE SEVEN: IT IS A LITTLE LATER. JACK HAS BEEN IN HER ROOM. HE IS LOOKING OUT OF THE WINDOW, THEN GOES TO HER BED. HE LOOKS DOWN AT HER AND CARESSES HER HAIR. IT APPEARS THAT JACK CARES DEEPLY FOR HER.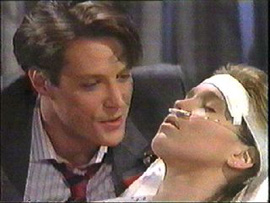 JACK: Hey, Jennifer. Look, we got a lot of work to do. You can't just lie around like this all day. You better wake up. Look, I want to tell you something, I've got a surprise for you so you got to wake up real soon. (Beat) Okay.
JACK CONTINUES TO LOOK LOVING AT HER. IT APPEARS THAT MR. DEVERAUX IS FALLING IN LOVE WITH HIS CUB REPORTER.