---
[Air date May 1989]
SCENE ONE: SHANE AND KIMBERLY ARE HAVING A PARTY FOR COLONEL JERICHO AND ALL THE BEST PEOPLE IN SALEM ARE INVITED. JENNIFER ARRIVES ON HER OWN AND IMMEDIATELY AFTER IN WALKS JACK. HE IS LOOKING EXTREMELY HANDSOME IN HIS TUX.

Makes one believe in kismet;
45 sec; 1.6 Meg
SIMMONS: Let me help you with that Miss Horton?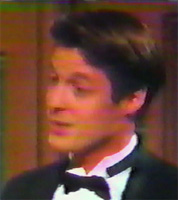 JENNIFER: Thank you very much.

JACK: Well, well, well, well, well.

JENNIFER: Hi Jack.
BOTH JACK AND JENNIFER GIVE EACH OTHER A QUICK GLANCE UP AND DOWN. THEY SEEM TO LIKE WHAT THE SEE.
JACK: Good evening to you. Kinda makes one believe in Kismet.
JACK KISSES HER HAND. JENNIFER PULLS IT AWAY, EMBARRASSED.
JENNIFER: Jack, what are you talking about?

JACK: Well, now we can go in together, make an entrance, make an impression. I mean really play it up.

JENNIFER: Don't you think you're carrying this whole thing a little bit too far?

JACK: Well, it's up to you Jennifer. But If you think that social worker is going to hand Hannah over to us on our word alone, you've got another guess coming. Come on. I know she's going to want to talk to some of your friends and family members and that includes your grandparents, Kimberly Donovan, any number of them. Just go along with me....

JENNIFER: Okay, okay. I'll just go along with it. Don't get carried away.

JACK: Of course I won't.
HE PUTS HIS ARM AROUND HER AND THEY WALK IN TOGETHER. TOM AND ALICE SEE THEM TOGETHER AND ARE COMPLETELY PUZZLED. AGAIN JACK SEEMS TO BE ENJOYING THIS LITTLE CHARADE. IT SEEMS AS THIS MEANS MORE TO HIM THAN HE LETS ON, OR THAN HE WANTS TO ADMIT TO HIMSELF.

Alice and Tom are confused by Jack & Jennifer;
1 min; 2.4 Meg
JENNIFER: Hi Granma.

ALICE: Hi.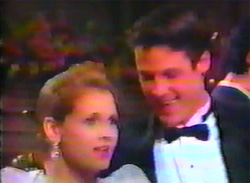 JACK: Hello Dr. Horton, Mrs. Horton.
TOM: Hello Jack.
JACK: I bet you're pretty surprised to see us together?
ALICE: Yes. Well, I.... I mean yes.
JACK: Well, I guess the cat's out of the bag now, eh, sweetheart?
TOM: Sweetheart?
---
SCENE TWO: SHANE INTERRUPTS AND INTRODUCES COLONEL ALFRED (FREDDIE) JERICHO TO THE GUESTS. WHILE SHANE IS TALKING JACK TRIES TO PUT THE RING BACK ON JENNIFER'S FINGER.

SHE REFUSES AND HE KEEPS IT. THEY BICKER. JACK MOUTHS "OKAY."

JACK AND JENNIFER MINGLE WITH THE GUESTS AND JACK MAKES SURE THAT EVERYONE THINKS THEY ARE A COUPLE. JUSTIN AND ADRIENNE ARRIVE. THROUGHOUT JACK IS PLAYING IT UP, AND JENNIFER IS TRYING TONE HIM DOWN. THEY BANTER SOME. JACK SEEMS TO BE ENJOY HIMSELF.

Adrienne is confused by Jack & Jennifer;
55 sec; 2 Meg
ADRIENNE: What is Jack doing with Jennifer Horton?

JUSTIN: Don't ask me.

JACK: Justin, Adrienne.

ADRIENNE: (She continues to be confused by Jack and Jennifer) Oh, hi.

JACK: Hi.

JENNIFER: Hi.

JUSTIN: I'm going to get myself a drink. (To Adrienne) Can I get you one?

ADRIENNE: Oh, mineral water would be fine for me thanks.
JUSTIN WALKS AWAY.
JACK: (Referring to Justin) We don't want anything.... it's fine.
ADRIENNE FEELS WEIRD. JACK IS MILKING IT FOR ALL ITS WORTH, AND HE IS ENJOYING IT. JENNIFER CANNOT SEEM TO BELIEVE WHAT HE IS DOING.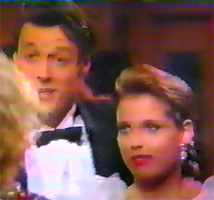 JACK: (Referring to Jennifer) Right sweetheart?

JENNIFER: Right.
THERE IS AWKWARD LAUGHTER.
JACK: Well, Adrienne, we haven't talked in a long time. How are you doing?

ADRIENNE: Terrific. Everything's just fine. How are things with you.... two?

JACK: Fabulous, fabulous. Couldn't be better, right?

JENNIFER: Right.
ADRIENNE IS CALLED AWAY AND JENNIFER GETS ANNOYED WITH JACK FOR CONTINUALLY PUTTING HIS ARMS AROUND HER. JENNIFER PULLS HIS HAND AWAY.
JENNIFER: Stop it, Jack. Stop it!

JACK: Well.... I was just....
SHE WALKS AWAY AND HE SMILES.
---
SCENE THREE: STEVE AND KAYLA ARRIVE. SHANE TELLS THEM THAT THEY MISSED HIM INTRODUCING THE GUEST OF HONOR. HE GOES OFF TO FIND COL. JERICHO TO INTRODUCE TO THEM. THEY ASK KIMBERLY IF THEY HAVE MISSED ANYTHING ELSE. SHE SAYS NOT MUCH, JUST A COUPLE OF LITTLE SURPRISES AND POINTS OUT JACK AND JENNIFER WITH INTERLOCKED ARMS SIPPING CHAMPAGNE.

STEVE IS DISTURBED BY THE THOUGHT OF THEM TOGETHER.
---
SCENE FOUR: JACK TRIES TO FEED JENNIFER AN OLIVE ON A TOOTHPICK. SHE GLARES AT HIM, NOT AMUSED. JACK NUDGES HER TO WALK AWAY, BUT SHE NOTICES TOM AND ALICE, WHO HAVE BEEN WATCHING HER, CONFUSED AND CONCERNED. EATING THE OLIVE, SHE GOES OVER TO THEM TO EXPLAIN.
JENNIFER: I know what you're going to say. But I know what I'm doing. I promise.

ALICE: You do? Well, your grandfather and I would like to know what you're doing someday.

TOM: Well?

JENNIFER: Well, Jack is my boss.

TOM: And?

JENNIFER: And we're here on business, that's all.

ALICE: Oh. Are you sure that's all?

JENNIFER: Granma I'm positive. What else could it be? Don't worry. I can handle Jack. I'm a big girl.

TOM: Not that big.

JENNIFER: I'll be fine Grandpa.
THEY DO NOT SEEM TO THAT THERE IS NOTHING GOING ON BETWEEN JACK AND HER. THEY ARE CONCERNED THAT SHE IS GETTING INVOLVED WITH JACK AFTER ALL HE HAS DONE.

JACK CLICKS SOME GLASSES TOGETHER ACROSS THE ROOM TO ATTRACT HER ATTENTION.
JACK: Jennifer?

JENNIFER: I'll be okay I promise. I know what I'm doing.
SHE WALKS BACK OVER TO JACK. SOMEWHAT FRUSTRATED WITH HIM.
---
SCENE FIVE: SHANE AND THE ISA HAVE ASKED STEVE TO HELP THEM ON A CASE. THEY WANT HIM TO GO UNDERCOVER INVESTIGATING THE REV. SAUL TAYLOR. AT THE PARTY HE TELLS SHANE THAT HE HAS DECIDED TO TAKE THE ASSIGNMENT.
---
SCENE SIX: STEVE TELLS KAYLA THAT HE DECIDED TO HELP SHANE, SHE FIGURED HE WOULD. THEY START STEVE DANCE WHEN JACK APPROACHES THEM.

Steve does not want Jack at Jo's party;
1:45 min; 4 Meg
JACK: (He does not seem able to not torment Kayla and Steve.) Hey kids. Great party, huh?
STEVE: (Not trusting Jack.) Well, I guess that depends on who you mingle with.
JACK: Too bad we didn't get a chance to mingle, talk.
STEVE: Yeah. It's too bad.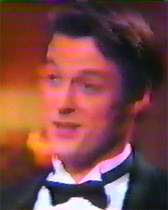 JACK: Okay. Look. Let's have a truce tonight. Truce? (Beat) Do you want to take a bite out of my arm (This time Jack actually seems sincere)....
STEVE: What do you want Jack?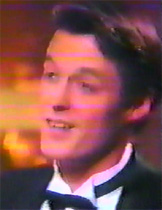 JACK: I overheard that Jo's having a big birthday and.... um.... I thought maybe I could...you know...have a little celebration for her. You know nothing big. You know just a small thing with family, friends. Well, what do you think about the Crystal Room at the Continental Hotel?
STEVE: Jo doesn't need your help on her birthday.
KAYLA: Steve.
STEVE: Besides, we've got it covered. We're going to have a little something at our place for her.
JACK: Oh, really. When?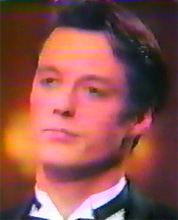 STEVE: You're not invited.

JACK: Oh. (More hurt than he shows.) Well, that's kind of strange because I was going to invite you to my party.

STEVE: (Sarcastic) Well, you see this party is for people who care about Jo. (Each word seems to wound Jack, but he tries not to show it.) And tell me if I'm wrong. That doesn't include you baby brother.

JACK: That has nothing to do with Jo. What's the real reason?

STEVE: We don't owe you any explanation. Come on baby

JACK: (Looking over towards Kayla. His voice cracks.) Kayla, I'm sorry that you can't let this go. I really ne....
KAYLA IGNORES HIM. REMEMBERING WHAT HE DID TO HER. STEVE GRABS JACK.
STEVE: Hey no. She can't let it go. I don't want you to ever mention it to her again. Do you hear me?
JACK JUST LOOKS AT STEVE WITH CONTEMPT. STEVE AND KAYLA LEAVE. JENNIFER WATCHES JACK'S PAIN FROM ACROSS THE ROOM. SHE SEEMS TO BE TRYING TO FIGURE HIM OUT, AND REALIZING THAT JACK IS A PAINED INDIVIDUAL; HER EXPRESSION SEEMS TO INDICATE THAT SHE HURTS FOR HIM. JACK STANDS THERE HURT.