---
[Air date May 1989]
SCENE ONE: A COUPLE OF DAYS LATER, STEVE AND KAYLA RETURN TO THE LOFT TO FIND THE EARRINGS SHE LEFT THERE WHEN THEY MOVED INTO THE HOUSE THAT NICK GAVE THEM FOR HELPING HIM. KAYLA KNOCKS ON THE DOOR AND JACK ANSWERS WEARING THE EARRINGS.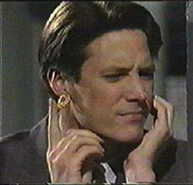 JACK: (Smugly) I don't know. What do you think? Do you think I can carry these off?

STEVE: What are you doing Jack?

JACK: Me? I'm living here. I'm renting this place.

STEVE: You're what?

JACK: I'm renting this place. You got a problem with that? (Long Beat) I guess not. You know actually I wanted to return these to you by mail but the landlord said you were coming by so.... er.... thanks for saving me the stamp. Well, I'll see you.
JACK CONTINUES TO TORMENT THEM, AS IN THE PAST.
STEVE: No, wait a minute. I want to know what's going on here. Come on Jackson, this place is not you.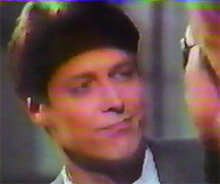 JACK: Maybe I'm changing my image.
SOUNDING SARCASTIC, *BUT* THERE SEEMS TO BE SOME TRUTH IN WHAT HE IS SAYING, BUT HE IS HIDING THIS FACT.
STEVE: Well, maybe I don't like the idea of you moving in here. What do you think of that?
JACK: I want.... I think it's none of your business what I do or where I live. Excuse me (Hurt).
JACK SLIDES THE DOOR SHUT. KAYLA WALKS AWAY AND SAYS IT DISGUSTS HER TO SEE JACK IN THE LOFT. STEVE DECIDES TO FIND OUT WHAT IS REALLY GOING ON AND BANGS ON THE DOOR. JACK IGNORES STEVE AND LEAVES THE DOOR SHUT, BUT HE ALSO SEEMS UPSET, MAYBE EVEN HURT.
---
SCENE TWO: A SHORT TIME LATER JENNIFER ARRIVES.
JACK: Come on in.
JENNIFER: Alright Jack. I'm here. So what was so important?
JACK: Well, what do you think?
JENNIFER: About what?
JACK: Our new apartment.
JENNIFER: Our what?
JACK: I said I was going to take care of everything. Look, Social Services said they needed to see where we live so now they're going to see where we live. Mrs. Simms is going to be here in a couple of minutes.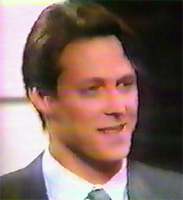 JENNIFER: No. I'm not moving in with Jack. You're crazy.
JACK: Then you can just kiss the baby goodbye. (Beat) Look Jennifer. We're just.... we're just playing here. We're playing house. You've played house before haven't you?
THERE IS A KNOCK ON THE DOOR. JACK EXCITEDLY RUNS TO THE DOOR.
JACK: Well, there she is. It's up to you. What do you want to do? In or out?
JENNIFER: Answer the door.
LETTING HER IN. THEY ARE ACTING LIKE A HAPPY AND LOVING COUPLE.

THEY DO NOT SEEM TO NOTICE HER EXPRESSION, WHICH IS NOT HAPPY.
JACK: Okay, you got it. We're coming. Mrs. Simms, come on down. Look I know the place looks kinda bad, kinda beat up but we're pulling it together. Give us a couple of months and we'll have everything fixed up.
Jack's past causes them to loose Hannah;
1:10 Min; 2.4 Meg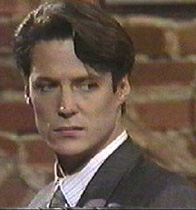 MRS. SIMMS: I'm sorry Mr. Deveraux, Mrs. Deveraux but in light of what our research has uncovered, I'm afraid the department has had to reject your application of Hannah.
JACK: What?
JENNIFER: What do you mean? What did we do?
MRS. SIMMS: Well, it's not you Mrs. Deveraux. It's what your husband's done, to his first wife. I'm afraid the courts will not give a child to a man who has pled guilty to assault charges. I'm sorry Mrs. Deveraux but Social Services has an obligation to the children first.
BEFORE SHE FINISHES, JACK SEEMS TO REALIZE WHAT SHE IS GOING TO SAY. FROM AN EXPRESSION OF JOY IT QUICKLY CHANCES TO PAIN. AS JACK LISTENS HE THINKS OVER HIS ASSAULT OF KAYLA IN HIS MIND, WE SEE IT IN FLASHBACKS. HE HAS TURNED AWAY SO THEY DO NOT SEE HIM.
JENNIFER: I understand.
MRS. SIMMS: You know your husband's past makes him completely ineligible to meet our most basic requirements.
MRS. SIMMS LEAVES. JACK IS CRUSHED.
JENNIFER: Jack? (Beat) Jack?
JACK: She was right. It was.... it's never going to be over and we're never going to forget.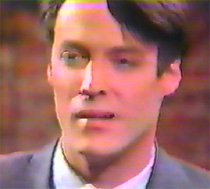 ---
SCENE THREE: A SHORT TIME LATER, JACK GULPS DOWN A GLASS OF WATER. HE IS LEANING ON THE COUNTER, AS IF FOR SUPPORT.

Jack's is affected by what happened & his past;
2:10 Min; 5 Meg
JACK: You know something? It doesn't matter what you do or how much time it takes. You can't change. Nothing will change it. And you can't just try and be sorry either. And now we can't help Sally.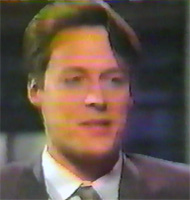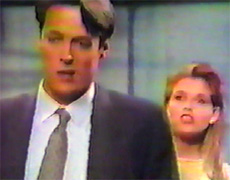 JENNIFER: Well, Jack I knew we couldn't fool everyone into believing that we were really married.
JACK: That's not why she turned us down.
JENNIFER: Come on Jack, it would have happened sooner or later. Look all we have to do is figure out a new way to help Sally and her baby, that's all. (Beat) So what about you? What are you going to do with this place?

JACK: Oh, I've got to hold on to it. I've sublet for six months. But I'm not going to live here. I couldn't live here with everything that's happened.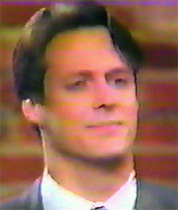 JENNIFER: It's cost you a lot hasn't it? The things you did in the past.
JACK: No. No. It hasn't cost me anything. But I tell you, I'm just kind of wondering maybe sometime in the future maybe I'm going to meet somebody and they're going to come up to me and they're going to say "Hey Jack!" and they're (sighing) not going to remember me for what I've done. (Emotionally, fighting back tears) They're not going to keep reminding me of what I've done. What I did, back when everything was so crazy.
JENNIFER: You know after what you did to Kayla it's hard for anybody to just forget, once they know.
JACK: I better get out of here.
JACK WALKS TO THE DOOR.
JACK: Jennifer.
HE THROWS THE KEYS TO JENNIFER. HE HAS TO GET AWAY. HE CANNOT SEEM TO TAKE IT ANYMORE. HE HAS TO GET OUT, TO ESCAPE THE ROOM, HIS PAST.
JACK: (Jack tosses her the keys) Lock up when you're through.
AFTER HE LEAVES JENNIFER CALLS SOMEONE ON THE PHONE AND WANTS THEM TO MEET HER AT THE LOFT.
---
SCENE FOUR: A SHORT TIME LATER, ALICE ARRIVES AT THE LOFT AND JENNIFER EXPLAINS THAT SHE IS MOVING IN. ALICE ASKS IF IT IS ALONE AND SHE SAYS YES. ALICE THINKS THE WHOLE IDEA IS TOO SUDDEN AND WANTS DETAILS. SHE TELLS ALICE THAT SHE IS GOING TO FOSTER HANNAH.
---
SCENE FIVE: ADRIENNE HAS ASKED STEVE AND JO TO MEET HER AT SHENANIGANS. SHE IS NERVOUS, AND TELLS THEM ABOUT ALEXANDER BEING JUSTIN'S SON. STEVE IS FURIOUS AND TOLD HER HE ALWAYS WARNED HER THAT JUSTIN WAS NO GOOD. JO IS PREOCCUPIED AND IS VACANT. THEY ASK HER WHAT IS WRONG BUT SHE SAYS NOTHING.
---
SCENE SIX: A LITTLE LATER, JO IS CALLING SOMEONE FROM A PAYPHONE IN THE ALLEY. SHE ASKS IF THIS PERSON WAS STILL THERE, AND PRAYS HE IS. IT SEEMS LIKE SHE IS CALLING A PRISON. SHE LEARNS THE PERSON IS NO LONGER THERE AND IS TERRIFIED. JUST THEN. EARL JOHNSON, WHO IS THE IDENTICAL TWIN BROTHER OF HER DEAD HUSBAND DUKE, STEVE (JACK AND ADRIENNE'S FATHER) SHOWS UP. HE WANTS TO SEE STEVE AND ADRIENNE AND HE HAS NO IDEA THAT JO HAS FOUND BILLY. HE ALSO BLAMES HER FOR HER TESTIMONY PUTTING HIM IN PRISON. HE SEEMS TO ALSO TO WANT HER, AND MAKES SUGGESTIONS TO THAT FACT.

JACK OVERHEARS THE END OF THE CONVERSATION AND THINKS EARL IS AN OLD ENEMY OF STEVE. WHEN JO LEAVES JACK TALKS TO EARL.
JACK: Excuse me. Hold it right there.
EARL: What do you want? What do you want?
JACK: I think maybe you and I.... maybe have a little talk.
EARL: Who are you and what do you want?
JACK: I'm a friend. Look I couldn't help but overhear your conversation with Jo Johnson.
EARL: So?
JACK: So.... what would you say if I helped you find Steve? I could help you out.
EARL: Keep talkin'.
JACK: Is my.... I get the impression that Steve wouldn't be very happy to see you.
JACK HAS A DEVIOUS AND PLEASED EXPRESSION, THINKING ABOUT USING THIS GUY TO GET BACK AT STEVE, AND MAKE STEVE LOOK BAD.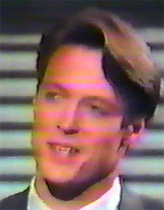 EARL: Maybe. So what?
JACK: So.... I think I can arrange a time and a place for you to run into him. In front of his whole family.
EARL: Yeah, I'd got for that. Yeah, sure, why not?
JACK: Good, good. Why don't we meet back here in a couple of hours and I'll pull it all together.
EARL: Two hours.
JACK: Two hours, right.
EARL: Okay.
JACK: I'll see you.
JACK EXTENDS HIS HAND BUT EARL IGNORES IT.
EARL: I'll see you later pal.
JACK: Right. (Beat) This is going to be one party you're never going to forget Steve.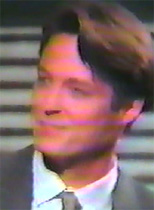 JACK TURNS AROUND TO SEE STEVE AND KAYLA STANDING THERE.
JACK: Howdy neighbors!
EMBITTERED BECAUSE STEVE DOES NOT WANT HIM AT JO'S PARTY, AND BECAUSE OF BEING REFUSED GUARDIANSHIP OF BABY HANNAH ON ACCOUNT OF HIS PAST, JACK LASHES BACK; HE SEES THIS AS A PERFECT OPPORTUNITY TO HURT SOMEONE, TO HURT *STEVE*.

JACK WALKS OFF AND STEVE IS SUSPICIOUS.

---
SCENE SIX: A LITTLE LATER JACK IS HAVING A DRINK AT SHENANIGAN'S AND JENNIFER ARRIVES TO SEE HIM.
JACK: What do you want?
JENNIFER: I've been looking for you. We have to talk.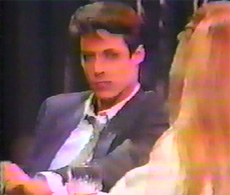 JACK: Forget it. I'm all talked out.
JENNIFER: Well, look this won't take long. You know what happened with Mrs. Simms this morning?
JACK: I was there remember.
JENNIFER: Well, after she turned us down I thought that I as going to have to tell Sally that I wouldn't be able to keep my promise about helping her take care of Hannah but I came up with the greatest idea. I can apply to be a single foster. In fact I decided to take the lease on the loft. What do you think?
Bitter Jack lashes out at Jennifer;
2 Min; 4.7 Meg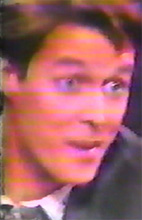 JACK: (Back to the old Jack; trying to hide how he really feels: falling into cynicism to mask his pain.) I think that's the stupidest idea I ever heard.
JENNIFER: What?
JACK: (Self-pity) You wanted the truth, you got it. If that hurts? Too damn bad.
JACK GETS UP.
JENNIFER: Where are you going?
JACK: I'm going to get another drink at the bar.
JENNIFER: Don't you walk away from me. I have something to say to you and if that hurts, that's too damn bad!
JENNIFER GRABS HIS ARM. JACK IS STARTLED BY JENNIFER'S SPUNK.
---
SCENE EIGHT: JENNIFER HAS JUST CALLED JACK ON HIS ATTITUDE, SURPRISING JACK.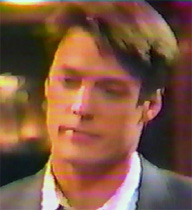 JACK: You want to tell me the truth about myself? How can you do that? You don't even know me.
JENNIFER: I know a rotten attitude when I see one.
JACK: Oh! Oh, you're going to give me a lecture on my evil ways now. Please wake me when it's over.
JENNIFER: This isn't about your past. This is about what I think based on what I've seen with my own eyes.
JACK: Huh, uh! Based.... on. Sounds like a true cub reporter.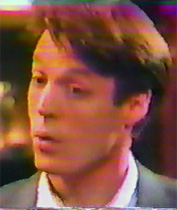 JENNIFER: Look I may not be the most experienced observer in the world but I have you figured out Jack.
JACK: Got the headlines right now, "Gigdet outguns Freud!"
JENNIFER: Look.
JACK: Huh?
JENNIFER: You know before we met with Mrs. Simms you were really starting to get involved with Sally and Hannah. And now you're acting like you don't even care.
JACK: That's right. I am. Because I don't!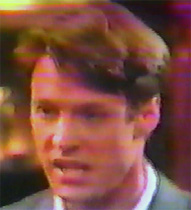 JENNIFER: I don't believe you. I think you're upset because of what Mrs. Simms said.
JACK: I don't give a damn what that old bag said.
JENNIFER: Yes you do or else you wouldn't be hanging out in this bar right now.
JACK: I'm going to give this to you real simply. Buzz off and leave me alone.
JENNIFER: Why don't you just admit it? You're embarrassed about what Mrs. Simms brought up about Kayla.
JACK: We're not talking about Kayla.
JACK'S EXPRESSION SHOWS THAT SHE IS RIGHT. THAT IS WHAT HE IS FEELING. HE REALLY HAS COME TO FEEL GUILT AND REMORSE FOR WHAT HE DID.
JENNIFER: I saw how you reacted. You're sorry for what you did to her.
JACK: Yeah, that's really big of me isn't it? Maybe I should give myself a little round of applause for that, shouldn't I?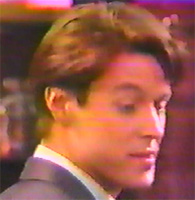 JENNIFER: You know I know why you act like this. I do. You think if you show your good side to people they won't accept it, they'll reject you. You're afraid of that. You're afraid of getting hurt.
JENNIFER HAS JACK PEGGED. JACK IS SURPRISED. BUT IT IS TOO CLOSE TO THE TRUTH, AND HE DOES NOT WANT TO ADMIT IT TO HER — OR HIMSELF.
JACK: (His expression indicates that he is turning over in his mind what Jennifer said.) You're out of your mind.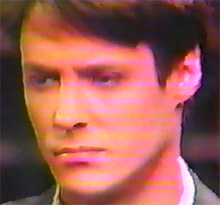 JENNIFER: Yeah, maybe I am but I'm right. Now I don't have time for this anymore. I have to figure out a way to help Sally and Hannah.
---
SCENE EIGHT: A SHORT TIME LATER JACK MEETS EARL ON THE PIER.
EARL: I didn't think you were going to show up.
JACK: Don't worry. I got the whole thing set up.
EARL: Good. When?
JACK: Tomorrow night meet me here at the pier. 8 PM sharp. Don't be late because we've got to see Steve's face when you come there.
EARL: Yeah, yeah. What is it with you pal? What's your connection with Steve?
JACK: Look don't.... just show up here, alright?
EARL: I told you I was comin'. You're a real worrier, huh?
JACK: (He has an evil glint in his eye.) Let me explain it to you. It's a surprise party and we have to be there on time because you are the surprise.
---
SCENE NINE: LATER JENNIFER ARRIVES TO SEE JACK AT SHENANIGAN'S AGAIN. JACK IS READING SOMETHING.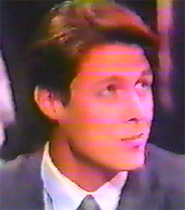 JENNIFER: I'm back, Jack. Do you mind telling me why?
JACK: Sit down.
JENNIFER: Look if this is about an assignment, just give it to me right....
JACK: I said...sit down. (Beat) I've been thinking about what you said before and I want to know one thing. Are you really interested in being a single foster parent?
JENNIFER: Of course I am.
JACK: Then I may be willing to help you.
JENNIFER: Well, I don't see how you can help me out with Mrs. Simms.
Jack agrees to help Jennifer;
50 sec; 1.9 Meg
JACK: L.... I have this little.... Look, I have a little bit of clout in this town still. A couple of low level bureaucrats who eat people like Simms for breakfast.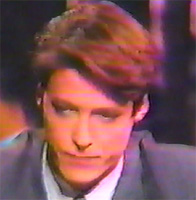 JENNIFER: Well, so you really think that I could get Hannah.

JACK: Yes, I think maybe we could swing it and I'm.... I'm going to help out with the rent on the loft. But remember this is not charity. This is a business expense and I expect you to write about it. I think maybe we can squeeze four or five articles out about the debutante and the baby.

JENNIFER: Oh, so this is strictly business.

JACK: Strictly business, yes.

JENNIFER: Have it your own way. (Beat) Jack....
THOUGH THEY SAY "STRICTLY BUSINESS" THEIR EXPRESSIONS SEEM TO INDICATE THAT THEY WANT IT TO BE MORE THAN THAT.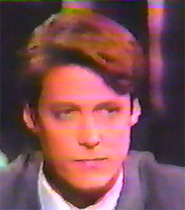 JENNIFER PLACES HER HAND OVER HIS, AFFECTIONATELY. AND HE PULLS IT AWAY INSTANTLY.

JENNIFER: ....thank you.

JACK: Write me a good story.

JENNIFER: Don't worry. I will.
JENNIFER RUNS OFF HAPPY.




---
[Air date May 1989]
SCENE ONE: JACK IS IN HIS OFFICE TALKING ON THE INTERCOM WHEN DIANA WALKS IN.
JACK: Flo, I'm going to be leaving the office early. I've got some plans for this eve....

DIANA: You're not going to be going anywhere. Not until we get something straight.

JACK: Diana, welcome back. How was Hawaii?

DIANA: I want to talk about Cal. Why did you hire him to work here?

JACK: Oh, that's why you're so upset with me.

DIANA: Oh, you knew that I was going to be upset with you. That's why you did it.

JACK: Look....

DIANA: You are the definition of unprofessional.

JACK: Wrong. I did it because I was concerned about the newspaper. Cal has a story to tell and I think that the people out there want to hear it. Now maybe we should talk about who's being unprofessional. (Beat) Cup of joe?

DIANA: Don't you dare try to turn this around on me Jack.

JACK: Diana, I know that you two were having some kind of problems. But I thought you were bigger than all of that. I thought you'd put aside your differences for the good of the newspaper.

DIANA: Alright Jack. Okay, if you think that Cal is such a great asset to this newspaper, fine. Fine, we'll see about that. But in the meantime I'm not going to have anything to do with him or with his column.

JACK: Well, I was kinda hoping you could help him out. I mean the guy's a rookie and he could really benefit from your experience as a reporter.

DIANA: No way. This is your baby. You hired him, you're stuck with him.

JACK: Don't make me pull rank Diana.

DIANA: Oh, Jack. You get an A for effort but you know what? It's not going to work. Cause I'm not going to let you or Cal get to me so it looks like this little plan of yours didn't work out, did it?
DIANA OPENS THE DOOR TO LEAVE AND CAL IS THERE.
JACK: Oh, Lieutenant. Come in. I was just telling Diana all about your new column.

DIANA: I was just on my way out.

CAL: Actually Diana I wanted to talk to you. I heard you were in here.

JACK: Oh, well, look, you kids come on in here and use my office. That's alright with me. I tell you what...I'm sure you have a lot to talk about.
JACK LEAVES.
---
SCENE TWO: LATER THAT NIGHT JO AND ADRIENNE HAVE JUST ARRIVED AT STEVE AND KAYLA'S HOUSE. THEY ARE ALL DRESSED UP FOR JO'S SURPRISE BIRTHDAY PARTY. NEIL AND MARCUS ARE THERE WITH THE FAMILY AND JO ASKS STEVE IF EVERYONE IS THERE AND HE SAYS YES, EVERYONE THAT WAS INVITED. THE DOORBELL RINGS AND KAYLA ANSWERS THE DOOR.
JACK: Hi Kayla. Aren't you going to invite me in?
JACK WALKS PAST KAYLA. ACTING SLIMEY.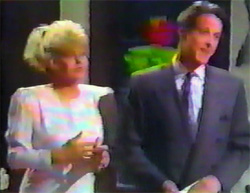 JACK: Happy Birthday Jo.

STEVE: Hey, hey, what are you doing man? Don't you remember you weren't invited to this party? What are you doing here?

JACK: Look, sorry I interrupted but doggone I met somebody that was really anxious to see you.
EARL JOHNSON WALKS IN AND EVERYONE LOOKS IN HORROR.
ADRIENNE: Oh, no!
EARL: Happy birthday, Josie darlin!
JACK'S GRIN OF SATISFACTION TURNS TO SURPRISE. HE NOTICES EVERYONE'S HORROR, AND IS CONFUSED.