---
[Air date mid-May 1989]
SCENE ONE: JENNIFER IS AT SHENANIGAN'S WITH HANNAH. SHE HAS CALLED ALICE TO BABYSIT BUT SHE'S BUSY. JACK STRUTS IN SMUGLY, JUST AS SHE'S TRYING TO GIVE HANNAH BOTTLE THAT SHE HAD JOEY THE BARTENDER WARM UP. THE MILK WON'T COME OUT.
JENNIFER: What is wrong? Stupid thing.

Jennifer is having problems;
1:50 Min; 4.2 Meg

JACK: Having a little trouble here?

JENNIFER: Yes. This bottle doesn't work.

JACK: Just a moment. Let me see.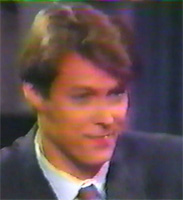 JACK TAKES THE BOTTLE AND UNSCREWS THE CAP AND REMOVES THE SEAL UNDER THE NIPPLE.

JACK: (With a self-satisfied glint.) Voilà. You see Jennifer, you have to know what to do with the nipple.

JENNIFER: (Unimpressed by his bragging. Yawning) Give me that. Joey must have put it on wrong.

JACK: A little tired are we?


JENNIFER: No.

JACK: Must be kind of hard doing all those feedings four or five times a night?

JENNIFER: No she was really good last night. She only woke up twice.

JACK: (Sarcastically) Only twice, really? Only twice. When do you find time to do your work? Between the 2 am and the 4 am feedings?

JENNIFER: I find it Jack.

JACK: Hmmm. I was hoping to find it on my desk this morning. You remember, the assignment on the housing.

JENNIFER: Yes, like you'll get it.
JACK: When?

JENNIFER: Soon.

JACK: Soon. Soon. Now that really narrows things down doesn't it? I hope you remember that we are still trying to run a newspaper here and we kind of like to run it on a schedule.

JENNIFER: Jack, Hannah's on a schedule too and her's can't wait, alright.

JACK: Whoa. Look if you can't work things out between being a single mother and a working gal maybe you better examine other possibilities.

JENNIFER: Look Jack, I'm doing this whole series on the single parent thing and then you throw the whole housing project at me. How many arms do you think that I have?

JACK: You're not the first working mother you know?

JENNIFER: You know sometimes I think you do this on purpose. You're trying to make this harder for me.

JACK: Look, like I said before. If you can't handle it I'm sure....

JENNIFER: I can handle it.

JACK: How?

JENNIFER: Look Jack, you know what? She likes you. Why don't you just hold her for one minute?

JACK: Ah.... wait a minute. Jennifer.

JENNIFER: Here you go. I'll be back when I'm done with my story.

JACK: Je.... Jen....
JENNIFER WALKS OFF LEAVING HANNAH IN JACK'S ARMS.
JACK: (To Hannah) What are you looking at? Hey it's you and me kid. Okay. No, don't cry. That's my job.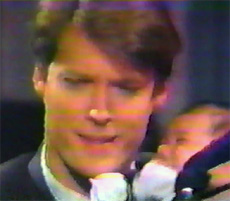 ---
SCENE TWO: JACK HAS HANNAH BACK IN HIS OFFICE AND HE IS TRYING TO FASTEN A DIAPER USING SCOTCH TAPE. SHE IS ON TOP OF HIS DESK WHICH IS LITTERED WITH PAPERS AND BABY SUPPLIES, AND PIECES OF CRUMPLED SCOTCH TAPE. DESPITE IT ALL HE SEEMS TO BE ENJOYING HIMSELF.

Jack watches Hannah;
2:10 Min; 5 Meg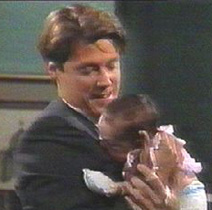 JACK: I've never seen such a cute little baby make such a big mess. Now just hold still and Uncle Jack's going to fix you right up with this special.... just.... Jennifer, (Making a fist and raising it upward, imitating Jacky Gleason in the Honeymooners.) one of these days, one of these days, pow, right in the kisser! Okay now. I'm just going to hold you. I promise you. Let me just pick you up and don't cry, please don't cry, please don't cry, please don't cry. Oh, it worked. Still on? Yeah. See, this worked just like before cause you know that I'm not such a bad guy after all. Is that right? Yeah.



JENNIFER HAS ENTERED THE ROOM UNBEKNOWNST TO JACK AND HAS HEARD HIM SAY "...I'M NOT SUCH A BAD GUY...." SHE SMILES, AS IF IN AGREEMENT. SHE CLEARS HER THROAT TO ATTRACT HIS ATTENTION.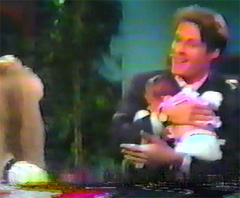 JACK: (Flustered, and slightly embarrassed.) Jennifer, why don't you tell me? What are you doing sticking me with this kid? I've got.... look I run a newspaper here not a day care center. So....

JENNIFER: Jack maybe you should open one up here.

JACK: Why do you say that?

JENNIFER: Like you said, I'm not the only working mother. It would help a lot of the other parents too.

JACK: Look I don't have time to think about that alright. I want to see that assignment.

JENNIFER: It's right here Jack.

JACK: It better be good after everything you've put me through.

JENNIFER: Don't worry, it's all there.

JACK: Ah, here.
JACK HAS BEEN HOLDING THE BABY TIGHTLY NEXT TO HIS CHEST.
JENNIFER: Let me have her.

JACK: (Gently handing her Hannah.) Watch the tape.

JENNIFER: Thanks. Now if that's all Jack, I gotta go. I've got a lot of babysitters to interview tonight.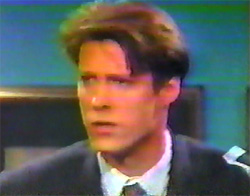 JACK: (Concerned) Babysitters? For Hannah?
JENNIFER: Of course for Hannah. How else do you think I'm going to get all this work done unless you want me to leave her with you every time I go on assignment.
JACK: Er.... you're going to check the references? I mean you're going to find out everything you can about these people?
JENNIFER: Of course I am. What difference does it make to you anyway?
JACK: Well.... er.... ah.... you're.... you're writing a story on single parents and I.... well, I don't want to see us get egg all over our face.
JENNIFER: Don't worry Jack we won't. The article will be fine and so will Hannah. '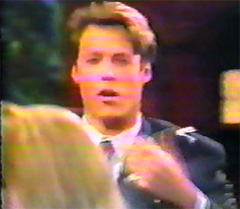 JACK: (Helping Jennifer with the bags of baby stuff.) Here. I know how it is, you know, being a single mother with your hands full and stuff....

JENNIFER: Thanks Jack.

JACK: Keep an eye on her. She's got a.... .watch that diaper.
JACK LOOKS DOWN AT HIS JACKET WHICH HAS SCOTCH TAPE ALL OVER IT. HE PULLS IT OFF IN FAKE DISGUST.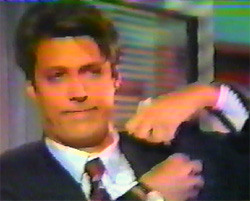 ---
[Air date late-May 1989]
SCENE ONE: THE NEXT DAY JACK IS ON THE PHONE IN HIS OFFICE.
JACK: (Agitated, it sees as if that things are not looking good for Jennifer keeping the baby. Jack is frantically talking with the person on the other end to convince him to help Jennifer.) Look, somebody down there at Social Services has got to be able to give me a straight answer. Now if this young lady Jennifer is really attached to this little baby, there's got to be a way to get around this trial period. (Beat) Well, look she didn't know about the trial period when she decided to fall in love with the baby.
JENNIFER COMES IN THE OFFICE AND JACK HANGS UP IMMEDIATELY.
JENNIFER: Jack. Hi!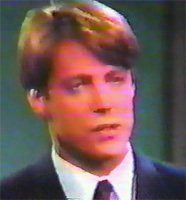 JACK: (Trying to hide his concern and not let Jennifer know that things are not running smoothly.) Jennifer. You're late.
JENNIFER: I know I'm late. My sitter canceled on me at the last minute and I had to call my granma and....
JACK: Please don't.... don't give me any excuses, alright?
JENNIFER: Jack I couldn't leave Hannah all alone. Jack you should've seen what she did this morning. It was the cutest thing you've ever seen.
JACK: What I'm saying is don't use the baby as an excuse for work.
JENNIFER: I know right now that it's hard to be a parent and work at the same time but I can do it. I know I can. I'm really getting it together. I really am.
JACK: Don't get too good at it.
JENNIFER: What do you mean?
JACK: Have some coffee?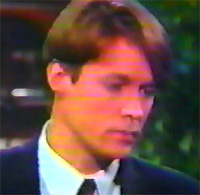 JENNIFER: No.

JACK: (Avoiding looking at her) What I'm saying is.... er.... you might not have Hannah all that long.

JENNIFER: Three years Jack. That's a long time.

JACK: (Trying be realistic so if the inevitable happens she is prepared. But he does not seem to know how to do so without hurting her; he comes off cynical and uncaring.) You see, that's.... that's exactly what I'm saying. You're getting too attached to her.

JENNIFER: (Determined.) Don't start that again Jack. I don't want to talk about that.

JACK: You're setting yourself up for a trap. You see one of these days, Sally's going to get out of prison on parole or the Social Services people are going to come around and give the baby to a real family and you're going to left just holding the bag of diapers.

JENNIFER: Why did you want to see me Jack?

JACK: You're changing the subject on me.

JENNIFER: If you have something you want to say, say it to me if not I want to start working on series for my single parent article.
JACK IS THINKING OF SOMETHING TO GET HER MIND OFF HANNAH. SOMETHING COMES TO HIM.
JACK: That's it. The series on the single parents is on hold.

JENNIFER: HOLD? Jack I've worked on this for days.
JACK: (Gently grabbing her arm, pulling her around.) Temporarily.... on hold. Because I have.... I have a big story for you. I want you to picture this, okay. "Would-be Cop Killer Tells All." Cal Winter's story. What do you think?

JENNIFER: You're doing an interview with Cal Winters?

JACK: An exclusive interview and I'm taking you with me (pointing to her).

JENNIFER: Well, Jack that's really nice of you but I think I'll pass. Thanks.

JACK: You are kidding aren't you?

JENNIFER: Jack, the Brady's are friends of mine.

JACK: So?

JENNIFER: So I wouldn't feel comfortable talking to the man who shot Roman.

JACK: Well, aren't we the delicate little flower?

JENNIFER: It's not that okay? It's just that I never really met a killer before.

JACK: Hmm, uh. Well, I wish we were that lucky.

JENNIFER: What?

JACK: Cal Winters is not a killer. Killer's make good copy. But don't worry about it. I'll handle the whole thing myself. I won't force you. You stay right here where it's nice and safe.

JENNIFER: Wait.... Jack.

JACK: Oh. Do we have a change of heart?

JENNIFER: No, I still don't want to go but I won't stay here.
JACK PUTS HIS ARM OUT AND STOPS HER FROM LEAVING THE OFFICE. HE SEEMS TO ENJOY PUSHING HER BUTTONS. HE LIKES IT THAT SHE DOES NOT SHRINK FROM HIM BUT FIGHTS BACK. IT IS ALMOST AS IF HE IS PURPOSEFULLY TESTING HER, AND HE SEEMS TO ENJOY HER REACTIONS, AND HER SPUNK: HER.
JACK: Mind if I ask you why?
JENNIFER: Because you'd enjoy it too much.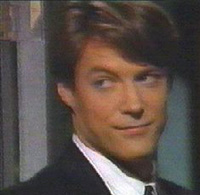 JACK STAYS BEHIND FOR A MOMENT, AND LOOKS AT JENNIFER. HE REALLY SEEMS TO ENJOY HOW SHE GIVES IT BACK TO HIM.
---
SCENE TWO: JACK AND JENNIFER ARE AT THE PRISON TO INTERVIEW CAL WINTERS. JENNIFER IS SITTING NEXT TO HIM. LISTENING INTENTLY.
JACK: (To the Warden) Thank you very much. (To Jennifer) Alright, Jennifer you just watch and listen.

JENNIFER: You brought me here to watch?

JACK: I know the guy and you don't and I know that he's not a real killer.

JENNIFER: What other kind is there Jack?

JACK: You just listen and you'll find out, okay. Here he comes. Hello Cal, how're you doing?

CAL: I'm alright.

JACK: Good. I'd like to introduce Jennifer Horton. She's one of my reporters.

CAL: Hi. Let's get one thing straight before we start. I'm not talking about the shooting. I've already done that.

JACK: You mean the plea of guilty. You can turn that over you know.

CAL: I won't.

JACK: Okay. So what you're saying is, you're never going to really try and defend yourself.

CAL: I did what I did and I'm going to take what's coming to me.

JACK: Okay. Let me ask a question that everybody wants to know. Are you really sorry about shooting Roman Brady?

CAL: I'm sorry for a lot of things.

JACK: Well, I'm sorry. I don't follow you.

CAL: Roman wasn't the only one that was hurt. Diana was too and that's all because of me.

JACK: Because you came back into her life.

CAL: And I wouldn't have done that if I'd known. Six years ago I walked into a kind of hell.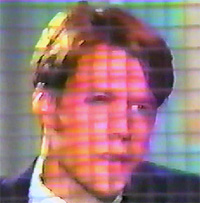 When I walked out I thought that I could get back to the life I had before.
JACK: To Diana.
JACK CONTINUES TO LISTEN. HE SEEMS TO UNDERSTAND AND SYMPATHIZE CAL.
CAL: Thinking about her kept me alive. When I got back here, this may be difficult for you to understand, but when I got back here I walked into another kind of hell that was even worse and six years of my life was nothing but cages, torture and beatings but I would take that back. I would gladly take that back if I could just change that one night.

JACK: The night of the shooting.

CAL: And everything that's happened since then to Roman, to Diana, to everyone whose life is messed up because of me.

JACK: Okay, I want to know one thing. If you're so sorry, why did you put a bullet into Roman?

CAL: The shooting was accidental. It shouldn't have ever happened.

JACK: I didn't ask you how. I asked you why. (Beat) I know why. I know why you pulled that trigger. I know that you're not the only one at fault.
---
SCENE THREE: MEANWHILE BACK AT THE OFFICE, DIANA IS LOOKING FOR JACK.
DIANA: "Satanic Cult in Salem?" Where is he? I'll kill him.

VERN: He's down at the police station.

DIANA: Oh, please tell me that he's been arrested for crimes against good taste.
VERN LAUGHS QUIETLY.
DIANA: Vern, what's the matter?

VERN: He's interviewing Cal Winters.

DIANA: Nooo.

VERN: I tried to talk him out of hit but it's the kind of sensationalist stuff he loves. Diana, you're not going to scream and yell. You should be mad as hell about all this but you're not. How come? Are you okay?

DIANA: Fix this layout. Tone it down as much as you can.

VERN: You're leaving?

DIANA: Yes, there's something I have to take care of.
---
SCENE FOUR: MEANWHILE BACK AT THE PRISON. THROUGHOUT THE INTERVIEW JACK BECOMES MORE FRANTIC, ALMOST OBSESSIVE.
Jack interviews Cal, but it gets personal;
44 sec; 1.6 Meg

CAL: What do you mean, I'm not the only one at fault?

JACK: I think you were driven to pull that trigger.

CAL: I'm not looking to blame what happened to Roman on anyone else.

JACK: Cal, I'm saying that nobody acts alone. Everybody plays a part in this.

CAL: If you're talking about Diana, you're wrong.

JACK: Of course I'm talking about Diana. I know you're trying to protect her but that's impossible.

CAL: It's not impossible. She had nothing to do with it.

JACK: She had everything to do with it. You loved her. She's the reason that you bought the gun in the first place.

CAL: Of course I love her but that doesn't mean I....
JACK IS OBVIOUSLY TALKING ABOUT HIS OWN SITUATION. JENNIFER LOOKS OVER AT JACK, COMPREHENDING THIS. HER FACIAL EXPRESSION REVEALS THAT SHE UNDERSTANDS JACK; AND SHE IS AFFECTED BY HIS PAIN.
JACK: You loved her for six years in those tiger cages. You come back to Salem and she's engaged to another man and you still love her. You love her now.
JACK IS NOW DEFINITELY TALKING ABOUT HIS SITUATION, NOT CAL'S. HE IS TALKING ABOUT HIS LOVE FOR KAYLA, AND WHAT HIS LOVE IN THE END CAUSED HIM TO DO, TO HURT HER, HIS HURT.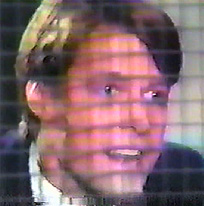 CAL: I'm not denying that.

JACK: I'm saying that you shot Roman not because you hated him but because you loved Diana. You did it out of love.... you did it out of love.

CAL: (Beat) Alright, you're right. Everything that happened was because I love Diana. That's why I was at Brady's house. That's why he got shot. I love Diana, I love her more than anything else in the world.

JACK: As crazy as it sounds, Diana is as much to blame for shooting Roman as you are.

CAL: No! No, that is not right. No one is to blame but me. No one is to blame.

JACK: Look Cal, this is....
DIANA WALKS IN.
DIANA: Stop it. Stop it right now Jack.
JACK TURNS AROUND. CAL LOOKS WORRIED SEEING HER.
---
SCENE FIVE: JACK GETS UP FROM HIS CHAIR. ANGRILY HE GRABS HER BY THE ARM.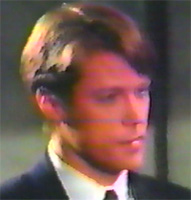 DIANA: (Calmly, but with seething anger.) What do you think you're doing Jack?

JACK: I am conducting an interview and if you don't mind I'd like to get back to it.

DIANA: I do mind.

JACK: Don't make a fool out of yourself.

DIANA: Do you have any idea at all what it's going to look like if The Spectator does an article on Roman's shooting?

JACK: It's going to look like we're doing our job, reporting on the news, which is our business.

DIANA: Alright, Jack. I'm not going to argue with you. You can write any article you please but you'll print this one over my dead body.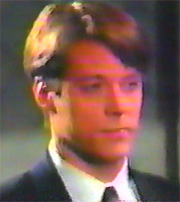 JACK: Don't tempt me. Okay.
FLUSTERED. JACK BEGINS TO PACK UP HIS PAPERS.
JENNIFER: Jack, what are you doing?

JACK: I'm leaving.
JACK STORMS OUT.
JENNIFER: Diana, I'm sorry.

DIANA: It's not your fault.

JENNIFER: I better go too.
JENNIFER LEAVES, SHE SEEMS WORRIED ABOUT JACK.

AFTER SHE LEAVES DIANA SEEMS TO BE CONFUSED ABOUT WHAT REALLY HAPPENED, AND SEEMS TO BE GETTING HER MEMORY BACK. CAL IS FRANTIC AND TRIES TO STOP HER FROM DOING THIS.
---
SCENE SIX: JACK STORMS BACK INTO HIS OFFICE FOLLOWED BY JENNIFER. JACK ALMOST SLAMS THE DOOR ON JENNIFER.

Jennifer tries to be there for Jack;
2:50 Min; 6.4 Meg
JACK: What do you want?
JENNIFER: I just thought that you might need to talk.
JACK: The only thing that I want to talk about is getting Diana off this newspaper.
JENNIFER: Jack you don't mean that. She's a terrific reporter, she's a great editor....
JACK: She's lost her objectivity. That interview would have sold like hotcakes. We would have had people lined up at the newsstands.... wait a minute.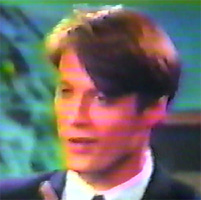 JACK: (Thinking) You just wait a minute.
JACK GOES THROUGH HIS NOTES.
JENNIFER: Jack what are you doing?
JACK: I'm checking out the material.
JENNIFER: For what?
JACK: Well, I didn't get as much from Cal Winters as I'd hoped to but I'll still be able to write an article. I'll title it "Crimes of Passion Motivated by Love."
JENNIFER: Jack you can't do that. You'd be breaking your own rules.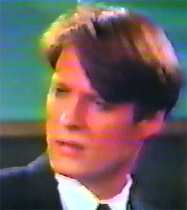 JACK: What are you talking about?
JENNIFER: You always tell me not to get personally involved and that's exactly what you are doing here. You didn't have to ask Cal what his motive was. You already knew. (With understanding) And I know it's because of what happened to you with Kayla.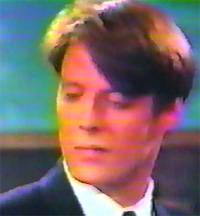 JACK'S EXPRESSION INDICATES THAT JENNIFER IS CORRECT.
JACK: (He tries to brush it off). Oh, no. You don't know what you're talking about.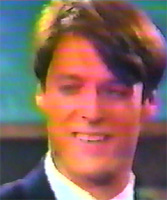 JENNIFER: Look, Jack, I don't want to question the right or wrong about what happened, but the why. Maybe you did it because you never knew what real love was. You've never had it.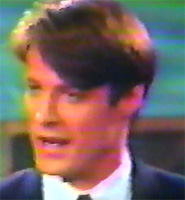 JACK: Oh, no, now wait a minute. Wait a minute. I had parents. I had.... I had An.... Look I don't even know why I'm answering these stupid questions. You don't even know me.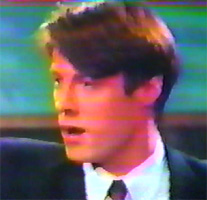 JENNIFER: (Trying to comfort Jack.) I heard the pain in your voice when you talked to Cal, when you talked about love. That's everything I need to know.
JACK: Look I talked to that guy.... that way.... so I could get a quote out of him, that's all.
JENNIFER: I don't believe you.
JACK: Well, I don't give a damn if you believe me or not. Now get out of here and go work on that piece!
JENNIFER: You just told me that my story was on hold, Jack.
JACK: It's back! It's off hold. Now get back and get to work.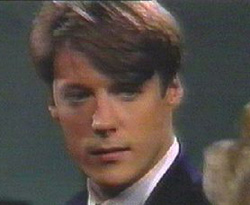 JENNIFER: I'm sorry.
JACK: Look I don't.... I don't want you to be sorry. I don't want your pity.
JENNIFER: That's not what I'm offering you. Look I just want you to know that I understand.
JACK: That's great, that's great, that's great. Thank you very much. Now please.... leave me alone.
JENNIFER: If that's what you want. (Beat) To be alone, that's fine.
SEEING THAT JACK WILL NOT LET HER HELP, JENNIFER JUST LEAVES.
[AN INSTRUMENTAL BEGINS TO PLAY, IT IS RATHER ROMANTIC AND SENTIMENTAL, AND IT WILL BE PLAYED REPEATED IN THE FUTURE FOR JACK AND JENNIFER, DURING THEIR FUN, SENTIMENTAL, AND ROMANTIC TIMES TOGETHER.]

JACK STOPS TO THINK AS SHE WALKS OUT THE DOOR. JACK IS IN PAIN. JENNIFER IS IN PAIN FOR JACK. THERE IS A SHOT OF JACK STANDING IN HIS OFFICE IN PAIN. JENNIFER STOPS BY THE DOOR, LEANING AGAINST IT, THINKING ABOUT JACK, OBVIOUSLY FEELING JACK'S PAIN. CUT BACK TO JACK THINKING ABOUT WHAT JENNIFER SAID.