---
SCENE ONE: SANTOS IS TALKING TO EMILIO ON THE PIER. HE WONDERS IF EMILIO IS GOING TO JOIN THEM. JUST THEN JENNIFER WALKS DOWN THE STAIRS, AND EMILIO MOTIONS FOR SANTOS TO LEAVE.
---
SCENE TWO: KAYLA IS HOME TALKING ON THE PHONE TO CAROLINE. STEVE IS AWAY. THE DOOR BELL RINGS AND SHE RUSHES TO ANSWER IT BELIEVING IT IS STEVE. IS SOMETHING UP WITH STEVE?
KAYLA: (Relieved, excited as she throws up the door) Welcome home!
HOWEVER. IT IS JACK, LOOKING RATHER MISCHIEVOUS. IMMEDIATELY HER EXPRESSION CHANGES.
JACK: (In typical Jack fashion) and it's great to be home.

KAYLA: (Flashing Jack a look) Jack!
JACK'S ATTITUDE CHANGES, AS IF SENSING SOMETHING IS WRONG. HE ALMOST SEEMS CONCERNED.
JACK: And well, maybe I came at a bad time.

KAYLA: (Wondering what Jack is up to now) When is a good time?

JACK: (Her remarks seem to sting. Though Jack actually seems to genuinely sincere) Actually it's about Steve. I want to do a story about him. Can I come in?
KAYLA DOES NOT SEEM TO BUY WHAT HE IS SELLING
---
SCENE THREE: THE CAMERA SHOT IS VERY NARROW, AND DARK, IT APPEARS TO BE SOME ROOM. THERE IS A TABLE, WITH A PHONE, A WOMAN'S STRAW HAT, AND WHAT APPEARS TO BE A NEWSPAPER ON IT. WE SEE TWO HANDS, THEY APPEAR TO BE THAT OF A WOMAN, ONE IS HOLDING A TELEPHONE RECEIVER, THE OTHER IS ON THE PAPER. WE HEAR A MAN'S VOICE COMING OVER THE RECEIVER. HE IS REFERRING TO SOMEONE THAT THE MYSTERY PERSON HAD HIM TRACK DOWN. AFTER A TIME WE DISCOVER THAT IT IS STEVE JOHNSON. HE TELLS HER IT IS DIFFICULT BUT HE THINKS HE CAN COME UP WITH INFORMATION ON HIM. THE PERSON HANGS UP THE PHONE. THROUGHOUT THIS TIME WE NEVER HEAR THIS PERSON'S VOICE. THE CAMERA THEN PANS ON THE NEWSPAPER, THERE IS A PHOTO AND ARTICLE ABOUT STEVE. WITH A RED FELT PEN THE MYSTERY PERSON DRAWS A HEART AROUND STEVE'S PHOTO.
---
SCENE FOUR: JENNIFER WANTS TO KNOW WHAT WAS GOING ON BETWEEN EMILIO AND SANTOS. SHE WONDERS IF IT WAS ABOUT JACK. EMILIO BLAMES JACK, BECAUSE HE WROTE THAT ARTICLE ABOUT HIS FAMILY AND GANGS, HE DOES NOT LIKE IT WHEN PEOPLE HURT HIS FAMILY. JENNIFER ADMITS JACK WAS WRONG. SHE DOES NOT UNDERSTAND HIM, ONE DAY HE IS SO NICE AND THEN THE NEXT HE IS A JERK. EMILIO TELLS HER THAT IT DOES NOT MATTER "JACK WILL GET WHAT HE DESERVES!" JENNIFER IS CONCERNED: WHAT DOES THAT MEAN. SHE TELLS EMILIO SHE KNOWS HE IS TRYING TO CHANGE SHE WONDERS WHY JACK CANNOT SEE THIS. HESITATING, SHE ADMITS THAT SHE THINKS OF HIM AS A FRIEND — IS IT MORE THAN THAT. EMILIO SEEMS PLEASED WITH THAT. JENNIFER LEAVES.
---
SCENE FIVE: JACK AND KAYLA IN PROGRESS.
KAYLA: Why would you want to do a story on Steve?

JACK: The word is that he's a hero: that's news. I thought I could cover that for the paper.

KAYLA: (Skeptically) I See.

JACK: (Hopeful) I also figured you could help me since you where there.

KAYLA: (Somewhat angry, believing that Jack is yet again trying to hurt them). Right you want me to help you write a hatchet job on my husband.

JACK: (He truly seems to react as if that is not his motive.) No, no, no. no. No that's not it at all.

KAYLA: Oh, come on Jack, the only reason you want to write a story about Steve is to hurt him. You can count me out!

JACK: Oh, please give me a couple of minutes of your time. Please (pleading)?....
JACK LOOKS HOPEFUL, KAYLA IS STILL LEERY OF HIS MOTIVES, BUT SHE HESITATES. TAKING ADVANTAGE OF THIS JACK WALKS THROUGH THE DOOR, CONTENT. SHE HAS TO STEP ASIDE.
JACK: ....Thanks! I just want to ask you a couple of questions.

KAYLA: Well I don't think I have the answers.
SHE WALKS AHEAD OF HIM INTO THE LIVING ROOM. JACK FOLLOWS HER. HE SEEMS PLEASED. HE ALSO SEEMS TRULY SINCERE. BUT SINCE IT IS JACK, CAN WE BE SURE?
JACK: Anything you say will help him.

KAYLA: Alright Jack, let's just suppose that I help you, and you write this article and it winds up hurting all of us, do you think we need this after what happened to Shane?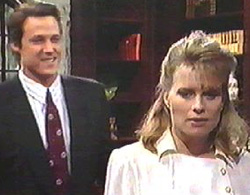 JACK: No....I....I'm not going to hurt anyone with this. It's just (hesitating)....
KAYLA: (Still trying to figure out what Jack is really up to.) It's just what? What?
JACK: It's just that....that.... (Apparently sincere) I think I really understand what this story is about.
KAYLA: You didn't even know anything about this story until yesterday.
JACK: (Trying to put his reasons and thoughts across.) No....no.... No, Marcus. Marcus' story.
KAYLA: (Interrupting) Since when are you and Marcus such pals?
JACK: His family has been pulled part. So has mine. I understand that.
KAYLA: I don't think it's quite the same thing.
JACK: (Sobered, and slightly hurt by the truth in what she said; he responds introspectively.) No, I guess you're right. Marcus has seemed to risen above what happened to him. I seemed to have been caught in all the angry.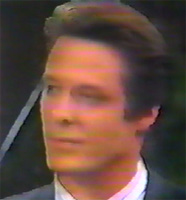 JACK: (Cont.) Anyway, if you help I can finish this story up by tomorrow.

KAYLA: I don't really think I have a right to do that.

JACK: Well, if you change your mind I'll be at my office. (Jack walks off, softly) Thanks.
KAYLA LOOKS AWAY IN THOUGHT. AS SHE SLIGHTLY SHAKES HER HEAD THE DOOR CLOSES.
---
SCENE SIX: THE PIER. SANTOS IS TRYING TO CONVINCE EMILIO TO JOIN THEM. EMILIO THINKS THERE IS A BETTER WAY TO DEAL WITH THE PROBLEM. SANTOS TELLS HIM THAT THAT IS HOW THE STINGRAYS HAVE ALWAYS DEALT WITH THEIR PROBLEMS. HE LEAVES. EMILIO THINKS MAYBE IT IS TIME TO CHANGE.
---
SCENE SEVEN: INSIDE JACK'S OFFICE. JENNIFER SEEMS RATHER PERTURBED, SHE AS IS USING A MOTORIZED SHARPENER TO SHARPEN A PENCIL. SHE CONTINUES TO SHARPEN IT EVEN THOUGH IT SEEMS TO ALREADY BE SHARP. JUST THEN, UNNOTICED, JACK WALKS THROUGH THE DOOR; HE STOPS AT THE DOOR, AND AMUSEDLY WATCHES HER.
JACK: (Walking inside) Maybe I should get one of those for the outer office.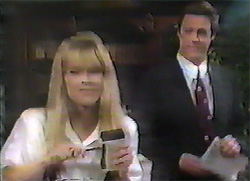 JENNIFER: (Not turning too look at him, she continues to sharpen the pencil, even more angrily now). I'll be out in a minute.

JACK: (Amused) It won't fit.

JENNIFER: Excuse me?

JACK: My head. It won't fit in that little hole. That's what you want to use it for?
SHE IS *STILL* SHARPENING THE PENCIL. THAT IS IN FACT WHAT SHE IS THINKING, FOR SHE GIVES A LITTLE SATISFIED LAUGH. JACK GIVES A LITTLE LAUGH, TRYING TO GET HER TO TALK. SHE IS *NOT* AMUSED. JACK IS HOLDING SOME PAPERS, WHICH HE FOLDS, AND THEN HE CROSSES HIS ARMS OVER HIS CHEST. REALIZING THAT SHE IS NOT RESPONDING TO HIS JOKE JACK TRIES ANOTHER TACTIC.
JACK: I can't believe you're still upset over one little story.

JENNIFER: (No longer able to remain silent) Did you ever think that that "one little story" might be hurting people.

JACK: (Trying to be smug, and not let on who he really is feeling.) Hmm, "people," like Emilio?

JENNIFER: Hmm. No, no like the whole Ramirez family. Hmm, did you ever think of that, Jack?
JACK HAS WALKED TO HIS DESK, HE STANDS UP BEHIND IT. JENNIFER FOLLOWS HIM, AND STAND UP IN FRONT OF THE DESK, LOOKING AT JACK.
JACK: Did you ever think of all the people that article might be helping? (Rather melodramatically) All the young men and women who might not get into a gang because the read my article?

JENNIFER: (Interrupting) You are so unbelievable.
THROUGH IT ALL JACK REALLY SEEMS TO BE ENJOYING THEIR VERBAL SPARRING.
JACK: Oh, really?

JENNIFER: One minute you write this really caring article about Marcus Hunter, and then you you tear Emilio's family apart, and you justify it by saying you're saving the world. Who are you? Will the real Jack Deveraux please step out?

JACK: (A mixture of amusement and also some regret) Certainly, (motioning as he speaks) as soon as you stop bleeding over my desk.

JENNIFER: Jack, well, I rather have a bleeding heart than no heart at all!
JACK MOVES OVER TO A TABLE WHERE THERE IS A GLASS PICTURE FILLED WITH WATER AND GLASSES. HE POURS HIMSELF A DRINK. JENNIFER HAS FOLLOWED HIM. THROUGHOUT THE CONVERSATION JACK TRIES TO TAKE A DRINK BUT STOPS, INTERRUPTED BY JENNIFER'S RETORTS.
JACK: I Think an unbiased point of view would be better than both. If you really want to be professional you really should try....

JENNIFER: (Interrupting him) A professional wouldn't use his paper to hurt people he didn't like.

JACK: Hmm....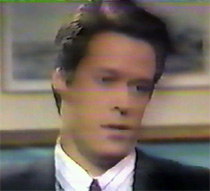 JENNIFER: Do you know what Emilio said?

JACK: (Sarcastically) Oh, I can hardly wait for these pearls.

JENNIFER: Emilio said you're going to get burned if you keep fouling around with people's lives like this. And I'm beginning to think he may be right.

JACK: Oh, Really?

JENNIFER: You may very will live to regret what you did, (walking out the door) Jack!
JACK HAS A RATHER PLEASED EXPRESSION. YET, HE ALSO SEEMS TO BE THINKING ABOUT WHAT JENNIFER HAS TOLD HIM, AND RETHINKING WHAT HE DID.
---
SCENE EIGHT: SOMETIME LATER. JACK IS SEATED AT HIS DESK, IN THOUGHT, TYPING AWAY ON HIS KEYBOARD. THE CAMERA PANS TO THE MONITOR [THE QUALITY OF MY TAPE WAS NOT THE BEST SO I COULD NOT SEE EXACTLY WHAT WAS ON THE SCREEN, THIS IS MY BEST GUESS.] IT APPEARS HE IS TYPING OUT JENNIFER'S LAST WORDS, "YOU MAY LIVE TO REGRET THIS." REGRET IS REPEATED. JUST THEN THERE IS A KNOCK AT THE DOOR.
JACK: Come in Jennifer. (Getting up, and seemingly glad to see her). Right in.
HOWEVER, IT IS KAYLA AND *NOT* JENNIFER. JACK SEEMS RATHER DISAPPOINTED.

BUT HIS MOOD CHANGES BECAUSE HE BELIEVES THAT SHE HAS AGREED TO HELP HIM WRITE THE ARTICLE.
KAYLA: I guess we both expected other people today.

JACK: (Gets up and goes to the front of his desk, and sits on it.) I guess.

KAYLA: (Slightly uncomfortable) I thought about what you said.

JACK: (Pleased) Yes, about the article, right!

KAYLA: Yes.
SHE WALKS IN AND JACK WALKS QUICKLY OVER TO HER.
JACK: (Pleased, yet slightly nervous) Ahem. So, you're going to help me (he says expectantly)?

KAYLA: Not you, Steve.

JACK: Oh, oh, of course. Ahem. (Slightly disappointed) Well hmm, grab a seat (he motions her to sit down).

KAYLA: No, I'm not staying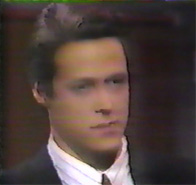 JACK: But I thought you said you were going to help me?

KAYLA: I'll help you with this article, but I won't do an interview.

JACK: Well then, how are we going to do this?

KAYLA: I wrote a statement (she hands him a paper). I think it covers everything.

JACK: Ahem, great (looking it over), maybe you can meet with Vern then and run it over with him. (He goes back to his desk.) Thank you very much! Thank you.
JUST THEN JENNIFER BARGES IN
JENNIFER: Jack I....(She stops upon seeing Kayla). I'm sorry.

KAYLA: It's okay I was just leaving.

JACK: No, no, Kayla please. Jennifer please what do you want.

JENNIFER: I have an urgent message from your secretary, it's from the Vipers [They are the Stingrays' rivals]. (She hands the memo to Jack, and he reads it. He is excited by what it has to say). It's written out down there.

JACK: Hahaha. They want to meet me down on the pier tonight
JACK IS DETERMINED. THROUGHOUT THE FOLLOWING DIALOGUE JENNIFER, FORGETTING BEING UPSET WITH JACK BECOMES MORE AND MORE CONCERNED, AS JACK IS MORE AND MORE DETERMINED. KAYLA WATCHES ON IN THE BACKGROUND, CONFUSED AT JENNIFER'S CONCERN.
J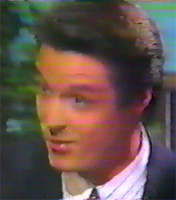 ENNIFER: Well you're not going. Are you?

JACK: Well, hahaha, it says they're going to give me the inside scoop on the Stingrays, their gang activities.

JENNIFER: Oh, what Jack, what have you become the resident expert on gangs now?

JACK: No, but I am the resident expert on a good story. and this looks like a good story.

JENNIFER: Wait, wait a minute Jack you can't go down there by yourself someone has to go with you.
JACK IS RUMMAGING THROUGH HIS DESK. HE TAKES OUT A SMALL TAPE RECORDER.
JACK: No, this says they want to see me alone. Tell me does this thing have batteries?

JENNIFER: (Reluctantly) Yes, in my desk.

JACK: Good.

JENNIFER: Wait, is this some macho trip for you.

JACK: No, no (ignoring Jennifer, rushing to leave) Thank you Kayla, thanks....

JENNIFER: (Interrupting) Maybe you should bring a photographer.

JACK: No, no photographer (Jack rushes out before Jennifer can reply).

JENNIFER: Jack maybe you should bring....(It's too late). (Frustrated, running her hand through her hair.) Oh, how come he could be so pigheaded. He drives me nuts!
JENNIFER LEAVES, LEAVING KAYLA ALONE. KAYLA IS CONFUSED.
KAYLA: (To herself) I don't know why you care about him so much.
---
SCENE NINE: JACK'S OFFICE SOME TIME LATER. KAYLA IS SEATED IN JACK'S CHAIR, VERN IS LEANING OVER HIS DESK. THEY ARE GOING OVER THE ARTICLE ON STEVE AND MARCUS AND WHAT HAPPENED. VERN IS IMPRESSED WITH WHAT SHE WROTE. HE TELLS HER THAT JACK HAS BEEN VERY ENTHUSIASTIC ABOUT THIS STORY, LIKE NO OTHER STORY BEFORE. SHE SEEMS SURPRISED. VERN GOES ON TO TELL HER THAT SINCE HE HAS BEEN INVOLVED WITH THE SPECTATOR HE HAS BECOME MORE CARING AND COMPASSIONATE, HE REALLY HAS CHANGED FOR THE BETTER. THIS MAKES HER EVEN MORE SURPRISED, AND PENSIVE. IT SEEMS, HE CONTINUES, THAT THIS IS JUST WHAT JACK NEEDED, SOMETHING HE COULD GET INVOLVED WITH, SOMETHING HE COULD CARE ABOUT. IT HAS BROUGHT OUT THAT SOMETHING WITHIN HIM THAT PEOPLE DID NOT GIVE HIM A CHANCE TO DISPLAY. JUST THEN EMILIO BARGES IN LOOKING FOR JACK, AND VERY AGITATED. NOTICING WHAT IS GOING ON KAYLA TELLS EMILIO THAT JACK WENT TO THE PIER. EMILIO, UPSET, RUNS OFF; VERN WONDERS WHAT IS GOING ON AND TRIES TO STOP HIM; KAYLA REMAINS AT THE DESK A MIXTURE OF CONFUSION, AND EVEN POSSIBLY CONCERN.
---
SCENE TEN: JACK IS WALKING ALONE ON THE PIER, AND IS TALKING INTO HIS TAPE RECORDER.
JACK: Testing, testing, one, two, three. This is Jack Deveraux on Pier Number Two, ladies and gentlemen I'd like to thank you for making this Pulitzer Prize possible....
SANTOS HAS SNEAKED UP BEHIND HIM AND SNATCHED HIS RECORDER.
JACK: ....I really.

SANTOS: You won't be needing this.

JACK: Now wait a minute that's my....(Santos tosses it into the Salem River.) well, well (nervously) I guess I won't.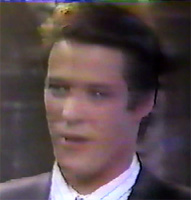 SANTOS: Glad to see you on time.
JACK: (Looking at him confuse.) Yeah, yeah, now wait a minute, from my research on gangs (nervous laugh) I thought the Vipers wore Blue.
SANTOS: (Who is not wearing blue, but red.) Yeah, so?
JACK: So, you're wearing red (finally dawning on him) so that must mean that you're a....Stingray.
SANTOS: (Sarcastically) The man's fast.
JACK: So, how can I help the Stingrays tonight.
SANTOS: (Stepping closer to Jack in a threatening manner.) You tell me Paper Boy.
JACK: Oh, is this about that article? Let me tell you something if you don't like an article you can always write to the Editor.
SANTOS: Oh, I forgot my pen and paper at home.
JACK: Oh, well maybe....I....
SANTOS: But I got this (He opens his switchblade and points it towards Jack's face.)
JACK: (His eyes widening, and laughing nervously) And a very nice one it is, too.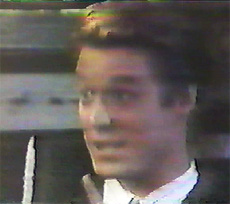 JACK TRIES TO WALK AWAY WHEN HE IS SURROUNDED BY A GANG OF STINGRAYS.
SANTOS: You ain't going away.

JACK: I get your point. Ahem, (talking to another Stingray) well, you look like a very calm and rational gentleman, perhaps we can go somewhere and talk this out rationally; in fact let's all have a beer, it's on me.

SANTOS: We ain't got nothing to talk about.

JACK: Well, if we don't then the meeting is adjourned (trying to leave.)
THEY ENCIRCLE CLOSER.
SANTOS: Not so fast. We may not wanna talk, but the Stingrays got some stuff to take care of with you.
JACK HAS NO WHERE TO GO. ONE OF THEM IS HOLDING JACK AS THEY BEGIN TO ATTACK HIM.

SANTOS IS COMING TOWARD HIM WITH THE BLADE.
---
SCENE ELEVEN: STEVE AND KAYLA'S HOUSE. STEVE HAS RETURNED HOME. KAYLA TELLS HIM THAT JACK STOPPED BY. STEVE IS CONCERNED, AND WANTS TO KNOW WHAT JACK IS UP TO *NOW*. SHE TELLS HIM. STEVE IS NOT CONVINCED THAT JACK'S MOTIVES ARE PURE. BUT KAYLA BELIEVES THEY ARE. STEVE IS SURPRISED THAT SHE IS DEFENDING JACK. THEY SIT ON THE COUCH, AND STEVE SEEMS TO BE PREOCCUPIED WITH SOMETHING ELSE. COULD SOMETHING BE WRONG?
---
SCENE TWELVE: THERE ARE FIVE OF THEM WHO PUNCH JACK AND THEN KICK HIM WHEN HE IS DOWN. AS THEY ARE DOING IT, EMILIO COMES RUNNING UP AND TRIES TO STOP THEM. JACK IS LYING ON THE GROUND WITH HIS FACE CUT AND BARELY CONSCIOUS AS EMILIO FIGHTS WITH THE LEADER OF THE GANG. SUDDENLY THEY HEAR THE POLICE SIRENS AND THE GANG RUNS OFF. JACK IS WHEEZING AS HE TAKES SHALLOW BREATHES.
EMILIO: (Running over to Jack) Are you alright? Are you alright? Look you're going to be okay. Help is on it's way. Okay?
AS EMILIO IS BENDING OVER JACK, JENNIFER COMES RUNNING ALONG THE PIER.
JENNIFER: JACK! Jack, it's me. (To Emilio) What's the matter with you? How could you do this to him? Jack it's okay, you're going to get help. It's okay. Please don't move.
SHE CRADLES JACK'S HEAD IN HER ARMS.
JACK: Don't....don't leave.

JENNIFER: I'm not. I'm not going to leave. I'm going to be right here with you Jack.

EMILIO: Yah know I didn't do this.

JENNIFER: Oh I suppose he did it all by himself, right Emilio.

EMILIO: No but I...
MEANWHILE JACK'S BREATHING IS GETTING MORE AND MORE LABORED.
JENNIFER: I don't care what your excuses are. All I care about is getting him some help.
EMILIO: Will you listen to me?
JENNIFER: Call an ambulance! Emilio he needs help. Call an ambulance!
EMILIO RUNS OFF TO CALL.
JENNIFER: I didn't know that this would happen. No matter what you wrote, you didn't deserve to end up like this. Jack.
JACK: Jennifer.
JENNIFER RESTS HIS HEAD ON HER SHOULDER AND STROKES HIS CHEEK.
JENNIFER: Jack.