---
[Air early date September 1989]
SCENE ONE: JACK IS STILL STAYING AT THE LOFT. THE PHONE IS RINGING AND JACK IS LIMPING DOWN TO ANSWER IT.
JACK: I'm coming. Yes, I guess the invalid will get the phone. Hello.

EMILIO: This is Emilio. I'm runnin' late, alright.

JACK: Well, I'm running on time. I guess we're going to have to cut the body guard routine for today, uh?

EMILIO: Chill out. I'll be there in fifteen minutes.

JACK: I'm leaving in ten. If you want to pick me up and bring me to school, you've got to be on time.

EMILIO: Well, if I didn't have to pick up my tux from the dry cleaners because it had grass stains on it, and you know what I mean, I would've been there.

JACK: Fifteen minutes and I'm gone.
JACK HANGS UP. JENNIFER IS POURING HERSELF A CUP OF COFFEE.
JACK: Tarzan said he had a few errands to run so it'll be a few minutes. Oh, why don't you save some of that coffee for me. You.... er.... probably cold anyway.
HE HOLDS OUT HIS CUP BUT SHE DRAINS THE POT INTO HERS.
JACK: Like everything else around here.
JENNIFER GLARES AT HIM THEN WALKS STRAIGHT PAST AND SITS ON THE SOFA READING THE PAPER. JACK SITS DOWN NEXT TO HER.
JACK: So.... how about those Cubs?
JENNIFER GLANCES AT HIM FROM BEHIND THE PAPER THEN GOES BACK TO READING. JACK GETS UP AND PUTS HIS CUP BACK ON THE KITCHEN BENCH THEN PICKS UP HIS COAT. HE STARTS TO PUT IT ON AND THEN DECIDES TO ENLIST HER HELP. HE PUTS IT BACK ON THE BENCH.
JACK: Ah Jennifer, I hate to interrupt anything important over there but I could use your help. I mean it still hurts here.
JENNIFER LOOKS UP AT HIM WITH AN EVIL LOOK IN HER EYE.
JENNIFER: Sure Jack.

JACK: Oh, the monument speaks.

JENNIFER: Let me put on your coat.

JACK: Yeah, sure. I'm glad you're not still mad about what happened the other night. I mean I really think that your far, far too intelligent to let something like that get in the way of how you feel and.... ah....
JENNIFER HAS HELPED HIM ON WITH HIS COAT AND IS NOW PULLING IT VERY TIGHT TO DO IT UP, JACK GRIMACES.
JACK: Still a little angry are we?
JENNIFER PULLS IT EVEN TIGHTER.
JACK: Urgh!
---
SCENE TWO: JACK HAS JUST OPENED THE DOOR TO THE LOFT AND EMILIO WALKS IN.
JACK: I said fifteen minutes.

EMILIO: Well, something came up, alright.

JENNIFER: Emilio, are you okay?

EMILIO: Yeah, yeah. Are you ready?

JACK: We've been ready for an hour. Let's go.

JENNIFER: Wait a minute.

JACK: Wait a minute. What are you doing? Where are you going?

JENNIFER: I have to change my purse.

JACK: What are you talking about?

JENNIFER: Jack, it doesn't even match what I'm wearing.

JACK: Oh, by all means. We don't want a fashion fatality here. Get going.

JENNIFER: I will be one minute, Jack.

JACK: Hey, Emilio, I hope there's no hard feelings.

EMILIO: About what?

JACK: About the other night. I keep thinking about you looking like a penguin at the picnic, you know.

EMILIO: Yeah well, it wasn't so bad alright.

JACK: Oh, really. Great, great.

EMILIO: Except that three guys in the parking lot asked me if I wanted to park the car.

JACK: Only three!

EMILIO: And another guy asked me where I left my orchestra.

JACK: Oh really.

EMILIO: You know Deveraux, I don't think you realize that I could break you in half at any given second. Do you know that?

JACK: Me, an unarmed man?

EMILIO: Yeah.

JACK: Me an injured unarmed man. It wasn't my fault.
EMILIO GRABS JACK BY THE COLLAR.
EMILIO: Who's fault was it?

JACK: Look, I admit I gave you some bad advice but I was trying to help you.

EMILIO: Oh, come on. Who were you trying to help, me?

JACK: Look, you didn't tell me it was going to be in the park. You said fancy music. I thought fancy clothes. I didn't know the concert would be al fresco.

EMILIO: Al, who?

JACK: Look, I heard you had a great time. Do you really care that you looked like an idiot?
EMILIO GRABS JACK AGAIN.
EMILIO: Don't call me an idiot.

JACK: You looked out of place, you looked out of place. That's all. Out of place.

JENNIFER: Emilio, don't bother. It's not worth the effort.

EMILIO: Yeah. It's worth the effort. Maybe not the time. Ya ready Jen?

JENNIFER: Yeah. You?

EMILIO: Yeah, I'm ready too.

JACK: (Half strangled by Emilio) Yeah, me too.
JENNIFER AND EMILIO BOTH WALK OUT IGNORING JACK. THEY GET IN THE ELEVATOR AND GO DOWN WITHOUT HIM.
JACK: Well, I'm right behind you. Wait a minute. Hey! (Beat) Yeah. I guess I wanted to take the stairs, anyway.
---
SCENE THREE: JACK ARRIVES AND WORK AND MAX IS SITTING AT HIS DESK.
JACK: Hey, what are you doing at my desk?

MAX: Waiting.

JACK: Look I'm sorry. I apologize, I'm late, I'm sorry. Is that okay?
MAX SHAKES HIS HEAD.
JACK: Okay, look. I'm going to give you back your baseball card. Does that square us?

MAX: Okay. But next time it will cost you the Cosmic Swirl er.

JACK: The Cosmic Swirler! You drive a hard bargain kid. Alright let's get down to business. Show me what you got.

MAX: Right here.

JACK: Index cards. That's very professional.
---
SCENE FOUR: MEANWHILE JENNIFER SEES TOM OUTSIDE JACK'S OFFICE. HE TELLS HER THAT HE IS APPLYING FOR THE AD, AND HE IS NOT SURE HE WILL GET THE JOB BECAUSE OF THE COMPETITION. JACK CALLS THE FIRST APPLICANT.
JACK: Mr. Avery. My client's ready to see you.
TOM SAYS THAT AVERY PLAYED FOR THE CUBS AND EMILIO IS EXCITED. TOM IS SURE HE HAS NO CHANCE.
---
SCENE FIVE: A SHORT TIME LATER TOM IS BEING INTERVIEWED BY MAX WITH JACK LOOKING ON.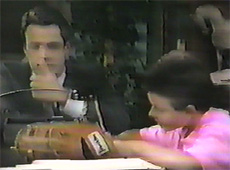 MAX: Okay, what's your favorite flavor of ice cream?

TOM: Pistachio.

MAX: Pistachio?

TOM: Oh no, no. Chocolate, I mean. Chocolate is my real favorite.

MAX: Chocolate. This is hard.

JACK: (Whispering) Hey! Ask him why he wants the job.

MAX: (Whispering) Good idea.

JACK: Yeah.

MAX: How come you want this job?

TOM: Well Max, it's like this. All my grandsons are gone now and they don't need me anymore. I miss having somebody to go fishing with, somebody to go to the ball game with me. I miss having a buddy.

MAX: Do you like fishing?

TOM: You bet I do.
JENNIFER COMES INTO THE OFFICE.
JENNIFER: Excuse me. Um, can I interrupt?

JACK: Ah, look Jennifer we're in the middle of something if you.... er.

JENNIFER: I'm here to deliver a character reference. May I?

MAX: Okay.

JACK: Okay, sure.

JENNIFER: "To whom it may concern. That's you Max. I would like to recommend Dr Tom Horton for the position of granpa. After years of association with Dr Horton I have found him to be kind, generous and highly responsible. He performs grandfather duties with utmost professionalism." (To Max) "He lets you win at checkers and stay up as late as you want. Dr Horton stands head and shoulders above the opposition in the area of caring. No matter how many times you find yourself in trouble, he is always understanding and full of love. He's not too bad in the hug department either Max. I can think of no other person more qualified for the position of granpa, so I hope you will act quickly on this recommendation."
JACK IS LISTENING AND WISHING THAT HE HAD THE KIND OF LOVING FAMILY THAT JENNIFER HAS.
JENNIFER: I love you granpa.

TOM: I love you.

MAX: Wow! You're hired. Can you start tomorrow?

TOM: You bet.
---
SCENE SIX: MEANWHILE EMILIO IS WAITING OUTSIDE FOR JENNIFER WHEN HER PHONE RINGS. HE ANSWERS IT AND IT'S THE STINGRAYS WHO TELL EMILIO THEY KNOW WHERE TO FIND HER.
---
SCENE SEVEN: TOM AND MAX LEAVE TO BUY SOME FISHING GEAR AND JACK AND JENNIFER STAND AND WATCH THEM LEAVE.
JACK: Ha, those two kids were made for each other.

JENNIFER: You bet. Thank you Jack.

JACK: Me? I didn't do anything. Well I helped with a couple of questions and answers but.... well now that you mention it, I did put some of myself into it. I probably helped him get the job.

JENNIFER: Oh excuse me, but are you saying that you think that my granpa and you are alike?

JACK: Well, actually, yes. I mean we come from the same kind of background. You too.

JENNIFER: Oh okay Jack.

JACK: We grew up with money, education, culture. The kind of thing that separates us from the rest of society.

JENNIFER: Oh society meaning Emilio?

JACK: Well, now that you mention it, yes.

JENNIFER: Oh no, no, Jack. Just save it, alright. Both of our families may have money but that's where the similarity ends. You see because my family taught me something that you can't buy with money. The value of honesty and respect. Emilio understands that. And as far as I'm concerned he and I have a lot more in common than you and I ever will Jack.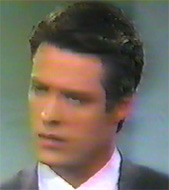 JACK: Jennifer, ah....
SHE WALKS OUT AND SLAMS THE DOOR AND JACK SITS BACK ON HIS DESK AND SIGHS. EMILIO COMES IN LOOKING FOR JENNIFER.
EMILIO: Jennifer around?

JACK: No. She's.... (He has an idea.) Emilio, ah, wait a minute. Do you have a minute? I mean can we talk?

EMILIO: Yeah.

JACK: Grab a seat, please.

EMILIO: Okay, what is it Deveraux?

JACK: Well I just wanted to apologize for the stunt I pulled the other night.

EMILIO: What's the gag here?

JACK: Oh there's no gag. Look I finally just realized what am I trying to do, trying to keep you kids apart? What I'm saying is, she's all yours.
JACK PUTS OUT HIS HAND TO SHAKE EMILIO'S BUT FIRST EMILIO NEEDS SOME ANSWERS.
EMILIO: Ah wait a minute, wait a minute. Let me get this straight. You're not interested in Jennifer anymore, is that what you're saying?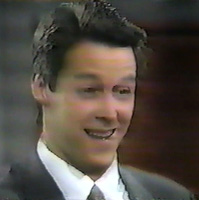 JACK: No, no, no. I'll always be interested in her welfare but if she wants to be on welfare with you, I'm not going to stand in the way.

EMILIO: Yeah, well I'm glad we got one thing straight.
THEY SHAKE HANDS AND EMILIO ALMOST CRUSHES JACK HAND.
JACK: I just hope you can hang on to her.

EMILIO: What's that supposed to mean?

JACK: Oh nothing, nothing at all.

EMILIO: Come on motor mouth, spit it out.

JACK: Well it's just that Jennifer, she's a special case, you know. She's kind of a.... she's cultured and sensitive and classical and you're just too er.... too.... er

EMILIO: Too what, too what?

JACK: Too honest. You can't be too honest about your feelings with her. I mean you're going to scare her off.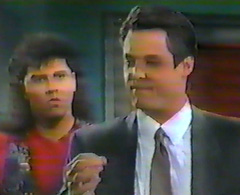 EMILIO: So what are you saying, I should lie to her? Is that what you're saying?

JACK: No, no, don't lie. I don't want you to lie to her . I want you to er, to er, well just learn how to behave around the type of girl that she is. Maybe you could just.... (gestures) nah, nah forget it.

EMILIO: No, no, go ahead. Come on.

JACK: No it would never work.

EMILIO: Deveraux, tell me what you're thinkin.

JACK: I'm.... well maybe I could help you learn to behave with her. You know, be her dream man. Well, it would be like putting William F. Buckley's head on Rambo's shoulders.

EMILIO: F. who?

JACK: No, no, no. Forget about that. Think about this. Maybe I can help you win her heart and keep it. Maybe I can help you do that.
EMILIO BEGINS TO BE CONVINCED BY JACK'S MANIPULATIONS.
---
SCENE EIGHT: MEANWHILE JENNIFER GETS A CALL FROM A FRIEND OF SANTOS WHO TELLS HER THAT IF SHE DOES NOT KEEP EMILIO AWAY FROM JACK THEN SHE WILL BE ATTENDING EMILIO'S FUNERAL. JENNIFER HANGS UP, FOR FACIAL EXPRESSION REVEALING HER FEAR. JACK AND EMILIO COME OUT OF JACK'S OFFICE LOOKING LIKE BUDDIES. JACK LOOKING OVER TOWARDS JENNIFER, STOPS, NOTICING JENNIFER'S EXPRESSION.

HE HAS A LOOK OF CONCERN ON HIS FACE. EMILIO IS OBVILIOUS TO WHAT IS HAPPENING.
---
SCENE ONE: STEVE GOES TO THE SPECTATOR AND ASKS VERN FOR SOME OLD NEWS REPORTS ON MICROFILM. VERN SETS HIM UP. BUT HE TELLS HIM THAT TEN YEARS AGO IS A LONG TIME, COULD HE BE MORE SPECIFIC. VERN LEAVES AND STEVE COMES ACROSS WHAT HE IS LOOKING FOR. HE READS OUT LOUD AN OLD NEWS REPORT: IT IS ABOUT A WINE HEIRESS, THE DAUGHTER OF ERNESTO TOSCANO, WHO IS REPORTED MISSING; AN AMERICAN MERCHANT MARINE IS BEING SOUGHT FOR QUESTIONING IN HER DISAPPEARANCE.
---
SCENE TWO: STEVE HAS A FLASHBACK. THERE IS A MYSTERIOUS FIGURE, A WOMAN, TO WHOM A MUCH YOUNGER STEVE WALKS UP TO. IT IS A WOMAN WEARING A SCARF OVER HER HEAD. STEVE TELLS HER THAT SHE USED HIM, HE LOVED HER, AND SHE USED HIM.

HE IS SNAPPED OUT OF HIS FLASHBACK BY JACK.
JACK: You look like you can use that (handing him a drink).... what's wrong.
A FLUSTERED STEVE LOOKS UP.
---
SCENE THREE: IT IS STEVE AND KAYLA'S HOUSE. A MYSERIOUS WOMAN, WHO LOOKS VERY MUCH LIKE THE WOMAN IN STEVE'S FLASHBACK, IS WALKING AROUND THEIR LIVINGROOM. WHAT IS SHE UP TO?
---
SCENE FOUR: JACK AND STEVE CONTINUED.
JACK: (Concerned) I said what's wrong.

STEVE: (Jack is obviously the last person who he wanted to see.) Nothing.

JACK: People don't get this upset for nothing.

STEVE: (Upset, and getting angry, he stands up and looks threateningly at Jack.) I want you to stay out of my business. I MEAN IT!
HE GETS UP TO LEAVE AND HE HANDS VERN THE FILM. JACK IS THINKING. ONCE STEVE IS GONE HE SNAPS HIS FINGERS, MOTIONING TO VERN TO SEE WHAT STEVE WAS LOOKING AT, AND WHAT MADE HIM SO UPSET.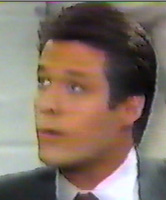 JACK: Vern (Vern reluctantly gives Jack the film and Jack looks at it.) "1522." This should prove interesting.

VERN: Ah, Steve was through with that thing.

JACK: I know that, I'm not. I want you to make a copy of this, right now, on the double.

VERN: (Still reluctant, trying to change Jack's mind.) Why what's so damned important about it?

JACK: (Not sure himself, but determined to find out.) Don't ask my any questions, Vern.

VERN: Oh, really I thought I was working for a newspaper.

JACK: Wrong! You work for me!
VERN GIVES IN AND GOES OFF. JACK IS PREPLEXED. BUT IS HE TRYING TO USE THE INFORMATION TO *HURT* OR TO *HELP* STEVE?
---
SCENE FIVE: JACK IS INSIDE HIS OFFICE, PACING AROUND, HE IS STILL SLIGHTLY LIMPING, AND HIS HAND IS PLACED OVER HIS BROKEN RIBS, HE IS READING A NEWSPAPER, AND IS PREOCCUPIED BY WHAT HE IS READING. JO PEEKS IN THROUGH THE OPENED DOOR, UNDETECTED BY JACK.
JO: (Cheerfully) Hello! I hope I didn't come at a bad time.

JACK: (Snapping out of what was preoccupying him. His somewhat aloof self.) Hello, Mrs. Johnson, what can I do for you?

JO: (Knowing Jack and his feelings towards her.) Well, I was in the neighborhood, and wanted to come by and see how you are feeling these days.

JACK: Well, apart from barely being able to feed or dress myself, I say I'm doing alright.

JO: (Chuckling, somewhat nervously) It doesn't seem to keep you from working?

JACK: Well, the news must go on.

JO: (Thinking it better to leave) Well, you go on with what you're doing, I just want you to know that I am glad you're feeling better. (She is about to leave.)

JACK: (Getting an idea) Oh, Mrs. Johnson, (Jo stops) I just wanted to ask you something. (Jo is excited that Jack is seeking out her help.) Was Steve ever stationed in Italy during his time with the Merchant Marines?

JO: (Confused) I don't know, why?

JACK: (Trying to pretend that it is nothing.) I was just wondering.

JO: (Becoming concerned that Jack is up to something.) Jack, you just don't wonder about anything unless you have a motive.

JACK: How can you that about me?

JO: Well, it's true. What are you up to?

JACK: (Trying to be nonchalant about it) Oh, just reading this article and I was curious.
JACK HANDS HER THE PAPER WITH THE ARTICLE THAT HE WAS PREOCCUPIED WITH EARLIER. SHE READS IT.
JO: Well, there must be tens of thousands of marines all.... all over the world. I mean this could be written about anyone.

JACK: Then why was Steve here reading this article?

JO: (Though she seems not to be convinced herself, and she seems to be becoming concerned too.) Maybe it's about a friend of his.

JACK: Maybe (Not convinced). Then again maybe not.

JO: (Worried that Jack is trying to hurt Steve.) Jack, are you trying to pin something on your brother?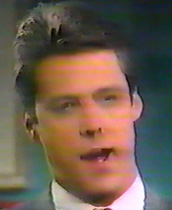 JACK: (Hurt by her suspicions of him) You know, contrary to popular opinion, I am not Salem's version of Freddie Krueger; maybe I want to help the guy out!
JO: (Embarrassed that she thought badly of Jack, her expression then changes to joy that Jack is trying to help.) You just.... you don't know how long I waited to hear you say that.
JACK: (Embarrassed, he does not know how to handle her reaction, so he pretends that his motives are in fact not the best.) Ahem, then don't hold your breath, there may be a story in this. (Jack walks to his desk and sits down) Besides, I'm not going to waste my time on something as simple as brotherly love.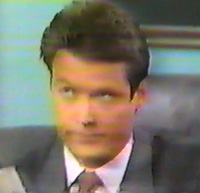 JACK SAYS THIS, BUT IT IS OBVIOUS THAT DEEP DOWN THAT IS *EXACTLY* WHAT HIS MOTIVE IS. HE IS EMBARRASSED THAT HE LET SLIP WHAT IS IN HIS HEART, THE GOOD THAT IS IN HIM.
---
SCENE SIX: IT SEEMS AS IF THE MYSTERY WOMAN, WHO IS IN FACT MARINA TOSCANA, SOMEONE FROM STEVE'S PAST, IS FOLLOWING KAYLA AROUND. SHE SETS UP AN ACCIDENT BETWEEN KAYLA AND HERSELF. KAYLA IS SLIGHTLY INJURED AND GOES TO THE HOSPITAL. MARINA IS USING AN ASSUMED NAME, SHE IS GOING BY THE NAME DONNA D'ANGELO.