---
[Air date early October 1989]
SCENE ONE: MARINA IS IN HER HOTEL ROOM GETTING READY TO LEAVE WHEN THERE IS A KNOCK AT THE DOOR.
MARINA: I said I put....
IT IS JACK INSTEAD.
JACK: I'm not room service.

MARINA: What is it Mr. Deveraux?

JACK: Good morning Miss Toscano.

MARINA: I have an appointment.

JACK: I won't keep you. I know we're both fairly straightforward people and I think we can afford to be straightforward with each other.

MARINA: Any reason in particular?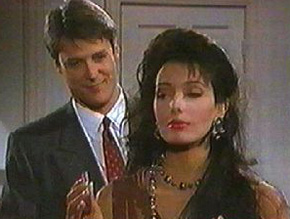 JACK: Yes. I've been wondering something. I just wanted to know when you're going to get off Steve's back?

MARINA: When I get what I came here for.

JACK: No, no. That doesn't answer my question.

MARINA: As far as I'm concerned it does.

JACK: It doesn't. Not if what you came for is Steve and not if you love him.

MARINA: Why the interest in your brother's welfare, Mr. Deveraux?

JACK: No, I'm not interested in him. I'm interested in you.

MARINA: I'm sorry to disappoint you but I'm not that interesting.

JACK: Oh, on the contrary. Any lady who plays a chambermaid just to seduce a sailor, I find quite fascinating.

MARINA: Wherever did you hear that fascinating tale?

JACK: Oh, I'm a reporter. I have a nose for fascinating tale.
JACK LOOKS DOWN AT HER FIGURE.
MARINA: I'm afraid you've been sticking it in the wrong place.

JACK: Maybe. So tell me, how long has the heiress been chasing sailors?

MARINA: You know Jack, for a reporter, you have a lot more questions than you do facts.

JACK: I have one fact. Just about the time that you and Steve became bunk buddies, a very valuable heirloom was stolen from your father's estate.

MARINA: What does this have to do with me?

JACK: Everything. The question is, what does it have to do with Steve?

MARINA: Maybe he's got it.

JACK: No, no, no. He would have gotten rid of it by now and saved you the trip. I think that he doesn't have it but you need his help to get it.

MARINA: You're very clever Jack but I'm getting the feeling that your interest is more than professional here.

JACK: No, no. I'll show you more than professional. Let me help you get it.

MARINA: I appreciate the offer but Steve is the only person who can help me. He has something I need.

JACK: Oh!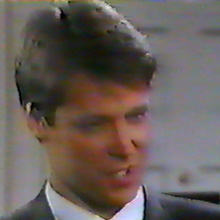 MARINA: A log book.

JACK: Oh, I can get that for you.

MARINA: I don't see how.

JACK: No, just leave it to me. No problem at all.

MARINA: I'd be most grateful if you did.
SHE BEGINS TO FONDLE HIS TIE.
JACK: Well we'll see how grateful you can be. I'll be back.
---
SCENE TWO: MEANWHILE, JENNIFER IS AT THE LOFT WHEN MIKE COMES TO VISIT. HE WANTS A FAVOR AND HE ASKS HER IF EVE CAN MOVE INTO THE LOFT. JENNIFER SAYS THAT SHE CANNOT STAND EVE, BUT HE SAYS THAT EVE REALLY NEEDS A HOME NOW. SHE RELUCTANTLY AGREES AFTER HE PLEADS WITH HER.
---
SCENE THREE: AT THE SAME TIME JACK IS AT STEVE'S HOUSE. USING HIS TRUSTY CREDIT CARD HE OPENS THE FRONT DOOR.
JACK: Excuse me. Anybody home? (There is no answer) Good. Who needs keys when you've got plastic, uh. Alright Steve, where could this log book be? Gotta think like a crook. Yes.
JACK LEANS ON THE BOOK CASE AND IT STARTS TO SLIDE.
JACK: Wait a minute! Wait a minute, what is this?
AS IT SLIDES BACK, JACK SEES A NARROW PASSAGEWAY AND LYING IN THERE IS A LARGE DUFFLE BAG.
JACK: Well what do you know? What have we here? The secrets of the sea are in here I'll bet.
JACK CARRIES IT TO A TABLE BY THE SOFA. HE REACHES DOWN INTO THE BAG AND LOCATES A BLUE SHIP'S LOG.
JACK: Hehehehehe. Anchors away.
---
SCENE FOUR: A SHORT TIME LATER JACK KNOCKS ON MARINA'S DOOR AGAIN, HE HAS THE LOG SHE WAS LOOKING FOR.
MARINA: Well?
Jack brings Marina the log book but Steve arrives, & gets the wrong impression;
1:10 min; 2.7 Meg

JACK: Look familiar.

MARINA: That's it. That's.... Jack how did you get your hands on it?

JACK: Does it matter?

MARINA: No, give it to me.

JACK: Not yet.

MARINA: Jack give it to me.
JACK HOLDS THE LOG ABOVE HIS HEAD OUT OF HER REACH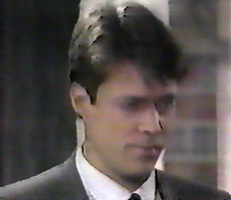 JACK: I have a couple of questions for you first.
THE DOOR BURSTS OPEN AND STEVE ENTERS.
STEVE: I should have known.

JACK: No things aren't the way they seem.

STEVE: I should have known.

JACK: No....
STEVE GIVES JACK A HARD PUNCH TO THE JAW, STEVEGRABS HIM

AND THEN KNOCKS HIM TO THE FLOOR.
STEVE: I know how they look.

JACK: Steve, wait a minute, it's not the way. Steven, it's not.... it's not....
STEVE HOLDS JACK'S HEAD IN HIS HANDS AND SHAKES IT VIOLENTLY.
STEVE: You look me in the eye. You're a thief.

MARINA: Steven it's not....

STEVE: You shut up. Give me that. So you two are working together, uh?

JACK: No, we're not working together.

STEVE: AH, YOU SHUT UP! I DON'T WANT TO HEAR ANOTHER BIT OF YOUR CRAP.

JACK: I was helping you.

STEVE: You were helping me by breaking into my house?

JACK: Look you got the log book. Just give it to her. JUST GIVE IT TO HER!

STEVE: Yeah, you'd like that wouldn't you? Then the two of you could go off on your little treasure hunt.

MARINA: You are making a mistake.

STEVE: I made a mistake when I trusted you.

MARINA: Steve, don't. Give me the book.

STEVE: Get away from me. You know the funny thing Marina, I was going to give it to you. I was all set to give it to you.
STEVE WALKS OUT THE DOOR. JACK SIGHS, DISAPPOINTED HE FAILED AND, WORSE, THAT STEVE THINKS THAT HE IS HELPING MARINA TO HURT HIM.
---
SCENE FIVE: JACK AND MARCUS ARE TALKING IN THE PARK ABOUT THEIR LOVE LIVES AND WOMEN. STEVE TELLS HIM THAT SOME WOMEN, NO MATTER WHAT THEY DO TO YOU, GET IN YOUR BLOOD. MARCUS REALIZES HE IS TALKING ABOUT MARINA. STEVE TELLS HIM THAT HE CANNOT TELL KAYLA HOW HE FEELS FOR SHE WOULD NOT UNDERSTAND. MARCUS THINKS SHE WOULD.
---
SCENE SIX: JACK GOES BACK TO THE LOFT AND IS WAITING AS JENNIFER COMES OUT OF THE ELEVATOR LOADED UP WITH GROCERIES. HE TAKES THE LARGEST BAG FROM HER.
JENNIFER: (Not realizing it is Jack.) Mike, help me with the....

JACK: Sure, sure.

JENNIFER: Jack what are you doing.... what happened to your face? Jack did the Stingrays come after you again?

JACK: No, no. Steve came after me.

JENNIFER: Come in here. What happened?

JACK: Nothing.

JENNIFER: Nothing?

JACK: Nothing. Look actually I was looking for the articles on the gangs. They weren't at the office so I figured they must be here.

JENNIFER: You didn't come here to talk to me about work. Now Jack sit down here and tell me what happened.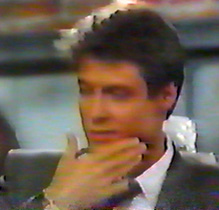 JACK: It's nothing.

JENNIFER: Jack!

JACK: Look, I was just trying to do something and you know, Steve misunderstood. That's all.

JENNIFER: You were trying to do something?

JACK: Right. You see there was this log book and....

JENNIFER: Jack, tell me what you're up to.

JACK: I was working on my story, alright.

JENNIFER: (Hopeful that Jack is trying to do good, but concerned that he has not changed. It is obvious that she really wants him to do so, because she has grown to care for him.) And you weren't trying to hurt Steve in the process, right Jack?

JACK: (Hurt) Why are you assuming the worst?

JENNIFER: (Sorry, and guardedly hopeful) Look I don't want to. You know, if you just come right out and say why you're doing the things you're doing, people might be more willing to accept you.

JACK: He wasn't exactly in the mood for a chat.

JENNIFER: I'm sure if you explained it to him, if you made him understand....

JACK: No, no. I'm not about to beg.

JENNIFER: What if you tried Jack?

JACK: (Sadly) Look, we're not friends and we're never going to be friends and there's nothing I can do to change it.

JACK: (Cont., rubbing his sore jaw) Nothing.
---
[Air date mid-October 1989]
SCENE ONE: MARINA HAS ASKED JACK TO COME AND SEE HER AT THE SALEM INN.
MARINA: Thank you for coming.

JACK: It's great to be here. Steve's got quite a temper hasn't he, in case you haven't noticed.

MARINA: Steve has always had that temper.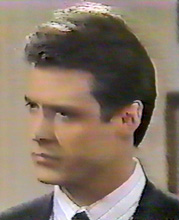 JACK: Huh. Well I guess I can't blame you. Steve just assumes that I'm here to make trouble for him.
MARINA: He accuses me of the same thing no matter how many times I try to tell him that I don't want to hurt him or Kayla.
JACK: Really? Well let me give you the same piece of advice he gave me. If you really want to help him, just get what you want as fast as you can then get the hell out of Dodge.
MARINA: I will get what I want Jack. Perhaps you will too. I think I've finally figured out the right way to do this.
JACK: Look, I would not lie to you. There is no right way to get what you want from Steve.
MARINA: Maybe not, but there is a wrong way and unfortunately up until now that's the way we've been doing it. Tell me Jack. Why is it that your brother won't believe that you want to help him?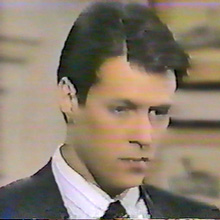 JACK: Ah.... well that's kind of a long story.

MARINA: What about Kayla? Would she believe you?

JACK: (Jack turns and has a sad, ashamed look on his face) That is even a longer story.

MARINA: I just find that hard to believe. Kayla is one of the nicest people I've ever known. Couldn't you prove to her that your motives are pure?

JACK: Yeah, yeah real pure!

MARINA: You could at least try couldn't you?
JACK PONDERS THAT IDEA.
MARINA: Obviously you've made some sort of mistake with your family and I understand. I've made some with mine too.

JACK: Alright, alright. I'll do it. I'll go to Kayla and I'll get that log book from her, somehow. But while I'm doing it, I want to know, what are you going to be doing?

MARINA: What do you mean?

JACK: I mean I'm doing this to help you get out of town. That is what you and Steve want isn't it?

MARINA: Of course.

JACK: (Unsure whether to believe her.) And while you do that I'll talk to Steve. Maybe if we just stop fighting.

JACK: That's not going to work believe me.

MARINA: Jack, Jack, all I want, all I want, is his help, that's all. (Laying it on thick, she is near tears, but it seems more an act than true love for Steve) If he could just remember how much we loved each other, how much we shared together, he would know I would never hurt him, never.
MARINA FALLS INTO JACK'S ARMS FOR COMFORT MAKING HIM FEEL VERY UNEASY ABOUT HER MOTIVES.
---
SCENE TWO: STEVE AND KAYLA ARE TALKING [MARY BETH EVANS WAS PREGNANT AND HAD TO TAKE A REST SO ANOTHER ACTRESS, RHONDA ALDRICH, WAS IN THE ROLE FOR A FEW DAYS]. HE HAS TOLD HER THAT HE THINKS THAT JACK HAS JOINED FORCES WITH MARINA. HE BLAMES JACK FOR BRINGING HER TO TOWN. KAYLA'S REPLY INDICATES SHE DOES NOT BELIEVE THAT. HE TELLS HER THAT HE WILL HAVE NOTHING TO DO WITH EITHER OF THEM. KAYLA TELLS HIM THAT HE IS LYING. SHE TELLS HIM THAT HE IS USING JACK AS AN EXCUSE. HE TELLS HER THAT JACK HAD THE BOOK IN HER HOTEL ROOM. SHE INFORMS STEVE THAT HE WOULD HAVE HAD ANOTHER EXCUSE, OTHER THAN JACK, TO TAKE THE LOG FROM MARINA. SHE TELLS HIM THAT SHE IS BACK IN HIS LIFE AND HE CANNOT "LET HER GO AGAIN." HE DENIES IT, HE WANTS HER OUT OF HIS LIFE. HE TELLS HER HE LOVES HER. SHE SAYS SHE KNOWS. THAT, HOWEVER, IS NOT THE PROBLEM, HOW HE FEELS ABOUT MARINA IS, AND THE FACT HE CANNOT BE HONEST WITH HIMSELF ABOUT THAT. SHE CONTINUES IF HE CANNOT, THEN SHE AND HE CANNOT MOVE ON. HE CONTINUES TO DENY THAT, BUT IT IS OBVIOUS SHE DOES NOT BELIEVE IT IS TRUE.
---
SCENE THREE: LATER JACK GOES TO SEE KAYLA [RHONDA ALDRICH IS STILL IN THE ROLE] AT THE EMERGENCY CENTER. AS HE WALKS IN HE OVERHEARS THE END OF A CONVERSATION SHE IS HAVING WITH NEIL. NEIL HAS JUST TOLD HER SHE IS PREGNANT. SHE THINKS THIS IS NOT THE BEST TIME TO HAVE A BABY. JACK DOES NOT KNOW EXACTLY WHAT THEY ARE REFERRING TO.
KAYLA: We've been having some problems. We're trying to work through them.

NEIL: Hmmm. Im sorry to hear that but if I know you and Steve you will work through them.

JACK: Excuse me.

KAYLA: What are you doing here?

JACK: Um, I'm looking for a little mercy as in angel of.... (Jack points to his face her Steve Punched him.) Neil.

NEIL: Jack. Well listen Kayla, I'll take care of this and let you know as soon as I can.

KAYLA: Thank you Neil.

NEIL: If you need anything call me.
NEIL LEAVES.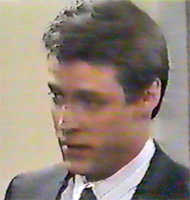 JACK: I thought maybe you could take a look at a little bruise I have here. I got it during a conversation with a mutual friend. I know you know who I'm talking about.

KAYLA: I know all about Steve, Jack, and Marina. So if you're trying to make more trouble?

JACK: I'm not, I'm not trying to make trouble.

KAYLA: You could have gone a lot of places to have that checked.

JACK: Look, this'll heal but this is the only place that we can talk. Kayla I'm... (Jack moves towards Kayla.)

KAYLA: Don't.
SHE WAVES HIM AWAY AND HE RECOILS IN SHAME AND HURT.
JACK: Okay. I.... er.... look I wanted to talk to you about.... I know how hard it is for you to be in a room with me. Look I just wanted you to know that I wasn't going to see Marina to hurt Steve. I was trying to help him. (Beat) You don't think I'm capable of that anymore, do you?
KAYLA: Honestly?
JACK: Honestly.
KAYLA: No, I don't think you're capable of it. Not for a minute. Why should I? So you really think it's that simple. You can walk in here, say a few words and everything's forgiven. Well that's not going to happen. Not now, not ever, not with me.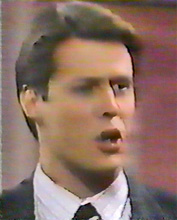 JACK: No, I don't expect everything to be forgiven but we can't even have a decent conversation. All I'm saying is that I didn't set out to hurt you or Steve or anybody else yesterday. That's all.
JACK STARTS TO LEAVE.
KAYLA: Jack.

JACK: No, really Kayla, I understand. Okay, don't worry.
AS HE IS WALKING OUT, KAYLA SIGHS AND BEGINS TO FALL OVER.
JACK: Kayla?

KAYLA: No, I'm alright.

JACK: No, you are not alright. Here, sit down, sit down.

KAYLA: I'm just a little dizzy, that's all.

JACK: Dizzy? Sit down. Look I will call Neil, alright?

KAYLA: No.

JACK: Then I will drive you home. Is that alright? You can't drive yourself. I'll drive you home.

KAYLA: Look I don't need your help.

JACK: Okay, at least let me call Steve.

KAYLA: No.

JACK: Then I'm going to drive you home. You can't drive yourself. Come on, can you stand.

KAYLA: I can make it to the car by myself.

JACK: Okay.
KAYLA STANDS UP AND ALMOST FAINTS. JACK CATCHES HER.
JACK: Okay, alright. Make it by yourself. I'll just stand behind you here. Take it easy.
JACK GENTLY SUPPORTS HER AS THEY WALK OUT TO THE CAR.
JACK: Right?

KAYLA: Fine.

JACK: Okay. Just let me get this for you.
HE REACHES BACK FOR HER COAT AND BAG AND SHE ALMOST FALLS AGAIN.
JACK: Oh here, take it easy. Take it easy. Here. The car's over here. Right over here.
---
SCENE FOUR: THEY ARRIVE AT STEVE AND KAYLA'S HOUSE AND JACK ASSISTS HER TO THE DOOR.
JACK: Just a little bit further. You're going to be on your own at the door, alright? (Trying to make a joke) Last thing I need right now is another family reunion.
KAYLA GIVES HIM A LOOK NOT AMUSED BY HIS HUMOR. JACK LOOKS EMBARRASSED.
JACK: (Apologizing) Sorry. Here we go.
THE DOOR OPENS AND STEVE SEES JACK WITH KAYLA.
STEVE: What's going on here?

JACK: Ah Steve here. Kayla I hope you feel better.
JACK THROWS KAYLA'S PURSE AT STEVE AND RUNS AS FAST AS HE CAN BACK TO THE CAR.
STEVE: You better run!
INSIDE THEIR HOUSE, KAYLA TELLS STEVE THAT JACK CAME BY THE COMMUNITY CENTER CLINIC TO EXPLAIN THAT HE ONLY WANTED TO HELP AND THAT SHE BELIEVES HIM. KAYLA TELLS STEVE THAT SHE JUST FELT A BIT DIZZY AND JACK DROVE HER HOME.