---
SCENE ONE: JO AND ADRIENNE ARE WAITING AT WINGS AS STEVE AND KAYLA WALK IN FOLLOWED BY JACK ON THE RUN TO BE ON TIME.
JO: Hi kids.

STEVE: Hi. I'm glad you could all be here.

JACK: Hi.
STEVE TURNS AROUND TO STARE AND JACK. JACK STARES BACK, AND ALSO LOOKING A LITTLE AWKWARD.

THEY ALL SIT DOWN.
STEVE: Let's see, we might as well say what we came to say, huh (looking at Kayla for approval).
KAYLA: Go ahead.
ADRIENNE AND JO LOOK A LITTLE CONCERNED.
STEVE: Well, (clearing his throat, and scratching his chin).... Y'all know we've been having some problems lately....
KAYLA GLARES AT THE UNDERSTATEMENT.
STEVE: (Cont.) but uh.... You've been minding your own business, nobody really asked us what was going on.
JO: Because we knew that you (smiling) were going to work things out.
JACK KNOWING ALL THAT HAPPENED, LOOKS SOMBER, KNOWING THAT THINGS ARE MORECOMPLEX THAN JO THINKS.
STEVE: Right, well.... the fact is we should get to the truth out in the open now, and we thought we would uh.... get everybody together and tell you and maybe uh....
ADRIENNE LOOKS ON A LITTLE CONCERNED.
STEVE: (Cont.) ....and uh.... maybe you could help us out a little if we need it, you know--
ADRIENNE: Steve! Steve! We're your family, if you need help, we're here.
STEVE: Well, I hope so. What I'm going to tell you is going to change our lives.
Steve tells the family Kayla is pregnant;
1:10 Min; 2.5 Meg
JACK WATCHES ON, KNOWING WHAT THE NEWS IS. HE AND KAYLA SHARE A LOOK.
---
SCENE TWO: STEVE GOES OVER TO KAYLA AND SHE SITS UP.
JO: What is it?
STEVE: It's right here! (Touching her stomach) We're having a baby!
ADRIENNE: (Beaming) What!
JO: (Walking over to them) Ohhh you two.
JO AND ADRIENNE TALKING AT ONCE.
ADRIENNE: Oh, my gosh, I can't believe it!
JO:Oh, how long have you known?
JACK HAS SAID NOTHING, HE HAS JUST WATCHED ON.
KAYLA: (Answering Jo's question) Awhile.
KAYLA IS SMILING NOW. STEVE LOOKS VERY PROUD
STEVE: We meant to tell you but the right time didn't come along, so we figured, now or never.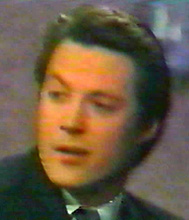 JO: Well.... well, (pulling out some a baby sweater) I guess I don't have to work on this in secret any more.
ADRIENNE, STANDING IN BACK OF JO, IS GRINNING WITH DELIGHT.
STEVE: Look at that.
JO: I had my suspicions, call it mother's intuition.
KAYLA LOOKS OVER TO JACK, WHO LOOKS DOWN, AVOIDING HER EYES.
JO: Jack, you don't seem you don't seem surprised.
JACK LOOKS OVER TOWARDS HER.
JACK: Ohhhh, well, I guess I've had my suspicions too. Ah, well since we're on the subject, congratulations Steve.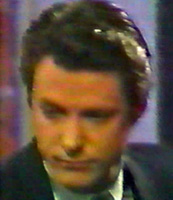 JACK WALKS OVER TO STEVE, AND PUTS OUT HIS HAND TO SHAKE STEVE'S. STEVE DOES NOT RESPOND. JACK PULLS HIS HAND AWAY QUICKLY. STEVE DECIDES TO SHAKE IT.
JACK: [?] Have it there.
THEY SHAKE.
JACK: (A little embarrassed) And I think you're going to be a really good mother, too, Kayla.
KAYLA: Thanks.
JO: I guess I got my Christmas present early this year.
ADRIENNE: What?
JO: Oh, nothing, just something Dr. Curtis and I were talking about.
ADRIENNE: (Beaming) I don't know, Steve, you are going to be a dad, I can't believe it!
STEVE: That's right! So, why don't we celebrate, that's something to celebrate.
ADRIENNE: (Talking simultaneously) Why don't we celebrate (giggles).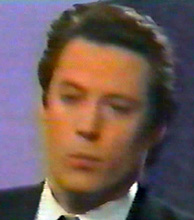 JACK: Well, look, if you're going to eat, why don't we.... let's get some food.
STEVE: No, I'll take care of it.
JACK: No.... no.... no, I'll help. Ah, Dave, get some menus over here. Some champagne or something.
DAVE MOTIONS THAT HE HEARD JACK. HE ACKNOWLEDGES JACK.

ROMAN COMES IN.
ROMAN: Oh, champagne? Something to celebrate.
ADRIENNE: Kayla and Steve just told us they're going to have a baby!
ROMAN: 'Bout time, Sis!
KAYLA: Listen, we haven't ordered yet, why don't you join us.
ROMAN: I.... I can't, I'm meeting some friends.
STEVE: "Some friends," huh?
ROMAN: Yeah, I still got some.
STEVE: Hmm.
ROMAN: (To Kayla) I'll see you.
ROMAN WALKS OFF.
JO: Listen I forgot, I have to go too.
ADRIENNE AND KAYLA, AND EVEN JACK LOOK DISAPPOINTED.
KAYLA: What?
ADRIENNE: What?
JO: I forgot, I promised Dr. Curtis that I would do some Christmas shopping with him.
ADRIENNE: (Disappointed) Oh.
JACK: So forget about the menus then. FORGET THE MENUS, DAVE.
JO: Kayla, we are going to spend alot of time together. I'm going to take very good care of you and my grandchild, I promise! Steve, would you mind walking me out?
STEVE: Yeah, ahh... sure, sorry you have to leave. guess we can forget about the menus then.
JO GIVES KAYLA A HUG.
STEVE: I will be back in a minute.
KAYLA: Thank you
JO WALKS OUT WITH STEVE WALKS JO OUT TO THE CAR.
ADRIENNE: Bye, Mamma!
JO: Bye, Baby.
KAYLA LOVINGLY WATCHES AS JO AND STEVE WALK OUT TOGETHER.

JUST THEN VICTOR AND JUSTIN WALK IN. JUSTIN LOOKS OVER TOWARDS ADRIENNE, AND SHE TURNS AWAY.
JACK: Ahhh, maybe I could get somebody something to drink?
KAYLA: No, no thank you.
JACK: Alright, I'm going to go.
JACK GOES OVER TO THE BAR AND GETS HIMSELF A DRINK.

ADRIENNE KEEPS LOOKING OVER TOWARDS JUSTIN.
ADRIENNE: (Trying to get her mind off Justin, but her voice cracks) So, have you thought of any names?
KAYLA: No, not really. (Thinking) Maybe.... Emily and Gideon [after the Union soldier and Southern belle, whose diary she and Steve found in their house] (She smiles and laughs remembering their romance)
ADRIENNE: (Not sounding enthused) Gideon? Ahh, Kayla, that's not going to go over too well on the playground, you know.
JACK WALKS BACK TO THEIR TABLE, CARRYING A DRINK.

HAVING JUSTIN SITTING ON A FEW TABLES AWAY GETS TO HER.
ADRIENNE: I.... I.... I better go [?] Excuse me. (she walks off).
JUSTIN WATCHES HER RUN OFF, HE ACTUALLY SEEMS TROUBLED TOO, AND SEEMS TO STILL HAVE FEELINGS FOR HER.
JACK: Seat's empty now. Mind if I sit down?
KAYLA: No, go ahead.
JACK: Okay, some party eh?
KAYLA: Yeah. Thanks for coming Jack.
JACK: Well, thank you for inviting me.
KAYLA: Well, now that we're alone, I'd really like to talk to you about something.
JACK: Sure.
KAYLA: It's about Isabella.
JACK IS THROWN BY THE QUESTION. HE WANTS TO HELP STEVE AND KAYLA, BUT HE HAS PROMISED ISABELLA TO KEEP IT SECRET THAT SHE IS STAYING WITH HIM.
---
SCENE THREE: AT THE BAR, JUSTIN TELLS VICTOR THAT HE WILL HAVE ALL THE PICTURES OF STEVE AND KAYLA THAT VICTOR NEEDS.

V ICTOR THEN WALKS TO ROMAN'S TABLE, HE MAKES A SNIDE COMMENT ABOUT ROMAN NOT WORKING FOR THE POLICE ANYMORE. VICTOR TELLS ROMAN THAT SOMEONE IS GOING AROUND SALEM WITH ROMAN'S POLICE ID, IMPERSONATING HIM. ROMAN WONDERS WHY HE CARES. "YOU'RE JUST A REGULAR DO-GOODER," ROMAN RETORTS BACK. VICTOR REPLIES, "I AM GOOD AT WHATEVER I DO," AND LEAVES. A MOMENT LATER DAVE THE MAITRE D' BRINGS ROMAN A NOTE, "CAN'T MAKE IT, ABE." ROMAN WALKS TO THE PAYPHONES AND MAKES A CALL [I DO NOT HAVE THE REST OF THE SCENE TO KNOW WHOM HE CALLS].
---
SCENE FOUR: BACK AT KAYLA AND JACK'S TABLE.
JACK: Wha.... What do you want to know about Isabella?
KAYLA: Well, Steve thinks that she can help him find the key.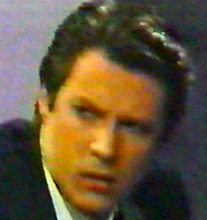 JACK: Yeah?
AS SHE TALKS JACK'S EXPRESSION IS SOMBER, HE IS WORRYING THE SAME THINGS ABOUT ISABELLA.
KAYLA: Well, what if he's wrong? I mean she was Marina's sister and maybe she's not willing to help Steve. Or maybe she was in on this key thing together with Marina and she's just going to bring more danger and.... I just.... what if Steve's bringing more problems into our lives? It scares me Jack. I'm not sure I want Steve to find her.
JACK: Have you told him about this?
KAYLA: Well, he's so determined.
JACK: There he is.
JACK QUICKLY STANDS UP SO THAT IT APPEARS HE AND KAYLA WERE NOT IN DEEP CONVERSATION.
JACK: Hi.
STEVE: Baby.
KAYLA: Hi. What did your mom want?
STEVE: She's just giving me a little bit of advice.
KAYLA: Already being a grandmother, eh?
STEVE: Something like that.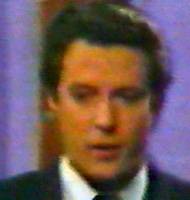 JACK: (Uncomfortable) I'm going to go. See you all later.
STEVE: Yeah, listen Jack come here.
THEY WALK AWAY FROM KAYLA.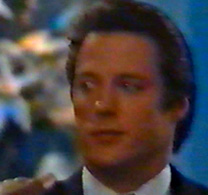 STEVE: You get any leads on Isabella yet?
JACK: Um, no. I guess we're going to have to keep looking for her.
STEVE: Yeah, well when you do you're going to let me know, aren't you?
JACK: Ah, sure.
STEVE RETURNS TO THE TABLE AND LEAVES JACK CONFUSED ABOUT WHAT APPROACH TO TAKE.

STEVE GOES BACK TO THE TABLE JUST AS ADRIENNE RETURNS. SHE TELLS THEM THAT THIS HAS BEEN THE BEST NEWS SHE HAS HEARD IN A LONG TIME, AND HAS KAYLA PROMISE IF SHE NEEDS ANY HELP TO CALL.
---
SCENE FIVE: STEVE AND KAYLA DANCE TOGETHER TO ONE OF THEIR SONGS, "IF YOUR HEART COMES OUT TONIGHT."


You may not know it.
I can see through your disguise
Try not to show it, and your little [ ] your eyes
You may not show it by standing here
But you are the [ ] by standing there.

MEANWHILE JACK WATCHES FROM THE DOOR, NO LONGER OUT OF JEALOUS AND HATRED BUT OF CONFUSION OF WHAT TO DO, AND HATING HE HAS TO LIE TO THEM.

AT THE SAME TIME, UNBEKNOWNEST TO THEM, FROM ONE OF THE COLUMNS OF THE WINGS A CAMERA WHICH JUST INSTALLED IS SNAPPING PHOTOS OF THEM.
---
SCENE SIX: ADRIENNE SADLY IS WALKING ALONE.
---
SCENE SEVEN: ROMAN IS WAITING FOR SOMEONE, PROBABLY ABE, BUT NO ONE SHOWS, SO HE WALKS OFF.
---
SCENE: JACK RETURNS HOME AND SLOWLY COMES IN HIS BEDROOM DOOR.
JACK: Hello?
ISABELLA: Did you tell your brother? Does he know that I'm here?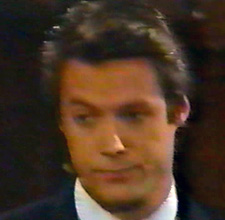 JACK: No, he doesn't.
ISABELLA: Thank you Jack.
JACK: I didn't just do this for you. I did it for Kayla too. She's Steve's wife and she doesn't want him getting involved with Marina, anymore. I mean she said that Marina messed up their lives enough.
ISABELLA: What does that mean now?
JACK: I think it means that we're going to have to find this key without Steve's help. Kayla's pregnant and I don't think she can stand anymore stress or strain. It's not good for her.
ISABELLA: You're very protective of her. It sounds like you care about her a great deal.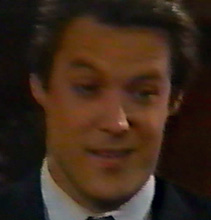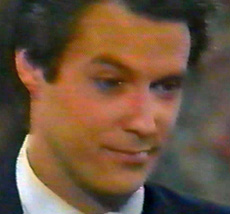 JACK: Yeah. (Grin) I guess I want to help.
ISABELLA: Like you're helping me?
JACK: Huh, uh.
ISABELLA: I do trust you Jack.
JACK: Well, I'll try not to let you down. (Beat) I'll try not to let anybody down.