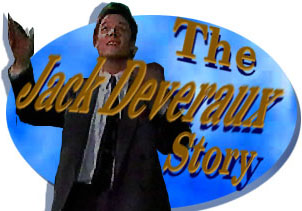 oldEpisode One-hundred-six: Jack Is
Determined to Use the Key to Help
Steve and Kayla, but Roman Questions
his Motives; Adrienne Defends Jack.
---
[Air date mid-January 1990]
SCENE ONE: THE TRAILER OFFICE OF A&J'S CONSTRUCTION COMPANY, ADRIENNE'S COMPANY. ADRIENNE IS READING OVER SOME INFORMATION AND STATS ON A CLIPBOARD.

ADRIENNE: ..., 4, 5....

SHE IS INTERRUPTED BY JACK, WHO FRANTICALLY RUSHES INTO HER OFFICE.

JACK: Oh, Adrienne, good.

ADRIENNE: (Noting Jack's distress) Jack are you okay?

JACK: (Panting, out of breath) Yeah, I feel like I just ran the Boston Marathon.

ADRIENNE: Yeah, What's up?

JACK: I'm looking for Steve. Do you know where he is?

ADRIENNE: (Reluctant, she is obviously hiding something.) Ah, no not really.

JACK: (Realizing that she is trying to hide something) What do you mean not really?

ADRIENNE: Well, I saw him.

JACK: Saw him Where?

ADRIENNE: At the hospital.

JACK: Where at the hosp....did he say where he's going?

ADRIENNE: (Still trying to avoid answering) Ah, not exactly.

JACK: Whaa....

ADRIENNE: (Interrupting him) Look Jack, Steve asked me not to say anything alright.

JACK: (Slightly hurt, thinking that she is not telling him because she does not trust him.) He's going after Kayla, Isn't he?

ADRIENNE HESITATES.
---
SCENE TWO: JENNIFER RETURNS HOME TO THE LOFT, CRYING. SHE IS ANGRY AND HURT. AS SHE ISCOMING IN THE DOOR, MELISSA CALLS FROM EUROPE TO TALK TO HER ABOUT JACK.JENNIFER IS TOO UPSET TO TALK TO HER.
---
SCENE THREE: JACK AND ADRIENNE STILL IN HER OFFICE. JACK IS DESPERATE, AND IS TRYING TO CONVINCE HER TO TELL HIM. HE IS HURT AS WELL, BELIEVING THAT SHE WILL NOT TELL HIM BECAUSE SHE, LIKE EVERYONE ELSE, DOES NOT TRUST HIM, AND DOES NOT BELIEVE THAT HE IS TRYING TO CHANGE FOR THE BETTER.

JACK: Adrienne, Adrienne, I'm trying to help Steve. Whether you believe me or not. I....


ADRIENNE: (Interrupting him, she is obviously feeling guilty.) Look, I'm sorry I just can't say anything.

JACK: Look I have a way to help Steve find Kayla. You can turn your back and treat me like a lousy good-for-nothing brother, or you can take a chance and trust me....(desperate and pleading) How about it?

JACK TURNS TO HER AND LIGHTLY GRABS HER, HE HAS A PLEADING EXPRESSION. ADRIENNE SEEMS TO BE SWAYED BY HIS WORDS AND HIS SINCERITY.

ADRIENNE: All right. Steve left town. I don't known where he went, but he thinks he knows where Kayla is.

JUST THEN ROMAN WALKS IN. ROMAN IS ONE OF HER EMPLOYEES, FOR SOME REASON HE HAS BEEN FIRED FROM THE COP SHOP.

ROMAN: What's this about Kayla?

ADRIENNE: Roman, oh, we were just discussing Steve and Kayla....

JACK: (Interrupting her, realizing that Roman might know where they are.) Look, I have a way to find Kayla, but I need to find Steve first.

ROMAN: (Leery of Jack) Jack, if this is your best sincerity act it needs a little work, man.

JACK: (Desperate to get Roman to tell what he knows.) Do I have to do the same song and dance for you that I did for Adrienne?....I mean....

ROMAN: Yeah, why don't you try me.

JACK: (Sitting down on Adrienne's desk.) Alright, whether you believe it or not Steve and I are family, and whether you believe it or not I care about guy.

ROMAN DOES NOT SEEM TO BELIEVE JACK'S SINCERITY. JACK IS FRUSTRATED AND HURT, YET RESIGNED, TO THE FACT THAT PEOPLE CANNOT BELIEVE HIM. ADRIENNE HAS BEEN LISTENING INTENTLY AND IS OBVIOUSLY MOVED AND OVERJOYED BY JACK'S CONCERN, AND DESIRE TO HELP THE FAMILY — HE FINALLY SEEMS TO BE ACCEPT BEING A JOHNSON, AND WANTS TO BE APART OF THE FAMILY.

ROMAN: (Still not buying Jack's sincerity): You might find this strange, but I don't believe that.

JACK: (Frustrated and hurt) Well, don't believe it then, but....I've got a sure fire way to get Kayla back.

ROMAN: (Interested, yet still not convinced.) Yeah, how's that?

JACK: (With pride) I've got the Key!


ADRIENNE LOOKS OVER AT ROMAN, ROMAN AT JACK, BOTH ARE IN SHOCK. JACK SEEMS HOPEFUL THAT THIS NEWS HAS CHANGED THEIR MINDS.
---
SCENE FOUR: EMILIO ARRIVES AS SHE HANGS UP, ANDSHE BURSTS INTO TEARS AND CRIES ON HIS SHOULDER. HE IS UPSET WITH HER BECAUSE HE WAS SUPPOSE TO BE WATCHING HER BUT SHE TOOK OFF AND HE DID NOT KNOW WHERE SHE WAS. SHE ADMITS THAT SHE WAS WITH JACK. THIS MAKES EMILIO ANGRIER. SHE TELLS HIM THAT SHE WAS HELPING JACK, WHO WAS TRYING HELP STEVE AND KAYLA — JACK IS A DECENT GUY DESPITE WHAT PEOPLE THINK. SOBBING SHE CONTINUES TO TELL HIM THAT SHE AND JACK WERE OBVIOUSLY NEVER MEANT TO BE TOGETHERBECAUSE HE THINKS OF HER AS A "LITTLE GIRL." SHE ADMITS THAT SHE CANNOT STOP THINKING ABOUT JACK, AND THAT SHE IS IN LOVE WITH HIM. SHE WONDERS IF HE THINKS OF HER AS A "LITTLE GIRL." EMILIO REPLIES THAT ONE DAY HERFEELINGS FOR JACK WILL DISAPPEAR AND SHE WILL FIND A *REAL MAN*, WHO WILL MAKE HER A *REAL WOMAN*. DESPITE HIS WORDS, JENNIFER STILL CANNOT STOP THINKING ABOUT, AND CARING ABOUT JACK. EMILIO'S WORDS MAKE JENNIFER EVEN MORE HEARTBROKEN. EMILIO IS ANGRY ABOUT HER FEELINGS FOR JACK, AND BY THE WAY SHE TREATS HIM (EMILIO).
---
SCENE FIVE: JACK, ROMAN AND ADRIENNE CONTINUED.

ROMAN: (Slightly shocked, yet still not convinced.) You got the key?

JACK: I figure that would get your attention.

JACK GETS UP, AND IS RATHER PLEASED WITH HIMSELF, HE NONCHALANTLY POURS HIMSELF A CUP OF COFFEE, SAVORING THE MOMENT, AND HIS OBVIOUS POSITION OF CONTROL.

ROMAN: Let me see it.

JACK: Roman, you don't trust me.

ROMAN: Well, I just might if you let me see it.

JACK: Well, (Stuttering) I...I...I don't have it.

ADRIENNE: (Seemingly disturbed, since up until then she was believing Jack, but this admission seems to make her wonder.) Why not?

JACK: Well, I mean I have it but I don't have it on me. I have it in a very safe place, though.

ROMAN: Yeah, right, with You?

JACK: Look Roman I guess you're just going to have to trust me with this.

ADRIENNE CONTINUES TO OBSERVE JACK, SHE HAS BEEN TRYING TO FIGURE HIM OUT.

ROMAN: Tell me something, do I have a choice?

ADRIENNE: (Defending Jack) Roman Please! Just hear him out, okay?

JACK: (Pleading) I have to see Steve.

ROMAN: Well, I can't help you.

JACK: (Hurt) You can't or won't?

ROMAN: Let me put it to you this way, outside of Kiriakis you're the last man I would ever trust.

JACK: (Dejected) Well, that's a hell of a comparison. I'll see you both later.

JACK IS HURT, AND IS WALKING OUT THE DOOR. WHEN ADRIENNE STOPS HIM.

ADRIENNE: Hold on a minute. Roman how dare you!

BOTH ROMAN AND JACK ARE SURPRISED AT ADRIENNE.

ADRIENNE (CONT.): My brother is not Victor Kiriakis, and you have to believe that. You have to give him a chance and you know why? Because you can't hold on to the past, people change.

JACK IS AT THE DOOR, STUNNED AT HER DEFENSE OF HIM, AND HER TRUST IN HIM. WITH EACH WORD HE BECOMES MORE EMOTIONAL, AND OVERJOYED.

ADRIENNE (CONT.): Now, my family may not be the most typical family, but we are a family, and if Jack says he's trying to help Steve then I believe him. (Becoming louder and louder) Now, I know you're trying to protect Kayla, but it's both Steve and Kayla who are in trouble, and if you know where Steve is you better tell US! COME ON ROMAN! WE'VE GOT TO STICK TOGETHER ON THIS ONE.

JACK IS THRILLED AT THIS POINT. ROMAN STOPS TO THINK OVER WHAT SHE HAS JUST SAID.

ROMAN: You see, I'm not real big on the the idea of people changing all of a sudden....(He hesitates)....(He reluctantly blurts it out)....he's in Miami!

JACK RUSHES ECSTATIC FROM THE DOOR OVER TO THEM. HE GIVES ADRIENNE A LONG AND LOVING HUG, BEAMING. ADRIENNE GIVES RETURNS HE HUG WITH EQUAL EMOTION, SHE IS CRYING WITH JOY.

JACK: (Excitedly) I'm on my way to Miami.

THEY ARE STILL EMBRACING. ADRIENNE IS SIMULTANEOUSLY CRYING, AND SMILING AND LAUGHING FROM HER INTENSE JOY AT, FOR AND WITH JACK.

ADRIENNE: Okay.

JACK: Thank you, thank you very much.

ADRIENNE: I'm with you honey, be careful.

JACK: (Is in a complete daze.) I will....I will....Thank you! Thank you both!

JACK RUSHES OUT THE DOOR. ADRIENNE STILL EMOTIONAL GOES OVER TO ROMAN AND GIVES HIM A BIG THANK YOU HUGGING.
---
SCENE SIX: JACK GOES LOOKING FOR ISABELLA AND FINDS HER AT THE PARK. SHE IS STANDING IN A GAZEBO, WITH A SAD AND LOST EXPRESSION.

JACK: Isabella!

ISABELLA: Jack!

JACK: Hahahahaha!

ISABELLA: You're happy.

JACK: Happy? Hell, I'm ecstatic.

ISABELLA: Share it with me. I could use some of that.

JACK: Brace yourself!

ISABELLA: I'm braced.

JACK: Okay.

ISABELLA: Okay.

JACK: (showing her the key) The key to the kingdom!

ISABELLA: Jack! You found the key.

JACK: Not only that, how about where Kayla is.

ISABELLA: You're right, it is the key to the kingdom, but giving this to Victor will destroy what's left of my family.

JACK: Ah....Isabella, I know that this key's pretty important to you.

ISABELLA: But....but I have to give it to Victor in order to get Kayla back.

JACK: You....you gave your word.

ISABELLA: I know I promised and I'm going to keep my promise.

JACK: But?

ISABELLA: But I hate giving this to Victor.
[Transcribed by Carol Vaughan
added material by Sally A. Wilson]
---