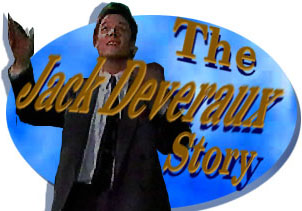 oldEpisode One-hundred-ten: Kayla
and Steve's Wedding: Helping Jack
Dress, Jennifer Has A Fantasy; the
Wedding Is Interrupted When Kayla
Is Arrested for Marina's Murder.
---
[Air date early February 1990]
SCENE ONE: JACK IS SITTING IN HIS OFFICE WHEN THERE IS A KNOCK AT THE DOOR.

JACK: Don't bother me. I'm busy.

JENNIFER: Oh, I'll return the tux then. I guess you don't want it.

JACK: Tux? My tux. It's about time. Bring it in here.

JENNIFER: Oh you're welcome.

JACK: Did you get studs?

JENNIFER: Studs, yeah.

SHE THROWS THEM AT HIM.

JACK: Cufflinks?

JENNIFER: Cufflinks.

JACK: Good, you came through.

JENNIFER: Don't sound so surprised.

JACK: Oh Jennifer, nothing you do surprises me.

JENNIFER: You know Jack, the shirt you ordered? They didn't have it so I got you that pretty powder blue with the big old ruffles. That's okay isn't it?

JACK: Certainly, if I'm planning on singing Feelings in Las Vegas. What do you think you're doing? It's crazy. I'm going to a wedding. This is Steve and Kayla's wedding.

JENNIFER: I'm just kidding Jack. I got you the boring white dignified shirt. Here it is right here!

JACK LOOKS SLIGHTLY AMUSED.

JENNIFER: Surprised you that time, huh?

JACK: Yes you did. You can expect your severance check on the way out! (Beat) Well what are you waiting for? Give me that.

JENNIFER: Nothing. I'm just trying to picture you as Steve's best man.

JACK: Oh really! Is it....is it that hard? Is....is....is it....is it....it's one for the Ripley's Believe or Not isn't it?

JENNIFER: Huh, uh. Actually it's nice. I wish I could be there to see you do it.

JENNIFER SEEMS TO BE HINTING, HOPING THAT JACK WILL INVITE HER TO THE WEDDING.

JACK: Well.... I.... I'll bring pictures back.

JENNIFER: Oh thanks.

JACK: Oh could you take this up for me? (He hands her the article he was writing.) I have to get dressed. Okay, thank you. Oh, give me those shoes would you?

ANGRY THAT JACK DOES NOT SEEM TO GET HER HINT, AND THAT HE IS STILL TREATING HER LIKE AN EMPLOYEE, JENNIFER PICKS UP EACH SHOE AND THROWS THEM HARD AT THE DOOR. JACK POPS HIS HEAD BACK AROUND.

JACK: You know I think the Cubs could use an arm like that!

JENNIFER IS SLIGHTLY FRUSTRATED AT JACK, BUT SHE CANNOT REMAIN ANGRY AT HIM FOR LONG, AND SHE CANNOT HELP BUT GRIN AT JACK AND HIS LAST REMARKS. SHE THEN BEGINS TO DAYDREAM ABOUT MARRYING JACK....

SHE COMES DOWN A STAIRCASE IN HER BRIDAL GOWN AND VEIL, AND WALKS OVER TO THE WEDDING CAKE. JACK, DRESSED IN A TUX BUT WITH HIS TIE UNDONE, WALKS UP BEHIND HER.

JENNIFER: Hi Jack.

JACK: Now I know that Emily Post said the groom is not supposed to see the bride the day of the wedding but I figured what the hell. Emily Post is not invited to this wedding (He flashes a toothy grin.) ....and I couldn't wait.

JENNIFER: Was I worth it?

JACK: I don't know.

JENNIFER HITS HIM WITH HER FLOWERS, BUT HE CATCHES HER ARM.

JACK: You've got to be a lot faster than that.

JENNIFER: I'll get you tonight Jack.

JACK: That's what I'm counting on. Now, why don't you do your old boss a favor and tie his tie for him?

JENNIFER: You really trust me enough to do this?

JACK: Oh, I trusted you enough to propose to you.

JENNIFER: It took you long enough.

JACK: Correction. I think you were the one who played hard to get.

JENNIFER: What did you say Jack? I didn't quite hear what you said, Jack.

SHE TIGHTENS THE TIE AS SHE IS TALKING.

JACK: Heh, Heh, Heh. Alright, maybe I stalled a little. (She tightens it) I stalled a lot. And I was stupid to wait this long.

JENNIFER: For once, I agree with you.

JACK: Then again, they say that the best things in life are worth waiting for.

JENNIFER: There's only one way to find out if that's true.

THEY SLOWLY MOVE TOGETHER AND KISS GENTLY.

THE SCENE FADES BACK TO JENNIFER STILL STANDING IN JACK'S OFFICE.

JACK: What say you do your old boss a favor and tie his tie for him?

JENNIFER STARES AT JACK AND IS IN SHOCK BECAUSE WHAT HE IS SAYING MIRRORS HER FANTASY. DARE SHE HOPE THAT JACK ACTUALLY AND FINALLY ADMITS HE LOVES HER AS WELL?

JACK: Jennifer, Jennifer! Tie!

JENNIFER: You actually trust me to do this?

JACK: Sure. I've come to know you as a pain in the neck.

JENNIFER: That's not what you were supposed to say Jack!

HURT AND ANGRY BECAUSE JACK DID NOT REACT LIKE HER FANTASY, BUT IS STILL ACTING OBNOXIOUS TOWARDS HER. SHE TIGHTENS THE TIE AROUND HIS NECK.

JACK: ORG! I noticed. Heh, Heh, Heh. Okay I was a little overboard.

JENNIFER: A little?

JACK: I was a lot overboard....

JACK STOPS AND REALIZES THAT THEY ARE CLOSE ENOUGH TO KISS.

JACK: A lot. (Beat) Next time I'll just get a clip-on.

JENNIFER: You know you don't have to bring me to the wedding because I think I've seen enough already.

JACK: Okay, wish me luck!

JENNIFER: Don't choke on the cake!

JACK: What kind of an attitude is that for one of my employees?

JENNIFER: My usual remember. I'm a pain in the neck.

JACK WALKS OUT OF HIS OFFICE HOLDING HIS THROAT AND SWALLOWING HARD.
---
SCENE TWO: STEVE AND KAYLA'S HOUSE. STEVE IS DRESSED IN A TUX AND A BOLO TIE. JO IS THERE. JACK HAS NOT ARRIVED, AND STEVE IS NERVOUS ABOUT THE WEDDING AND IS PACING AROUND. HE IS ALSO, ANXIOUS, HE WONDERS IF JACK WILL NOT SHOW UP AFTER ALL. JO HAS FAITH IN JACK.
---
SCENE THREE: THE DOOR BELL RINGS, IT IS JACK. STEVE OPENS THE DOOR AND IS GLAD TO SEE JACK, BUT SUPPRESSES HOW GLAD HE IS. JACK IS CARRYING FLOWERS. JACK IS RATHER NERVOUS. THEY BOTH DO NOT KNOW WHAT TO DO, BUTARE BOTH ARE GLAD ABOUT THEIR GROWING CLOSENESS.

JACK: Ah....sorry I'm late. I didn't know if you had any of these. I thought it'd be a nice extra touch.

JO: Isn't that nice. Steve, isn't that nice?

STEVE: Yeah.

JO: Well the two of you pin those on and I want to go check on the other room.

JACK: Ah.....

JO: Jack, thank you for being with us.

JACK: Ah....who pins who first? Ah....

STEVE: I can get mine.

JACK: Well....here. Um, I figured you liked yellow, so....

THEY PIN EACH OTHER'S FLOWERS ON AS THEY TALK.

STEVE: Alright, yellow, yeah.

JACK: You know....if you want to find another best man, you still got time.

STEVE: What? Are you changing your mind?

JACK: No, I thought maybe you were changing your mind.

STEVE: No, no. I can stand it if you can.

JACK: I think I can stand it. I'll stick around.

STEVE: Yeah I know you're doing this for Kayla.

JACK: Oh no, no, no. Well, yes, I'm doing it for Kayla but that's not the real....you know....reason. (Beat) Good luck!

STEVE: Right.

THE DOORBELL RINGS AND STEVE GOES TO ANSWER IT.

STEVE: That should be the minister!

STEVE OPENS THE DOOR AND VICTOR IS STANDING THERE HOLDING A GIFT.

STEVE: Hehehehehe. Check it out Jackson. This man wouldn't know God if he tripped over him. You have an invitation.

VICTOR: I'm afraid not but I couldn't very well let you get married without bringing you a gift, now could I? Congratulations Steve.

STEVE TAKES THE GIFT AND SMELLS IT AND THEN LISTENS TO IT.

STEVE: It's not ticking. So you got us a little gift did you Mr. Kiriakis? Well I hope it's not tickets to a cruise on your yacht. My bride already took that trip.

VICTOR: Well you'll have to open it to find out what it is.

STEVE: No thanks, we try to keep filth out of the house.

STEVE THROWS THE GIFT OUT ONTO THE SNOW.

VICTOR: Here I thought Kayla would have taught you some manners by now.

STEVE: You get out of here. I don't want you ever to say my wife's name again, do you hear me?

VICTOR: Oh, don't jump the gun Steven. She's not your wife just yet.

STEVE: YOU....

JACK: WHOA! WHOA! Now wait a minute. Take it easy!

STEVE: FILTHY PIG!

JACK: Nervous bridegroom! You know how it is. Gooday!

JACK MANHANDLES STEVE INSIDE AND SHUTS THE DOOR.

JACK: You don't need to do this. There's no need to mess up your suit or your wedding over this guy.

STEVE: Nobody is going to mess up this wedding. You hear me!
---
SCENE FOUR: THE WEDDING GUESTS ARE ASSEMBLED AND WAITING FOR THE CEREMONY TO BEGIN. JACK AND JO ARE WATCHING ADRIENNE AND JUSTIN.

JO: It's so nice to see them together. And Steve's going to marry Kayla in a few minutes. You know I wish you could find somebody to love. Somebody that would love you the way you deserve.

JACK: Like I deserve?

JO: Yes.

JACK: I wouldn't wish that on anybody.

THE MINISTER CALLS EVERYBODY TO THEIR PLACES AND THE CEREMONY GETS UNDERWAY.
---
SCENE ONE: BEFORE STEVE AND KAYLA CAN TAKE THEIR VOWS THE DOORBELL RINGS AGAIN. ABE AND ROMAN ARRIVE TO SPEAK TO KAYLA. STEVE TELLS THEM TO WAIT BUT WHEN IT COMES TIME TO SAY HER VOWS, KAYLA GETS UPSET AND SAYS SHE CANNOT GO ON WITH THE CEREMONY. SHE RUNS UPSTAIRS AND STEVE IS LEFT WONDERING WHAT IS GOING ON. ABE ANNOUNCES THAT HE HAS A WARRANT FOR KAYLA'S ARREST FOR THE MURDER OF MARINA TOSCANO. JO ASKS FOR JACK'S HELP.

JO: Jack, Jack, please tell the Brady's that I'm going to take the kids home with me. And Jack, call me when you find out what happens and please, will you help Steve and Kayla, please.

JACK: Sure.

JACK WALKS OUT AND IN FRONT OF THE WHOLE CROWD ASKS ABE TO TELL EVERYBODY WHAT IS GOING ON.

JACK: Okay, Captain. Since you seem to give new meaning to the saying Party Crasher, why don't you tell everybody what the hell's going on here!

SHANE: Yes, what is this new evidence you've got Abe?

ABE: I can't go into it right now.

STEVE: Oh well that's a policeman talking, isn't it?

ABE INSISTS THAT HE CANNOT TALK ABOUT IT AND ROMAN TELLS STEVE THAT ABE HAS TO TAKE KAYLA TO THE STATION IMMEDIATELY.
---
SCENE TWO: A SHORT TIME LATER, JACK TRIES TO TALK TO KAYLA.

JACK: Kayla, the other day you were trying to.... look if there's anything that I can do.... for both of you....

KAYLA: Thanks Jack.

JACK: I'm sorry.

STEVE: Jack? (Beat) Ah....(sigh)....

JACK: I'm going to hang onto this suit for....for when we do this again.

STEVE: You do that.

JACK LEAVES AND ABE TAKES KAYLA TO THE STATION TO QUESTION HERE.
---
SCENE THREE: JACK ARRIVES AT THE PIER AND IS SITTING, THINKING OVER STEVE AND KAYLA'S PROBLEMS WHEN JO FINDS HIM.

JO: Jack.

JACK: Oh no! Oh no, no, no.

JO: Wait a minute, I was looking for you.

JACK: Well, you found me.

JO: Are you okay?

JACK: Don't worry about me!

JO: Of course I worry about you.

JACK: Well you better worry about Steve and Kayla.

JO: Steve and Kayla have each other.

JACK: Oh yeah, right, right! Yeah right, right!

JO: Jack, wasn't today....almost wonderful? Steve was so happy and Kayla walking down that aisle, she looked so beautiful didn't she? And then you, standing next to Steve just like a brother should do.

JACK: You know for a minute I almost believed that.

JO: I believe it.

JACK: Well you better just wake up because none of that stuff is ever going to happen. I mean everytime this group gets together for a marriage somebody gets hurt. This time Kayla ends up getting herself accused of murder.

JO: Jack, don't talk like that.

JACK: What, someday somebody has to wake up and realize that these two are never going to get together and there's nothing you or I can ever do to change that.

JO: Don't give up your family and for heaven's sake don't give up on yourself!

JACK: You know, for the first time, I wasn't even thinking of myself. I was thinking of Steve and Kayla.

JO: Then do something to help them.

JACK: Do something! Do what? Do What?

JO: Well, being a member of a family, you ought to know what to do and Jack I have no question that you won't think of something.

JACK: Oh I should just jump in and help Steve and Kayla and do anything, right?

JO: Well you did it once before and I know you can do it again.

JACK: Well as family member what would you do? Would you go for the kidnapping or the key or go straight for the killing? What would you do?

JO: Well it sounds like pieces to a puzzle to me.

JACK: Yes, something that somebody's going to have to go through a lot of work to put together, right?

JO: And nobody can do it if you can't do it!

JACK: Right, right.

JO: Where are you going? Where are you going?

JACK: I guess I'm going to start putting it together! Do something.
---
SCENE FOUR: KAYLA AND STEVE ARE AT THE POLICE STATION AND SHE IS TAKEN DOWN TO BE BOOKED. STEVE IS ALONE IN ABE'S OFFICE WHEN JACK COMES IN.

JACK: Alright.... (Beat) Here I go, a day late and a dollar short. Are you okay?

STEVE: No I'm not okay. They just arrested my wife. They're putting her in jail.

JACK: I'm sorry.

STEVE: I DON'T NEED SORRY!

JACK: Ah....well what do you need? Maybe ah....I...I got the press, you know. I can get you some legal help. Ah....I got money. I got a lot of money.

STEVE JUST SITS CRYING AND SHAKING HIS HEAD.

JACK: How about a ride home?

STEVE: (Crying) I want my wife and baby. That's all I want.
[Transcribed by Carol Vaughan
added material by Sally A. Wilson]
---