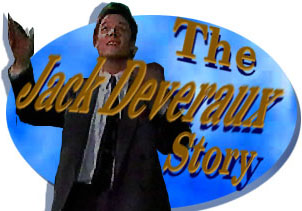 oldEpisode One-hundred-twelve:
Appreciative
Has
Two
P
s: Jennifer
and Jack Work Together on an
Article in Defense of Kayla's Innocence.
---
SCENE ONE: MEANWHILE THROUGHOUT THE PAST FEW WEEKS VICTOR HAS BEEN EXTREMELY INTERESTED ABOUT MARINA'S MURDER. HE HAD BUGGED MARINA'S ROOM AND HAS TAPES OF CONVERSATIONS OF VARIOUS PEOPLE AND MARINA, SOME VERY INCRIMINATING, THREATENING HER. HE IS VERY INTERESTED IN THE CASE, AND IS INTENT ON LETTING KAYLA BE FALSELY CHARGED WITH THE MURDER — IT IS ALSO APPARENT THAT SHE IS IN FACT INNOCENT. IT IS CLEAR HE IS PROTECTING SOMEONE, IS IT HIMSELF, OR COULD IT BE SOMEONE ELSE, COULD IT BE ISABELLA?
---
SCENE TWO: JACK HAS ARRIVED AT THE COURTHOUSE FOR KAYLA'S HEARING.

JACK: Coming through, coming through, coming through!

ROMAN: Whoa, whoa, whoa, whoa.

JACK: Oh Roman you're still out here. They haven't started yet.

ROMAN: Yeah, yeah, I'll check inside.

JACK PROCEEDS TO PUSH THROUGH THE DOOR.

JACK: Yeah, I'll see you inside.

ROMAN: Where do you think you're going?

JACK: PRESS! (Holds up his press pass.)

ROMAN: Yeah, well join the group.

JACK: Wait a minute. I thought the DA opened up the proceedings.

ROMAN: Yeah, right, well it's not happening. You see Judge Randolph just put the kiabosh on all you clowns, so....

JACK: (Turning to face his fellow journalists) Heh, he doesn't know who he's talking to.
---
SCENE THREE: JENNIFER AND ISABELLA GO TO WINGS AND JENNIFER GOES TO CALL VERN TO FIND OUT ABOUT THE HEARING.

JENNIFER: (On the phone) Oh come on Vern, you must have heard something about the hearing. Well hasn't good old What's-His-Name checked in yet?

SHE HOLDING ON FOR VERN'S ANSWER WHEN JACK COMES UP BEHIND HER AND PUTS HIS FACE OVER HER SHOULDER, HE HAS ONE OF HIS PATENTED HAPPY JACK EXPRESSIONS.


JACK: It's Jack! Remember. Jack the Whack from Way Back! Huh?

JENNIFER: (Talking on the phone.)What do you mean, it's been nice working with me Vern? (Beat)

SHE HANGS UP THE PHONE AND TURNS TO JACK, AS USUAL SHE IS GLAD TO SEE HIM.

JENNIFER (CONT.): I didn't know you were coming here Jack.

JACK: Obviously.

JENNIFER: How did it go?

JACK: Not good. But it's not over till the fat lady sings. We've got a lot of work to do at the office. Come with me. (Beat) Isabella?

JENNIFER: I left her alone at the table.

VICTOR HAS JOINED ISABELLA AT HER TABLE. JACK AND JENNIFER LOOK OVER TO SEE THEM TOGETHER. JENNIFER SEEMS UPSET THAT SHE LET IT HAPPENED, AND THAT SHE POSSIBLY LET JACK DOWN, BUT SURPRISINGLY JACK DOES NOT SEEM TO MIND TOO MUCH.

JACK: Well, obviously, she's found some company.

THEY IMMEDIATELY GO OVER TO ISABELLA AND VICTOR AT THE TABLE. VICTOR GETS UP TO LEAVE AS SOON AS JACK AND JENNIFER COME OVER.

VICTOR: Well I'm sorry I can't stay and dine with you but I'm needed elsewhere.

JACK: Panama! I understand they have an opening there.

[THIS WAS FEBRUARY OF 1990 AND NORIEGA THE PANAMANIAN DICTATOR WAS JUST OUSTED BY US TROOPS A COUPLE OF WEEKS EARLIER.] VICTOR GIVES JACK A DANGEROUS GLARE.

VICTOR: Don't forget what I mentioned before Isabella. It can be very dangerous to get involved with the wrong people.

JACK: And what is that supposed to mean?

VICTOR: Just a little friendly advice. Oh by the way, have either of you reporters heard any news from the courthouse?

JACK: Well you maybe happy to know that Kayla's going to stand trial.

ISABELLA GETS UPSET AND LEAVES THE TABLE.

VICTOR: I'll only be happy when Marina's murderer is caught once and for all.

JACK: Well you know what they say. Be careful what you wish for.

VICTOR GLARES AT JACK ONCE AGAIN.

VICTOR: Afternoon.

VICTOR LEAVES.
---
SCENE FOUR: JACK AND JENNIFER GO BACK TO THE OFFICE. JACK WALKS IN THROWING HIS COAT AT JENNIFER.

JACK: (Determined)Jennifer, by the time this thing hits the stands tomorrow, we will have effectively blown the roof off the Salem legal system. I want you to go down to the morgue and get everything we've got on Kayla's case, alright. We're not concerned about a single article until you return.

JENNIFER: (Jennifer is overjoyed that Jack asked her to help him.) Hold on until I get back!

JACK: Good, go!

JENNIFER: Oh Jack?

JACK: Yeah?

JENNIFER: Thanks for asking me to help.

JACK: I needed an extra hand. It's a dirty job but somebody's got to do it.

JENNIFER: Is that the only reason you picked me?

JACK: Ah, no it's not!

JENNIFER: (Hoping that Jack will finally admit something more.) It isn't?

JACK: (Jack realizing this, and because it is true he makes a typical Jack joke not to reveal his true reasons.) No, I knew you wouldn't charge overtime.

JENNIFER: Don't bet on it!

SHE SLAMS THE DOOR AS SHE LEAVES.
---
SCENE FIVE: LATER THAT NIGHT, JACK IS LEANING OVER HIS DESK WRITING WHILE JENNIFER IS LEANING OVER HIM.


JENNIFER: P, P, you forgot P.

JACK: P? What?

JENNIFER: Appreciative has two Ps. P, P.

JACK: I.... I knew that. I'm just in a hurry that's all. I...er.... just.

JACK SITS BACK IN HIS CHAIR AND SPINS AROUND TO THE SIDE OF THE DESK. JENNIFER GETS UP AND LEANS VERY CLOSE OVER HIS SHOULDER SO THAT THEIR FACES ARE SIDE BY SIDE.


JENNIFER: I was just beginning to think you forgot the word.

JACK: (Putting his finger to his lips.) Sssshhhh! We're trying to concentrate here.

JENNIFER: Sorry.

JACK SUDDENLY BECOMES AWARE OF THEIR CLOSENESS AND TURNS SO THAT HIS NOSE IS TOUCHING HER CHEEK. SHE PULLS BACK A LITTLE.

JENNIFER: Something wrong?

JACK: (Nervous, and slightly uncomfortable, yet also enjoying the situation.) Ah....I'm losing my train of thought for some reason.

JACK GETS UP AND MOVES TO THE CHAIR ON THE OTHER SIDE OF THE DESK. JENNIFER FOLLOWS AND LEANS IN CLOSE AGAIN.

JACK: I need a change of scenery. Now I can....er....

JENNIFER: Maybe you should take a break.

JENNIFER TRIES TO GRAB THE SHEET OF PAPER HE WAS WRITING ON BUT HE STOPS HER AND HE KEEPS HIS HAND OVER HERS FOR A FEW SECONDS. THEN AS THEY TALK THEY LEAN IN CLOSER AND CLOSER TO EACH OTHER.

JACK: No, no, no, no. Let's just continue.

JENNIFER: I think it looks great.

JACK: Oh yeah?

JENNIFER IS REFERRING TO JACK AND HER FEELINGS TOWARDS *HIM*, BUT WORDS IT SO SHE IS TALKING PROFESSIONALLY ABOUT HIS WRITING STYLE, AND THE ARTICLE.

JENNIFER: Huh, uh. I think you're incredible....writing. Incredible writing.

JACK: Well....you know....enough talk about me. Er....wh....what do you think of my style?

JENNIFER: I think you have a good way of expressing things and you....you show how you care and you're really good at getting across how you feel.

JACK IS LOOSENING UP, AND HIS INHIBITIONS ARE GIVING WAY A BIT. HE IS EFFECTED BY THEIR CLOSENESS, AND SEEMS BE ENJOYING WHAT IS HAPPENING BETWEEN, AND HE IS ABOUT TO GIVE IN TO HIS FEELINGS.

JACK: I do....I do....I do.

GETTING CLOSE ENOUGH TO KISS, AND WANTING TO KISS.

JENNIFER: Uh, huh. I really love your....work.

JACK: Work?

JENNIFER: Your work. Yeah I love yo....(meaning to say "you," but stops short) love it.

JACK LOOKS DOWN AT HIS PANTS THEN GETS UP SUDDENLY.

JACK: Ah well, good, because it's done.

JENNIFER: Wait a minute Jack.

JACK: It's done. Just finished! We have a deadline remember.

JENNIFER SNATCHES THE SHEET FROM HIM, THEN THE PEN.

JENNIFER: Yes I remember.

JACK: Aaaaahhhh!

JENNIFER: And Jack you forgot the other P in appreciative.

SHE SLAMS THE DOOR AS SHE LEAVES. SHE STOPS OUTSIDE AND GIVES A BIG SIGH. INSIDE JACK IS THINKING OF HER.

JACK: I guess we'll have to learn to be a little more.... a.... appreciative!
---
[Air date mid-February 1990]
SCENE ONE: JACK IS STILL IN HIS OFFICE WHEN THE PHONE RINGS.

JACK: Jack Deveraux, you plug 'em, we print 'em! (Pause) Melissa! Anderson! Well, do what do I owe this pleasure and....Jennifer, yes she's here....

JENNIFER: Jack I have something for you.

JACK: Ah....I think I have something for you. This is Melissa Anderson on the phone, calling long distance. (To Melissa) We'll really have to do this again, sometime. (Jack covers the phone as Melissa obviously abuses him.) Um, I think it's really for you.

JENNIFER: Melissa, hi, I'm so glad you called. I really needed to talk to you.

AS JENNIFER BEGINS TO TALK TO MELISSA, JACK IS RECALLING IN HIS MIND ALL THE PAST HISTORY WITH MELISSA.

JENNIFER: Well it couldn't have been that bad. I mean it's not like he's a mass murderer or something. Although I admit I'd prefer one sometimes. Does that make you happy? (Beat) Look, I'm not getting defensive, alright. Look it's not what you think, okay. (Beat) Trust me, that's the last thing on earth I'd expect to happen.

JACK SIGNALS JENNIFER.

JACK: I think there's a couple of things that need changing. I'm going to take it back down to Vern.

JACK WALKS OUT OF THE OFFICE TO ESCAPE HIS THOUGHTS.

JENNIFER: Hi. Actually what I really wanted to talk to you about was Valentine's Day. I hope you don't have any plans.
---
SCENE TWO: JENNIFER CONTINUES TO TALK TO MELISSA UNTIL JACK COMES BACK IN THE OFFICE.

JENNIFER: Okay, bye.

JENNIFER RUNS AROUND TO LOOK IN JACK'S DESK BUT WHEN SHE HEARS HIM COMING IN, SHE GRABS A PAD AND PENCIL AND SITS ON HIS DESK AS IF SHE IS WORKING.

JACK: I'm glad to see that you're back on company time. Good for us that Melissa didn't call collect.

JENNIFER: Oh well, I'm sure she wouldn't have forced you into Chapter 11, Jack.

JACK: So is she planning to come back for the big soirée?

JENNIFER: Ah, no, she's too swamped to get away.

JACK: That's too bad. I knew she was looking forward to seeing everybody....present company excluded of course.

JENNIFER: Get off it Jack. She doesn't hate you.

JACK: No, just a mild form of loathing.

JENNIFER: Well I wouldn't know anyway. You barely came up in conversation.

JACK: Just long enough to make some interesting comparisons, right!

JENNIFER: Are you hungry? I'm starving. I mean I think it's because of all the creative energy we used today.

JACK: Well, take the rest of the day off.

HE BEGINS TO BRUSH HIS HAIR.

JENNIFER: The day ended two hours ago Jack.

JACK: Well then, have a nice dinner.

JACK GETS OUT A BOTTLE OF AFTERSHAVE AND STARTS DABBING HIS FACE.

JENNIFER: Well I was kind of hoping we could have it together. You know, celebrate a job well done.

JACK: Weeeell, I'm not going to celebrate until Kayla's out of this whole mess. Besides, I've got other plans.

JENNIFER: Oh! Sure, okay. Well thanks for letting me help you. It really meant a lot.

JACK SLOWLY PULLS A TIE OUT OF BOOK WHERE HE IS HAD IT "PRESSED."

JACK: Did you say something?

JENNIFER: Oh, Jack, your aftershave?

JACK: Hmmm.

JENNIFER: My grandfather stopped using that stuff in the Seventies!

SHE WALKS OUT AND SHUTS THE DOOR KNOWING VERY WELL THAT JACK IS MAKING UP THE WHOLE THING. SHE REMAINS AT THE DOOR FOR A COUPLE OF SECONDS, SHE THEN TURNS PUTS OUT HER HAND, AS IF TO GO BACK IN, HESITATES, AND LEAVES. THE NEXT SHOT IS OF JACK SITTING LONELY AT HIS DESK, HE SPENDS THE REST OF THE EVENING ALONE IN HIS OFFICE. HE SITS BACK AND SEES THE AFTERSHAVE AND DROPS IT IN THE TRASH THEN HE WISTFULLY NOTICES JENNIFER'S SHADOW STOP, AND THEN DISAPPEAR OUTSIDE HIS OFFICE. NEITHER OF THEM KNOW WHERE TO GO FROM THERE.

Dreams filled with everything you know, remember,
When you're sad and feeling down, remember,
Turn around, remember,
Life is just a memory, remember,
Close your eyes and you can see, remember,
Think of all that life can be, remember.
[Transcribed by Carol Vaughan
added material by Sally A. Wilson]
---