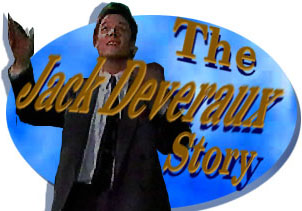 Episode Oneh-hundred-nineteen:
As Things Are Improving for
Jack, Harper Tries to Insinuate his
Way Back into his Life; Jennifer
Is Determined to Help Jack.
---
[Air date early March 1990]
SCENE ONE: JACK IS WORKING IN HIS OFFICE. HE IS JUST FINISHING A PHONE CALL TO THE HOSPITAL.

JACK: Yes. Room 1109. Good, alright.

JENNIFER ENTERS. SHE IS CARRYING A PAPER.

JENNIFER: Jack.

JACK IS IN A GOOD MOOD, AND IS HAPPY.

JACK: Jennifer I want you to send some flowers to Adrienne in Room 1109 at University Hospital with a card that says, congratulations on your speedy recovery, blah, blah, blah, blah, blah, congratulations, sincerely, BJ Deveraux.

SOMETHING IS BOTHERING/WORRYING HER, AND IT SEEMS TO BE IN CONNECTION WITH THE NEWSPAPER SHE IS CARRYING.

JENNIFER: Oh that's great. I'm glad Adrienne is feeling better.

JACK: Yeah, you're not the only one. What's up?

JENNIFER: Ah....

JACK: Ah.....you're a much better writer than public speaker, you know that.

JENNIFER: Heh, heh.

JACK: What's that? The Chronicle in my office. Are we low on toilet paper today?

JENNIFER: Haven't you seen it yet?

JACK: No not yet. Should I?

WHATEVER IS BOTHERING *DOES* HAVE TO DO WITH THE PAPER, AND IT SEEMS AS IF IT CONCERNS JACK, AND THAT SHE IS TRYING TO SPARE HIS FEELINGS, SHE TRIES TO BE EVASIVE.

JENNIFER: I've always wondered what a good mood looks like on your face Jack.

JACK: Heh, heh, heh. My how blatantly evasive of you this morning. Let me see that.

JENNIFER: Jack, I really don't think that...Jack!

JACK: Don't worry, you won't get in trouble if there's something's wrong. Not today at least. Nothing can mess me up today.

JENNIFER: Editorial is page 12.

JACK: Page 12. Editorial is on page.....12! (Beat) Oh this is good. Very good. "A little bird tells us, jail bird that is, that Salem's parole board will be faced with the dilemma of releasing political hatchet man, at one time Presidential hopeful, Harper Deveraux, a severely unbalanced man."

JACK IS AFFECTED BY THE ARTICLE, BUT PLAYS IT OFF. JENNIFER SEES HOW MUCH IT IS HURTING HIM AND FEELS FOR HIM.

JENNIFER: Jack stop reading.

JACK CONTINUES TO PLAY IT OFF AS BEING NOTHING, BUT HE IS OBVIOUSLY UPSET.


JACK: Oh no, no, no. It gets much better. "The Deveraux's have a long history of getting away with murder. No pun intended of course. For example, Jack Deveraux, publisher of The Spectator, seems very much his father's son, being involved in a number of loathsome legal entanglements of his own," blah, blah, blah, blah, blah, blah. Well at least they spelled the name right.

JENNIFER: Jack I'm sorry that I had to be the one to show this to you.

JACK: Oh there's nothing to be sorry about. This is just business. The owner of The Chronicle taking potshots at the owner of The Spectator. I'm a big boy.

JENNIFER: Nobody's that big, Jack.

JACK: What makes you think somebody's hurting me?

JENNIFER: I know it does and I know you and the more you argue about it, the more hurt I know you are.

JACK: Well, haven't we become quite the little psychiatrist? Maybe you missed your calling.

JENNIFER: Yeah but Jack why can't you just admit what you're feeling? This is me. There's no one else here. Just talk to me please. (Beat) Just talk to me.

JACK: Jennifer....

EMILIO STRUTS IN ALL MACHO.

EMILIO: College girl, ready for lunch? Cause I'm on time.

JACK: She's bright eyed and bushy tailed and ready to spread happiness wherever she goes.

JENNIFER: Forget it Jack.

JACK: Jennifer, I don't need you here. I can suffer the slings and arrows of misfortune all by my lonesome.

JENNIFER: Let's go Emilio.

JENNIFER LEAVES.

JACK: (To Emilio) What are you waiting for? I didn't invite you to lunch, go ahead, you heard her.

EMILIO: You're so cheap you wouldn't take your mother to lunch. So do me a favor and enjoy the quiet okay. Hehehehehe. Oh and the company too.

EMILIO POINTS TO THE PORTRAIT OF HARPER THAT JACK HAS ON HIS OFFICE WALL. HE IS ACTING SMUG AND LIKE A JERK, BECAUSE JENNIFER IS GOING OUT WITH HIM AND NOT JACK, THAT SOMEHOW HE HAS WON OVER JENNIFER'S AFFECTIONS.
---
SCENE TWO: MEANWHILE IN THE PRISON, HARPER IS MEETING WITH HIS LAWYER WHO TELLS HIM THAT AN ENDORSEMENT FROM JACK WOULD HELP HIM GET PAROLE.
---
SCENE THREE: JENNIFER AND EMILIO GO TO LUNCH BUT SHE CANNOT EAT OR CONCENTRATE. JACK COMES IN FOR A BUSINESS MEETING. AS HE WALKS PAST HER HE CHECKS HIS WATCH, SIGNALING THAT SHE SHOULD BE BACK AT THE OFFICE TYPING.





JACK SITS DOWN WITH HIS LUNCHEON APPOINTMENT.

DAVE: I'll bring your menus in a minute.

BUSINESSMAN: I don't think that will be necessary.

JACK: Oh of course it will be necessary. You renew your advertising and we take you out to a big lunch, right.

BUSINESSMAN: Look I didn't make this appointment to renew.

JACK: Ah, you want changes right. Well we'll make some changes. I'm sure we can work something out.

BUSINESSMAN: We want out. We're pulling all our advertising out of The Spectator.

JACK'S EXPRESSION CHANGES TO ONE OF HURT. HE IS AFFECTED BY THIS. HE KNOWS THE REASON. HIS PAST IS STILL BEING THROWN BACK IN HIS FACE.

JACK: You're pulling out! We.....wh....

BUSINESSMAN: I've been getting calls all morning. You've got a serious scandal on your hands after that editorial in The Chronicle.

JACK: Oh, that old rag. Don't worry about that. By next week it'll blow over.

BUSINESSMAN: We don't think so. And business being as slow as it is we can't afford to be associated with the Deveraux family in any way, shape or form. Period.

DAVE: Here you go gentlemen.

BUSINESSMAN: Keep mine. I'm sorry Jack, it's not personal.

JACK: For you maybe. Thank you Dave. Save the table for somebody who can write it off.

THE GUY LEAVES.

MEANWHILE JENNIFER HAS BEEN IGNORING EMILIO AND LISTENING TO THE CONVERSATION. SHE IS HURTING FOR JACK. EMILIO IS RATHER UPSET THAT SHE HAS SPENT THE WHOLE TIME WORRYING ABOUT JACK. SHE DEFENDS JACK, BECAUSE HE NEEDS IT, HE DOES NOT DESERVE THIS TREATMENT SINCE HE HAS CHANGED.
---
SCENE FOUR: JACK RETURNS TO HIS OFFICE AND SHUTS THE DOOR. HE LOOKS AT HARPER'S PORTRAIT. JACK IS IN PAIN.

JACK: Why? Why today? Why now?

THE PHONE RINGS.

JACK: Spectator, Jack Deveraux.

HARPER: There's the voice I've been waiting to hear.

JACK IS SHOCKED AND SILENT FOR A FEW SECONDS.

JACK: Hello.

HARPER: Jack it's me. Son, are you there?

JACK: Ah....heh.....Harper.

HARPER: It's your father.

JACK DOES NOT AT ALL SEEM PLEASED BY THE CALL, BUT HE ALSO SEEMS TO FEEL GUILTY ABOUT HIS NEGATIVE FEELINGS TOWARD HARPER. HARPER IS MANIPULATING JACK'S EMOTIONS, AND IS USING JACK FOR HIS OWN PURPOSES.

JACK: Yes....I'm....I'm surprised to hear from you.

HARPER: I bet you are. It's been a while hasn't it?

JACK: Yes.

HARPER: How are you Jack? All I hear are good things.

JACK: I'm....ah....I'm fine.

HARPER: Moved over to the enemy camp, eh?

JACK: I'm sorry?

HARPER: Oh you know, politicians and the press. Oil and water.

JACK: Yes, I guess you're right, that's true.

HARPER: But not for us son. Not after all we've been through. Anyway I've supposed you've heard my news. I'm up for parole.

JACK: Yes, I heard.

HARPER: They might very well release me. Did you know that?

JACK: Um, all I can say is....I'm very happy for you.

HARPER: I've been thinking about you a lot you know. Of course I've had plenty of time for thinking. I know what I said when they first put me in here. I didn't want you to visit me. I didn't want what I'd done to reflect on you in anyway. You know, reputation's an important thing, especially for a publisher.

JACK: Yes, yes it is.

HARPER: And I do understand that. I wouldn't be asking now if things hadn't changed the way they have but there's something....Jack there's something I need to talk with you about so I'm asking. Would you come down to see me?

JACK: Heh....to the prison?

HARPER: It would mean a lot to me Jack. More than I can say.

JACK: I....er....I...er

HARPER: There was a time Jack, not that long ago, when I shared everything father to son. We're a part of each other's lives Jack and we always will be. So please will you come down?

JACK: I....

HARPER: Please, please.

JACK: Well things are kind of busy around here you know but I'll....I'll do what I can. I'll try.

HARPER: Thank you. Thank you son.

JACK: Yeah. Goodbye for now.

HARPER: I love you son.

HARPER IS PLEASED BY THE CONVERSATION, HE BELIEVES THAT HE HAS JACK ON HIS SIDE. JACK SLOWLY PUTS DOWN THE PHONE. HE IS COMPLETELY CONFUSED ABOUT HIS FEELINGS FOR HARPER AND WHAT HE SHOULD DO.
---
SCENE FIVE: JENNIFER RETURNS FROM LUNCH AND REFUSES AN INVITATION FROM EMILIO TO SEE HIM REHEARSE. AS SOON AS EMILIO LEAVES SHE GOES INTO JACK'S OFFICE. HE IS READING THE CHRONICLE.

JENNIFER: Jack I want to talk to you.

JACK: Busy.

JENNIFER: I want to talk to you.

JACK: Talk.

JENNIFER: To you Jack, not the back of your chair.

JACK: State your subject within bounds of course.

JENNIFER: What happened at lunch?

JACK: Eeeeeee! Offside!

JENNIFER: DAMMIT JACK!

SHE RUNS AROUND TO HIS SIDE OF THE DESK AND RIPS THE PAPER OUT OF HIS HANDS. JACK IS STARTLED BY HER FORCEFULNESS. HE CONTINUES TO PLAY IT OFF AS NOTHING, BUT HE IS IN PAIN. AND JENNIFER REALIZES THIS AND WANTS TO BE THERE FOR HIM AND HELP HIM.

JACK: Hey, hey, hey. That's my newspaper. That's my souvenir copy. I want to get that signed.

JENNIFER: By who?

JACK: (Joking around to mask his true feeling.) You know the writing in this paper's got a lot better over the last year. How much did they offer you again? I mean look at this, we've got two pages of comics, we've got Ann Landers, Dear Abby, crossword puzzles. It's great.

JENNIFER: So no wonder we're losing our advertisers.

JACK: You take care of the writing, I'll take care of the business, thank you.

JENNIFER: (Caringly) I'm not worried about the business problems. I'm worried about your problems.

JACK: I don't have problems with the exception of a little over familiarity problem with certain members of my staff.

JENNIFER: Look at me Jack.

JACK: I'm sorry. I'm still seeing stars.

JENNIFER IS WEARING A NAVY BLUE SUIT COVERED IN SMALL STARS

JENNIFER: I said, look at me.

JACK: Alright I'm looking at you. Come on, talk!

JENNIFER: Alright. You have been trying so hard to put all of this behind you.

JACK: Right now I'm trying to put you behind me.

JENNIFER: Jack would you just stop? Just stop! After everything you've done, to have the past dredged up like this especially in public. I know what that must feel like.

JACK: OH YOU DON'T KNOW ANYTHING ABOUT WHAT ANYTHING FEELS LIKE!

JENNIFER: It must hurt! I has to hurt a lot. And you don't deserve it. I don't care what you did. It was a long time ago and you are not the same person.

JACK TRIES TO HIDE HOW MUCH IT IS HURTING HIM, THAT JENNIFER IS PERCEPTIVE AND IS CORRECT ABOUT HOW HE FEELS. JENNIFER BECAUSE MORE AND MORE EMOTIONAL AND CLOSE TO TEARS THROUGHOUT THERE CONVERSATION, IT IS VISIBLE IN HER EYES AND IN HER VOICE.

JACK: Oh we're all the same....

JENNIFER: You are not the same person! Everybody knows that now.

JACK: Look.....

JENNIFER: (Interrupting him) Even Steve....even Kayla. I want to help you. Just talk to me Jack. Trust me, please. Jack.

JACK PAUSES FOR A FEW SECONDS THEN DECIDES TO TELL HER WHAT HAPPENED.

JACK: I got a call today from Harper. He wants to see me.

JENNIFER: Are you going to go? Are you going to talk to him?

JACK: I don't know.

JENNIFER: Do you want to?

JACK: I SAID I DON'T KNOW! That means, I don't know.

JENNIFER: I'm sorry.

JACK: Don't be sorry. You've got nothing to be sorry about. You didn't do anything. Look, Harper and I have a relationship. He raised me from the time before I could walk or talk. That's deep. You don't forget about things that are that deep.

JACK IS REALLY EMOTIONAL. JENNIFER IS BECOMING MORE AND MORE PAINED BY HIS PAIN.

JENNIFER: I know that Jack.

JACK: That's a heritage. You don't turn your back on heritage. That's a part of me.

JENNIFER: I understand that but....

JACK: LISTEN TO ME FOR ONCE! LISTEN TO ME! Ask anybody in this town, ask them who I am and they'll tell you I'm Jack Deveraux, Harper's son.

JENNIFER: (Almost crying, you can hear it in her voice.) YOU ARE NOT!

JACK: JACK DEVERAUX, HARPER'S SON. One wields a pen, the other wields a sword but deep down it's all the same.

JENNIFER: You're wrong!

JACK: NO, I'M NOT WRONG!

JENNIFER: YOU'RE WRONG!

JACK: NO!

JENNIFER: I DON'T BELIEVE WHAT ANYBODY SAYS. I DON'T EVEN BELIEVE YOU! I believe in you! (CRYING) And I believe what I feel with my whole heart.


JENNIFER'S EYES ARE FILLED WITH TEARS AS SHE LOOKS AT HIM. SHE MOVES IN TO KISS HIM AND JACK DOES NOT FIGHT IT. JACK SEEMS TO ENJOY THE KISS, IT SEEMS TO EASE HIS PAIN. AFTER A FEW SECONDS THEY BREAK APART AND JACK TAKES JENNIFER'S FACE IN HIS HANDS AND CARESSES HER CHEEKS. HE LOOKS LOVINGLY INTO HER EYES, AND WIPES THE TEARS AWAY WITH HIS FINGERS; THEN KISSES HER PASSIONATELY.

---
SCENE SIX: THEY ARE TOTALLY ENGROSSED IN EACH OTHER FOR A FEW MINUTES UNTIL JACK BEGINS TO PULL AWAY.

JACK: Aaaaah.....you better go.

JENNIFER: Jack I don't want to go.

HE WIPES HIS LIPS.

JACK: Heh, I want you to go.

JENNIFER: We just....you know.

JACK: We just, we just....nothing, nothing.

JENNIFER: Jack you felt it as much as I did.

JACK: Aaah, I....you kissed me.

JENNIFER: No, no, no. You kissed me Jack.

JACK: Look if you're not going to go, I'll go. Alright.

JENNIFER: Oh no you don't. Wait a minute. Jack, NO, WAIT! WAIT!

JACK: Jennifer! What do you want?

JENNIFER: You're going to see Harper aren't you?

JACK: If I am, I'm not going to tell you!

JACK WALKS OFF AND JENNIFER GOES BACK INTO HIS OFFICE AND SLAMS THE DOOR. THERE IS A FEW SECONDS OF SILENCE AND THEN SHE LETS OUT A LOUD SCREAM OF FRUSTRATION.
---
SCENE SEVEN: JACK DECIDES TO SEE ANJELICA BEFORE DECIDING ABOUT SEEING HARPER.

ANJELICA: Jack, nobody told me you were here. What are you doing?

JACK: My, aren't we in a gracious mood today.

ANJELICA: Ah, I'm sorry darling. I have a lot of things on my mind.

JACK: I know, that's why I'm here. I wanted to talk to you about Harper.

ANJELICA: Harper! Isn't that something? What is our judicial system come to when a man like Harper might get out on good behavior.

JACK: He called me. He wanted to see me.

ANJELICA: UH! How long did it take you to hang up on him? You did hang up on him Jack?

JACK: I talked to him.

ANJELICA: What do you mean you talked to him Jack? He's a contemptible wicked evil human being.

JACK: He's also my father and I was his son.

ANJELICA: Oh please, don't give me that he was my father, I am his son, garbage. Jack forget about him. Forget he even existed! God knows I'm trying to.

JACK: Anjelica, he raised me. Everything I learned, I learned from him. Everything I am, I am because Harper.....

ANJELICA: That is not true. Harper Deveraux spent his life making people unhappy.

JACK: He made me happy. And yes he did a lot of horrible things but there is more than one side to Harper.

ANJELICA: Yes! Bad and worse.

JACK: Look isn't it possible that bad people can do good things or vice versa, that sometimes good people are pushed to do desperate acts. Sometimes they do horrible things too.

ANJELICA: I wouldn't know.

JACK: Look I'm not standing up for horrible things. I mean you can't make up for it after you've done it. You can't stop the pain.

ANJELICA: ALRIGHT JACK! I've got the point. I think if you really want to talk about Harper you need to see a really good shrink.

JACK: I thought I was seeing you.

ANJELICA: Jack, Harper hurt me. Harper hurt you too. And I see no reason whatsoever to try and figure it out. So just drop it!

JACK: Alright!

ANJELICA: Jack!

JACK: Anjelica, whatever happened with Harper, I always knew I could come to you, talk to you about anything. I guess those times have changed.

JACK PICKS UP HIS COAT AND WALKS OUT VERY HURT BY ANJELICA'S REACTION. JACK IS IN PAIN TORN BETWEEN HIS GUILT AND HIS MISGUIDED LOYALTY FOR HARPER, AND HIS DESIRE TO CHANGE AND MOVE ON AND BE A BETTER PERSON. SHE IS ALSO AWARE THAT SHE REJECTED JACK. BUT IS WORRIED THAT VICTOR WILL FIND OUT THAT SHE WAS THE ONE THAT SABATOGED THE BUILDING; SHE SEEMS TO HAVE SOMETHING ELSE PLANNED.
[Transcribed by Carol Vaughan
added material by Sally A. Wilson]
---