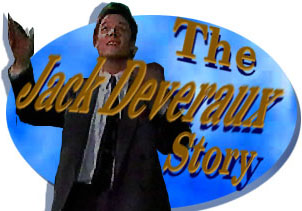 oldEpisode One-hundred-twenty-two:
Jack Fires Jennifer; Jo Convinces
Jack not to Give up; Emilio Proposes.
---
[Air mid-March 1990]
SCENE ONE: JACK AND JENNIFER ARE STILL IN HIS OFFICE. HE HAS JUST FIRED JENNIFER, WHO IS IN SHOCK.

JENNIFER: What?

JACK: I think you heard me.


JENNIFER: Well I just want you to say it again, Jack. If you're serious.... look at me.

JACK: I'm looking.

JENNIFER: Well?

JACK TOO SEEMS SURPRISED BY WHAT HE JUST SAID. BUT HE CANNOT TAKE BACK HIS WORDS. HE IS AFRAID OF THE FEELINGS THEY HAVE FOR EACH OTHER. HE FEELS UNWORTHY OF JENNIFER. HE IS ALSO UPSET WITH HER FOR GOING BEHIND HIS BACK TO SEE HARPER, AND SCARED TOO THAT HARPER COULD HURT HER.

JACK: Jennifer, in my humble opinion, the situation between us has become so impossible....

JENNIFER: What do you mean, situation?

JACK: We can't work together. (Beat) Alright, I can't work with you! So I'd like you to clear your things out and be out of here tonight.

JENNIFER: DAMMIT JACK....

SHE IS PRACTICALLY IN TEARS. JACK ALSO LOOKS DEVASTATED AND IN PAIN, HE DOES NOT WANT TO HURT HER NOR LOSE HER, BUT HE THINKS IT IS BEST, SINCE HE IS NOT GOOD ENOUGH FOR HER.

JACK: I said, I want you out of here tonight. You're fired!

JACK WALKS TO THE DOOR AND HOLDS IT OPEN.

JACK: You're fired!

JENNIFER WALKS TO THE DOOR THEN TURNS AROUND TO FACE HIM. JENNIFER IS DETERMINED TO FIGHT FOR THEIR RELATIONSHIP.

JENNIFER: You really want me to leave?

JACK: Yes.

JENNIFER: Well forget it Jack. I know that this is your office but I am not going to let you do this to me. I am not going to let you do this to us.

SHE MARCHES BACK INTO HIS OFFICE AND HE SHUTS THE DOOR. JACK IS SURPRISED AT HER DETERMINATION, BUT HE IS STILL ANGRY WITH HER AND ALSO SCARED ABOUT THEIR FEELINGS FOR EACH OTHER AND WHERE THEY WOULD LEAD.

JACK: Alright, I'm sure we can both be professionals. What's it going to take to get through to you?

JENNIFER: Alright Jack, I just want the truth, okay. I just want to know once and for all what you're feeling.

JACK: I fired you.

JENNIFER: Alright, you're not your father, okay. You're not Harper.

JACK: That doesn't have anything to do with it.

JENNIFER: It has everything to do with it. Because you see you think that you're going to end up like him and you're not. I know you're not. I understand.

JENNIFER UNDERSTANDS WHY JACK IS DOING IT. JACK IS SURPRISED HOW INSIGHTFULNESS SHE IS, BUT HE CANNOT GIVE IN TO HER.

JACK: You don't understand a damn thing about me.

JENNIFER: Well Jack, just try me, okay.

JACK: Okay, we'll just try it your way for one second. You're right. I'm not Harper's son. I'm not a homicidal maniac's son. He only raised me. Actually my biological father is Duke. The wife beating, daughter raping maniac. Now that's a real case study for you. One for Psych 101 or wherever it is you go. What do you choose, column A or column B?

JENNIFER: Jack, there's no law that says you have to be like either one of them, okay. Believe me I understand....

JACK: YOU DON'T UNDERSTAND ANYTHING.

JENNIFER: JACK, MY MOTHER'S IN A MENTAL INSTITUTION. (Beat) For a long time, I was afraid too, the same way that you are. I thought that it was going to happen to me but it hasn't and it's not going to, because my life is my own, just like yours. And I can help you.

HE FEELS FOR JENNIFER'S PAIN CONCERNING HER MOTHER, BUT STILL FIGHTS HER AND HIS FEELINGS FOR HER.

JACK: No.

JENNIFER: Why? Jack, I can.

JACK: Why? Because I say so. Because....because this is my life, it's my story, my by-line and I don't share it with anybody. Okay?

JENNIFER: Not even with me.

JACK: Especially not with you! Excuse me!

JACK WALKS OUT OF THE OFFICE AND SHUTS THE DOOR. HE HANDS A PIECE OF PAPER TO A GIRL IN THE OFFICE. HE IS HURT, ANGRY, CONFUSED, AND AFRAID OF HIS FEELINGS. HE IS WORRIED HIS DARKER SELF WILL EMERGE, REMEMBERING WHAT HAPPENED WITH KAYLA.

JACK: Somebody, file this.

HE TURNS BACK TO THE DOOR, TAKES A DEEP BREATH AND COUNTS TO THREE BEFORE HE OPENS IT TO CONFRONT JENNIFER AGAIN.


JACK: (Sigh) One, two, three. (Beat) Okay, got everything?

JENNIFER: (Tears in her eyes) Yeah. I'm just tired Jack, okay. Because I've been throwing myself at you as if I wasn't....I mean as if I wasn't worth anything. And if you're so locked up inside yourself that you can't reach out to somebody who is begging to help then I'm sorry for you. And I'm sorry that I've intruded on your personal life and I'm sorry that I've put my two cents in where they weren't wanted.

JACK: Or needed!

JENNIFER: (Beat) If you say so. But I'm through making a fool out of myself for nothing and I promise that it won't happen again.

SHE WALKS TO THE DOOR.

JENNIFER: Have a nice life Jack. If you can.

JENNIFER SHUTS THE DOOR AND JACK IS ALONE.

JACK: Goodbye Miss Horton.
---
SCENE TWO: JENNIFER RETURNS TO THE OFFICE TO FIND JACK PACKING UP HER THINGS.

JENNIFER: (Hurt and angry) What are you doing?

JACK: Oh good, you're back!

JENNIFER: I said what are you doing with my desk?

JACK: Correction. My desk, your things, company desk.

JENNIFER: It's my things.

JACK: I was hoping you'd have this cleaned out by now. Maybe you can do it yourself.

MELISSA WALKS IN AS THEY ARE TALKING. SHE IS THE LAST PERSON JACK WANTS TO SEE.

MELISSA: Jennifer.

JACK: Maybe you can help your cousin clear her desk a little bit faster.

Thank you!

JACK WALKS INTO HIS OFFICE.

JENNIFER: OH!

MELISSA: What is going on?

JENNIFER: Nothing. I just got fired Melissa, okay.

MELISSA: What?

MELISSA IS OVERJOYED BY THE NEWS.

JENNIFER: Look if you're going to have a whole singing and dancing celebration, just do it in the hall, alright.

MELISSA: Jennifer, I....

JENNIFER: I know you're sorry. I'm sorry too. I'm sorry that I've been walking around this place like some bimbo. Like some idiot....

MELISSA: Hey, hey, hey. It's over now and anyway you already have a wonderful guy waiting to help you put all this behind you. And if you don't hurry up and get over there, your dinner's going to be colder than you know who.

JENNIFER: What dinner?

MELISSA: At Wings. Didn't you get this note here?

JENNIFER: What note? I didn't get any note. What is this?

MELISSA FINDS THE NOTE ON THE DESK AND HANDS IT TO JENNIFER.

JENNIFER: (Not at all excited) Oh Emilio.

MELISSA: He's been waiting for you all this time. He still is.

JENNIFER: Maybe I wasn't ready. I mean Emilio has always been there to pick up the pieces for me. I think I'm going to go on over there.

AS SHE SAYS THAT JACK COMES OUT OF HIS OFFICE AND STOPS TO LISTEN.

MELISSA: Good idea. I'll finish up here for you.

JENNIFER: Thanks.

JACK BEGINS TO WALK TOWARDS JENNIFER THEN PAUSES AGAIN AS SHE TALKS.

JENNIFER: I don't want to keep Emilio waiting any longer than he already has.

JACK: No we can't let Emilio spend the night in a cold shower, can we?

JENNIFER: Jack?

JACK: Do we have to have the last word, Miss Horton? Please.

BOTH OF THEM ARE IN PAIN. JACK SEEMS TO BE REGRETTING THAT HE FIRED HER, BUT DOES NOT KNOW WHAT TO DO.

JENNIFER: Goodbye.

JACK: Goodbye, arrivederci. It's been kind of fun in a masochistic sort of way.

JACK LOOKS DEVASTATED AND IN JUST AS MUCH PAIN AS JENNIFER. JENNIFER WALKS OUT AND JACK TURNS TO MELISSA. HE DOES NOT WANT TO HEAR HER SNIDE REMARKS NOW OF ALL TIMES.

JACK: What are you looking at?

MELISSA WATCHES JACK WALK INTO HIS OFFICE AND IT DAWNS ON HER THAT HE IS ACTUALLY HEARTBROKEN, SHE FINALLY REALIZES THAT HE REALLY LOVES JENNIFER. SHE FOLLOWS HIM INTO HIS OFFICE.

MELISSA: Jack.

JACK IS IN PAIN AND DOES NOT WANT TO DEAL WITH MELISSA AND ALL HER NASTY REMARKS.

JACK: Melissa, I assure you it's been quite the day. Don't worry, I will get what I deserve after I die.

MELISSA: Look Jack, I came in here to thank you.

JACK: Oh really.

MELISSA: For firing Jennifer. Now that you guys won't be coming face to face everyday, she'll get over you. Before long she won't even remember what it felt like to care about you.

JACK: (With an ironic smile, to hide his feelings.) Kinda like her big cousin Melissa.

MELISSA: Just like! (Sigh) I am over you Jack and Jennifer will be too. You'll see.

JACK: And everybody gets what they wished for.

OBVIOUSLY THIS IS NOT WHAT JACK WANTS. HE IS SADDENED AT THE THOUGHT OF NO LONGER WORKING WITH JENNIFER, THAT SHE IS LOST TO HIM.

MELISSA: Maybe even sooner than you think. Emilio is waiting for Jennifer right now at Wings with a very special evening planned and an offer.

JACK: An offer, eh. Is she going to start singing at the club too? Tell her congratulations.

MELISSA: He's willing to make a commitment to her Jack, and he's going to tell her just that. And I've got a funny feeling thanks to you that Jennifer might be finally in the right frame of mind to see what a wonderful guy Emilio really is. In fact she might even be willing to make that commitment mutual. Thanks again Jack.

MELISSA LEAVES. JACK REMAINS ALONE IN HIS ROOM, SAD AND LONELY AT THE THOUGHT OF LOSING JENNIFER TO EMILIO.
---
SCENE THREE: A FEW MINUTES LATER, JACK IS PUTTING ON HIS COAT WHEN THERE IS A KNOCK ON HIS DOOR.

JACK: He's gone for the day.

JO: Jack, I hope I'm not disturbing you.

JACK: You're not. Take a number and step in line.

JO: I just wanted to talk to someone. Steve is not home and Adrienne is so upset.

DESPITE HIS OWN PAIN, JACK CARES FOR HIS SISTER ESPECIALLY AFTER WHAT JUST HAPPENED. HEARING THAT SHE IS UPSET HE IS CONCERNED ABBOT HER.

JACK: Ad.... what? Adrienne's what?

JO: No, no. She's alright.

JACK: No, she's not alright otherwise you wouldn't have come over here. What's wrong, maybe I can help.

JO: I don't think so, not now anyway.

JO FINALLY REALIZES THAT SOMETHING IS BOTHERING JACK.

JACK: What do you mean by that?

JO: Is something wrong. What's going on?

JACK: There's nothing wrong with me. What's going on with....

JO: Hey, come on, I know when something's bugging you. What is it?

JACK: There is nothing wrong with me!

SHE IS PERCEPTIVE ENOUGH TO REALIZE THAT IT HAS TO DO WITH JENNIFER. JO KNOWS HOW JACK FEELINGS ABOUT HER.

JO: It's Jennifer isn't it?

JACK IS SURPRISED AT HER INTUITIVENESS. BUT HE DOES NOT WANT TO LET ON THAT IT *IS* ABOUT JENNIFER.

JACK: I didn't say anything about Jennifer.

JO: Come on, I'm your mother. Please talk to me.

JACK LETS DOWN HIS DEFENSES. HE NEEDS TO TALK TO SOMEONE ABOUT IT. DESPITE EVERYTHING AND WHAT HE SAYS, HE DOES CARE DEEPLY FOR HIS MOTHER.

JACK: Alright I'll talk to you. Okay. I fired her. I really fired her this time.

JACK SEEMS ANGRY WITH HIMSELF.

JO: Jack, you didn't!

JACK: Yes I did! And now I don't have to worry about her being taken care of or what's best for her.

JO: Which is what?

JACK: Which is.... which is.... I don't know. It doesn't matter anymore anyway.

JO: Of course it matters. You and I know how Jennifer feels about you. Why do you keep pushing her away?

JACK: Because I'm helping her grow up. This is what's best for her.

JO: Oh come on. You care about her. Jack!

JACK: I thought you said you knew how I felt.

JO: I just want to know why. Why did you fire her?

JACK CONTINUES TO OPEN UP TO JO ABOUT HOW HE REALLY FEELS AND CARES FOR JENNIFER.

JACK: Because.... because I do care about her. Because I care about her being.... being happy in her career and happy in her home life and happy maybe someday with a family.

JO: Don't you understand that you could be a part of that?

JACK: NO! NO! I already said, happy in her home life. That's not me. Come on, with divorce rates being what they are today, I wouldn't want to wish my karma in anybody's bedroom. I mean look at Harper.

JACK IS IN PAIN BECAUSE HE WANTS TO HAVE THAT LIFE WITH JENNIFER, BUT BECAUSE OF HIS PAST FEELS UNWORTHY OF IT, AND FEELS THAT SHE DESERVES BETTER THAN HIM.

JO: ....and Duke. That's what you were going to say, isn't it?

JACK: Yeah, Duke! As in chip off the old. You wouldn't want to wish that on Jennifer, would you?

JO IS IN PAIN FOR HER SON.

JO: Listen, just listen to me, please. I know what it feels like to think that you don't deserve even the tiniest bit of happiness but it's wrong for you to feel that way. Listen son, I knew them both, Duke and Harper. And Jack you are nothing like them. When I look at you, I see you. I see my son. You're your own creation Jack.

JACK: I did a hell of a job of it.

JO: Well if you'd stand back and take a look at yourself.... stop living in the past.... forgive yourself. And let Jennifer in please. Let us all in. It would be so easy.

JACK: I appreciate everything you're saying but I'm sorry, the deed is done.
---
SCENE FOUR: MEANWHILE JENNIFER HAS ARRIVED AT WINGS TO FIND THAT EMILIO HAS RESERVED THE WHOLE RESTAURANT FOR DINNER. SHE IS IN AS MUCH PAIN AS JACK IS. THE TABLE IS SET WITH CANDLES. HE TELLS HER THAT HE WANTED TO MAKE HER FEEL SPECIAL AND SHE PUTS HER ARMS AROUND HIM AND TELLS HIM THAT SHE NEEDS THAT RIGHT NOW. HOWEVER, IT IS NOT HIS ARMS SHE WANTS TO BE IN, BUT JACK'S. EMILIO IS NOT SENSITIVE ENOUGH TO REALIZE THAT SHE WANTS TO BE WITH JACK, THAT SHE CARE FOR JACK AND NOT HIM. AS HE IS TALKING SHE THINKS BACK OVER THE KISS SHE AND JACK SHARED A FEW DAYS EARLIER.
---
SCENE FIVE: BACK AT THE SPECTATOR.

JO: Are you sure about this son? Are you sure it's too late?

JACK: Look, she's been fired. The deed is done. She's on her way now to someone who can make a real commitment to her. Not me. I know I can hurt her.

JO: It's not too late Jack. Okay so you burned a few bridges. Who's to say Jennifer won't forgive you? It's time that you be honest with her.

SHE STOPS AND THINKS, AND IT DAWNS ON HER.

JO (CONT.): (She Smiles knowingly.) You love her!

JACK: (Stopping to think) Well I guess in my own strange way I do, yeah.

JO: Oh, then you owe it to yourself to tell her. Don't give me this "I'm not good enough" routine. We'll leave that up to Jennifer. But you love her and that's all any of us can ever care about. Now if you feel about her the way I think , the way I know you do, you're going to find her right now and you're going to tell her before it really is too late. Son, just think about it but don't think about it too long. (Beat) I love you.

JO LEAVES AND JACK SITS DOWN IN HIS COAT AND LOOKS AT A PICTURE OF JENNIFER AND EMILIO WHILE HE THINKS OVER JO'S WORDS. HE GETS UP AND IS DETERMINED TO MAKE THINGS RIGHT BETWEEN HIM AND JENNIFER.

JACK: Alright Hamlet. Once more unto the breech, before it's too late.

JACK HURRIES OUT OF THE OFFICE.
---
SCENE SIX: MEANWHILE JENNIFER AND EMILIO ARE DANCING BUT HE SENSES HER MOOD AND ASKS HER WHAT IS WRONG. SHE TELLS HIM SHE WAS FIRED. HE SAYS HE HAS A BETTER OFFER FOR HER. BUT STILL IS UNABLE TO REALIZE THAT SHE IS NOT UPSET ABOUT BEING FIRED, BUT ABOUT LOSING JACK. HE SHOWS HER AN ENGAGEMENT RING. JENNIFER IS IN SHOCK. SHE LOOKS EVEN MORE DEVASTATED BY HIS QUESTION. EMILIO IS PROUD, AND SELF-CONFIDENT THAT SHE WILL ACCEPT HIM, THAT SHE WOULD ACTUALLY PREFER HIM TO JACK.
[Transcribed by Carol Vaughan
added material by Sally A. Wilson]
---