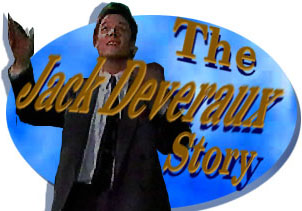 oldEpisode One-hundred-twenty-three:
Jennifer Turns Emilio Down; Heartbroken,
Jack and Jennifer Go to
The Spectator
.
---
SCENE ONE: JACK ARRIVES AT WINGS IN THE MIDST OF EMILIO'S PROPOSAL. JENNIFER TELLS EMILIO THAT THIS IS THE LAST THING SHE EXPECTED TO HAPPEN TONIGHT. IT IS OBVIOUS THAT JENNIFER IS TRYING TO SPARE EMILIO'S FEELINGS, AND THAT HIS QUESTION IS ONLY MAKING HER MORE SAD. JACK LISTENS TO EMILIO TELL HER HOW HE FEELS AND BEGINS TO WALK AWAY, BELIEVING THAT SHE IS LOST TO HIM. HE CHANGES HIS MIND AND SWINGS BACK AROUND TO GO BACK AND TALK TO JENNIFER ONLY TO FIND MELISSA,WHO IS FURIOUS, STANDING IN FRONT OF HIM.

MELISSA: Don't you dare!

JACK SIGHS AND STOPS.

JACK: Just get out of my way!

MELISSA: I'm not going to let you ruin this for Emilio.

JACK: Why? Just tell me why you're so involved?

MELISSA: Because he's my friend and because Jennifer's my cousin. Now I know you hate to let a woman go before you've ruined her life completely but I'm afraid this time you're just going to have to.

JACK IS DETERMINED TO FIGHT FOR JENNIFER.

JACK: It's not going to stop me!

JACK PUSHES PAST, BUT SHE GRABS HIS ARM.

MELISSA: Come on Jack. You know, as lousy as you always were Jack, at least you could see the truth in yourself. Don't lose that ability now when you need it the most. You don't even know how to treat a woman.

JACK GRABS HER ARMS AND WHISPERS LOUDLY IN HER FACE.

JACK: (Desperately) WHY, WHY, WHY..... WHY?

MELISSA: (Snidely) This is just my opinion. Why don't we ask Kayla?

HER WORDS ARE LIKE A SLAP TO THE HIS FACE. JACK IS HURT BY THEM, BUT BELIEVES THEM TO BE TRUE. JACK'S FACE DROPS AS HE THINKS BACK OVER HIS PAST.

MELISSA: You know I'm right Jack. You hurt all the women in your life and if you don't let Jennifer go, you're just going to hurt her too.

JACK: Melissa, I know I treated you badly, but....

MELISSA: I got over the pain that you caused me a long time ago Jack. Right now I just want to make sure that Jennifer doesn't go through the same thing. If you've got any feeling for her at all, if you've got one ounce of decency in you, then you'll just let her go.

JACK DEEPLY LOVES JENNIFER, IT IS EVIDENT BY HIS EXPRESSION. HE BELIEVES MELISSA IS RIGHT, HE *WOULD* HURT JENNIFER, AND THAT IS SOMETHING HE COULD NOT BEAR TO DO. THEY HEAR EMILIO ASK JENNIFER AGAIN.

EMILIO: So what's it going to be Jen? Will you marry me?

JACK HEARS THOSE WORDS AND RATHER THAN BE HURT BY JENNIFER'S DECISION HE RUSHES OFF.

JENNIFER IS TO THE POINT OF TEARS. EMILIO IS CONFIDENT THAT SHE WILL ACCEPT.

JENNIFER: I know what you want me to say but I can't, not yet.

EMILIO ASKS HER WHAT THAT MEANS AND SHE SAYS THAT SHE HAS MANY THINGS TO THINK ABOUT FIRST. HE GIVES HER THE RING TO KEEP WHILE SHE THINKS ABOUT HER DECISION. BUT HE IS SELF-ASSURED THAT SHE *WILL* ACCEPT HIS OFFER. HE IS BLIND TO THE PAIN ON HER FACE AND IN HER VOICE.
---
SCENE TWO: LATER EMILIO TAKES HER BACK TO THE LOFT. HE KISSES HER GOODBYE, BUT JENNIFER DOES NOT REALLY RESPOND. SHE LOOKS SO SAD, SHE LOOKS AS IF SHE LOST HER BEST FRIEND. WHEN HE LEAVES, JENNIFER LOOKS THROUGH ALL THE THINGS FROM HER DESK AND FINDS THE NEWSPAPER WITH JACK'S PICTURE ON THE FRONT PAGE, FROM THE TIME HE WON THE FERRARO AWARD. SHE LOOKS LONGINGLY AT HIM, WITH TEARS IN HER EYES; THEN SHE LOOKS DOWN AT THE RING, WISHING IT WAS HE WHO ASKED HER.
---
SCENE THREE: MELISSA ARRIVES A BIT LATER AND ENCOURAGES, ALMOST FORCES, JENNIFER TO TRY ON THE RING; SHE DOES. MELISSA TELLS HER HOW GREAT THEIR MARRIAGE WOULD BE. JENNIFER LISTENS BUT THINKS THAT IT SOUNDS FAR TOO PERFECT. WHY HAS MELISSA PUSHED EMILIO ONTO JENNIFER SO MUCH, AND SPOKEN SO BADLY ABOUT JACK, COULD IT BE THAT SHE STILL HAS FEELINGS FOR HIM? JENNIFER ASKS WHAT WOULD HAPPEN TO HER JOB AND MELISSA REMINDS HER THAT SHE DOES NOT HAVE A JOB BECAUSE JACK JUST FIRED HER. JENNIFER THEN REMEMBERS THAT SHE LEFT SOMETHING AT THE OFFICE AND HAS TO GET IT RIGHT AWAY.
---
SCENE FOUR: JACK HAS RETURNED TO WINGS. HE WALKS AROUND.

JACK: (Talking to himself.) Well Emilio, it looks like you really pulled out all the stops tonight. Well I can't say I blame you.

HE SITS DOWN AT THE TABLE AND LIGHTS THE CANDLE AND BEGINS TO FANTASIZE ABOUT JENNIFER.

HE IS SITTING AT THE SAME TABLE IN A TUX, AND IS LOOKING EXTREMELY GORGEOUS. JENNIFER IS SEATED OPPOSITE HIM IN A BLACK EVENING DRESS. THEY BOTH ARE STARING LOVINGLY AT THE OTHER.

JACK: Jennifer.

JENNIFER: Yes Jack.

JACK: We've been seeing each other for sometime now and we're getting closer and there's something that I've been wanting to ask you.

JENNIFER: What is it Jack?

JACK: Do you love me?

JENNIFER: What?

JACK: Yes or no?

JENNIFER: Alright, alright....yes.

JACK: How much?

JENNIFER: Jack!

SHE STANDS UP AND HE WALKS OVER TO HER.

JACK: Now come on now. This is not easy. I'm trying to talk about my feelings and....and you know the words just don't come.

JENNIFER: They will Jack. Just stop trying to be original and eloquent. This isn't an editorial you know.

JACK: No but this is my fantasy so please cooperate. Ah, you know there has to be a better way to say this. I mean maybe some people like being banal and shopworn and cliche but not me. Yet after a lot of thought and several trips to the thesaurus....the best I could come up with was....I love you.

JENNIFER: (Overjoyed) You said it. You finally said it.

JACK: Yes I did. Because I had to. Because I do. I do love you. And I want to take care of you and I think that I'm the best person to take care of you.

JENNIFER: Oh Jack.

JACK: Oh I know that you need a commitment. Here is a commitment.

HE TAKES A LARGE DIAMOND RING OUT OF HIS POCKET.

JACK: Ah, now I don't want you to make your decision right away. You can think about it. Take your time and I just want you to know that I'll wait and I'll wait as long as I have to.

JENNIFER: No.

JACK: No. That's your answer.

JENNIFER: No. I mean yes. Yes, Jack.

JACK: Is that yes to the first question or yes to the second?

JENNIFER: The first question. I don't need any time. I know what my answer is, it's yes.

JACK: Yes, you'll marry me?

JENNIFER: Yes, I'll marry you.

JACK: Okay.

THEY BOTH GIGGLE.

JACK: Okay.

JACK SLIDES THE RING ON HER FINGER. JENNIFER IS ECSTATIC

JACK: (Smiling) We should kiss.

JACK BENDS DOWN AND THEY KISS GENTLY....

THE FANTASY ENDS AS EMILIO CALLS OUT. JACK BLOWS OUT THE CANDLE.

EMILIO: Hey, anybody here?

JACK: Nobody but us mices.

EMILIO: Oh Deveraux! What are you doing here? The party's over son.

EMILIO RUFFLES JACK'S HAIR. HE IS SMUG, BELIEVING THAT HE HAS WON JENNIFER, AND THAT JACK HAS LOST.

JACK: I was going to ask you the same question. What are you doing here?

EMILIO: I...ah...came back to get this.

HE PULLS OFF THE WHITE SCARF THAT JACK IS WEARING.

EMILIO: What are you doing with it man?

JACK: I guess you and Miss Horton had quite a time tonight.

EMILIO: Oh we had a great time but guess what? It ain't none of your business, is it?

JACK: Well I'm just....just making conversation.

EMILIO: You know what, now that you've brought it up. We had a great time and guess what buddy? It's going to get better and better.

JACK: You don't say so. (Beat) Well I don't want to keep you. I'll see you again.

EMILIO: Not if I see you first.
---
SCENE FIVE: JENNIFER HAS RETURNED TO THE SPECTATOR, SHE HAD TO RETURN THERE, TO BE NEAR A CONNECTION TO JACK. SHE IS LOOKING WISTFULLY AT JACK'S OFFICE DOOR WHEN HE WALKS UP BEHIND HER. HE TOO SEEMS TO NEED TO BE THERE, BECAUSE OF ITS CONNECTION TO HER.

JACK: Excuse me, is there something you want?

THEY ARE BOTH SURPRISED, AND HAPPY TO SEE EACH OTHER, BUT THEY DO NOT REVEAL *HOW* GLAD THEY ARE. SEEING THE OTHER CAUSES THEM SOME PAIN, WHICH IS EVIDENT BY THEIR EXPRESSIONS — THEY BOTH BELIEVE THAT THEY ARE LOST TO OTHER.

JENNIFER: (Trying to think of an excuse, not wanting him to know that she is there to be near to him.) Oh, um....I came here to pick up my award.

JACK: You're what?

JENNIFER: My Ferraro Award. I had left it on my desk. I remember.

JACK: Ah....no you didn't. You took it.

JENNIFER: (Almost crying) No I didn't.

IT APPEARS THAT HE IS HOPING THAT SHE IS THERE TO SEE HIM.

JACK: Ah....I would swear that you left it with your things and took it.

JENNIFER: I would swear that I didn't. I would swear that it's here someplace, right Jack. Don't worry I won't be long. As soon as I get it I'll leave and then you will never have to see my face again. I'll be out of your life forever right, cause that's what you want isn't it? Isn't it Jack? (Beat) Alright, then don't answer me. Just stand there alright. I don't care anymore. I don't give a damn Jack. What do you want....

JACK: Whoa, whoa, whoa.

JACK GRABS HER ARM.

JACK: Before you start dammin' everybody, I've got something I want to say to you.

JENNIFER: We have nothing to say to each other.

JACK: Well I have something that I want to say about you and me!

JENNIFER: You want to talk about us.

JACK: Ah....yes. I would like to say something.

HE APPEARS TO BE ON THE VERGE OF TAKING JO'S ADVICE AND TELLING JENNIFER HOW HE FEELS ABOUT HER.

JENNIFER: Alright, go ahead. I'm listening.

JUST AS HE IS ABOUT TO DO SO, HE CHICKENS OUT.

JACK: Ah....you first! What are you doing here?

JENNIFER: I told you I came here to pick up my award.

JACK: What, you couldn't sleep without it, so you decided to come down here tonight?

JENNIFER: What do you want me to say? You want me to say that I came here to see you!

JACK TRIES TO HIDE HIS JOY, AT THE PROSPECT THAT SHE IS THERE TO SEE HIM.

JACK: You did?

JENNIFER: Yes, I did, okay! I admit it. I came here to see you. Are you happy now?

JACK TRIES TO NOT LET ON HOW HAPPY HE REALLY IS. HE ALMOST ADMITS IT, BUT STOPS HIMSELF IN MID-WORD.

JACK: Ye.... ah.... why?

JENNIFER: What do you mean, why?

JACK: I mean.... I mean, why? I mean I treat you horribly around here, every day. Why do you keep coming back for more?

JENNIFER: I don't know why. I wish I could tell you why. I think I'm crazy, that's why!

JACK: I think maybe you are too. I mean, I treat you bad nine days out of ten. I mean it only goes from bad to worse. I'm a horrible boss. I'm impossible, morning, noon and night. Always am and always will be. I mean we'll always be fighting. We'll always hate each other. Always fight like cats and dogs. Meouw, meouw, woof, ruff.

JENNIFER NOTICES THAT HE IS SPEAKING OF THE FUTURE, AND GETS HOPEFUL.

JENNIFER: Wait a minute Jack. You're speaking in the future tense about us as if we did have a future. Is that what you want, is that what you're saying?

JACK: Ah.... Jennifer I'm saying....

JACK TAKES JENNIFER'S HAND IN HIS AND AS HE IS ABOUT TO FINALLY REVEAL HIS FEELINGS FOR HER. HE FEELS THE RING STILL ON HER FINGER — WHICH SHE HAD FORGOTTEN TO TAKE OFF AFTER MELISSA COERCISED HER INTO TO TRYING IT ON. HIS EXPRESSION CHANGES, HE IS PAINED AT THE THOUGHT THAT SHE DID ACCEPT EMILIO AND THAT SHE IS LOST TO HIM FOREVER.


JACK: Well congratulations.

SHE WAS HOPEFUL THAT JACK'S REMARKS ABOUT THE FUTURE MEANT THAT HE FINALLY WOULD TELL HER HOW HE FEELS. JENNIFER REALIZES THAT JACK HAS THE WRONG IDEA ABOUT HER AND EMILIO.

JENNIFER: Um, you don't understand.

JACK: No, no, no, no, no. I understand everything. Melissa told me all about it.

NOT WANTING TO LET ON HOW THE THOUGHT OF HER MARRYING EMILIO PAINS HIM. JENNIFER TRIES TO MAKE IT CLEAR TO HIM.

JENNIFER: Well how could she know? I mean Emilio did propose to me but I never said....

JACK: No, no, no, no. You don't have to tell me anything.

JENNIFER: I want to tell you what happened, okay.

JACK: Listen, listen. I hope that the two of you will live happily ever after.

FRUSTRATED WITH HIM FOR AGAIN PUSHING HER AWAY, AND TRYING TO SAVE HER FACE SHE LETS HIM BELIEVE SHE WANTS EMILIO.

JENNIFER: Well you know what? We will live happily ever after. We will be the happiest couple you've ever seen Jack!

JACK EQUALLY PRIDEFUL DOES NOT WANT HER TO KNOW HOW MUCH THE THOUGHT OF HER AND EMILIO BOTHERS HIM.

JACK: Good, I'm so happy for you.

JENNIFER: You know what, I wish I could say that it has been fun but working here has been a nightmare.

JACK: Well, if you can make it here, you can make it anywhere. I'm sure you'll get a much better job somewhere else.

JENNIFER: I'm sure I can. (Beat) Goodbye Jack.

JENNIFER WALKS OUT VERY UPSET LEAVING JACK ALONE. HE LOOKS AT THE THINGS ON HER DESK.

JACK: Goodbye Jennifer.
---
SCENE SIX: SINCE ABE IS GETTING CLOSE TO DISCOVERING THAT ANJELICA IS RESPONSIBLE FOR CAUSING THE COLLAPSE OF ADRIENNE'S BUILDING, AND BECAUSE OF VICTOR'S TREATS TO GET EVEN WITH THE PERSON RESPONSIBLE, SHE HAS TAKEN ALEXANDER AND BOOKED HERSELF ON A FLIGHT TO SOUTH AMERICA. HOWEVER, THEY DO NOT BOARD THE PLANE, BUT TAKE ANOTHER FLIGHT. THE PLANE THEY ARE SUPPOSED TO BE ON BLOWS UP IN MID-AIR.THEY ARE BELIEVED TO BE PASSENGERS ON THE FLIGHT, AND THUS TO HAVE DIED.
[Transcribed by Carol Vaughan
added material by Sally A. Wilson]
---