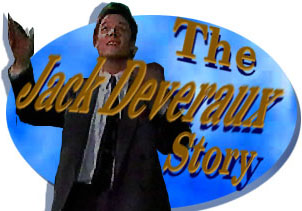 oldEpisode One-hundred-twenty-five:
To Prove She Can Get Over Jack,
Jennifer Interviews Him to Audition
for a TV Job. Jack Writes an Eloquent
and Impassioned Article about Kayla.
---
[Air late March 1990.]
SCENE ONE: JENNIFER IS SITTING AT SHENANIGAN'S HAVING COFFEE WITH TOM AND ALICE. THEY ARE DISCUSSING HER JOB PROSPECTS WHEN JENNIFER GETS A PHONE CALL. SHE GOES TO THE BAR TO ANSWER IT AND JACK WALKS IN AND LISTENS IN.

JENNIFER: Yes, this is Jennifer Horton. Yes I did put in an application. (Beat) Today, sure I can meet for an interview today, sure....

JACK IS STANDING BEHIND HER AND SHE NOTICES HIM.

JENNIFER: Um...just tell me what you want and I'll be there. What, what, I'm sorry I didn't hear you. (Beat) Oh that'll be fine, thank you.

JACK WALKS AWAY AND SITS AT A TABLE NEAR HERS. HE PRETENDS TO READ THE PAPER BUT IS REALLY EAVESDROPPING.

ALICE: Jennifer.

TOM: Something wrong?

JENNIFER: No nothing's wrong. Actually that was a call about a job.

ALICE: At The Chronicle?

JENNIFER: No actually I'm trying to stay away from newspapers. That was a call about a broadcast slot at WATV.

ALICE: Television?

JENNIFER: Yeah they heard about my journalism award and I sent them some articles and apparently they are short a reporter.

JACK LOOKS WORRIED.

TOM: Well that's wonderful....isn't it?

JENNIFER: Yeah, it could be....I guess.

JENNIFER LOOKS ACROSS AT JACK. SHE DOES NOT SEEM AS THRILLED AS SHE SHOULD BE ABOUT THE JOB. IT IS OBVIOUS THAT SHE WOULD RATHER BE WORKING WITH AND FOR JACK.

TOM: Well when is the interview?

JENNIFER: It's this afternoon. Actually it's more like an audition.

ALICE PICKS UP ON HER LACK OF EXCITEMENT, AND KNOWS THE REASON.

ALICE: Well don't sound so excited about it dear.

JENNIFER, ESPECIALLY WITH JACK LISTENING, DOES NOT WANT LET ON THAT THIS IS THE CASE.

JENNIFER: Well grandma, you know I don't want to get my hopes up. There could be a lot of competition and I don't exactly have the right references, you know.

NOT ABLE TO REMAIN SILENT ANY LONGER JACK COMES OVER TO THEIR TABLE. IT SEEMS, EVEN THOUGH HE WOULD NOT ADMIT IT, THAT HE TOO IS NOT HAPPY ABOUT JENNIFER WORKING SOMEPLACE ELSE.

JACK: Um, excuse me, Hortons.

TOM: Jack.

ALICE: Oh hello Jack.

JACK: Hi, ah....Jennifer. I'm very surprised at you that you didn't come to me for a recommendation. I mean I know that we've had our little personal differences in the past but I would be more than happy to give you a recommendation to get a job today.

JENNIFER: (Sarcastically) Oh gee, thanks Jack!

TOM: Would you like to join us Jack?

JACK: Oh, I would love to but I really can't. I have to get back to work. But Jennifer I really meant what I said. I think with your looks and your gift of the gab you'd be perfect on tv news. And I'd be more than happy to tell the people at WATV so. (Beat) You don't have to thank me all at once.

JENNIFER: You know what Jack, if your so anxious to help me....

JACK: Oh anxious isn't the word. I'm determined! I'll do anything.

JENNIFER: Great, great! Then you can help me with my audition.

CALLING JACK'S BLUFF. JACK'S FACE CHANGES FROM A SMILE TO CONCERN.

JACK: Eh....huh.

JENNIFER: I mean the better I do, the sooner I'm gone.

JACK: Oh....well you don't mean today. I mean today is Thursday at the paper and you know how busy we are at the paper. I'm sure that right.....that right now they're all looking for me at the paper, so....ah....I'm sure you'll do just perfectly all by your lonesome but I'll be more than happy to give you that reference. Doctor, Mrs. Horton.

THROUGHOUT THE CONVERSATION TOM AND ALICE HAVE BEEN LISTENING IN CONFUSION AT JACK AND JENNIFER'S BACK AND FORTH SPARRING. ALICE THOUGH REALIZES HOW THEY FEEL FOR EACH OTHER BUT ARE TOO STUBBORN TO ADMIT. TOM JUST SEEMS CONFUSED.

TOM: Jack.

ALICE: Goodbye Jack.

JACK: Good luck, no what is it you say to performers. Break a leg, film at eleven. Ciao!

JACK HURRIES OFF AND JENNIFER MAKES A COMMENT TO HERSELF.

JENNIFER: (Under her breath) I wish you'd just break your leg!

ALICE: And what does that mean?

JENNIFER: What? Nothing, nothing.
---
SCENE TWO: KAYLA HAS BEEN IN JAIL FOR THE MURDER OF MARINA TOSCANO. STEPHANIE IS BEING CARED FOR BY A NANNY THAT STEVE HIRED. HE TRIED A FEW WHO WERE NOT WORKING OUT, INCLUDING A BIG, BLONDE AMAZONESQUE WOMAN NAMED TALULAH. HE FINALLY FOUND ONE THAT SEEMED PERFECT, BUT SHE IN FACT WAS A WOMAN THAT KAYLA HAD MET IN JAIL WHO HAD JUST LOST HER BABY. SHE SEEMS TO BE UP TO NO GOOD.
---
SCENE THREE: STEVE IS DETERMINED TO GET KAYLA FREED AND HE COMES TO ASK FOR JACK'S HELP.

STEVE: Jack, I need your help.

JACK: Oh, really. Well....what can The Spectator do for you?

STEVE: The Spectator can print this on the front page.

STEVE HANDS JACK A HANDWRITTEN ARTICLE.

STEVE: You saw what they put on The Chronicle on the front page this morning, didn't you?

JACK: Ah ye....yes I did.

STEVE: Well if we get this on right away, get it circulated then maybe we can get them to reopen Kayla's case.

JACK: Um.... Steve.... I... can't print this.... you know that don't you.

STEVE: Why not, what are you talking about?

JACK: Well....this isn't an article. This is an opinion. You can't put an opinion on the front page.

STEVE: You can put it on the front page if it's going to help Kayla.

JACK: Look, I work here. This is my job. I know what I'm doing. You do not put an opinion on the front page.

STEVE MISINTERPRETS THIS, AND THINKS THAT JACK IS BACK TO HIS OLD, BAD SELF. JACK IS FEELING TERRIBLE BECAUSE HE *DOES* WANT TO HELP THEM. HE TRIES TO EXPLAIN HOW NEWSPAPERs WORK AND WHAT HE CAN AND CANNOT DO.

STEVE: So you're not going to print it.

JACK: No, I didn't say that. You don't understand.

STEVE: You didn't say that? No, I understand I shouldn't have come here.

JACK: You don't under....Steve, look....

STEVE: Thanks a lot, little brother, thanks again.

STEVE STORMS OUT AND JACK THROWS THE ARTICLE ON THE FLOOR IN FRUSTRATION BECAUSE STEVE ALWAYS ASSUMES THE WORST OF HIM AND WILL NOT STOP TO LISTEN AND UNDERSTAND.
---
SCENE FOUR: BACK AT SHENANIGAN'S ALICE TELLS JENNIFER THAT SHE THINKS JENNIFER DOES NOT WANT THE AUDITION TO WORK BECAUSE IT WOULD MEAN THE END OF HER SITUATION WITH JACK.

JENNIFER: But grandma, I know what you're saying and I'm trying to do something to change. I'm trying to find something new so that I can put Jack behind me.

ALICE: Well now maybe that's the problem. The cart before the horse. Maybe you're going to have to get away from Jack before you can move on.

JENNIFER: I don't think I can do that.

ALICE: Then I don't think you'll have the necessary commitment for this job. As you said, it's a highly competitive field.

JENNIFER: Well you know what. Maybe Jack should be here sitting here with me. I mean if he want's to get rid of me so much, maybe he....

JENNIFER GETS A BIG IDEA.

JENNIFER: YES!

ALICE: Jennifer, dear Lord. Why don't I like that look!

JENNIFER: Oh grandma I don't know because you should because I just came up with the perfect subject for my audition.

JENNIFER RUNS OUT.
---
SCENE FIVE: STEVE STORMS INTO HIS HOUSE, ANGERED BECAUSE OF HIS CONVERSATION WITH JACK. JO IS THERE AND SO IS THE NANNY, WHO IS GOING BY THE NAME OF KELLY. JO SENSES SOMETHING IS WRONG. HE TELLS HER THAT "MR. HYDE IS BACK," THAT JACK IS BACK TO HIS OLD SLIMEY SELF, AND HEREFUSES TO HELP KAYLA. KELLY IS SPYING IN ON THEIR CONVERSATION AND LOOKS PLEASED. JO DOES NOT BELIEVE IT. SHE *KNOWS* THAT JACK HAS CHANGED. SHE THINKS THAT STEVE MISUNDERSTOOD JACK. STEVE SAYS THAT THAT IS WHAT JACK SAID, BUT HE DOES NOT BELIEVE HIM. JO DEFENDS JACK AGAIN. SHE TELLS STEVE THAT JACK HAS BEEN HAVING PROBLEMS OF HIS OWN. SHE REMINDS STEVE THAT JACK JUST LOST ANJELICA AND ALEXANDER, AND DESPITE IT ALL ANJELICA RAISED HIM, AND HE CONSIDERED ALEXANDER TO BE HIS LITTLE BROTHER. STEVE ADMITS HE WAS TOO QUICK TO JUDGE JACK, AND HE WILL GIVE JACK ANOTHER CHANCE.
---
SCENE SIX: LATER THAT DAY JACK IS WORKING IN HIS OFFICE WHEN JENNIFER COMES IN FOLLOWED BY A CAMERAMAN.

JENNIFER: Come on in Ben.

JACK: Ben? What's going on?

JENNIFER: This is my story. Set up over there. On The Spectator.

JACK: Wha....

JENNIFER: It's going to be an extra strong focus on the heart and soul behind the black and white of the crusading publisher, Jack Deveraux.

JACK: Wha....that's me. I'm not going to be your audition?

JENNIFER: What? You told me that you would help me.

JACK: I know that but I.... I.

JACK SEEMS TO SIMULTANEOUSLY TO LIKE AND NOT LIKE THE IDEA, HIS EGO SEEMS TO LIKE THE IDEA OF BEING INTERVIEWED AND HE SEEMS TO LIKE HAVING ANY EXCUSE BEING AROUND JENNIFER, BUT HE SEEMS NOT TO BE TOO HAPPY ABOUT THE PROSPECT OF HER INTERVIEW GOING WELL, AND LOSING HER.

JENNIFER: No buts, no buts. Are you ready Ben?

BEN: Ten seconds.

JENNIFER: Ten Seconds! Pretend like you're working, pretend like you work here.

JACK: I do work here!

JACK HURRIES BEHIND HIS DESK WHILE JENNIFER PREPARES TO DO THE INTRODUCTION.

JACK: Wait a minute. Hold it, hold it!

JACK REMOVES HIS JACKET AND ROLES UP HIS SLEEVES. AND SITS AT HIS DESK WITH A PROUD, SMUG LOOK.

JACK: Give me a chance to get ready. If we're going to do this, we're going to do it right.

JENNIFER: Right.

BEN: Ready?

JACK: Ready.

BEN: Five, four, three, two.....

JENNIFER: In an age when so much reporting has sunk to the level of a supermarket tabloid, Salem is lucky to have The Spectator. The newspaper and it's staff have won a lion's share of awards over the last couple of years. Many industry observers attribute that to the newspaper's publisher Jack Deveraux.

JACK SITS UPRIGHT IN HIS CHAIR, WITH HIS HEAD HELD HIGH AND A PROUD LOOK ON HIS FACE.

JENNIFER: Mr. Deveraux, thank you for agreeing to speak with us today.

JACK: My pleasure!
---
SCENE SEVEN: THE INTERVIEW IS NEARLY OVER AND JACK IS HOLDING THE MICROPHONE WHILE JENNIFER IS CROUCHED DOWN IN FRONT OF HIS DESK TRYING TO GET IT AWAY FROM HIM. JACK SEEMS TO BE CARRIED AWAY WITH THE INTERVIEW, AND HIS OWN VOICE.

JACK: We really hope this shows in the newspaper's coverage and especially in our editing....

JENNIFER: Thank you Mr. Deveraux.

JACK: This town, this country, is in the hands of it's people and....

JENNIFER: Thank you Mr. Deveraux, we really appreciate the interview.

JACK: And we really feel that the newspaper serves as a function of the people and....

JENNIFER SNATCHES THE MICROPHONE FROM HIM.

JENNIFER: And this is Jennifer Horton reporting live from WATV Action News.

BEN: That's it. Great interview. I've got to get this tape back to the studio.

JENNIFER: Thanks.

JACK: Thanks Ben.

BEN LEAVES.

JACK: (Making another one of his double entendres) So! I'm spent.

THEY BOTH SEEMS TO ENJOY BEING IN THE OTHER'S COMPANY, BUT ARE TOO STUBBORN TO LET THE OTHER KNOW THIS.

JENNIFER: Really? I bet you are Jack. That was really a great interview you gave.

JACK BECOMES SOMEWHAT UNCOMFORTABLE AT JENNIFER WHO IS TRYING TO GET CLOSE AND WHAT SHE IS TRYING TO SAY TO HIM.

JACK: Huh, uh. You really give good questions.

JENNIFER: That's because I had a great teacher. The best!

JACK: Well, it's nice to know you didn't fall asleep. You were listening.

JENNIFER: Couldn't help it.

THEY ARE STANDING VERY CLOSE.

JACK: Yes, well I'm sure that the guys down in circulation will be doing (Jack tries to back away) handsprings over the publicity. Like I said (nervous stuttering) you did, you did, you did, you did, you did a good job.

JENNIFER IS TRYING TO TELL HIM HOW SHE FEELS, JACK PICKING UP ON THIS AND SCARED ABOUT WHERE THE CONVERSATION IS HEADING TRIES CHANGE THE SUBJECT.

JENNIFER: If I did....

JACK: Uh, huh. I just said you did.

JENNIFER: No but if I did, it must be because my heart was in it, right?

JACK: Right.

JACK TRIES TO MOVE PAST BUT JENNIFER MOVES IN FRONT OF HIM.

JACK: Excuse me, ah... .excuse me, excuse me.

JACK PUSHES PAST BUT JENNIFER MOVES CLOSE TO HIM AGAIN. HE LEANS BACK AWAY FROM HER.

JACK: Ah....I said you did a good job, didn't I? Um, what else is there? I...you don't need to thank me anymore, really.

JENNIFER: Oh good, good. Because I really do appreciate what you did.

JACK: Someday I'll collect. Someday when you're rich and famous I'll call collect, that is if you'll take the call.

JENNIFER: Alright, I'll take it. You know what Jack. I guess I better get to the studio and start the editing on all that.

JACK: Huh, uh. It's a dirty job but somebody's got to do it.

JENNIFER: Right. Okay. Jack?

JACK: Huh, uh.

JENNIFER: I just have one more question.

JACK: Shoot.

JENNIFER: You are going to miss me aren't you? Just a little?

JACK: In what context?

JENNIFER: Jack.

STILL SITTING AT HIS DESK, HE PRETENDS TO BE THINKING OVER THE QUESTION, NIBBLING ON HIS PENCIL. THOUGH IT IS OBVIOUS HE DOES NOT HAVE TO THINK ABOUT, AND THAT HE ALREADY MISSES HER.

JACK: Oh look, of course I'm going to miss you. Of course I'm going to miss you. I mean you put the "sympth" in sympathy writing. Come on now, nobody plucks at the heartstrings of the readers like you do.

JACK IS HOLDING AN ARTICLE HE IS WRITING.

JENNIFER: May I?

JACK: Go ahead.

JENNIFER TAKES THE ARTICLE AND BEGINS TO READ IT. JACK WATCHES ON. HE SEEMS TO CARE DEEPLY ABOUT HER OPINION.

JACK: Wha...what do you think? Any suggestions?

JENNIFER IS MOVED BY WHAT SHE IS READING.

JENNIFER: Ah....you don't need me to revise this. You've already got somebody on this staff who will do a terrific job. He can give it all the heart it needs, if he wants to. Jack?

JACK: Yeah, right.

JENNIFER: Yeah, right. (Beat) Well I'll see you.

THEY WALK TOWARDS HIS OFFICE DOOR. THEY BOTH SEEM TO WANT TO SAY MORE, BUT ARE UNABLE TO DO SO. JENNIFER IS ABOUT TO WALK OUT THE DOOR.

JACK: Ah Jennifer?

JENNIFER: Yeah.

JACK: (Flashing the Vulcan hand sign) "Live long and prosper."

THERE IS MUCH FEELING IN HIS WORDS, AND IT IS OBVIOUS THAT HE WANTS TO SAY HOW MUCH HE WILL MISS HER.

JENNIFER: I'll try.

JACK SMILES AS SHE WALKS AWAY.
---
SCENE EIGHT: A SHORT TIME LATER, JACK IS IN HIS OFFICE READING THE NEWSPAPER GALLEYS FOR THE NEXT DAY. STEVE COMES IN TO SEE HIM AND HEARS JACK'S WORDS.

JACK: (Reading) "....in a sacrifice of overwhelming love Ms. Brady made the agonizing choice of being separated from her child rather than see that infant put into danger in the gray and forbidding environment of prison."

STEVE SHUTS THE DOOR AND JACK STOPS.

STEVE: It's good.

JACK: How much did you hear?

STEVE: Well the last part of it anyway.

JACK: Ah....did you leave your baby out in the car?

STEVE: No I got a nanny. I hired a nanny so that I'd be free to help out on Kayla's case.

JACK: That's good. Anything to take care of the baby. Make sure the baby's okay. Although you can't be sure that any baby can be kept safe and sound these days.

STEVE: Jack....ah....I'm sorry that I didn't say anything before but I'm sorry about that plane crash. What happened is terrible.

JACK SADDENS AS HE THINKS OVER HIS LOSS. STEVE IS SYMPATHETIC TO HIS PAIN.

JACK: (Beat) Ah.....I tried, I tried to act like I was related to little Alexander, you know. I wanted to treat him like a little brother. I guess that's what made it so hard when he....And you know when....I can't believe Anjelica. I mean I thought she'd outlive us all, at least out of spite.

STEVE: Jack. I'm sorry about your little brother. I know what that's like. Ah, you got a niece now. You know you could some over sometime and visit if you want to.

JACK: That would be great. You know what, I've got something.

STEVE: What is it?

JACK REMEMBERS SOMETHING. WITH PRIDE AND LOVE HE TAKES OUT THE BABY CARRIER THAT JENNIFER GAVE HIM AND SHOWS IT TO STEVE.

JACK: I got a....Happy Uncle's Day gift from Jennifer. You know the carry....

THEY BOTH ARE MOVED BY THEIR CONVERSATION, AND HOW CLOSE THEY HAVE BECOME TO EACH OTHER, AND HOW THEY MUCH THEY FEEL FOR EACH OTHER. THOUGH THEY DO NOT EXPRESS IT. THEIR IS A QUIET FRATERNAL BOND BETWEEN THEM.

STEVE: That's good. It's nice.

JACK: I'm putting this on page one. I hope it helps.

STEVE: Thanks a lot Jack. (Beat) It's raining cats and dogs out there. I better get going before I get stuck, you know.

JACK: Okay. Take care of that little niece.

STEVE: Well call up sometime.

JACK: I will. Take care.

STEVE LEAVES AND JACK FINDS THE CARD JENNIFER HAD LEFT WITH THE BABY CARRIER. JACK LOOKS AT THE WORDS "LOVE JENNIFER" AND SMILES WITH LOVE IN HIS EYES.
---
SCENE NINE: JENNIFER GOES BACK TO SHENANIGAN'S TO MEET ALICE. ALICE WONDERS WHO SHE INTERVIEWED. JENNIFER TELLS HER. ALICE IS NOT SO SURE ABOUT IT. JENNIFER TELLS HER THAT THE INTERVIEW WENT VERY WELL, AND THAT SHE CAN FEEL THAT SHE IS MOVING PAST JACK. ALICE IS SKEPTICAL.
[Transcribed by Carol Vaughan
added material by Sally A. Wilson]
---