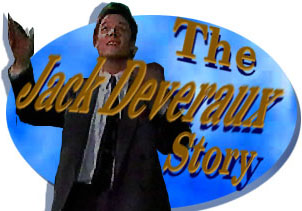 oldEpisode One-hundred-twenty-seven:
Jack Offers to Babysit Stephanie;
Jennifer Drops by to Interview Steve,
and Stays to Help Jack. Meanwhile,
the Nanny Steve Hired Is up to no Good.
---
[Air date late March 1990]
SCENE ONE: JENNIFER IS AT WINGS HELPING WITH CLEAN UP. EMILIO SAYS HE IS SORRY HE MISSED HER BROADCAST. SHE TELLS HIM THAT HE DID NOT MISS MUCH. JO WALKS UP AND SAYS THAT IS NOT WHAT JACK SAYS. JENNIFER ASKS JO WHAT ELSE JACK SAID, AND IS EXCITED TO HEAR THAT HE THOUGHT SHE WAS WONDERFUL. SHE TELLS EMILIO AND JO THAT SHE ONLY CARES FROM A PROFESSIONAL STANDPOINT. EMILIO IS NOT SO SURE ABOUT THAT. JO REASSURES JENNIFER THAT JACK THINKS A DEAL ABOUT HER.
---
SCENE TWO: MEANWHILE JACK HAS JUST PRESSED THE DOORBELL AT STEVE'S HOUSE.

JACK: Hi, I'm looking for Steve.

NANNY: He's not here.

JACK: I see. You're the nanny.

KELLY (THE NANNY): Yes. And who might you be?

JACK: I'm the brother. I'm looking for the baby. You don't mind if I come in, do you?

MEANWHILE SHE HAS CONTINUED TO ACT STRANGELY. SHE DOES NOT SEEM AT ALL PLEASED TO SEE JACK, AND MORE SO TO FIND OUT THAT HE IS STEVE'S BROTHER AND THERE TO SEE STEPHANIE.

KELLY: Of course not, come on in.

JACK: Okay.

KELLY: Steve was working at Mickey Horton's office last night and the flooding got so bad that he just decided to sleep there.

JACK: You talked to him this morning then?

KELLY: Not yet. The phones have been out of order since the storm started.Excuse me.

THE BABY STARTS TO CRY AND THE NANNY GOES IN AND PICKS HER UP.

KELLY: Oh come here darling.

JACK GOES OVER TO LOOK AT THE BABY. SHE SEEMS STRANGELY JEALOUS, AND OVERLY PROTECTIVE OF STEPHANIE.

JACK: Hey there! You remember me, hey?

KELLY: I'm taking very good care of Stephanie. You don't have to worry about her.

JACK: Oh I'm not worried but I would like to hold her though. I mean if that's okay. I do know what I'm doing.

KELLY: Alright but don't jostle her. She's been a little colicky today.

SHE RELUCTANTLY HANDS HIM STEPHANIE. JACK HOLDS HIS NIECE LOVING. KELLY IS BECOMES EVEN MORE JEALOUS.

JACK: Well you've got nothing to worry about. I'll take perfect care of her. Sweet little thing. You've got nothing to worry about here. Well look at those baby blues. Just like your daddy's.

JACK IS CUDDLING STEPHANIE WHEN STEVE WALKS IN BEHIND HIM. STEVE IS MOVED AT THE SIGHT OF JACK HOLDING HIS DAUGHTER. JACK HAS YET TO NOTICE HIM.

JACK: (To the baby) Come on you can say that. U-N-C-L-E J-A-C-K. Uncle Jack.

STEPHANIE MAKES SOME SQUEAKING SOUNDS.

STEVE: That's how she says Daddy too. I kinda like it.

HEARING STEVE JACK TURNS TO LOOK AT HIM. HE IS GLAD TO SEE STEVE, AND A LITTLE EMBARRASSED BY HIS OWN EMOTIONALISM OVER STEPHANIE.

JACK: You're finally back.

STEVE: Yeah well Mickey didn't have a boat docked at his office so I had to stay overnight. I knew Kelly would be here so I didn't worry. At least not too much. Come here little sweetness. Come here.

JACK: (Handing her to Steve) Here.

STEVE: There's my girl. Did you miss papa? Did you miss papa? Yes you did. (To Kelly) I really appreciate you staying like this.

JACK WATCHES STEVE AND STEPHANIE WITH A LOVING SMILE ON HIS FACE.

KELLY: Oh I'm happy to help out whenever I can but I do have an appointment this afternoon.

STEVE: Oh yeah, when do you have to leave.

KELLY: Right away I'm afraid but I can put Stephanie down for a nap first.

STEVE: Alright, great, thanks.

KELLY: Come here darling.

STEVE: Go on now. Go sleepy.

THE NANNY LEAVES WITH STEPHANIE.

STEVE: Oh man, I don't know what I'd do without her. I mean I was stuck all night. I couldn't get home. Mickey Horton and I worked four hours just on the case and we didn't find one piece of evidence to point to the killer. I don't know what to do.

JACK: I'm sure that in time you'll find something.

STEVE: I'm supposed to do some leg work today man and I can't do it now if she's not going to be here.

THE NANNY COMES BACK FROM PUTTING STEPHANIE TO SLEEP.

KELLY: I'm sorry if I'm causing you problems Steve. Would it help if I came back after my appointment?

STEVE SEEMS SOMEWHAT FRUSTRATED BY HER HAVING TO LEAVE, AND THE FACT HE HAS NO ONE TO LOOK AFTER STEPHANIE. KELLY IS ACTING STRANGELY, AS IF THE APPOINTMENT IS A LIE, AND THAT SHE IS DOING SOMETHING SHE OR IS INVOLVED IN SOMETHING SECRETIVE.

STEVE: Yeah it would help.

JACK GETS AN IDEA.

JACK: Well I guess all you need now is somebody for the interim and you'll have the whole afternoon free.

STEVE: Well who am I going to get at two minutes notice.

JACK: Well.... I'm free.

STEVE: Hahahahaha, you got to be kidding me.

JACK: No, no, I'm not kidding. I could do this. I took care of that little baby Hannah. I really.... what do you say. I could babysit.

STEVE IS NOT TOO SURE, BUT IS MOVED BY JACK'S OFFER, AND HIS CONTINUING ATTEMPTS AT BEING A FAMILY, ACTING LIKE A BROTHER, AND HELPING HIM AND KAYLA.

STEVE: Ah....well I guess I don't have any choice.

KELLY: Well if everything's settled, I think that you'll find everything that you need upstairs in the nursery.

KELLY LEAVES.

STEVE: Thanks. I think maybe we better have a little baby care class. I've got a book upstairs.

JACK: Steve, I just want you to know right now, nothing's going to happen to that baby.

STEVE: Let's go get the book.

JACK: (Delighted) Yeah.
---
SCENE THREE: JENNIFER HAS DECIDED TO DO A STORY ON STEVE AND KAYLA, AND KAYLA'S DECISION NOT TO KEEP STEPHANIE WITH HER WHILE SHE SERVES HER JAIL SENTENCE. SHE LEAVES WINGS TO GO TO STEVE AND KAYLA'S.
---
SCENE FOUR: STEVE AND KAYLA'S HOUSE. STEVE IS READY TO LEAVE.

STEVE: Okay man, don't forget about the bottles. It's got to be just the right temperature. Not too hot, not too cold.

JACK: Look Steve you don't have nothing to worry about. I'm going to take care of the baby and make sure nothing happens to her.

STEVE: I know. Okay gotta go.

JACK: Good luck.

STEVE: Yeah.

STEVE RUSHES OUT THE DOOR AND BUMPS INTO JENNIFER WHO IS COMING TO SEE HIM.

JENNIFER: Oh Steve. I want to talk to you....

STEVE: No, no, no. I can't talk right now. I gotta go.

STEVE RUSHES OFF LEAVING JENNIFER AT THE DOOR.

JENNIFER: Alright Steve, I....

STEVE: Just call me later. Call me later.

JACK COME AROUND THE CORNER AND IS PEAKING HIS HEAD OUT THE DOOR, WITH AN AMUSED, JACKIAN EXPRESSION; HE IS CARRYING STEPHANIE, THE BABY BOOK, AND SOME OTHER THINGS. JENNIFER DOES NOT SEE HIM.

JENNIFER: Damn!

JACK: Don't say damn. There's a baby in the house.

JENNIFER: Jack! What are you doing here?

JACK: I'm babysitting.

SHE IS SURPRISED BUT IS OBVIOUSLY GLAD TO SEE HIM.

JENNIFER: You? Seriously?

JACK: Seriously. Yes, me! And this time I'm prepared.

JACK OPENS THE BOOK STEVE LEFT FOR HIM.

JENNIFER: Oh really!

STEPHANIE STARTS TO CRY.

JACK: Yes, really!

JENNIFER: Well here's your chance to prove it.

JACK: Ah....let's.....Crying, I know it's right here on page 236....9.....ah.....

JENNIFER: Jack, that's it. I'm staying!

JENNIFER MARCHES IN THE DOOR.

JACK: Wha....what do you mean, you're staying? Nobody asked you to stay.

JENNIFER: You can't fly solo with a newborn baby. I'm going to stay here and I'm going to help you.

JACK: Nobody asked you to help me.

JENNIFER: I know that but luckily I'm going to do it anyway.

JENNIFER RUNS UPSTAIRS TO STEPHANIE WHO IS STILL CRYING WHILE JACK CALLS AFTER HER.

JACK: But.... but.... listen I've got a..... book and.... ah..... yeah!
---
SCENE FIVE: JACK AND JENNIFER ARE STILL BABYSITTING. JENNIFER COMES DOWNSTAIRS CARRYING STEPHANIE.

JENNIFER: That's it. She's all changed and rested from her nap.

JACK: Oh good. Well I think you've done what you came to do. I can take care of her from here and you can go do what you have to do.

JACK TAKES THE BABY FROM JENNIFER.


JENNIFER: Oh well what about her feeding? You know I think she might be due for a bottle.

JACK: I don't think you have to worry about that. As I recall with little Hannah, you got more on the baby than in the baby.

JENNIFER: Jack that was only once and that was because you had me working night and day.

JACK: I was working night and day too and I did perfectly well by little Hannah. (To Stephanie) I'll do perfectly well by you too. Let's do lunch. Let's go have a little three Martini lunch like the journalists do.

JENNIFER LOOKS AT HIM WITH MOCK SHOCK, BUT CANNOT HELP BE BE AMUSED AT HIS JOKING, AND LOOKS AFFECTIONATELY TOWARDS HIM.

JACK (CONT.) Just kidding, just kidding.

JACK GOES TO THE KITCHEN WITH STEPHANIE AND JENNIFER SITS DOWN AND DAYDREAMS ABOUT LIFE WITH JACK....

JENNIFER: Honey, I'm home.

SITTING IN THE LOFT WAITING FOR HER IS JACK IN A GRAY SUIT AND TIE, AND A SMALL BOY DRESSED EXACTLY THE SAME. THEY BOTH HAVE THEIR HAIR COMBED BACK AS WELL

JACK: Hang on, got a beer?

JENNIFER: Hi, how's my boy eh? Here, give your mom a kiss.

SHE SITS DOWN AND GIVES THE LITTLE BOY A BIG HUG AND A KISS.

JACK: How about one for your big boy?

JENNIFER: Oh you want one too.

JACK: Yeah!

JENNIFER: Oh okay.

THEY LEAN OVER ACROSS THE LITTLE BOY AND KISS.


JACK: How was the interview?

JENNIFER: It was great. It was really great. What are you guys up to? What is this? It looks like you're writing a newspaper article.

JACK: You happen to be looking at the editor in chief of the Second Grade Gazette.

JENNIFER: Honey that's wonderful. I'm so proud of you. Oooooh! It's great.

SHE HUGS THE LITTLE BOY.

JACK: (Proud of Jennifer and their son.) Yes, Jack Jr. is writing his first article today which is titled "The Best Reporter in the World". Not me. (Whispering) His mom.

JENNIFER: Oooooh. Jackie that's really sweet but is this really what you want to do. I mean was this your idea?

JACK: Well who else would it be?

JACK AND JACK JR. WINK AT EACH OTHER.

JACK: Let him ask you his first question. He came up with these all by himself.

JENNIFER: Okay, I'm waiting. Go on, fire away hon.

JACK JR.: Mrs. Deveraux, in the course of your long and illus.....illust....

JACK: Illustrious....okay I helped him with the first one but that's it!

JENNIFER: Illustrious? Oh sure, sure Jack.

THEY BOTH ARE LOOKING LOVINGLY AND PRIDEFULLY AT THEIR SON AND EACH OTHER.

JACK: He's terrific isn't he?

JENNIFER: Yeah! A chip off the old block.

JENNIFER STARTS TICKLING JACK JR. BUT ENDS UP KISSING JACK.

JACK JR.: Hey, hey.

HE PUSHES THEM APART.

JENNIFER: You're right Honey. We shouldn't be doing this in front of you. We should be doing this behind you.

JACK: (Talking to Jack Jr.) Right! Remember, don't look!

THEY RUN AROUND BEHIND THE COUCH AND BEGIN KISSING AS THEY SLOWLY SINK DOWN BEHIND THE COUCH.

JACK: Mmmmmm.

JENNIFER COMES BACK TO REALITY WITH A BIG GRIN ON HER FACE, THOUGH SLIGHTLY SAD.

JENNIFER: Is that all it will ever be for us Jack, fantasy?

JENNIFER WALKS TO THE WINDOW AND JACK PEEPS AROUND FROM THE KITCHEN STILL HOLDING STEPHANIE, HAVING HEARD HER LAST REMARK.
---
SCENE SIX: JACK AND JENNIFER ARE IN STEVE AND KAYLA'S LEAVING ROOM.

JACK: All done.

JENNIFER: Oh that didn't take long.

JACK: I told you I know how to feed babies.

JENNIFER: It looks like you're pretty good at relaxing them too.

JACK: Oh thank you. I didn't know my presence was so enchanting.

JENNIFER: Oh Jack I didn't mean it like that. I just meant that most babies are real nervous around certain people and it's nice that she feels secure with you.

JACK: I'm not that good with kids, okay.

JENNIFER: Yes you are Jack. You're going make a wonderful father some day.

JACK FROWNS.

JENNIFER: Here, you want to trade. (She hands him a toy monkey she is holding.) I'll take her up for a nap.

JACK: Yeah, sure.

JENNIFER: Come on sweetheart.

JACK: I'll take the furry one.

JENNIFER: You take the monkey.

JENNIFER WALKS UPSTAIRS LEAVING JACK TO THINK ABOUT JENNIFER'S WORDS.

JACK: Father? Me?

JACK BEGINS TO DAYDREAM ABOUT A LIFE WITH JENNIFER. JACK AND JACK JR. (THE SAME KID) ARE HAVING LUNCH. THEY ARE DRESSED IN IDENTICAL CLOTHES.

JENNIFER: I've got to run. I'll be late for this interview. I really hate to leave you guys though after you made me this incredible lunch. Where did you ever learn how to make chocolate mousse?

JACK JR.: When I found out it was your favorite dessert.

JACK ALMOST CHOKES WHEN HE HEARS HOW SMOOTH JACK JR. IS.


JENNIFER: You know sometimes I think you are too good to be true. Bye.

SHE KISSES JACK JR.

JACK: Bye.

JENNIFER LEAVES AND JACK TALKS TO JACK JR.

JACK: Sometimes I think that your mother's right. You know that your Grandma Jo made that pudding.

JACK JR.: Read this dad. Hot off the presses.

JACK: (Reading) "It has come to the attention of this reporter that Mr. Charles L. Hunnicot, our Principal, the so.... called leader of this school, has been coming to work late on a regular basis. It seems Mr. Hunnicot has >one set of rules for himself and a very different one for everybody else." (Beat) Jack! You can't do that! You....you can't just start spreading gossip and rumors about this man. I mean he has a personal life. Maybe he's got problems at home. Maybe his wife's sick. Maybe his kids.

JACK JR.: (Not convinced) So?

JACK: (Upset by Jack Jr.'s actions.) So! Look the man has a personal life. You....you can't just ruin his reputation just to make a headline.

JACK JR.: You do and I want to be just like you when I grow up.

JACK COMES BACK TO REALITY WITH A COLD SHIVER.

JACK: Ooooh! Remind yourself, "you're never going to have a kid." "Never going to have a kid!" Ooooh! It'll make the Harper Deveraux look like Father Knows Best.

JENNIFER WATCHES FROM THE DOORWAY, SAD BY JACK'S REMARKS.

JACK: Ah....well you put her to sleep, eh?

JENNIFER: Yep, sleeping like a baby.

JACK: Yeah, well I guess you've don't everything you have to do. Now it's time to go.

JENNIFER: You know what I really think I should stay just in case she wakes up. And besides I want to talk to Steve. I want to do a report on him and Kayla. I think it might help the appeal.

JACK: Ah....it might do some good, yeah.

JENNIFER: I want to help Kayla and I want to help her family.

JACK: Well, you know, television is a very powerful medium and you're a good reporter.

JENNIFER: Jack for you to say that, you don't know what that means.

SHE MOVES TOWARDS HIM AND HE BACKS AWAY. JACK IS SELF-CONSCIOUS, BUT DOES NOT MIND TOO MUCH.

JACK: Look, I just said that you were a good reporter, that's all. This just comes from the guy who raised you so don't....

JENNIFER: Yes, you're right. You did.

JACK: So? I mean have you checked with your producer yet? How do you know that this guy is going to let you do this story. It's pretty big. Big for a rookie.

JENNIFER: Well I don't know. I haven't even talked to him yet.

JACK: Don't you think maybe you should check with him?

JENNIFER: Yes you're right, maybe I should. I just hope my new boss is as nurturing as my old one.

JACK LOOKS JENNIFER UP AND DOWN AS SHE WALKS OVER TO THE PHONE.
---
SCENE SEVEN: CONTINUATION OF THE LAST SCENE.

JENNIFER: I didn't mean to contradict you. Yes I know you're the producer. I.... hello.... hello. (Beat) The line seems to be dead again.

JACK: So what did he say?

JENNIFER: Oh he thought it was great....much too great for me. So he's going to give it to Suzie Haskell to do.

JACK: That bimbo! Oh come on, you can run circles around her. And didn't he see what you did last night in all of the....flood work? I mean they were throwing everything but the kitchen sink at you and you did great.

JENNIFER IS OVERJOYED BY HIS PRAISE.

JENNIFER: Jack, if you saw my report, why didn't you say so yesterday?

TRYING NOT TO ADMIT THAT HE DID, AND THUS REVEAL HIS FEELINGS ABOUT HER.

JACK: Ah....I just happened to catch a minute of it, that's all.

JENNIFER: A minute was all there was.

JACK: Well....then....er....I guess I caught all there was.

JENNIFER: And you like it. So you would trust me doing Steve and Kayla's story?

JACK: Well that's because you know them and you have an inside track with them and you'd probably be fair which is more than what they're getting from the other stations in town.

JACK AND JENNIFER SO ARE ENGROSSED IN THEIR CONVERSATION AND EACH OTHER THAT THEY DO NOT NOTICE THAT KELLY HAS RETURNED. SHE LOOKS AT JENNIFER, SHE DOES NOT SEEM TO LIKE THE FACT THAT SHE IS THERE, WATCHING STEPHANIE.

KELLY: Well I'm back. (To Jennifer) Oh hello.

JACK: Oh Kelly, this....this is Jennifer Horton. Kelly's the nanny.

JENNIFER: Hi, it's nice to meet you.

KELLY: You too. You can leave whenever you're ready. I'm going up to check on Stephanie.

THEY BOTH ARE NOT PLEASED THAT KELLY HAS RETURNED, AND THAT THEY WILL HAVE TO LEAVE. THEY BOTH ARE ENJOYING BEING IN THE OTHER'S COMPANY, UNDER THE EXCUSE OF WATCHING STEPHANIE.

JACK: Great. Just don't make too much noise. She's sleeping. Light on your feet.

JENNIFER: Well I guess I should be going now. I'll just get my stuff.

JACK: I should be going too.

JENNIFER KNOCKS HER STUFF ALL OVER THE FLOOR.

JACK: I mean....

JENNIFER: No I could have gotten it Jack.

JACK: Okay, I can get it. Let me.

JENNIFER: Jack....

THEY BOTH KNEEL DOWN TO PICK UP THE PAPERS AND THEIR HANDS GRAB FOR THE SAME THING AND END UP HOLDING EACH OTHER'S HAND. THEY LOOK IN EACH OTHER'S EYES FOR A FEW AWKWARD SECONDS BEFORE JACK PULLS AWAY. JENNIFER IS FRUSTRATED THAT *YET AGAIN* JACK HAS BACKED OFF.

JENNIFER: Thank you.

JENNIFER GETS UP AND WALKS AWAY TO PUT ON HER COAT. JACK IS LEFT FEELING AWKWARD.

JACK: Wait a minute! Jennifer, ah, do you need a ride?

JACK FINDS AN EXCUSE TO STOP JENNIFER. HE GETS UP AND FOLLOWS HER.

JENNIFER: Oh you know actually I have my car.

JACK: Oh, going to the studio?

JENNIFER: No, I'm going over to Wings. My producer wants me to use my inside track someplace else so I'm going to do a story on Emilio and Melissa.

JACK IS FISHING FOR INFORMATION, HOPING THAT JENNIFER HAS NOT SAID "YES" TO EMILIO.

JACK: Oh, well you can't get anymore inside than with a fiancé.

JENNIFER DOES NOT WANT TO LET JACK THINK SHE HAS ACCEPTED EMILIO'S PROPOSAL, AND IS HOPING THAT JACK WILL REACT AND ADMIT HIS FEELINGS.

JENNIFER: He's not my fiancé. I didn't give him an answer yet.

JACK: Why not?

JENNIFER: I don't want to keep him waiting. I just have a lot to think over.

JACK: I can't help you there.

JENNIFER: Sure you can. Maybe you can tell me what I should do.

TRYING TO GIVE JACK A HINT.

JACK: Excuse me!

JENNIFER: Tell me what you think I should do Jack, please. (Beat) Come on Jack. Say something. Do you want me to marry Emilio?

JACK: It doesn't really matter what I want.

JENNIFER: It's not an answer.

JACK: Well....well I don't know, start using your brains. I mean you've got to decide what's right for your life.

JENNIFER: Yeah but sometimes your head tells you something different to your heart.

JACK: Okay, go with my motto. Tell your heart to keep it's big fat mouth shut because sometimes your heart doesn't do things that are good for it....or for your life!

JACK PICKS UP HIS COAT AND WALKS OUT THE DOOR LEAVING JENNIFER ALONE, AND FRUSTRATED, AND SAD THAT SHE AND JACK WILL NEVER HAPPEN.

JENNIFER: (Wistfully) My heart knows Jack. It knows!
---
SCENE EIGHT: KELLY HAS IN FACT BEEN VISITING KAYLA. KAYLA THINKS IT IS A WOMAN SHE MET IN HOSPITAL WHO LOST HER BABY. SHE HAS NO IDEA THAT STEVE HAS HIRED HER. KELLY HAS BEEN WEARING A DISGUISE WHEN SHE IS WITH STEVE. KELLY IS DEFINITELY UP TO NO GOOD.
[Transcribed by Carol Vaughan
added material by Sally A. Wilson]
---