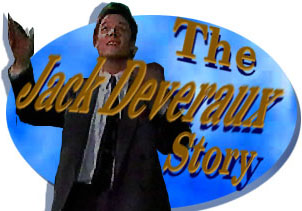 oldEpisode One-hundred-thirty:
Emilio Plans, on Air, to Ask
Jennifer to Marry Him. Meanwhile,
She Has Told Jack to Meet Her at
Wings or It Is Over Between Them.
---
SCENE ONE: LATER WE SEE THEIR FEET STICKING OUT FROM BEHIND THE BED. THEY ARE STILL ON THE FLOOR AND ARE OBVIOUSLY KISSING AND BEGINNING TO MAKE LOVE.

JENNIFER: Jack.... Jack.

SUDDENLY THE PHONE RINGS AND JACK'S HAND APPEARS TO REACH FOR THE PHONE. JENNIFER REACHES UP AND PULLS HIM BACK DOWN. THEY STRUGGLE A BIT FOR THE PHONE, BUT STILL SEEM TO BE KISSING.

JACK: I'll get it.

ONCE AGAIN HE TRIES FOR IT AND THIS TIME HE REACHES IT. HE SITS UP BEHIND THE BED AND HAS NO SHIRT ON. HIS HAIR IS MESSED UP AND HE IS VERY DISTRACTED.


JACK: Ah hi....hello.

MELISSA: Hi Jack, it's Melissa. Is Jennifer there?

JACK: Ah....she's a little tied up at the moment but let me get her.

JENNIFER SITS UP LOOKING JUST AS MESSY AS JACK. SHE DOES NOT SEEM TO PLEASED ABOUT BEING INTERRUPTED.

JACK: Here, it's for you.

JENNIFER TAKES THE PHONE FROM JACK.

JENNIFER: What?

MELISSA: Hi, it's me. I just wanted to make sure you were not late for the broadcast tonight.

SHE HAD COMPLETELY FORGOTTEN; SHE IS NOT TOO PLEASED ABOUT HAVING TO STOP WHAT SHE IS DOING TO GO TO WINGS FOR THE INTERVIEW.

JENNIFER: .Broadcast? Oh right, the broadcast. No I'm not going to be late. Don't worry. I'll be there. Bye.

WHILE SHE IS TALKING JACK GETS UP AND STARTS TO PUT HIS SHIRT BACK ON. JENNIFER FINISHES THE CALL AND THROWS THE PHONE ON THE BED.

JENNIFER: Alright Jack, where were we? Where were we Jack? What's wrong?

JACK SEEMS TO HAVE COLLECTED HIMSELF, AND TO HAVE RETURNED TO HIS JACK MODE OF PULLING BACK AND KEEPING HIS FEELINGS UNDER CONTROL.

JACK: Ah....nothing. We've got a show to get to.

JENNIFER: Forget the show. This is more important Jack.

JACK: Look, you've got a lot of people waiting for you down there. You've got Emilio, you've got Melissa. You've got a whole heap of them.

JENNIFER: What about us?

JACK: You know Melissa usually has really bad timing but today it's impeccable. It's time for you to go to your show.

JENNIFER IS SLIGHTLY DEJECTED THAT JACK *YET AGAIN* IS DENYING HIS FEELINGS AND IS PUSHING HER AWAY.

JENNIFER: Doesn't what happened mean anything Jack?

JACK: Sure, it meant we were just saved from making a terrible mistake.

JENNIFER: How can you say that? It was right. We both felt it. We almost made love Jack.

JACK: Oh, all it means was that we were saved from making a terrible mistake and having a lot of regrets.

JENNIFER: I wouldn't have regretted it Jack.

JACK GIVES HER A PAT.

JACK: Hey, that's okay. I know you would have gotten hurt.

JENNIFER: The only thing that's hurting me right now is what you're doing.

JACK: Look Jennifer, please. Just forget all about this. Just go, okay.

JENNIFER: You want me to go?

HE IS NOT TOO CONVINCING, AND IT APPEARS SO EVEN TO HIMSELF.

JACK: Yeah.

JENNIFER: You want me to go, I'll go Jack.

JACK: Good.

JENNIFER: I know that you want this relationship as much I do, Jack.

JACK: Jennifer....

JENNIFER: I'm going to give you one more chance, alright. If I mean anything to you, you will meet me at Wings for the broadcast and then we'll talk afterwards, okay.

JACK: Sounds like an ultimatum.

JENNIFER: If you're not there, it's over! I will never come to you again and we will never be together Jack.

SHE WALKS OVER TO THE DOOR.

JENNIFER:I EXPECT YOU TO BE THERE JACK! AND ANOTHER THING, THE DOORWAS NEVER LOCKED!

SHE OPENS IT AND WALKS OUT, SLAMMING IT AS SHE GOES OUT. JACK LOOKS SURPRISED.
---
SCENE TWO: JACK IS ALONE IN HIS BEDROOM THINKING OVER WHAT TO DO.

JACK: If I go then....I better go.

HE GRABS HIS COAT AND HEADS FOR THE DOOR. AS HE OPENS IT, HE SEES HARPER STANDING THERE IN HIS PRISON BLUES. THE VISION IS ALL IN JACK'S MIND.

HARPER: Going somewhere?

JACK: Harper! Well....where did you come from?

HARPER: Your subconscious.

JACK: Oh great! What do you want?

HARPER: I think you know.

JACK: Oh look I don't have time for this. I need to get down to Wings and stop Jennifer from doing something very stupid. So I'm sorry I don't have time to stop and chat.

HARPER: No you can't escape the past Jack and who you are.

JACK: Look I'm just trying to make a future for myself. And if Jennifer wants to be a part of that....

HARPER: Let's hope not. You and I both know what kind of future the two of you would have.

JACK: Look I don't want to hear that blood stuff again, okay. I fell for it before but not any more. I'm very sorry but nothing personal but I'm not a Deveraux.

HARPER BEGINS TO LAUGH OUT LOUD THEN APPEARS TO WALK PAST JACK AND AS HE DOES SO THE LAUGH TURNS INTO DUKE'S. JACK LOOKS UP TO SEE DUKE STANDING WHERE HARPER HAD BEEN.

DUKE: That's right Billy, you're a Johnson.

JACK: Duke?

DUKE: Long time no see son.

JACK: Oh, I don't believe this.

DUKE: Hey, hey. Your father is here to give you some advice. Now what's wrong with that?

JACK: I'm not listening to either of you guys.

DUKE: Hahahahaha! Like father, like son!

JACK: This is starting to sound like a broken record.

DUKE: Oh, do you really think you could commit to someone as sweet and pure as Jennifer knowing what you are and knowing what you're capable....

DUKE SLAPS HIS HANDS TOGETHER WHICH MAKES JACK WINCE.

DUKE: Hahahahaha!....of doing!

DUKE APPEARS TO WALK PAST JACK INTO THE BEDROOM TO STAND BESIDE HARPER. JACK FOLLOWS THEM IN.

JACK: Alright, I know you guys are laughing now but I'm telling you, Jennifer and I are going to be just fine.

HARPER: Knowing how you were raised?

DUKE AND HARPER START TO LAUGH AGAIN. ALL JACK'S FEARS ABOUT HIMSELF, HIS PAST, AND HIS BELIEFS THAT HE IS NOT GOOD ENOUGH FOR JENNIFER ARE TEARING HIM APART, AND ALL THIS IS DISPLAYED THROUGH HIS FACIAL EXPRESSIONS. HE IS HAVING A INNER BATTLE OVER THESE FEARS AND HIS LOVE AND NEED FOR JENNIFER.

DUKE: Knowing how you can hurt her?

HARPER: Give it up Jack, give it up.

DUKE: You'll never be worthy of Jennifer, never!

HARPER: Never!

AS HARPER AND DUKE CONTINUE TO LAUGH AT HIM, JACK MAKES SWIPES AT THEIR IMAGES WITH HIS COAT.

JACK: Just shut up the two of you. Just shut up!

JACK REALIZES THAT HE IS ALONE IN HIS BEDROOM AND WIPES HIS BROW IN CONFUSION.
---
SCENE THREE: MEANWHILE JENNIFER HAS ARRIVED AT WINGS. SHE ASKS MELISSA IF SHE HAS SEEN JACK BECAUSE HE IS SUPPOSED TO MEET HER THERE. MELISSA DOES NOT SEEM TO BE HAPPY, SINCE SHE KNOWS WHAT EMILIO HAS PLANNED, AND BECAUSE OF HER NEGATIVE BIAS AGAINST JACK — SHE ALSO KNOWS THAT JENNIFER WAS JUST WITH JACK AT HIS PLACE.
---
SCENE FOUR: EMILIO AND MELISSA BEGIN THEIR APPEARANCE WHEN DAVE HANDS JENNIFER A PHONE MESSAGE.

JENNIFER: (Reading) "I'm not coming. Forget the whole thing." (Devastated) How could you do this to us Jack?

SHE SCREWS UP THE NOTE WITH TEARS IN HER EYES. SHE IS DEVASTATED. EMILIO AND MELISSA FINISH THEIR SONG AND JENNIFER GOES UP ON STAGE TO INTERVIEW THEM. EMILIO SUDDENLY TELLS HER THAT HE ONLY WANTS TO TALK ABOUT HER AND THAT HE WANTS TO SPEND THE REST OF HIS LIFE WITH HER. THE BROADCAST GOES LIVE ALL OVER SALEM. BECAUSE OF JACK'S REJECTION SHE ALREADY WAS BARELY CAPABLE OF GOING THROUGH WITH THE INTERVIEW, WITH EMILIO'S QUESTION HER FACE IS ONE OF COMPLETE SHOCK, AND SHE IS ON THE VERGE OF TEARS.
---
SCENE FIVE: JACK IS DEVASTATED HIMSELF AFTER HIS VISITATION. HE IS WATCHING THE TV IN HIS BEDROOM. HIS FACE IS NOW COMPLETELY ONE OF PAIN. HE WATCHES AS EMILIO KNEELS DOWN IN FRONT OF JENNIFER AND PROPOSES. HIS MOUTH FALLS OPEN IN SHOCK. HE SLOWLY LOOKS UP IN SURPRISE UPON HEARING EMILIO'S QUESTION.


JACK: What! (Pleading) Just say no Jennifer.....
[Transcribed by Carol Vaughan
added material by Sally A. Wilson]
---