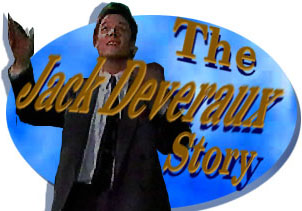 oldEpisode One-hundred-and-thirty-three:
At Jennifer and Emilio's Engagement
Party Alice, Knowing That Jack
and Jennifer Are Deeply in Love,
Tells Them
not
to Give up on Love.
---
[Air date 4-9-90]
SCENE ONE: JACK AND JENNIFER ARE STILL AT THE STUDIO AND SHE IS WAITING FOR HIS ANSWER.

JENNIFER: Admit it Jack! You were behind all of this.

JACK: All of what?

JENNIFER: My sudden promotion to Feature Reporter Jack.

JACK: Wait a minute, you were promoted? Congratulations, congratulations. We've got to alert the media. No, wait a minute, we are the media. Consider ourselves alerted.

JACK TRIES TO WALK AWAY BUT SHE GRABS HIM.

JENNIFER: Don't you think about it!

JACK: Whoa! Easy on the suit. Do you know the cost of drycleaning these suits?

JENNIFER: NOT SO FAST JACK! YOU'VE DONE SOME UNDERHANDED SNEAKY THINGS IN YOUR LIFE BUT THIS IS....HOW COULD YOU DO THIS TO ME, HOW?

JACK: So, you're getting a promotion. I don't see the problem.

JENNIFER: Of course you would. Why else would you be trying to sneak out of here Jack.

JACK: Maybe I'm in a hurry.

JENNIFER: Oh yeah! Maybe you pulled some strings with Mr. Leonard! Maybe you blackmailed him to get me this job Jack.

JACK: Give yourself a little bit of credit, alright. You have marginal talent. Maybe somebody saw some potential!

JENNIFER: In less than two weeks! That is impossible Jack!

JACK: Alright, alright, for arguments sake, let's say I talked to Leonard.

JENNIFER: AH, HUH!

JACK: Look this is....this is a dream job, admit it!

JENNIFER: Only if I earn it. I have to prove myself. Nobody's going to take me seriously otherwise.

JACK: Since when have you been concerned with what other people think?

JENNIFER: This is my life you're toying with Jack.

JACK: Oh, oh, oh! This comes from the girl who went behind my back to see Harper in prison.

JENNIFER: That's because I was trying to help you.

JACK: So was I!

JENNIFER LOOKS SURPRISED.

JACK: I just want you to do the right thing for your life.

JENNIFER: Okay. What is the right thing for me to do with my life?

JACK: (Backing away from a direct answer.) Only you know that!

JENNIFER: (Fed up) You're right Jack. For once I agree with you.

JACK: (Surprised) You do?

JENNIFER: Yeah, this is my life and I do have to figure out what I'm going to do with it.

JACK: Good!

JENNIFER: First thing I'm going to do is turn down this job.

JACK: (Not the answer he wanted to hear.) No! You wouldn't!

JENNIFER: Yes I would Jack.

JACK: Wait a minute! You are going to give up the opportunity of a lifetime because of stupid pride.

JENNIFER: It might be stupid to you but it means a lot to other people and it means a lot to me.

JENNIFER STARTS TO WALK AWAY.

JACK: Oh with that she just walks out, huh!

JENNIFER: I'm just turning down a job. You're the one that did the walking Jack. For your information, Emilio and I are getting married as soon as possible and there's nothing you can do about it. So don't pull any of this again.

SHE LEAVES AND JACK IS FURIOUS.
---
SCENE TWO: IT IS LATER THAT EVENING AT WINGS AND THE HORTON CLAN IS GATHERING. EVERYBODY HAS BEEN INVITED BY JENNIFER. EMILIO IS THERE TOO. JENNIFER ANNOUNCES TO THEM THAT THEY ARE GETTING MARRIED AS SOON AS POSSIBLE. ALICE IS NOT HAPPY AND THE REST OF THE FAMILY IS UNSURE. HOWEVER THEY CONGRATULATE HER AND SUPPORT HER DECISION. SHE ASKS UNCLE MICKEY TO GIVE HER AWAY AND MELISSA AND SARAH TO BE BRIDESMAIDS. THEY ALL SIT DOWN FOR DINNER AND BEGIN THE PLANS.
---
SCENE THREE: AS SHE IS TALKING TO EMILIO, JACK COMES IN AND GIVES HER A SMALL SALUTE.


SHE DELIBERATELY HUGS EMILIO IN FRONT OF JACK. HE STANDS AT THE BAR STARING AT HER.


AND JENNIFER DECIDES TO CONFRONT HIM.

JENNIFER: What do you want Jack?


JACK: Dinner! I do believe they still serve here, don't they?

JENNIFER: Yeah, well there's twenty other restaurants who serve dinner too.

JACK: But this is the only place that people eat at, especially when they want to make ludicrous announcements.

JENNIFER: Give it up Jack. Don't ruin a family celebration.

JACK: Family celebration! Is there going to be a family celebration tonight!

JENNIFER: You saw me talking to talking to Emilio.

JACK: Yes I happened to overhear something about blood and blood tests. It was so nasty that I thought maybe my ears were playing tricks on me.

JENNIFER: (Trying to convince herself even more than Jack; but also trying to get him to react.) Well allow me to repeat myself. Emilio and I are getting married as soon as possible and everybody is thrilled for me and there's nothing that you can do to talk me out of it.

JACK: Oh I wouldn't dream of it but seeing as how you brought it up....

JENNIFER: Don't start Jack.

JACK: Jennifer, you and I both know that Emilio is not....

JENNIFER: (Interrupting) ....the right man for me! You've told me that before. Then who is Jack? Who, who?

JACK: You sound like a hoot owl. I don't know who. All I know is that you're young, you've got a brilliant career ahead of you and you should be concentrating on that.

JENNIFER: Yeah well call me crazy but I think it's important to find the man I want to spend the rest of my life with.

JACK: What makes you think it's Emilio?

JENNIFER: Because Emilio's wonderful. And he's kind and he listens to me and he loves me and he wants me. Guys like that a one in a million.

JACK: Okay, tell yourself that over and over again. Maybe you'll convince yourself that that's enough to build a marriage on. Maybe even someday you'll be convinced that you love him!

JACK WALKS AWAY AND LEAVES JENNIFER UNSURE.
---
SCENE FOUR: THE FAMILY ALL SITS DOWN TO EAT AND ALICE NOTICES THAT JENNIFER CANNOT KEEP HER EYES OFF JACK AT THE BAR. HE IS ALSO STARING AT HER.



SHE ASKS JENNIFER TO COME WITH HER TO THE PHONE TO CALL SCOTT TO FIND OUT ABOUT FAITH. THEY GET TOTONES, BUT ALICE MAKES NO CALL. IT IS JUST AN EXCUSE, BECAUSE ALICE CAN SEE HOW MUCH JACK AND JENNIFER LOVE EACH OTHER.

JENNIFER: Ah, grandma, aren't you going to call?

ALICE: Yes in a minute. I just wanted a little time alone with my granddaughter.

JENNIFER: Oh okay.

ALICE: Jennifer, you know marriage is a very serious step but I just wanted to be sure that you know what you're getting into.

JENNIFER: Yeah I do grandma. Thanks.

ALICE: Well it seems like a very sudden decision to me. Just a little while ago you were all torn up over your feelings for Jack.

JENNIFER: Oh right, well things have changed.

ALICE: Have they? It seems to me those were very strong feelings. It would be a mistake to jump into this marriage.

JENNIFER LOOKS ACROSS AT JACK WHO IS STILL STARING BACK. ALICE CANNOT HELP BUT NOTICE.

ALICE: Unless of course, you've gotten over Jack.

JACK ACKNOWLEDGES BOTH OF THEM FROM THE BAR.





ALICE: You go along darling. I'll be there in a minute.

JENNIFER: Okay.

JENNIFER GOES OVER AND BEGINS TO DANCE WITH EMILIO WHILE STILL EXCHANGING LOOKS WITH JACK.
---
SCENE FIVE: ALICE WALKS OVER TO THE BAR TO SPEAK TO JACK WHO IS WELL INTO MARTINIS.

ALICE: Jack, if your facial expression reflects what's in your heart, you must be as big a dummy as you want people to believe.


JACK LOOKS AT HER IN SURPRISE.

ALICE: I think you're smarter than that.

JACK: Mrs. Horton I can't really pretend to know what you're talking about.

ALICE: (Knowningly) I'm sure you do. Believe in your heart. Don't let her go!

ALICE WALKS AWAY AND JACK TURNS TO WATCH JENNIFER DANCE.



THEY CANNOT KEEP THEIR EYES OFF EACH OTHER. EMILIO GOES ON STAGE TO SING TO JENNIFER. JACK TAKES A TABLE NEAR THE STAGE. JENNIFER GOES TO THE BAR AND SHE AND JACK LOOK IN EACH OTHER'S EYES AS EMILIO SINGS.

HER EYES FILL WITH TEARS AS SHE HEARS THE WORDS AND THEY BOTH REFLECT ON THEIR PAST TOGETHER.

THEY THINK OVER THEIR FIRST KISS BEHIND THE SECRET PASSAGEWAY AT STEVE'S; THE TIME SHE INTERVIEWED HIM AT THE SPECTATOR; FALLING IN THE MUD DURING THE BIG RAIN STORM, HER FIRST ASSIGNMENT; AND WHEN SHE TRAPPED HIM IN HIS BEDROOM AND THEY ALMOST MADE LOVE.

Seems like I've been waiting my whole life
For you to walk right through my door and make it right.
I try my very best to forget all the times
Love was just heartbeat away


All the nights spent dreaming of you.
Only this time
I can see this love is real
Only this time
Not afraid to let you near
I have always been the last to know if love was really true

Only this time
Only this time
Only this time


I know it's you.

AS THE SONG ENDS JENNIFER IS WEEPING SILENTLY AND JACK TURNS AWAY IN TOO MUCH PAIN TO LOOK AT HER.

[Transcribed by Carol Vaughan
added material by Sally A. Wilson]
---