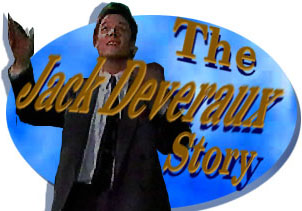 oldEpisode One-hundred-forty-one:
Feeling Guilty Because of Emilio's
Injuries, Jennifer Still Plans to Marry
Him; Meanwhile the Mystery of
Loretta Toscano's Diary Begins.
---
[Air date 4-30-90]
SCENE ONE: EMILIO HAS FALLEN OFF THE CLIFF AND THE OTHERS ARE SHOCKED.

MELISSA: EMILIO, OH EMILIO, COME ON, WE'VE GOT TO GET TO HIM!

JACK: Hold it. We'll go down another way.

MELISSA: HURRY, HURRY. COME ON. HURRY, HURRY!

JENNIFER: Be careful.
---
SCENE TWO: JACK, JENNIFER AND MELISSA FIND THEIR WAY TO THE BOTTOM OF THE CLIFF WHERE EMILIO IS LYING UNCONSCIOUS.

JACK: Emilio.

JENNIFER: Jack, wait a minute.

MELISSA: Emilio.

JENNIFER AND MELISSA PUSH PAST JACK TO REACH EMILIO. HE STANDS BACK IN SHOCK AT THE TROUBLE HE HAS CAUSED.

JENNIFER: Emilio! Alright, I have his pulse, he's going to be okay.

MELISSA: Oh thank god. Emilio can you hear us?

JENNIFER: Melissa, I think he's unconscious but you've got to give me your shirt. He's bleeding a lot.

MELISSA GIVES HER SHIRT TO JENNIFER WHO PRESSES IT AGAINST EMILIO'S WOUND.

JENNIFER: I got to use it on the blood. It will help stop the bleeding, okay.

MELISSA: Yeah, yeah.

JENNIFER: It looks pretty bad, he probably has a lot of internal injuries too. We gotta get him to hospital.

MELISSA: Oh no. Well what if we should move him?

JENNIFER: Melissa, we don't have a choice, we have to get him to the hospital alright.

JACK: I'll get the car.

JENNIFER: What?

JACK: I'll get the car.

MELISSA: The car. Here, here are the keys.

JENNIFER: Melissa hold this and press down okay. I'll be back.

MELISSA: Okay.

JENNIFER GETS UP AND BEGINS TO RUN TO THE CAR.

JACK: Ah....ah, I'll go with you. Don't.....yeah.

THEY GET BACK TO EMILIO'S CAR WHICH IS PARKED OUTSIDE THE LOG CABIN. JENNIFER GETS IN THE DRIVER'S SEAT AND JACK HOPS IN BESIDE HER.

JACK: You don't want to get lost do you? Why are you blaming yourself?

JENNIFER: Because I am to blame Jack.

JACK: You are not to blame.

JENNIFER: If we hadn't come here, Emilio wouldn't have come looking for us. He loves me and he cares about me. If he didn't he wouldn't be lying there unconscious Jack.

JACK: Look, I feel lousy about it too, alright. But don't blame yourself for what happened to him, for the way he feels about you.

JENNIFER: I can't help it Jack. First the wedding and now this!
---
SCENE THREE: WHILE THEY ARE GETTING THE CAR, EMILIO REGAINS CONSCIOUSNESS AND ASKS FOR JENNIFER. JACK AND JENNIFER ARRIVE IN THE CAR AND JENNIFER GOES TO SIT BY EMILIO.

EMILIO: Jen, Jennifer.

JENNIFER: Emilio, are you okay? Are you in any pain?

EMILIO: Now that you're here, it's okay.

JACK: Um....maybe we better move him.

JENNIFER: You're right. Yeah.

MELISSA: Well what shall we do?

JENNIFER: Well somebody's got to hold his head to make sure his neck is stable. Right Emilio, you'll be okay.

JENNIFER MOVES TO HIS HEAD WHILE MELISSA TAKES HIS FEET. JACK LEANS OVER TO LIFT THE MAIN PART OF HIS BODY. JENNIFER LOOKS AT THE GROUND AND SEES THE RING THAT HE DROPPED. SHE PICKS IT UP AND THINKS BACK OVER HIS FALL.

EMILIO: Jennifer!

JENNIFER: I'm here, I'm here Emilio.

EMILIO: Jen!

EMILIO EXTENDS HIS HAND TO HER AND SHE TAKES IT IN HERS. SHE LOOKS ACROSS AT JACK AND THEY BOTH FEEL GUILTY.

EMILIO: I'm glad that you're here.

JENNIFER: It's okay Emilio. It'll be alright.
---
SCENE FOUR: EMILIO IS NOW IN HOSPITAL. JENNIFER IS AT THE NURSE'S STATION WAITING FOR NEWS ON HIM. JACK IS LEANING AGAINST THE WALL IN THE BACKGROUND. ALICE AND TOM GET OFF THE ELEVATOR.

ALICE: Jennifer? Jennifer darling! What are you doing here?

JENNIFER: Emilio.

MELISSA: Emilio, excuse me grandma I have to find where they're taking Emilio.

EMILIO IS WHEELED PAST EVERYONE.

ALICE: Jennifer, what is going on?

JENNIFER: Grandma it's a long story.

JACK: It certainly is.

ALICE: Jack!

JACK: Ah...I've got to call the office.

JACK HURRIES AWAY FROM ALICE'S GLARE.

TOM: They're taking Emilio to x-ray. I'll go talk to his doctor. I'll be right back.

MELISSA: Thanks Grandpa.

ALICE: Well Jennifer I think we better go in the lounge and talk.

JENNIFER: Grandma I want to stay here in case anything happens.

MELISSA: Yeah me too.

ALICE: Alright, fine. But what has been happening? I've been worried sick about you. We all have. It wasn't like you to write that note and leave it there.

JENNIFER: Grandma I didn't write the note.

ALICE: You didn't? Then who did?

JENNIFER: Jack wrote it.

ALICE: Jack!

JENNIFER: Grandma, he kidnapped me.

ALICE: You're serious aren't you?

JENNIFER: Yes I am serious but it's too complicated to get into right now. The point is Emilio came looking for me and he ended up getting hurt. And it never should have happened. I should have stopped this sooner.

JACK IS LISTENING TO THIS CONVERSATION WHILE HOLDING ON THE PHONE.
---
SCENE FIVE: STILL AT THE HOSPITAL.

ALICE: So you reached April.

JENNIFER: Yes, she'll be here as soon as she can.

MELISSA: Did you see him grandpa?

JENNIFER: Grandpa, how is he?

TOM: He's hanging in there. He's got bruised kidneys and two broken ribs but he'll make it.

JENNIFER: Oh thank god.

MELISSA: I was so scared it was going to be worse.

JACK IS FEELING VERY GUILTY.

ALICE: Tom, how long will he have to be hospitalized?

TOM: We'll have a better idea in the morning. We have to keep him under observation for that kidney.

MELISSA: Can I see him?

TOM: Not now Melissa, he's asking for Jennifer.

JENNIFER TURNS TO LOOK AT JACK.

TOM: You can come with me. Jennifer! Emilio's waiting.

JENNIFER: I want to see him too, very much.

MELISSA AND JACK ARE LEFT ALONE AT THE NURSE'S STATION. SHE GIVES HIM A HATEFUL LOOK AND HE GLARES BACK. HE WALKS INTO THE DOCTOR'S LOUNGE AND STARTS POURING A COFFEE. MELISSA FOLLOWS.

MELISSA: Jack can I talk to you for a minute?

JACK: Actually I'm on a coffee break. I don't need it.

MELISSA: I'm not going to accuse you of anything.

JACK: Oh yeah!

MELISSA: I just want to know one thing. Why did you interrupt the wedding? What was in it for you?

JACK: Nothing.

MELISSA: What could you possible gain from kidnapping Jennifer? I want to know, really.

JACK: All I was trying to do was keep Jennifer from marrying Emilio.

MELISSA: That's it?

JACK: That's it.

MELISSA: Well what do you have against Emilio?

JACK: Well other than the fact that he's a dead beat, I don't think that he's the right guy for Jennifer.

MELISSA: I think that's up to Jennifer to decide.

JACK: No! Jennifer doesn't know what's right for her life.

MELISSA: But it's her life.

JACK: You know that I'm right.

MELISSA: No.

JACK: No? No, okay you tell me. You tell me, Jennifer and Emilio are made for each other. Come on tell me! Mean it!

MELISSA: Jennifer's got to do what she's got to do. It's not up to you or I to like it. We just have to live with it.

MELISSA LEAVES.
---
SCENE SIX: JENNIFER GOES IN TO SEE EMILIO. HE ASKED HER WHAT HAPPENED. SHE TELLS HIM STEP-BY-STEP. EMILIO HAS TO ADMIT THAT JACK HAS STYLE. SHE THEN TELLS EMILIO HOW SHE FELL OFF THE CLIFF AND JACK FELL TRYING TO RESCUE HER. SHE STOPS AND THINKS OVER THE KISS SHE AND JACK SHARED. SHE TELLS EMILIO THAT SHE IS GOING TO MAKE IT ALL UP TO HIM. AS SHE IS SAYING THIS, JACK OPENS THE DOOR TO COME IN TOO. HE BACKS OUT WHEN HE HEARS HER.
---
SCENE SEVEN: JACK AND MELISSA ARE IN THE WAITING AREA. MELISSA IS FRANTIC WITH WORRY.

JACK: (To Melissa) I've got to go check my messages.

MELISSA GOES IN AND JENNIFER LEAVES. SHE GOES OUTSIDE AND JACK TAPS HER ON THE SHOULDER.

JACK: We have to talk.

JENNIFER: Jack there's nothing to talk about.

JACK: I think there is. I overheard your conversation in there with Emilio. You said you have something that you owed him. That you had to make it up to him.

JENNIFER: Well you shouldn't be listening into private conversations Jack.

JACK: Well just put in on my tab with all my other previous sins. The important thing is, you've got some idea that you've got an obligation to him.

JENNIFER: Because I do.

JACK: See look at you. You've got yourself all talked into this don't you?

JENNIFER: Jack, he saved my life today. He saved your's too.

JACK: Don't remind me.

JENNIFER: Yes, well maybe I have to remind myself. This isn't the first time that Emilio has been there for me. He's always there when I need him. And now he's hurt and he needs me and I feel responsible.

JACK: No, no, no. You don't feel responsible. You feel guilty!

JENNIFER: And we both know why.

JACK LOOKS ACROSS AT HER AND THEY BOTH FEEL GUILTY.

JACK: Let me tell you something. You're the one that's going to end up getting hurt if you marry him because of some....some screwed up idea about your conscience. If you marry him you're going to be making the biggest mistake of your life.

JENNIFER: That's your opinion Jack.

JACK: No, no, no, no. I tell you right now, you're cutting off your options. You're cutting off your possibilities and he's still out there.

JENNIFER: He?

JACK: Yes, He! Mr. Wonderful, Mr. Nice-Guy. The guy you're waiting for. The man of your dreams, remember.

JENNIFER: Yeah. Well you know what Jack, you'll probably run into him

before I do. So do me a favor. Tell him he's too late, okay.

JACK: Jennifer, wait a minute.

JENNIFER: No I am tired of waiting. I can't wait forever. I want to love somebody and I want to be loved back. Is that so hard to understand?

SHE LOOKS AT HIM WITH TEARS IN HER EYES AND HIS EYES BEGIN TO FILL UP. HIS VOICE BEGINS TO CRACK AS HE SPEAKS.

JACK: I just want you to think about it, okay.
---
[Air date 5-1-90]
SCENE ONE: JACK IS SITTING IN HIS OFFICE WITH HIS FEET ON THE DESK.

VERN: Got a minute, boss?

JACK: I got more than a minute Vern.

VERN: I thought I better check in.

JACK: And see how the editorial's doing?

VERN: Why don't you get out of here Jack, you look tired.

JACK: You should see the editorial!

VERN: Well right now my boy, I'm more interested in your personal life.

JACK: You mean the bride, the bears, the trees and the fire truck!

VERN: Hey I was pulling for you.

JACK: I think you should have pulled a little harder, Vern.

VERN: Well you stopped the wedding didn't you?

JACK: Aaaah, yes and no!

VERN: Come on, we're newsmen Jack. We deal in facts.

JACK: Okay, fact number one. Ramirez is in the hospital, thanks to me. Fact number two, Miss Horton is at Ramirez's side, no thanks to him. Fact number three....

VERN: Alright, let me take over the editorial, okay. You're far too depressed to write about the trade deficit.

JACK: Correction, I'm more depressed than the trade deficit, Vern

VERN: Ah, if I'd just gotten in the woods in that bear suit like you wanted me to.

JACK: No, come on. Somebody needed to stay here and run the paper while I played Davy Crockett.

THERE IS A KNOCK AT THE DOOR. IT IS GIUSEPPE VITELLO, ISABELLA'S FRIEND. HE IS THERE SEARCHING FOR THE MISSING DIARY PAGES.

JACK: COME IN! It's open!

GIUSEPPE: Oh excuse the interruption. My name is Giuseppe Vitello. You are Jack Deveraux?

JACK: Yes. Oh you're the owner of that new Italian restaurant down the street.

GIUSEPPE: No I am an old friend of someone you know.

JACK: Oh really! Who?

GIUSEPPE: Isabella Toscano.

JACK: Well, my pleasure.

GIUSEPPE: If you need me boss, just call.

JACK: Oh sure. Don't forget to put the bear suit in moth balls till next year.

VERN LEAVES.

JACK: So please Mr. Vitello....ah Giuseppe....please sit down.

GIUSEPPE: As I told, I'm an old friend of Isabella's.

JACK: Yeah, she's a real nice kid.

GIUSEPPE: She told me what a good friend you were.

JACK: Yes, you must be a good friend yourself, coming all the way from Italy to see her.

GIUSEPPE: I was worried about her.

JACK: Worried! Yes, yes, she's been going through a rough time.

GIUSEPPE: She told me how you took care of her.

JACK: Oh well, you know, one friend does something for another. What can I do for you?

GIUSEPPE: Well as you know, Isabella is a very impressionable young woman. And a desire can easily become an obsession.

JACK: Animal, vegetable or mineral?

GIUSEPPE: Her mother's diary.

JACK: Ah, you know, I know something about that.

GIUSEPPE: Then you know how important it is to Isabella.

JACK: Well I think that a diary would be important to any young girl who lost her mother at such an early time in her life.

GIUSEPPE: But Isabella, she is convinced that the diary is not all that it appears to be.

JACK: Not all that it appears to be.

GIUSEPPE: Something that Victor Kiriakis said planted a seed of doubt in her mind.

JACK: Really! Doubt about what?

GIUSEPPE: About her father, Ernesto.

JACK: Ah...excuse me, it must be my poor Italian but I'm having a little trouble following this.

GIUSEPPE: Kiriakis claimed that Isabella's father was not the man she thought he was.

JACK: Well I think a lot of fathers are not the men we thought they were.

JACK'S INTERCOM BEEPS.

JACK: Yes.

SECRETARY: Commander Brady and Isabella Toscano are at the front desk. They're here to see you.

JACK: Ah....why don't you tell them to....

GIUSEPPE: Please, please, I do not want Isabella to know that I am here.

JACK: Ah, why don't you just tell them to wait for a minute.

GIUSEPPE: I'm sure you understand. I don't want it to look like I am going behind Isabella's back. A good friend, he knows when to step back.

JACK: Oh, of course. Especially when dealing with little Miss Independence herself.

GIUSEPPE: Heheheh. I see you know Isabella quite well, eh?

JACK: Well....I have her interests at heart. I tell you what. Why don't you take the back door. It's the one I always use when I'm trying to, you know, get away from the creditors.

MAN: Thank you Mr. Deveraux.

JACK: No, Jack, Jack.

THE MAN LEAVES AND JACK IS VERY SURE THAT GIUSEPPE IS NOT TO BE TRUSTED.

JACK: I'm her friend too.

HE WALKS BACK TO THE INTERCOM.

JACK: Alright, send them in.

SECRETARY: Yes sir.
---
SCENE TWO: LATER, ROMAN AND ISABELLA COME INTO JACK'S OFFICE.

ISABELLA: Good morning.

JACK: Good morning! So what can I....no you came to help me.... help me with the editorial, right?

ISABELLA: No once again, I'm here asking for your help Jack.

JACK: Oh I tell you we have a discount on our publications.

ROMAN: Save the paper drive Jack. We're here for something else.

ISABELLA: Um, I need some answers Jack about my mother's diary.
---
SCENE THREE: A SHORT TIME LATER.

JACK: So you told Roman that I gave you the diary.

ISABELLA: I had to Jack.

ROMAN: You see Jack, she wanted my help and I wouldn't give it to her until she told me where that diary came from.

ISABELLA: You see it looks like there's something missing from the diary, like it's been tampered with.

JACK: Something missing.

ISABELLA: Yeah.

JACK: What?

ISABELLA: If there's anything missing, I think it's about my father.

JACK: Well, excuse my journalistic bent but could you be a little more specific.

ISABELLA: Well the man that Victor describes as my father doesn't sound like my father at all. There's no indication in the diary that he was like that.

JACK: I don't know why you're asking me. I'm just the delivery boy.

ROMAN: Considering the source here Jack, I'd say it's rather obvious why we're here.

JACK: Come on Roman, there's nothing obvious about me.

ISABELLA: Jack, you were the one that found the diary. If there was anything missing you would have noticed. Did you?

JACK: If I knew anything about missing diary pages, don't you think that you would be the first person I would tell about it.

ROMAN: No, we don't.

JACK: Is this a chorus or do you feel the same way?

ISABELLA: Jack you're my friend.

JACK: Yes I certainly am.

ISABELLA: Well friends tell each other the truth.

JACK: I try to, yes.

ISABELLA: Well you also tried to protect me a few times.

JACK: The question is, is this one of these times.

ISABELLA: Is it?

JACK: I don't know. Is it?

ISABELLA: I mean Jack, if it is, you have to tell me because if it's true what Victor says then....

JACK: But....

ROMAN: Can we just cut to the chase? Be a pal will you? Let the lady get on with her life?

AS ROMAN IS SPEAKING, CAROLINE COMES IN THE DOOR.

CAROLINE: Roman?

ROMAN: Yeah.

CAROLINE: Well they said I could find you here.

ROMAN: Yeah, Ma, what's going on?

CAROLINE: I didn't know what else to do. I have to tell you something.

ROMAN: Well what....what about Kayla? Did they find Stephanie?

CAROLINE: No. No. It's not about Kayla.

JACK SENSES THAT CAROLINE IS VERY UPSET SO HE TAKES ISABELLA OUT OF THE OFFICE SO THAT CAROLINE CAN SPEAK TO ROMAN ALONE.

JACK: (Talking to himself) Isabella, this way. Discretion is the better part of valor.
---
SCENE FOUR: JACK IS ABOUT TO SHUT THE DOOR WHEN HE OVERHEARS CAROLINE TELL ROMAN THAT VICTOR TOLD BO THAT HE IS HIS REAL SON. JACK IS STUNNED AND HE AND ISABELLA DO NOT KNOW WHAT TO DO NEXT. [YEARS EARLIER IT WAS REVEALED THAT VICTOR, NOT SHAWN WAS BO'S FATHER. LATER, TO PROTECT BO, VICTOR LEFT SOME FAKE RECORDS REFUTING THIS, AND MAKING BO BELIEVE THAT SHAWN WAS IN FACT HIS FATHER.]

ISABELLA: Huh, it all makes sense now.

JACK: What does?

ISABELLA: Well I know that Caroline and Victor had a relationship.

JACK: You did!

ISABELLA: Yeah. But I guess that explains why there was the unspoken bond between them.

JACK: It's certainly a case of the past coming up and kicking you in the butt.

ISABELLA: The Brady's past or your past?

JACK: Let me ask you something hypothetically.

ISABELLA: Hmmm.

JACK: Wh....if....what if Victor was telling the truth and there were things about your parents, about your parent's past that you found out that they just weren't true?

ISABELLA: I don't know if I could take it.

JACK: Yeah.

ISABELLA: Especially the part about my mother being in love with Victor. I can't imagine anything worse in the world than finding out Victor Kiriakis was your father.

JACK LOOKS VERY WORRIED.

CAROLINE AND ROMAN COME OUT OF THE OFFICE AND ARE ABOUT TO LEAVE WITH ISABELLA WHEN ROMAN THEN ASKS JACK ONE MORE QUESTION.

ROMAN: Ah Jack?

JACK: Ah.....yes.

ROMAN: About those missing pages?

JACK: What about them?

ROMAN: I want 'em.

JACK: Let me say first and foremost, that there are no missing pages and if there were....you....you would be the fi....

ROMAN: I WANT THE PAGES, JACK. YOU GOT THAT!

ROMAN LEAVES AND JACK GOES BACK INTO HIS OFFICE. HE LIFTS THE TRAY HOLDING THE WATER JUG AND SLIPS OUT THE MISSING PAGES. HE PLACES THEM IN AN ENVELOPE AND LEAVES THE OFFICE.
---
SCENE FIVE: JACK IS BACK HOME IN HIS BEDROOM WHERE HE LOOKS FOR A SAFE PLACE TO HIDE THEM. AS HE IS LOOKING, HE REALIZES SOMETHING IS WRONG.

JACK: Hey what's going on here? Everything's been moved around. There's somebody been going through my room. What do they wa....

HE SUDDENLY LOOKS DOWN AT THE ENVELOPE AND REALIZES WHAT THEY WERE LOOKING FOR. HE PUTS THEM BACK INSIDE HIS JACKET.
[Transcribed by Carol Vaughan
added material by Sally A. Wilson]
---