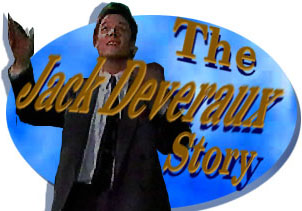 oldEpisode One-hundred-forty-two:
Jack Realizes Someone Is
after the Missing Diary Pages;
He Pushes Jennifer Away.
---
SCENE ONE: JACK IS STILL IN HIS ROOM LOOKING AT THE PAGES AND THINKING BACK OVER THE TIME IN THE HOSPITAL WHEN HE REMOVED THEM. HE CONTINUES TO LOOK FOR SOMEWHERE TO HIDE THEM WHEN JENNIFER SUDDENLY WALKS IN THE DOOR. HE SLIPS THE ENVELOPE UNDER THE PILLOW ON THE BED.

JENNIFER: Jack.

JACK: Stay away from the bed. I just got it fixed.

JENNIFER: Have you or have you not been trying to talk me out of marrying Emilio?

JACK: Have!

JENNIFER: And did you or did you not try to kidnap me from the wedding to make that happen?

JACK: This too was no delusion.

JENNIFER IS GETTING EXCITED AND HOPEFUL.

JENNIFER: Alright Jack if that's what you want, I have some vital information for you. There is one thing in the whole world that you could do to stop this wedding.

JACK: And that is, he asks, knowing he'd be sorry he did.

JENNIFER: Just tell me the truth. It's as simple as that. Admit to me what happened when we were trapped on that ledge meant something to you and I'll forget the whole wedding.

JACK: Simple as that.

JENNIFER: Simple as that. Come on Jack, start tap dancing. That's your cue.

JACK: Sorry to disappoint but my tap shoes are at the cleaners. Besides, I can't say that being on that ledge with you meant nothing to me.

JENNIFER: (Hopeful) Okay, okay Jack. Why can't you?

JACK: Because it meant a lot.
---
SCENE TWO: JACK'S BEDROOM. JENNIFER IS OVERJOYED BY WHAT JACK JUST ADMITTED TO HER.

JENNIFER: What did you just say to me?

JACK: I said it meant something. Come on, we were stuck on a ledge together miles from civilization, facing death at any moment. How could it not mean something?

JENNIFER: Oh Jack....

SHE RUNS TOWARDS HIM WITH HER ARMS OUTSTRETCHED.

JACK: But, but, but....we didn't die and we're not on that ledge anymore. No, we are now back in civilization and what was right then in those strange few moments is not right now. It's not right here. It can't be!

JENNIFER: Can't it Jack?

JACK: No it can't. I know that and you know that too, deep down.

JENNIFER: What makes you so sure of that?

JACK: Because....(Trying to think of a reason.) because I'm still the boss.

JENNIFER: Jack I'm sorry. I was going to make this easy for you but I can't. If we do really have feelings for each other, which I know we do, I would be willing to live on that ledge for the rest of my life, as long as you were with me. Whatever it takes for us to be together. (Beat) Did you hear what I just said?

JACK: Yes I did.

JENNIFER: Do you want me to say it again?

JACK: No I don't. I don't! Now I wish that you would understand that what I did, everything I went through was....I wasn't trying to hurt you. I just....we just see things differently.

JENNIFER: Tell me why Jack.

JACK: No, no, you tell me why. You tell me why you keep following me around like this. I mean it's embarrassing! You are better than that. You deserve better than that!

JENNIFER: There isn't any better. I know that.

JACK LOOKS AT HER IN ANGUISH. HE CANNOT LET HER INTO HIS LIFE NOW, IT IS TOO DANGEROUS. IT IS BETTER TO HURT HER FEELINGS, THAN THE ALTERNATIVE.

JACK: But you are right about one thing. I do deserve better. Better than this.

SHE STARTS TO WALK OUT BUT HE STOPS HER.

JACK: Jennifer....

HE LOOKS IN HER EYES WITH PAIN.

JENNIFER: I'll miss you too Jack.

SHE WALKS OUT AND HE IS LEFT ALONE ONCE AGAIN. HE WALKS BACK OVER TO THE BED AND LOOKS AT THE PAGES HE HAD HIDDEN.
---
SCENE THREE: JENNIFER, HEARTBROKEN, HURT, AND ANGRY AFTER HER RECENT ENCOUNTER WITH JACK, HAS RETURNED TO THE HOSPITAL TO SEE EMILIO. SHE TELLS HIM THAT SHE HAS ORGANIZED FOR THE WEDDING TO TAKE PLACE TODAY IN THE HOSPITAL.
---
SCENE FOUR: MEANWHILE JACK IS BACK AT WORK, STILL TRYING TO DECIDE WHAT TO DO WITH THE PAGES, WHEN JO COMES IN.

JO: Jack.

THEY BOTH LAUGH A LITTLE.

JACK: To what do I owe the honor of this visit?

JO: Oh, just a mother coming by to say hi.

JACK: Well you know when they claim kinship, they want something.

JO: Actually, I was wondering how you were feeling, since the wedding I mean.

JACK: I don't want to talk about it.

JO: You mean to tell me after all the trouble you went to to get Jennifer alone and to stop the wedding, you still haven't told her how you feel about her.

JACK: Wait a minute, you think I did all that for me?

JO: I think you did it for both of you.

JACK: No, no, no. I did it for her. I'm keeping her from marrying Emilio so she won't make a mistake she'll regret for the rest of the life. Plain and simple.

JO: You pushed her away again, didn't you? Jack! Can't you see, you can't hurt Jennifer. You see you have been listening to the old Jack. That's why you're doing this. So what you've got to do is stop listening and then the old Jack will just disappear because you deserve a good life son. You've worked for it.

JACK: What are your sources? I mean do you really believe all of this?

JO: Give it a chance! Oh you and Jennifer. Oh trust me!

JACK: You know about your sources, I don't know, maybe if you....

THE PHONE RINGS.

JACK: Hello, Jack Deveraux, Spectator.

A THREATENING VOICE SPEAKS TO JACK.

MAN: Listen carefully, Mr. Deveraux. We know you have the pages.

JACK: Pages? Wha....

MAN: The diary pages. We want them back, understand. No matter what it takes or who it hurts.

JACK: Wait a minute, wha....who do you think you're tal.....

THE MAN HANGS UP AND JACK SLAMS DOWN THE PHONE. JACK IS THROWN BY THE PHONE CALL, BUT HE TRIES TO HIDE IT SO AS NOT TO WORRY JO.

JO: Something wrong Jack.

JACK: Ah....no, no. Just an irate customer, you know. You know this town has a lot of pent up anger. I can't tell you the number of people I talk to every day who are crazy.

JO GIGGLES.

JO: What were they complaining about?

JACK: Ah....look that doesn't really matter. Doesn't matter at all. Listen, thank you for coming by. I'm going to think about what you said and....

JO: Wait, wait, wait a minute. Now see that's part of the problem. You keep trying to think yourself out of what you really feel. You know what you really should do? You should get your jacket on and go out there and find Jennifer.

JACK: What you're talking about is not even a remote possibility. My life, my lifestyle is not conducive to safety and....

JO INTERRUPTS JACK, WORRIED ABOUT WHAT HE MEANS.

JO: Wait, wait a minute! What do you mean safe?

JACK TRIES TO THINK OF SOMETHING TO SAY, WITHOUT HAVING JO FIND OUT THAT HE IS IN DANGER.

JACK: Um.... safe, safety. Being safe and secure and sound and that's the kind of life that Jennifer's looking for and.... that's exactly what she's going to get.
---
SCENE FIVE: BACK AT THE HOSPITAL, EMILIO IS SURPRISED THAT JENNIFER WANTS TO GET MARRIED IN THE HOSPITAL. HE ASKS MELISSA TO LEAVE THEM ALONE AND HE TELLS JENNIFER THAT IT IS BEST IF THEY WAIT A WHILE AND SORT A FEW THINGS OUT. SHE OFFERS TO GIVE HIM BACK THE RING BUT HE ASKS HER TO KEEP IT UNTIL THEY BOTH KNOW SHE IS READY.
---
SCENE SIX: JACK ARRIVES AT THE HOSPITAL AND MELISSA SEES HIM PEEKING IN EMILIO'S ROOM.

MELISSA: Checking up on Emilio.

JACK MAKES UP AN EXCUSE FOR BEING THERE. HE IS ALSO CHECKING UP ON EMILIO, BUT ESPECIALLY HE IS THERE TO CHECK UP ON JENNIFER.

JACK: Huh! Ah, me, no. Actually I was on my way from the board meeting and....ah.....I got lost! The Greenhouse Affect. It got me a little turned around.

MELISSA: Yeah a little.

JACK: Yeah. So, how's he doing?

MELISSA: He's a lot better, now. Did you know that he and Jennifer are getting married today?

JACK: Really!

MELISSA: Yeah. They're waiting for the minister as we speak.
---
SCENE SEVEN: A SHORT TIME LATER JENNIFER IS AT THE NURSE'S STATION LOOKING AT HER RING WHEN JACK AND MELISSA COME RUNNING UP, BOTH ARE ANXIOUS TO FIND OUT IF THE WEDDING IS ON, NEITHER MELISSA NOR JACK WANT IT TO HAPPEN.

JACK: Jennifer, Jennifer! Ah, about your outfit. It's nice but....ah....don't you think that though that white would be a little more apropos?

JENNIFER GLARES AT JACK.

MELISSA: Well tell me what needs to be done before the minister gets here. Whatever I can do.

JENNIFER: Thanks, but it's over. (Beat) Just for today. We're going to postpone the wedding.

JACK: Isn't this getting to be a little bit of a habit?

JENNIFER: I said we're postponing it. We're not canceling it.

JACK: Hmmm, mmmm.

JENNIFER: We thought it would be better if we waited until Emilio is out of the hospital.

MELISSA: (Pleased) Absolutely.

JACK REALIZES THAT JENNIFER IS UPSET WITH HIM AND IS NOT IN THE MOOD FOR ONE OF HIS SARCASTIC REMARKS.

JACK: Oh absol....I think, you know what I think....I think....I think that's a gre.....well I know you don't care what I think so forget what I said.

JENNIFER: Melissa would you like to have lunch. I still have a lot of planning to do. You know, for the big event.

MELISSA: Sure, just let me say goodbye and congratulations to Emilio.

JENNIFER: Okay, great. I'll meet you here.

MELISSA LEAVES TO SEE EMILIO. MEANWHILE JACK SMIRKS AT JENNIFER.

JENNIFER: What are you looking at?

JACK: You!

JENNIFER: Why? You've seen me.

JACK: Never seen you lie like this!

JENNIFER: What's that supposed to mean Jack?

JACK: It means I don't believe a single word you just said.

JENNIFER: Oh come on Jack, and what am I supposedly lying about?

JACK: You think that you're putting off this wedding because Emilio has to recover. Come on, nobody's buying that.

JENNIFER: Okay Dr. Deveraux, since you're always accusing me of playing psychiatrist, what do you think the reason is for delaying the wedding?

JACK: Alright. Emilio finally realized that two of you don't have a chance. You realize that you never had a chance. He finally said that to you and you both understood it. My bill's in the mail.

JENNIFER: You're wrong Jack!

JACK: Oh, no, no. Jack is right.

JENNIFER: Look you are wrong Jack.

JACK: No, Jack is right.

JENNIFER: Jack you're wrong. I don't care how much you think you're right and I don't know why I'm standing here trying to convince you that you're wrong.

JACK: I don't understand why either.

JENNIFER: Jack you could grab me and put your arms around me right now and tell me that you'll love me forever and that you always did and you'll never love someone else, but it won't make a difference. Do you understand me? It will not make one bit of difference because you had your chance over and over and over again and it's too late!

JACK: For what! (Beat) For what! Come on. It's your life. Always has and always will be. All I'm saying, all I've ever said, is that Emilio is a deadbeat. He's a deadbeat and marrying him is going to be the biggest mistake of your life. That's all I've ever said. Now if you want to ignore me and go ahead with your life, go ahead. I don't care! Go for it. Join the circus. Marry Emilio and run away with him. I don't care. Just don't come crying to me, alright. Stay out of my life, now and forever.

JACK STARTS TO WALK AWAY.

JENNIFER: Fine Jack, I will stay out of your life forever! I will!

JACK: Good!

JACK WALKS AWAY LEAVING JENNIFER ALONE.

JENNIFER: I will.
[Transcribed by Carol Vaughan
added material by Sally A. Wilson]
---