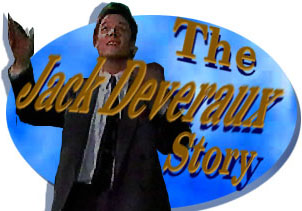 oldEpisode One-hundred-forty-six: After a
Brick Crashes Through the Bedroom
Window, Jack and Jennifer are
Forced
to
Continue with Their Living Arrangement.
---
[Air date 5-11-90]
SCENE ONE: IT IS THE NEXT MORNING AND JACK IS STILL ASLEEP ON THE FLOOR BUT HE HAS ONE FOOT RESTING ON A SMALL FOOTSTOOL. JENNIFER IS ASLEEP IN HIS BED. THERE IS A LOUD POUNDING ON THE DOOR. JENNIFER STIRS AND HITS THE MATTRESS.

JENNIFER: Jack!

THE POUNDING CONTINUES AND SHE HITS THE BED AGAIN.

JENNIFER: Jack!

JACK: Huh, what?

JENNIFER: Don't do that. I'm trying to sleep.

NEITHER OF THEM HAS OPENED THEIR EYES.

JACK: Oh, okay.

SUDDENLY EMILIO YELLS THROUGH THE DOOR.

EMILIO: Jennifer, come on, let's go!

JENNIFER: What?

EMILIO: Jennifer are you in there, it's me! JENNIFER!

JENNIFER: Emilio!

JACK: Wrong bedroom.

JENNIFER: Jack! Jack!

SHE THROWS A PILLOW AT HIM.

JACK: Thank you.

EMILIO: Last chance, I'm coming in there. Come on!

JACK: It's funny you almost sound exactly like him.

EMILIO: JENNIFER!

JACK: Jennifer!

JENNIFER: Jack!

JACK SUDDENLY SITS UP AND STARES AT HER.

JACK: Emilio!

JENNIFER: Emilio!

EMILIO: I'm going to count to ten Deveraux. Then I'm going to come in and break your door down. Alright. ONE!

JACK: Hide!

JENNIFER: Hide, right.

EMILIO: TWO!

JENNIFER JUMPS OUT OF BED AND THEN STOPS.

JENNIFER: Wait!

JACK: Why?

JENNIFER: He's my fiancé. I can't lie to him.

JACK: Sorry, not a good enough reason for me to die young.

EMILIO: THREE!

JENNIFER DOES NOT MOVE.

JACK: It's not a good enough reason for me to die young!

JENNIFER: Jack wait a minute, wait a minute. We can explain, okay.

JACK: No, not without internal organs, we can't.

EMILIO: FOUR!

JENNIFER: Jack I'm going to let him in.

JACK: You are?

JENNIFER: Yes and there's nothing you can do to stop me, okay.

EMILIO: FIVE!

JACK: Are you sure about that?

JENNIFER: Yes, I'm sure, watch me!

JACK: Okay. I will watch.

EMILIO: SIX!

JACK: I will watch him come in that door....he's going to come in that door and see you in your relative state of undress and he's going to assume the worst and he's going to realize that your relationship is a sham and call off the whole wedding!

EMILIO: SEVEN! EIGHT!

JENNIFER: Alright, alright, I'll hide.

JACK: Good, I knew you'd listen to me.

JENNIFER: But only because I wouldn't give you the satisfaction to split us up again, okay.

JACK: Heartbreak, heartbreak! Get under there, quick, go! GO! Come on.

EMILIO: NINE!

JENNIFER WRIGGLES UNDER THE BED. JACK GOES TO THE DOOR.

EMILIO: TEN! That's it Deveraux. I'm going to open this door.

JACK IMMEDIATELY OPENS THE DOOR. EMILIO BARGES PAST LOOKING FOR JENNIFER.

JACK: Buenos días, come on in. Buena Ventura.

EMILIO: Where is she Deveraux?

JACK: She....who, who, who?

EMILIO: You know damn well who I'm talking about.

JACK: You mean Jennifer. Is she missing again?

EMILIO: That's right, she's missing again and guess what (He punches Jack's chest with his finger.) I'm going to find her. Watch, you'll see. Where the hell is she?

JACK: I can't wait to see this.

EMILIO: JENNIFER! JENNIFER!

JACK WALKS OVER AND STRAIGHTENS THE SHEETS WHILE JENNIFER STAYS HIDDEN. THROUGHOUT THE TIME THAT EMILIO IS THERE JACK ACTS PROGRESSIVELY MORE OBNOXIOUS, AND PRACTICALLY GIVES JENNIFER AWAY.

EMILIO: JENNIFER! Deveraux, where's she at? Okay, where is she, where is she?

JACK: Ah....wh....what makes you think that Jennifer's here in the first place?

EMILIO: Because she's not home. Now where is she, huh? Come on.

JACK: I don't know. I can't help you. I wish I could. But let me put your mind at rest. I am not sitting on any kind of information. Heheheheh.

JACK PLONKS ON THE BED AND ROCKS UP AND DOWN WHILE JENNIFER CRINGES UNDERNEATH.

EMILIO: Really, really?

JACK: Really, yes. Listen I don't want to spring this on you but let me give you my blanket statement about the whole situation. I think Little Miss Reporter went undercover so to speak. I think, you know the Riverfront gangs have really taken it to the mattresses and you know when I heard I was really floored. And I was just....

EMILIO: Deveraux, shut up! What the hell you talkin' about?

JACK: I....ah....I don't know what I'm talking about. Don't mind me I just got out of the wrong side of the bed this morning. Hey, you want to see something. You want to see my dust bunny collection. It's right it's....

JACK PUTS HIS HAND UNDER THE BED AND JENNIFER BITES IT.

JACK (CONT.): .... AAARRRGGHHH! OUCH! ARGH! A little kink in the arm. Don't mind me. I'll just work it out here on the bed. Right here. Yeah. I'll just....so what were we talking about Emilio?

HE DOES A FEW PUSH UPS ON THE BED THEN JUMPS OFF.

EMILIO: I don't know. I don't know what the hell we were talking about. You know I stopped trying to figure you out a long time ago. But if you want to go bounce off the walls? Go bounce. You're a weird dude! Now listen to me, I just want to make sure that Jennifer is not hanging off a cliff somewhere. That's all I want to know. Can you help me?

JENNIFER HEARS THIS AND FEELS TERRIBLE THAT SHE IS DECEIVING HIM.

JACK: I....I wish I could. I really wish I could.

EMILIO: Yeah, yeah. I got ya.

JACK: Emilio, you gotta relax. Just relax. Don't worry. You know, leave her alone and she'll come home wagging her little tail behin....

EMILIO: Hey, hey, hey! Listen to me. I'm going to find out where Jennifer is, you know, and when I do, if she's in any kind of trouble because of you....

JACK: Don't say it. Not a word. I'll just spend the rest of the morning, filling in the blanks.

EMILIO: Right!

EMILIO THUMPS JACK REALLY HARD ON THE CHEST.

JACK: OOOOOOOHHHHH!

EMILIO: Remember that.

JACK: Thanks for the bruise. Yeah, something to remember you by.

EMILIO LEAVES AND JACK SHUTS THE BEDROOM DOOR.
---
SCENE TWO: EMILIO HAS LEFT.

JACK: Ollie, ollie oxenfree!

JENNIFER COMES OUT FROM UNDER THE BED.

JENNIFER: Any new bruises Jack?

JACK: Oh yeah, a couple. A matching set, here and here.

JENNIFER: Why can't you just treat him with a little respect Jack?

JACK: Treat him with respect?

JENNIFER: I don't even want to hear it. He came here because he was worried about me.

JACK: I was keeping your presence secret as requested.

JENNIFER: Jack you did everything and played trampoline on the bed.

JACK: You're really angry about this aren't you?

JENNIFER: You think this is funny Jack but it's not funny.

JACK: I was just trying to keep you safe. That's all I'm trying to do.

JENNIFER: I'm not even convinced that I'm a target. Whoever's after you might not even care about me at all Jack.

JACK: Wh...wai.....you were saying a whole different thing last night. Last night you were trying to convince me that you were in trouble.

JENNIFER: Well it doesn't matter anymore, alright. It's over because I don't need your protection, alright. This whole thing is over Jack. I'm leaving now.

JACK: Jennifer....

A BRICK COMES CRASHING THROUGH THE WINDOW!

JACK: Quick, get down, get down!

JACK GRABS JENNIFER AND PUSHES HER TO THE FLOOR. HE LIES ON TOP OF HER TO PROTECT HER.
---
SCENE THREE: JACK GETS UP. THE EXPRESSION ON HIS FACE REVEALS THE CONCERN AND LOVE HE HAS FOR HER. JACK IS VERY GENTLE WITH HER.

JACK: Are you alright? Did I hurt you? Did you get cut?

JENNIFER: Jack.

JACK: Sssshhh! Don't say anything.

HE GENTLY BRUSHES HER HAIR BACK AND RUNS HIS FINGERS OVER HER FACE LOOKING FOR CUTS.

JACK: Look at you. Make sure everything's alright.

JENNIFER: Jack.

JACK: Yeah?

JENNIFER: Do you see anything wrong?

JACK: (Beat) No.

HE CONTINUES TO RUN HIS HAND TENDERLY OVER HER HAIR; JENNIFER LOOKS INTO HIS EYES AND SEES HIS CONCERN.

JENNIFER: Then everything's okay now isn't it Jack?

JACK: (Getting embarrassed) Yeah. (Beat) I mean no. I mean....I mean you don't have any bleeding arteries or spilling jugulars or anything like that which is good because this carpet is hell to clean.

JENNIFER: Jack.

JACK: Why do you have to keep saying my name? Do you get some perverse pleasure out of saying it over and over in a short period of time?

JENNIFER: You were worried about me.

JACK SIGHS.

JENNIFER: It's alright. I heard it in your voice.

JACK: It could have been the impact you know. Hittin' the floor with that kind of jolt.

JENNIFER: Thank you Jack.

TRYING TO AVOID HER QUESTIONS.

JACK: (Beat) Yeah well anyway....ah....why don't we see what this little

brick says.

HE RUNS OVER AND PICKS UP THE BRICK. THERE IS A NOTE ATTACHED TO IT.

JENNIFER: Pretty classic method, don't you think.

JACK: Well I think that the brick is a very bold stroke.

JENNIFER TAKES THE NOTE.

JACK: It almost makes the little note seem redundant don't you think.

JENNIFER: "Give us what we want or we'll do whatever we have to do to get it."

JACK: Sounds pretty clear and to the point doesn't it. What we have to do is keep you here so I can keep an eye on you.

JENNIFER: What? Jack, that's impossible. I can't stay here. Emilio's already looking for me. He'll find me here.

JACK: Don't worry about Emilio alright. We'll find a way to talk to Emilio. We'll explain it to him, alright. We'll figure something out, somehow.

JENNIFER: Alright. Wait a minute, wait a minute Jack.

JACK: What is it? It'll work out. It's gonna be great. What is it?

JENNIFER: No it's not going to work. It won't work.

JACK: Yes it will.

JENNIFER: No it won't work because I can't lie to Emilio.

JACK: What do you mean, you can't lie to Emilio. Of course you can lie to Emilio. Think of it this way. If he finds out about the diary, he's going be in as much danger as anybody. He'll get himself killed. So, it'll be easy to lie to him. I'll show you how it lie to him.

JENNIFER: I already know how to lie.

JACK: (Surprised by this.) You do?

JENNIFER: Yes. See I even tricked you Jack. (Sigh) I guess I will Emilio, too.

JACK IS SURPRISED BY THIS SIDE OF HER. SHE STARTS TO LEAVE.

JACK: Wai....wait a minute, I'm going with you.

JENNIFER: Jack you can't go with me. Don't you think it's going to be a little difficult to talk to my fiancé with you sitting right there listening.

JACK: It'll be just as hard for me to guard you from across town. I want you to trust me. He's never going to know I'm there and with luck, neither will you.

JENNIFER: Okay.

SHE LEAVES AND JACK FOLLOWS.
---
SCENE FOUR: LATER JENNIFER WALKS INTO WINGS TO SEE EMILIO.

FOLLOWING HER INTO WINGS IS JACK IN DISGUISE. HE IS WEARING A LONG DARK WIG WITH A BRAIDED PIGTAIL WHICH HE HAS< SLUNG OVER HIS SHOULDER AND HE IS HOLDING THE END. HE HAS A MOUSTACHE AND >HE IS WEARING LARGE DARK SUNGLASSES, A BOLD STRIPED SHIRT AND A VERY LOUD PATTERNED TIE UNDER A DARK SUIT. JENNIFER SITS DOWN WITH EMILIO AND TELLS HIM THAT LAST NIGHT SHE WAS WITH HER GRANDPARENTS BECAUSE ALICE AND TOM ARE HAVING A HUGE FIGHT AND THEY NEED HER. JACK SITS AT A NEARBY TABLE AND WATCHES THEM. HE NODS TO HER IN APPROVAL. WHILE EMILIO AND JENNIFER ARE TALKING, ALICE AND TOM COME INTO WINGS. JENNIFER BEGINS TO PANIC. EMILIO TELLS THEM THAT HE UNDERSTANDS BUT ALICE IS CONFUSED. JENNIFER TELLS THEM THAT EMILIO KNOWS ABOUT THE TERRIBLE "FIGHT" THAT THEY HAD. ALICE AND TOM AT FIRST CANNOT FIGURE OUT WHAT SHE IS UP TO. TOM, FINALLY, REALIZES THAT JENNIFER HAS LIED TO EMILIO AND COVERS FOR HER UNTIL EMILIO LEAVES AND SHE TRIES TO EXPLAIN TO THEM. SHE TELLS THEM THAT SHE IS LIVING AT JACK'S HOUSE AND ALICE AND TOM THINK THAT THIS IS NOT RIGHT BECAUSE SHE IS ENGAGED TO EMILIO. JENNIFER SAYS IT IS NECESSARY, SO THAT EMILIO WILL NOT GET HURT. ALICE BELIEVES THIS PROVES THAT JENNIFER AND JACK HAVE SOME UNRESOLVED FEELINGS FOR EACH OTHER. ALICE AGREES TO GO ALONG WITH HER LIE BUT SHE MAKES JENNIFER THINK CAREFULLY ABOUT HER UPCOMING MARRIAGE. JACK IS STILL LISTENING IN ON HER CONVERSATION AND IS SLIGHTLY UNCOMFORTABLE BY THIS.
---
SCENE FIVE: JACK AND JENNIFER GO BACK TO HIS HOUSE. THEY COME IN THE BEDROOM.

JENNIFER: Jack I am so tired I can't stand it anymore.

SHE THROWS HER BAG ON THE BED AND LIES DOWN.

JACK: Look I'm sorry about all that. Look how would you feel if I told you that in the next room there was a big old....bubble bath waiting for you with big old bubbly bubbles. What would you say?

JENNIFER: (Smiling; she also seems to be enjoying their situation immensely.) I'd say hooray.

JACK: Good. Because the boudoir is waiting for you and right under the sink you're going to find this nifty little Bullwinkle thing that puts out the bubbles (He mimics a pumping action, to simulate using the Bullwinkle bubbles.). So go for it, okay.

JENNIFER: Jack?

JACK: What, more requests?

JENNIFER: No, just thanks.

JACK: Anytime, anytime.

JACK LEAVES THE ROOM AND SHUTS THE DOOR BUT THEN DECIDES TO WATCH HER THROUGH THE KEYHOLE. HE SEES HER START TO PULL UP HER DRESS BUT THEN SHE REALIZES THAT HE IS WATCHING AND SHE RUNS OVER AND PUTS HER HAND OVER THE KEYHOLE. JACK STANDS UP LOOKING VERY SHEEPISHLY.
---
SCENE SIX: HE DECIDES TO MAKE IT UP TO HER AND GETS A TRAY READY WITH TEA. HE CARRIES IT TO THE BEDROOM FOR HER BUT SHE IS NOT THERE.
JACK: Holá! Jennifer, I brought....I brought some tea.
HE GOES TO THE BATHROOM DOOR AND PUTS THE TRAY DOWN AND KNOCKS.

JACK: Jennifer, I'm sorry about what happened before. No hard feelings. Jennifer, are you okay?

HE OPENS THE DOOR A LITTLE.

JACK: Ah....

HE LOOKS IN AND SHE IS ASLEEP IN THE BATH WITH HER FEET RESTING ON ONE END. HE SITS ON THE EDGE OF THE BATH AND BRUSHES SOME BUBBLES FROM HER CHEEK. WITH HER ASLEEP HE DOES NOT HAVE TO HIDE HIS FEELINGS FOR HER, SO HE LOOKS DOWN AT HER LOVINGLY.

JACK: Jennifer.
HE TOUCHES HER CHEEK AGAIN AND SHE JUMPS WITH FRIGHT AND HE SLIDES INTO THE BATH WITH HER FULLY CLOTHED.
JACK: (In shock) JENNIF....
[Transcribed by Carol Vaughan
added material by Sally A. Wilson]
---