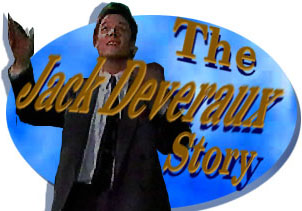 oldEpisode One-hundred-fifty-two:
Steve and Kayla Return With Stephanie;
After Setting up a Romantic Dinner for
Them, Jack and Jennifer Babysit Stephanie.
---
[Air date 5-30-90]
SCENE: JO HAS NEWS THAT KAYLA, STEVE, AND STEPHANIE ARE ON THEIR WAY HOME AND SHE CALLS THE FAMILY TO THEIR HOUSE FOR A SURPRISE PARTY, NOT TELLING THE FAMILY THE REASON. JACK HAS JUST ARRIVED.

JO: Oh Jack, I'm so glad you came.

JACK: Well you made it sound somewhat urgent and to get here as soon as you can.

JO: Well obviously you did. Come on in.

JACK: Well?

JO: Well what?

JACK: Well I came from a great distance.

JO: Oh this is a very important family meeting.

JACK: I figured if it's at Steve and Kayla's house, it must be about Steve and Kayla. Australia, maybe?

JO: Well....that's the door.

SHE RUSHES TO ANSWER THE KNOCK.

JACK: Yes, I gathered that on the way in.

SHAWN, CAROLINE, CARRIE AND MAX ARRIVE.

CAROLINE: Oh hello Jack. Jo didn't mention that you'd be here.

JACK: Likewise. Ah good evening. I'm hungry. There's some food in....

HE MOTIONS TO THE DINING ROOM.

JO: Yes, yes. There's food in the dining room. Help yourself.

JACK: Excuse me.

JACK GOES INTO THE DINING ROOM. HE GRABS A SANDWICH AND DRINK. JUSTIN AND ADRIENNE ARRIVE AS WELL AS SHANE. THEN BO AND HOPE WALK IN.
---
SCENE TWO: A BIT LATER ROMAN ARRIVES. JACK IS STANDING IN THE BACKGROUND, OBSERVING HIS FAMILY BUT ON THE OUTSIDE. JO THEN CALLS EVERYBODY TOGETHER AND ANNOUNCES THAT THE SURPRISE HAS JUST ARRIVED. STEVE WALKS IN THEN HE BRINGS IN KAYLA HOLDING STEPHANIE. EVERYBODY IS OVERCOME AND JACK JUST NODS HAPPILY.
---
SCENE THREE: JACK CONTINUES TO STAY IN THE BACKGROUND DURING THE EVENING. HE JUST WATCHES ALL THE LOVE THAT EVERYBODY IS GIVING TO EACH OTHER. CARRIE AND MAX ARE PLAYING WITH STEPHANIE AND BABY IS SQUEALING. STEVE GOES OVER TO TALK TO JACK.

STEVE: Hey Jackson. The girls are screaming for you here dude.

JACK: (Jack laughs) Surely. Welcome back.

STEVE: Good to be back.

JACK: Good to hear those squeals again.

STEVE: Yeah, well I wanted to tell you thanks for everything you did for me and Kayla.

JACK: I didn't really do much.

STEVE: No, you did. You did a lot. Thanks.

ADRIENNE COMES OVER AND TELLS THEM THAT SHE AND JUSTIN ARE GETTING MARRIED AGAIN.

STEVE: So when?

JUSTIN: Friday.

JACK: So soon.

ADRIENNE: Oh Jack, I'm sorry. We've decided to do kind of a simple thing you know. Just the two of us and a Justice of the Peace. I hope you don't mind. It's the second time around and all that. Okay.

JACK: I guess that means I don't have to get you a present then?

ADRIENNE LAUGHS AT JACK'S DROLL HUMOR.

ADRIENNE: Jack!

STEVE: That's good. That's real good.

JACK: Yeah, well.

JO IS SO HAPPY THAT HER FAMILY IS TOGETHER; AND HAPPY AND IS EXCITED ABOUT THE WEDDING.

JACK: Yeah, it's a shame you won't be at that ceremony on Friday to take it all in.

ADRIENNE SAYS THAT SHE WILL BE THERE IN SPIRIT AND JO LOOKS ACROSS AT JUSTIN WHO WINKS AT HER. THE EVENING FINISHES WITH A SPEECH OF THANKS FROM STEVE.
---
[Air date 5-31-90]
SCENE ONE: JACK IS IN HIS OFFICE READING THE MORNING EDITION WITH THE HEADLINE THAT GIUSEPPE VITELLO WAS MURDERED LAST NIGHT IN THE PARK. JENNIFER BURSTS IN.

JENNIFER: Jack!

JACK: Hmmm.

JENNIFER: Jack it's wonderful.

JACK: What's wonderful?

JENNIFER: Jack, it's so wonderful!

SHE RUNS IN AND LEAPS ON HIM KNOCKING HIM BACKWARDS ONTO THE DESK. SHE IS VERY EXCITED AND HAPPY FOR JACK, SO SHE DOES NOT NOTICE JACK'S CONCERN AND WORRY.

JACK: OOOOH! Jennifer, wait a minute. Down girl, easy, easy. Whoa, whoa. Calm down, relax. Are you relaxed?

JENNIFER: I can't believe that you didn't call me and tell me this.

JACK: Tell you what? What's so wonderful?

JENNIFER: Your niece Stephanie. She's home and she's okay. Jack I'm so happy for you.

JACK: Yeah that's really wonderful.

JENNIFER: I can't believe it. I thought you'd be jumping up and down.

JACK: I think you're doing enough jumping for the both of us.

JENNIFER: What's the matter? What's wrong?

JACK: I think it's pretty obvious we're going to be next.

JENNIFER: What?

JACK: This.

HE SHOWS HER THE PAPER.
---
SCENE TWO: JACK AND JENNIFER ARE STILL IN HIS OFFICE. HAVING SEEN THE NEWSPAPER HER EXPRESSION HAS CHANGED, AND SHE IS VERY SCARED.

JENNIFER: I can't believe this. I just saw him. I just interviewed him and now he's dead. Jack what about Kiriakis. He's involved in this whole cruise. Maybe he had some stake in this. We don't know that. We don't know a whole lot of anything except Giuseppe is dead and whoever killed him Jack could....

JACK: (Completing her thoughts and sentence) ....Whoever killed him, could just as easily kill us. I've been saying that to you for a long time.

JENNIFER: Jack we have to do something before someone else ends up getting hurt.

JACK: Definitely! I'm open to all suggestions.

JENNIFER: Right, it's those pages. It's those stupid pages that you cut out of Loretta's diary.

JACK: Jennifer.

JENNIFER: They are going to end up getting us both killed.

JACK: Not if you stay out of it.


JENNIFER: It's too late for that Jack. How many more people have to die before we tell Isabella the truth? We have to tell Isabella about the pages. There is no other way.

JACK: Jennifer I know you're getting scared.

JENNIFER: No, I'm not scared. I'm petrified Jack.

JACK: I told you! I told you from the beginning this would be dangerous and not to get involved.

JENNIFER: Yeah well it's too late for "I told you so" because I am involved. Now what we have to do is open this whole thing up and tell Isabella the truth.

JACK: It's only going to make things worse.

JENNIFER: It can't get any worse Jack.

JACK: Yes for Isabella it can get worse. Now you and I made a pact, a long time ago, to keep Isabella out of this and not tell her anything about it. I don't remember at that time saying anything about "we'll keep it quiet unless we get really scared!" I don't remember anything about that.

JENNIFER: I don't know. I don't know anything anymore Jack.

JACK: Just trust me alright. Trust me to get us out of this alright.

JENNIFER: Will you just promise me that whatever you're going to do, you'll do it quickly.

JACK IS ADAMANT, ALMOST OBSESSIVE, ABOUT NOT TELLING ISABELLA; AS IF FOR SOME MORE PERSONAL REASONS.

JACK: Alright, alright. As long as you promise me that you will not tell Isabella about this. alright. Okay? Jennifer, come on promise me, promise me.

JENNIFER: Why is it so incredibly important to you that you don't tell her the truth? Jack I don't understand why it's so important for you to keep this secret.

JACK: We've been through this. We're doing this for Isabella.

JENNIFER: No I'm doing this for Isabella. I think there's another reason why you're doing it.

JACK: THAT'S NONE....look let's not make more out of this than there already is, alright.

JENNIFER: Well I keep thinking that you have some sort of personal stake in this.
---
SCENE THREE: THEY ARE STILL IN JACK'S OFFICE. JACK *DOES* HAVE A PERSONAL REASON, AND JENNIFER PICKS UP ON THIS.

JACK: Yeah I do. I happen to like your roommate and I don't want to see her get unnecessarily hurt.

THAT IS PART OF THE REASON, BUT THERE IS MORE TO IT THAN THAT, SOMETHING PERSONAL, WHICH JACK IS TOO UNCOMFORTABLE TO ADMIT TO JENNIFER.

JENNIFER: Alright, I won't tell her about the pages Jack, for now.

JACK: Good!

JENNIFER: You know one day I hope you learn to trust others Jack....

SHE PUTS HER HAND ON HIS HEART.

JENNIFER (CONT.): ....with what's in here.

JACK: I tell you something. The only person I trust with what's in there is the cardiologist.

JENNIFER: You don't fool me Jack.

THERE IS A KNOCK AT THE DOOR, SAVING JACK FROM THIS PERSONAL DISCUSSION.

JO: Jack, Jennifer.

JACK: Ah, come in please.

JO: Ah listen. I have a problem.

JACK: You have a problem.

JO: Yes.

JACK: Just one problem. I think that puts you miles ahead of everybody else in this town, doesn't it Jennifer. Ah please, go ahead.

JO: Thank you. I am supposed to babysit with Stephanie tonight. I wanted Steve and Kayla to be together and sort of celebrate you know. Anyway my problem is, as you know Adrienne and Justin are getting married tomorrow and I'm way behind and there is so much to do Jack and....

JACK: Don't...don't worry about it. I mean I'm here. I can....I can babysit.

JO: Oh would you? It'd just be for a few minutes.

DESPITE ALL JACK'S JOKES HE REALLY DOES CARE, AND FEELINGS FOR BABY STEPHANIE AND FOR *ALL* HIS FAMILY.

JACK: Oh that'd be fine. I could do it. I mean I just, you know, give her a bottle and turn on the TV. That always makes me happy.

JO LAUGHS. SHE NOTICES JENNIFER, AND DOES A LITTLE MATCHMAKING.

JO: I don't know about that, Jack. Maybe Jennifer could help you out.

JACK: Um....

JENNIFER *LOVES* THIS IDEA: ANY REASON TO HELP JACK, AND HAVE AN EXCUSE TO BE NEAR HIM.

JENNIFER: Sure, sure, why not!

JO: Oh that would be great. Thank you. Listen I appreciate it. Look I had to meet Justin five minutes ago. I've got to get running. Oh I'll see you two tomorrow at the wedding.

JO LEAVES.

JACK: Kind of pushy! (It is obvious he likes this, and especially cares for Jo.) Look you don't have to do this. I'm the one who volunteered.

JENNIFER: That's okay Jack. That's fine. I want to do it.

JACK: You really....you don't have to do this.

JENNIFER: I want to. I think it'd be nice to do something for Steve and Kayla.

JENNIFER LEAVES.

JACK: For Steve and Kayla.
---
SCENE FOUR: LATER THAT EVENING JACK AND JENNIFER ARE AT STEVE AND KAYLA'S HOUSE. JENNIFER IS SETTING THE DINING TABLE AND SHE PLACES A CANDELABRA WITH THREE CANDLES IN THE MIDDLE OF THE TABLE ALONG WITH A SINGLE ROSE.

JENNIFER: Alright.

JACK: Hey, hey. Wait a minute. All we were going to do was babysit the kid. That's it.

JENNIFER: I know. I just thought Steve and Kayla deserve something special Jack.

JACK: Special! Special's leave them alone and let them have the place to themselves.

JENNIFER: Jack I want this to romantic. I want it to be simple and elegant which is the essence of romantic.

JACK: Wait a minute, you think this is romantic?

JENNIFER: Jack you wouldn't know romantic if it was staring you right in the face.

JACK: (Beat) Well I know that romantic isn't having a little flower sitting here and having a couple of candles that you can barely see the dinner by. What this is is beige, you know. What you need is a big headline. You need a strong statement. That's what you need to do.

JENNIFER: Oh, so you're telling me that you could do better?

JACK: Ah...yeah! I think I could.

JENNIFER: Oh this I'd like to see Jack.

JACK: Okay.

JENNIFER: I would be willing to bet you that you could not make this anymore romantic than it already is.

JACK: You're kidding aren't you?

JENNIFER: No.

JACK: Alright!

JACK MOVES TO PICK UP A GLASS BUT DROPS IT AND IT BREAKS. [THIS IS OBVIOUSLY NOT PART OF THE ORIGINAL SCRIPT] JACK GRINS.

JACK: Ah, I dropped it.

JENNIFER: I'll wait outside.

JACK: Yeah. (To her bodyguard) You go with her.

HE WALKS OVER TO SLIDE THE DOORS SHUT.

JACK: I want you to watch a professional in action. Yeah.

JENNIFER: Don't break anymore.

JACK: No, no. It's part of a set.

JACK GRINS AND PULLS THE DOORS SHUT, JAMMING THE END OF HIS NOSE AS HE DOES IT. HE TURNS AROUND AND RUBS IT WITH HIS HAND.

JACK: Yeah, I'll take care of this.
---
SCENE FIVE: A SHORT TIME LATER HE OPENS THE DOORS TO LET JENNIFER BACK IN. HE HAS HIS JACKET OFF AND THE SLEEVES OF HIS WHITE SHIRT ARE PARTLY ROLLED UP.

JACK: Voilá!

JENNIFER'S EYES NEARLY POP OUT OF HER HEAD. SHE SLOWLY WALKS IN AND SEES THAT JACK HAS LIT ABOUT A DOZEN CANDLES. THE TABLE IS COVERED WITH SILVER AND FLOWERS. THERE IS A BUTLER WAITING BY THE TABLE.

JENNIFER: Hi.

BUTLER: How do you do?

JACK WAVES HIS HAND AND A WANDERING VIOLINIST BEGINS TO PLAY QUITE LOUDLY.

JACK: (Shouting above the violin.) ISN'T THIS THE ESSENCE OF ROMANCE?Now what do you say?

JENNIFER: (Shouting back) WHAT?

JACK: THIS IS ROMANTIC RIGHT?

JENNIFER: WRONG, WRONG. THIS IS LIKE A MIXTURE OF THE LAWRENCE WELK SHOW AND A BAND OF WANDERING GYPSIES, JACK.

JACK: Are you sure?

JENNIFER: Yes.

JACK: ARE YOU SURE?

JENNIFER: YES!

JACK: ALRIGHT THAT IS IT. HOLD IT, CUT! Go home Nero, Rome's burning.

JENNIFER: While we're on the subject. It's a little bright!

JACK: No no, no. No, no, no. Bright is good. It's good....isn't it?

JENNIFER: Well for a night game at Rigley Field. But for romance....

JACK: No. Alright. Alphonse hit the lights.

HE SIGNALS THE BUTLER TO TURN THE LIGHTS DOWN.

JACK: How's that?

JENNIFER: I think it's still too bright.

SHE BLOWS OUT THREE CANDLES.

JENNIFER: Are you going to help me?

JACK: Alright, alright. Nothing wrong with a little candle power. Alphonse, stop standing and start blowing.

JACK WALKS OVER AND BLOWS OUT ONE CANDLE THEN MOVES TO THE SECOND ONE. JENNIFER IS ABOUT TO BLOW IT OUT TOO. HE BLOWS AND IT REMAINS LIT. THEN THEY BLOW TOGETHER....

....AND IT GOES OUT. THEY SMILE AT EACH OTHER, BUT IT IS MORE BECAUSE HE IS SLIGHTLY NERVOUS BECAUSE OF THEIR CLOSENESS.

JACK: Well....(Cough)....what do you think?

JENNIFER: (Looking in his eyes) I think they'll love it.

SHE GENTLY PLACES HER HAND OVER HIS, WHICH IS RESTING ON THE TABLE. HE LOOKS DOWN AT HER HAND AND THEY LEAN CLOSER TOGETHER AND LOOK IN EACH OTHER'S EYES, AS IF ABOUT TO KISS. SUDDENLY STEVE AND KAYLA WALK IN....


.... AND THEY BOTH MOVE APART.

STEVE: Hey, what's going on here? There's this big ape out there that says he's a bodyguard. What is that?

JENNIFER: Steve it's true. He is my bodyguard.

STEVE: What are you doing with a bodyguard? What's going on here?

JACK: Ah that's not important. What is important is here....here.

JACK HURRIES OVER TO THE BUTLER.

JACK: This whole thing. What do you think, what do you think?

STEVE: I want to know what all this is about.

JENNIFER: Well it's your own special surprise dinner. We thought it would be nice to have a nice little quiet dinner to yourselves.

STEVE: This is for us, huh!

JENNIFER: Yeah! And it was my idea but then Jack, he put his own unique stamp on it.

JACK: Well, yeah, in a way, I also....but it's really Jennifer. She did

it all.

STEVE: Well, you really did it up big, huh.

JACK IS BOTH SLIGHTLY NERVOUS AND UNCOMFORTABLE, BUT ALSO DESPERATELY WANTING TO HELP STEVE AND KAYLA; TO MAKE UP FOR THE PAST.

JACK: Well the important thing is that obviously Jo was going to babysit. But she's so busy with Justin and Adrienne's wedding, she was thinking, ah we thought that maybe Jennifer and myself could....(Not sure if after the past the will let him.) could babysit. I mean we could take care of the baby over at my office until Jo could take her. You know, give you some free time. You know I didn't know if that would....Kayla, would that be okay?

STEVE: It's alright with me.

KAYLA: Alright.

KAYLA VERY CAREFULLY HANDS STEPHANIE TO JACK AND HE GENTLY TAKES THE BABY IN HIS ARMS.


THIS MEANS SO MUCH TO HIM, AND HE IS SO HAPPY ABOUT THIS SITUATION, AND THE FACT THAT HE IS GROWING CLOSER TO STEVE; HOWEVER, HE RESTRAINS FROM REVEALING *HOW* MUCH THIS MEANS TO HIM.

KAYLA: Take good care of her alright.

JACK: I will, I will.

THEY SMILE CAUTIOUSLY AT ONE ANOTHER.

JACK: I will.

JACK WALKS TO THE DOOR.

STEVE: Billy Jack?

JACK TURNS TO FACE STEVE.

STEVE: Thanks.

JACK: Sure.

STEVE: You take good care of my little girl.

JACK: (Knowing the responsibility he has) I will, I will.

JACK AND JENNIFER LEAVE.

KAYLA: It's hard to believe isn't it?

STEVE: He'll take good care of her.
---
SCENE SIX: AT THE OFFICE, JACK COMES OUT OF THE BATHROOM CARRYING STEPHANIE AND A ROLL OF PAPER TOWELS THAT IS HANGING TO THE GROUND. HE ALSO HAS A BOTTLE IN HIS SHIRT POCKET.

JACK: Now we'll make sure that the desk doesn't get any more messy than it already is. Yeah. You know something? Someday when you can look over this desk, I'll give you a job. You'll be a feisty little female reporter. (He thinks back lovingly, and wistfully.) Yeah! You know I had one of those once.


JENNIFER HAS WALKED IN AND IS STANDING BEHIND JACK AND STEPHANIE LISTENING.

JACK: I did but I....kind of miss her. Yeah!

JENNIFER: Jack.

JACK IS STARTLED, AND EMBARRASSED THAT HE REVEALED SO MUCH OF HIS FEELINGS CONCERNING HER.

JACK: Ah do you get a perverse pleasure out of sneaking up on me like that?

JENNIFER: I'm sorry. I didn't mean to sneak up on you but I heard what you said.

JACK: What's that? I said a lot of things.

JENNIFER: No specifically, "I miss her."

JACK: (Trying to think of a way to save himself.) I....er....I miss....I miss the air, I miss the air, I miss the air around. You know Vern used to have the air fans....

JO ENTERS, SAVING JACK. JACK SEES HER. HE IS GLAD THAT SHE SAVED HIM.

JACK (CONT.): Hi.

JO: Hi. How is my little granddaughter?

JENNIFER: (To Jack) Saved by the grandma.

JACK: Yeah.

JO: Any problems?

JACK: No, no, she's fine. She's perfect. Just perfect.

JO: Oh good. Then I'll take her then.

JACK: Oh already, really?

JACK DOES NOT LIKE THE IDEA, HE IS ENJOYING TAKING CARE OF HIS NIECE, WHO HE CARES ABOUT. HOWEVER, IT SEEMS THAT JACK ALSO IS UNCOMFORTABLE BEING ALONE WITH JENNIFER, SINCE IT IS BECOMING MORE AND MORE DIFFICULT FOR HIM TO HIDE HIS FEELINGS FOR HER, AND TO SUPPRESS THEM.

JO: Sure.

JACK: Oh I know you 're really busy with this wedding. If you have a lot of work to do, you know, I can keep her around here for a little bit longer if you don't mind. I mean, we're not....we're getting along okay, right.

JO: Jack, you've done a terrific job, you really have. But I bet you could use a break right now. Look at this little one, the whole world is falling in love with you and you know it too don't you. Come here my precious one, my sweetness. You know it too don't you. I will see you tomorrow.

JENNIFER: Thank you Mrs. Johnson. Here we go. Bye.

JENNIFER SEEMS TO *WANT* TO BE ALONE WITH JACK. SHE PULLS THE BOTTLE OUT OF JACK'S POCKET AND HITS JACK'S NOSE AS SHE PULLS IT OUT. SHE HANDS IT TO JO AND JACK WIPES HIS NOSE.

JACK: Oh yeah! I just changed the....oh whatever. Bye Ste.....remember what I said, door's always open. Yeah.

JACK WALKS BACK INTO THE OFFICE AND STARTS ROLLING UP THE PAPER TOWELS. JENNIFER IS STANDING BEHIND HIM WATCHING. JACK IS CONSCIOUS OF THIS, AND UNCOMFORTABLE.

JACK: You can stop staring now.

JENNIFER: You know Jack, I finally understand you.

JACK IS SURPRISED AND EVEN *MORE* NERVOUS AND UNCOMFORTABLE.
---
SCENE SEVEN: JACK IS THROWN BY JENNIFER'S STATEMENT, AND WHAT SHE IS ABOUT TO SAY.

JACK: Yeah?

JENNIFER: I finally understand why it means so much to you to keep the truth from Isabella.

JACK: Jennifer, look, you....

JENNIFER: Jack you want to make sure that the beliefs that she has about her family aren't shattered. You can't stand to see a family torn apart.

JENNIFER HAS PEGGED JACK. JACK DOES NOT WANT TO REVEAL THAT WHAT JENNIFER SAID IS TRUE.

JACK: Say it for the staff psychologist.

JENNIFER: You know I don't understand why it's so hard for you to admit that you have feelings Jack.

JACK: You don't understand? You're finally admitting that. You don't understand.

JENNIFER: Love is nothing to be embarrassed about.

JACK: Who said anything about being embarrassed?

JENNIFER: You are. No matter how much you try to deny it Jack, I know. I really know how much love you have to offer. Now all I have to do is get you to admit it.

JENNIFER WALKS OUT QUIETLY WHILE THE ROSE IS PLAYING IN THE BACKGROUND. THEN SHE STOPS AND SAYS TO HERSELF.

JENNIFER: Admit it to yourself Jack.
---
SCENE EIGHT: STEVE AND KAYLA ENJOY THEIR ROMANTIC DINNER, AND BEING TOGETHER, AFTER ALL THE PAIN OF THE PAST FEW MONTHS THINGS SEEM TO BE GOING WELL FOR THEM NOW. *AND* JACK HAS CHANGED AND WANTS TO BE PART OF THE FAMILY, THEY KNOW HE WILL TAKE CARE OF THEIR DAUGHTER. THE ROSE PLAYS IN THE BACKGROUND.
[Transcribed by Carol Vaughan
added material by Sally A. Wilson]
---