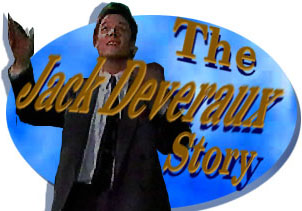 oldEpisode One-hundred-fifty-three:
Adrienne and Justin's Wedding: Jennifer
Helps Jack Dress; Jack Fantasizes about
Their Wedding; Jennifer Is Upset Because
She Believes She and Jack Will Never Marry.)
---
[Air date 6-1-90]
SCENE ONE: IT IS ADRIENNE AND JUSTIN'S WEDDING DAY. JUSTIN HAS TOLD ADRIENNE THAT IT WILL BE A QUIET CEREMONY FOR JUST THE TWO OF THEM. SECRETLY HE HAS PLANNED A LARGE WEDDING WITH JACK AS THE PERSON TO GIVE HER AWAY.
---
SCENE TWO: JACK IS IN HIS BEDROOM FRANTICALLY ATTEMPTING TO GET DRESSED. HE CANNOT FIND HIS STUDS SO HE REMOVES A WHOLE DRAWER OF CLOTHES AND UPENDS IT ON THE BED.

JACK: Okay. Alright studs where are you?

HE LOOKS AT HIS WATCH.

JACK: Oh no! I'm going to be late. No I'm not. No I'm not! Where's....SHELDON! SHELDON!

THERE IS A KNOCK AT THE DOOR AND HE RUSHES OVER.

JACK: Sheldon, get in here. Tell me "why can't I find what I'm looking....

HE OPENS THE DOOR AND JENNIFER IS STANDING THERE, WITH A BIG GRIN. JACK STOPS IN MID-SENTENCE.

JACK: ....for!"

JENNIFER: Beats me when everything you're looking for is always in front of your face. Which explains why I'm here Jack.

JACK: Which exp....wait a minute, wait a minute, why are you here? No don't tell me. I don't have time for a quickie comeback. I've got to get to a wedding. What are you doing here?

JENNIFER: Jack I came to dress you.

JACK: You what?

JENNIFER: Somebody's got to do it. It may as well be me.

JENNIFER HAS HIS TIE IN HER HAND.

JENNIFER: Alright Jack.

JACK: Give me that thing. Look what you're doing to it. I've had that pressed between the mattresses all night.

JENNIFER: I expected a disaster but this beats Irwin Allen.

JACK: Hey let me tell you something. I thrive in chaos. I mean a creative mind always thrives in chaos. Aaaaah!

HE FINDS HIS STUDS.

JENNIFER: What about a creative dresser?

JACK: Trick? I mean if you're looking at my cuffs you've got a big problem. They're never going to know....

JENNIFER: These might be better, don't you think Jack? You're too traditional.

SHE HOLDS UP A SET OF NICE STUDS.

JACK: Where did you get those?

JENNIFER: You know I lived in this room for a few days. I know where all sorts of things are.

JACK: You do huh?

JENNIFER: (Teasing Jack) Huh, uh. Shall I run down the list?

JACK: (Smiling) No!

JENNIFER: Come here!

JACK: Do me.

SHE BEGINS TO PUSH THE TOP STUD THROUGH HIS SHIRT. THEY BOTH LOOK AT EACH OTHER A COUPLE OF TIMES AND THEN JACK GETS UNCOMFORTABLE. JENNIFER ENJOYS THE CLOSENESS, AND THE IS PROUD AND HAPPY FOR JACK.

JACK: Don't do me. I can do it. I can....alright listen I can take my clothes on, take em off. I can do myself just fine. I tell you one thing, I could probably teach you a thing or two about speed dressing.

JENNIFER: Yeah, you probably could Jack. Problem?

JACK IS FIDDLING WITH A STUD.

JACK: (Making another one of his double-entendres.) No problem, I just can't get it in the little hole. It's....it's too big.

JENNIFER: Jack you're just nervous. I knew you would be. You were the same way when you had to be Steve's best man.

JACK: Oh you're right, you know that, you're right.

JENNIFER: Exactly, which is why I'm here to help you, okay.

SHE STARTS TO PUT IN A CUFFLINK WHILE HE IS STILL TRYING THE STUD.

JACK: Give me the cufflinks. Just give me the cufflinks.

JENNIFER: Here are the cufflinks, Jack.

JACK: Okay. Give me the....okay....give me....give me the cummerbund.

JENNIFER: Okay. Cummerbund Jack.

JACK: Okay give me the tie.

JENNIFER BENDS DOWN AND WRAPS THE CUMMERBUND AROUND HIS WAIST.

JENNIFER: The tie's around your neck. Suck in or something Jack.

JACK: Too much pizza. Ah Jennifer, Jennifer!

SHE IS BENDING DOWN AND HER FACE IS NEXT TO JACK'S STOMACH, HER ARMS ARE AROUND HIS WAIST AND THEY BOTH FEEL AWKWARD.

JENNIFER: Would you rather that I did the tie?

JACK: I think that would be best.

JENNIFER: Okay.

SHE YANKS HIM DOWN TO HER LEVEL BY PULLING EACH END OF THE TIE.

JENNIFER: Don't move. You know Jack I just want you to look good. I want you to look perfect. It's a big day for you. You know pretty soon you're going to be ready to walk down that aisle.

JACK: I will? Alright I guess I will.

JENNIFER: So what time is the fire engine coming to bring you to the church?

JACK: (An exaggerated horse laugh) HEH HEH HEH HEH! You know, you know Jennifer if I were you....



JENNIFER: You know what I'd do if I were you Jack?

JACK: No, no, if I were you, if I were you, I would listen long and hard to that minister when he's talking today because he's going to say a couple of things about for richer for poorer, in sickness and health, till death do us part. You better listen long and hard because we're going to have a little conversation after this and you're going to tell me how much you want to marry Emilio.
---
SCENE THREE: A SHORT TIME LATER JACK IS DRESSED AND THEY ARE GETTING IN THE LIMO.

JACK: Come on get in there. Hup, hup, hup, get in there. Schnell, schnell, schnell, let's go.

JACK HUSTLES JENNIFER INTO THE LIMO AND PULLS DOWN THE DOOR.

JACK: Come on scoot over.

JENNIFER: Jack there's plenty of room in this thing.

JACK: Right. Okay hurry up, get us to the church on time.

JENNIFER: Oh wait a minute. Hold it, hold it.

JACK: What?

JENNIFER: I have to go to the pharmacy. I'm all out of tissues.

JACK: Oh come on now. Don't tell me that you're one of those people that cries at weddings?

JENNIFER: Jack that's the best part. Can you go to the pharmacy on Carolwood, it's the closest.

JACK: Ooooh! You mean you're going to do the cliché thing at one of these archaic ceremonies?

JACK: Well if you ever got around to marrying one day, to someone who loved you, you might not be so cynical about this.

JACK: Don't hold your breath.

JACK LEANS BACK AND BEGINS TO DAYDREAM ABOUT MARRYING JENNIFER.

HE IS CARRYING HER TO THE LIMO AND PEOPLE ARE THROWING RICE. HE PUTS HER ON THE SEAT.

JACK: Get in there. Come on Vern, cut it out. Go easy, stop it, stop it.

HE SHUTS THE LIMO DOOR AND THEY ARE ALONE.

JACK: Okay, come here.

HE LEANS OVER AND KISSES HER. THEY BOTH ARE EXTREMELY HAPPY.

JACK: Mmmm. Tell me!

JENNIFER: What?

JACK: How's it feel to be Mrs. D?

JENNIFER: It feels exactly like I knew it would. It's wonderful Jack.

JACK: Good! Guess what, apart from the fact I have (Picking a piece of rice from his ear.) rice in my ear, I'm happy! No really, I mean it, I'm happy. I'm really happy. I didn't think I would be but I am.

JENNIFER: The best part is yet to come.

JACK: (Kidding) You mean flying first class?

JENNIFER: No Jack, I mean flying, on our honeymoon tonight remember.

JACK KISSES HER AGAIN.

JACK: Honeymoon. It's sounds like a hell of a two weeks.

JENNIFER: What happens when the honeymoon ends?

JACK: End? Don't hold your breath!

THEY KISS AGAIN.

JACK COMES BACK TO REALITY.

JACK: Weddings.

JENNIFER: What about them?

JACK: Ah you don't want to know.

JENNIFER: Yes I do.

JACK: Hmmm, you want to know that they are overly sentimental, always expensive, they're socially irresponsible when you consider the Gross National Product and....

JENNIFER COVERS HIS MOUTH WITH HER HAND.

JENNIFER: Alright, Jack, forget it, you're right. I don't want to know.

JACK: See I told you, you don't want to know.

JENNIFER SITS BACK AND GLANCES OVER TO JACK AND SHAKES HER HEAD IN FRUSTRATION. JACK HAS A SILLY EXPRESSION ON HIS FACE, THINKING WISTFULLY ABOUT THE POSSIBILITIES.
---
SCENE FOUR: IN THE BRIDE'S ROOM STEVE IS LOOKING FOR ADRIENNE WHEN JACK ARRIVES. THEY BOTH ARE A LITTLE NERVOUS.

JACK: Hey, hey, I.....oh I'm sorry I was looking for Adrienne. I thought....I thought I was late, you know.

STEVE: Not here.

JACK: I'm kind of nervous.

STEVE: Oh yeah? Me too.

JACK: No.

STEVE: Yeah, yeah, a little bit.

JACK: So you're in this thing too, huh.

STEVE: Yeah, I'm the Best Man. Kayla's the Matron of Honor.

JACK: Well I'm....I'm the Guy-That-Walks-the-Bride-up-the-Aisle.

STEVE: Yeah.

JACK: Got kind of a family thing going here. Concept.

STEVE: That's right.

ADRIENNE WALKS UP, SHE IS EXTREMELY HAPPY BECAUSE OF THE DAY, AND SEEING HER BROTHERS TOGETHER.

ADRIENNE: Which is just the way I want it.

STEVE: Hey we were wondering where you were.

ADRIENNE: Well I'm not so sure myself.

STEVE ASKS HER HOW SHE LIKED THE SURPRISE AND THEN JACK TRIES TO LEAVE.

JACK: Well now that we know that you're here safe and sound I going to keep an lookout for a runaway fire truck.

ADRIENNE: You're not going anywhere, Jack. You're staying right here where you belong with the rest of the family.

JACK: Look Adrienne, I really....

ADRIENNE: The family Jack, your family. You can't run away from that anymore, can he Steve?

STEVE: No, it's gettin' kind of old Billy Jack.

ADRIENNE: Hmmm uh.

JACK: You guys, if you....

ADRIENNE: We're not guys. We're your brother and your sister. And I'm about to get married and having both of you here I can't tell you what that means to me.

JACK: Well I understand. I really do. You don't have to tell me a thing. I....I....

ADRIENNE: I want to.

ADRIENNE TELLS THEM THAT THEY HAVE COME SO FAR AND THAT SHE IS SO PROUD THAT THEY ARE HER BROTHERS AND THAT SHE LOVES THEM BOTH.

JACK: Is she like this all the time?

STEVE: I think it runs in the family.

JACK IS GRINNING THROUGH ALL THIS AND HE IS SO HAPPY TO BE INCLUDED IN HIS FAMILY. JO COMES IN AND SEE THEM TOGETHER AND IS HAPPY TOO.
---
SCENE FIVE: LATER JACK IS WAITING OUTSIDE THE BRIDE'S ROOM FOR ADRIENNE TO BE READY. HE IS DOING A LITTLE IMPATIENT TAP DANCE WHEN JENNIFER WALKS UP.

JENNIFER: Hi Jack.

JACK: Hi, hi.

JENNIFER: Is Adrienne almost ready?

JACK: I don't know. I didn't go and check. Why don't you check, take a chance.

JENNIFER: Oh no, that's okay. I just came to wish you luck.

JACK: Yeah? Don't trip going down the aisle? Yeah, very thoughtful. Thanks.

JENNIFER: Well, that's me. I'll see you Jack.

JACK: Jennifer?

JENNIFER: Huh.

JACK: When I saw you just now I just thought of something I wanted....I thought of something I was going to say but it went out of my head. I can't remember it so....ah....what do you think I would say?

JENNIFER: Ah I don't know. Sorry Jack.

JENNIFER IS WALKING AWAY.

JACK: Jennifer!

SHE STOPS, EXPECTANTLY.

JENNIFER: Yes, did you suddenly remember something?

JACK: Like a thunderbolt! Like a flash blazed in my mind, yes! I wanted to say that....I wanted to thank you for getting me here in one piece.

JENNIFER: (Beaming) You're welcome Jack. Anytime.

JACK: That's it?

JENNIFER: That's it. Jack did you notice how easy that was? Did you see how easy that was? I hope that was as good for you as it was for me Jack.

JACK GRINS AT HER AS SHE LEAVES. HE CONTINUES TO WATCH HER. THEN ADRIENNE COMES OUT ALL DRESSED AND READY.

ADRIENNE: Jack?

HE IS STILL PREOCCUPIED WITH THOUGHTS OF JENNIFER, AND STILL HAS NOT NOTICED ADRIENNE.

JACK: Huh.

ADRIENNE: How do I look?

JACK: Well you look....you look beautiful. You look bridally beautiful.

ADRIENNE: Thank you. You know you could be this happy someday. Perhaps sooner than you think. Come on let's go.

JACK: Yeah, let's get you married here.

JACK HELPS ADRIENNE WITH HER DRESS THEN PAUSES AND THINKS OVER WHAT SHE SAID.
---
SCENE SIX: THE CEREMONY BEGINS AND JACK ESCORTS ADRIENNE DOWN THE AISLE. HE SMILES AT JENNIFER AS HE PASSES. JACK SITS DOWN IN THE PEW IN FRONT OF JENNIFER. JUSTIN SINGS A SONG ESPECIALLY FOR ADRIENNE, LET IT BE ME [I BELIEVE THAT IS THE SONG'S TITLE.].
---
[Air date 6-4-90]
SCENE ONE: THE CEREMONY IS UNDERWAY. AS JO DOES A READING ABOUT LOVE, JACK TURNS TO LOOK AT JENNIFER WHO GIVES HIM A BIG WINK.

WHEN THE MINISTER ASKS WHO IS GIVING THE BRIDE AWAY JACK STANDS UP.

JACK: Ah....I....that is....her mother and her brothers do.

HE SMILES AS JO PATS HIS SHOULDER.
---
SCENE TWO: THE CEREMONY IS OVER AND JACK REALIZES THAT JENNIFER IS STILL IN THE CHURCH. SHE ASKS THE BODYGUARD TO WAIT OUTSIDE FOR A MINUTE. SHE WALKS AROUND PENSIVELY. JACK WALKS IN TO TALK TO HER.

JACK: What are you still doing in here?

JENNIFER: Are you looking for a witty comeback or the truth?

JACK: I think the truth would be sufficient.

JENNIFER: Alright, I was thinking about you.

JACK: You were thinking about me, in this place. I think that's a little inapropo.

JENNIFER: You know we stood right on this place, the night before I was supposed to marry Emilio. And I was thinking about how worried I was about everything. The wedding and Emilio. And I kept hoping that I was doing the right thing. I even asked God to send me a sign. And nothing happened. I guess what I really wanted was for you to come and take me away.

JACK: Well something happened. I took you away.

SHE IS SAD THINKING ABOUT THE LOST OPPORTUNITIES, AND THINKING THAT THERE NEVER WILL BE ANY.

JENNIFER: Jack I didn't want to be kidnapped. I wanted you to come because you wanted to marry me yourself. (Beat) It didn't work out that way. I didn't get married. I got you on a run-away fire truck with a Dalmatian and some driver named Rodney or something.

JACK: Bradley, Bradley. Remember.

JENNIFER: I wish I didn't.

JACK: I kind of thought you'd be over being mad about your wild ride.

JENNIFER: Your wrong Jack, as usual.

JACK: Well I think someday you're going to look back on all of this and laugh.

JENNIFER: I don't think so. When I look back at that day all I see is a chance that you didn't take. I would have done anything to make it work out for us. I tried the best I could even when you pushed me away I came back for more. Because no matter how bad it got, all I believed was that in the end I would be standing here with you, making a commitment to each other in front of our family and friends. But I'm starting to think maybe I was wrong. I mean for the first time I starting to think that you and I will never have a wedding Jack.

JENNIFER IS QUIETLY SOBBING. JACK IS MOVED BY THIS, AND IS TROUBLED BY HER SADNESS.

JACK: You know the funny thing about....

JENNIFER: Excuse me.

JENNIFER RUNS FROM THE CHURCH AND DROPS THE FLOWER SHE WAS HOLDING.

JACK: Don't you want to hear what the....don't you want....

JACK PICKS UP THE FLOWER BUT SHE IS GONE.

JACK: I was just going to say I thought it was funny that you were thinking about....you were thinking about not getting married and I was actually giving it a thought.

JACK PICKS UP HER PURSE, THAT SHE LEFT ON A PEW, AND WALKS OUT SLOWLY.
---
SCENE THREE: THE RECEPTION IS AT NEIL'S HOUSE AND JACK AND JENNIFER ARRIVE A SHORT TIME AFTER THE BRIDE AND GROOM. MELISSA DEDICATES A SONG TO THEM: SHE SINGS WHEN I FALL IN LOVE.

JACK IS STANDING BEHIND JENNIFER THINKING OF ASKING HER TO DANCE. SHE IS AWARE OF HIM BUT IGNORING HIM. JENNIFER MOVES AWAY FROM JACK AND HE FOLLOWS HER. HE FINISHES HIS DRINK AND LOOKS AT HER BUT SHE GIVES HIM A UNWELCOME LOOK.

JACK: Ah....never mind.

JACK WALKS AWAY AND JENNIFER'S EYES FOLLOW HIM.
---
SCENE FOUR: LATER NEIL GATHERS ALL THE GUESTS TOGETHER FOR THE GARTER AND BOUQUET THROWING. JUSTIN THROWS THE GARTER. ALL THE MEN GATHER TOGETHER AND FIGHT TO CATCH IT; EXCEPT JACK. JACK IS OFF IN THE CORNER, AND IT LANDS RIGHT ON HIS SHOULDER.

CALLIOPE: Guess your next buster.

ROMAN: Who'se the lucky girl.

JENNIFER AND JO LOOK OVER AT JACK.

JACK: I'm holding out for Eleanor Roosevelt.

HE GLANCES ACROSS AT JENNIFER WHO SMILES AT HIM. JO SMILES AT BOTH OF THEM.

CALLIOPE: A woman with sensible shoes.

EVERYBODY LAUGHS. CALLIOPE THEN PUSHES JENNIFER FORWARD TO GET THE FLOWERS BUT ISABELLA CATCHES THEM.
---
SCENE FIVE: A WHILE LATER JUSTIN AND ADRIENNELEAVE WITH EVERYBODY THROWING RICE. JACK AND JENNIFER ARE ALONE INSIDE. JACK TRIES TO MAKE SOME IDEAL CONVERSATION.

JACK: Well they're on their way. I hope they have good weather.

JENNIFER: Well Tahiti usually does.

JACK: That's the truth, isn't it. I guess we should start packing. We're going to be on our way soon also.

JENNIFER: Are you going to pack that?

SHE LOOKS AT THE GARTER.

JACK: Unless I plan to wear it. I keep telling you this trip is strictly business.

JENNIFER: Well I guess we'll never know.

JENNIFER LEAVES AND JACK IS LEFT WONDERING WHAT EXACTLY MIGHT HAPPEN.
[Transcribed by Carol Vaughan
added material by Sally A. Wilson]
---